Comparative Analysis of High-Resolution Soil Moisture Simulations from the Soil, Vegetation, and Snow (SVS) Land Surface Model Using SAR Imagery Over Bare Soil
1
Science and Technology Branch, Environment and Climate Change Canada, Dorval, QC H9P 1J3, Canada
2
Science and Technology Branch, Agriculture and Agri-Food Canada, Winnipeg, MB R3C 3G7, Canada
3
Science and Technology Branch, Agriculture and Agri-Food Canada, Ottawa, ON K1A 0C6, Canada
*
Author to whom correspondence should be addressed.
Received: 28 December 2018 / Revised: 27 February 2019 / Accepted: 12 March 2019 / Published: 15 March 2019
(This article belongs to the Section
Hydrology
)
Abstract
Soil moisture is a key variable in Earth systems, controlling the exchange of water and energy between land and atmosphere. Thus, understanding its spatiotemporal distribution and variability is important. Environment and Climate Change Canada (ECCC) has developed a new land surface parameterization, named the Soil, Vegetation, and Snow (SVS) scheme. The SVS land surface scheme features sophisticated parameterizations of hydrological processes, including water transport through the soil. It has been shown to provide more accurate simulations of the temporal and spatial distribution of soil moisture compared to the current operational land surface scheme. Simulation of high resolution soil moisture at the field scale remains a challenge. In this study, we simulate soil moisture maps at a spatial resolution of 100 m using the SVS land surface scheme over an experimental site located in Manitoba, Canada. Hourly high resolution soil moisture maps were produced between May and November 2015. Simulated soil moisture values were compared with estimated soil moisture values using a hybrid retrieval algorithm developed at Agriculture and Agri-Food Canada (AAFC) for soil moisture estimation using RADARSAT-2 Synthetic Aperture Radar (SAR) imagery. Statistical analysis of the results showed an overall promising performance of the SVS land surface scheme in simulating soil moisture values at high resolution scale. Investigation of the SVS output was conducted both independently of the soil texture, and as a function of the soil texture. The SVS model tends to perform slightly better over coarser textured soils (sandy loam, fine sand) than finer textured soils (clays). Correlation values of the simulated SVS soil moisture and the retrieved SAR soil moisture lie between 0.753–0.860 over sand and 0.676-0.865 over clay, with goodness of fit values between 0.567–0.739 and 0.457–0.748, respectively. The Root Mean Square Difference (RMSD) values range between 0.058–0.062 over sand and 0.055–0.113 over clay, with a maximum absolute bias of 0.049 and 0.094 over sand and clay, respectively. The unbiased RMSD values lie between 0.038–0.057 over sand and 0.039–0.064 over clay. Furthermore, results show an Index of Agreement (IA) between the simulated and the derived soil moisture always higher than 0.90.
View Full-Text
►

▼

Figures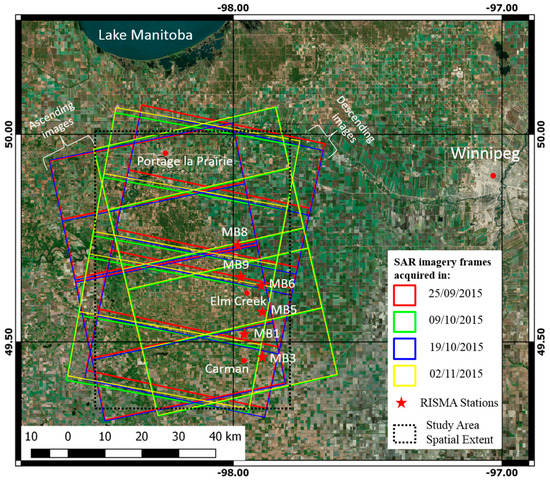 Figure 1
This is an open access article distributed under the
Creative Commons Attribution License
which permits unrestricted use, distribution, and reproduction in any medium, provided the original work is properly cited (CC BY 4.0).

Share & Cite This Article
MDPI and ACS Style
Dabboor, M.; Sun, L.; Carrera, M.L.; Friesen, M.; Merzouki, A.; McNairn, H.; Powers, J.; Bélair, S. Comparative Analysis of High-Resolution Soil Moisture Simulations from the Soil, Vegetation, and Snow (SVS) Land Surface Model Using SAR Imagery Over Bare Soil. Water 2019, 11, 542.
Note that from the first issue of 2016, MDPI journals use article numbers instead of page numbers. See further details here.
Related Articles
Comments
[Return to top]