Open Access This article is
freely available
re-usable
Article
Mapping Micro-Pollutants and Their Impacts on the Size Structure of Streambed Communities
1
Life Sciences Department, University of Roehampton, London SW15 4JD, UK
2
Department of Environmental Science and Analytical Chemistry (ACES), Stockholm University, 11418 Stockholm, Sweden
*
Author to whom correspondence should be addressed.
Received: 22 November 2019 / Accepted: 7 December 2019 / Published: 11 December 2019
Abstract
:
Recently there has been increasing concern over the vast array of emerging organic contaminants (EOCs) detected in streams and rivers worldwide. Understanding of the ecological implications of these compounds is limited to local scale case studies, partly as a result of technical limitations and a lack of integrative analyses. Here, we apply state-of-the-art instrumentation to analyze a complex suite of EOCs in the streambed of 30 UK streams and their effect on streambed communities. We apply the abundance–body mass (N–M) relationship approach as an integrative metric of the deviation of natural communities from reference status as a result of EOC pollution. Our analysis includes information regarding the N and M for individual prokaryotes, unicellular flagellates and ciliates, meiofauna, and macroinvertebrates. We detect a strong significant dependence of the N–M relationship coefficients with the presence of EOCs in the system, to the point of shielding the effect of other important environmental factors such as temperature, pH, and productivity. However, contrary to other stressors, EOC pollution showed a positive effect on the N–M coefficient in our work. This phenomenon can be largely explained by the increase in large-size tolerant taxa under polluted conditions. We discuss the potential implications of these results in relation to bioaccumulation and biomagnification processes. Our findings shed light on the impact of EOCs on the organization and ecology of the whole streambed community for the first time.
Keywords:
abundance-size scaling theory; benthos; hyporheos; freshwater communities; pharmaceuticals; large scale survey
2. Methods
2.1. Data Acquisition
Here, we complemented open-access available data from a large survey project (Peralta-Maraver et al. 2019a) with data of EOC concentration, and calculation of N–M relationship coefficients. This dataset comprises 30 streams covering 10 different catchments across England and Wales (UK,
Figure 1
). Streams varied from small upland, acidic headwaters to large lowland, base-rich chalk streams, covering a large productivity and pollution gradient. Original datasets included information on a large set of environmental variables by study site: canopy cover, sediment morphology (cobbles, gravel, sand, and silt), leaf litter, depth and width of channel, submerged plants and submerged wood, temperature, pH, altitude, latitude, longitude, dissolved organic carbon, ammonium, nitrate, and phosphate [
21
].
Streambed communities were originally sampled using colonization traps (mesh = 0.5 cm, volume = 38–45 mL) containing three different organic substrates [
21
]. At each study site, six colonization traps were installed in pairs in the streambed at 0–2 and 15 cm depth for between 29–61 days. After incubation, colonization traps were collected and streambed communities were processed in the laboratory. Sampled organisms were identified and counted (N) and their body dimensions measured. Then, body dimensions (length and width in µm) of all collected individuals were converted into dry carbon content (M) using allometric relationships (further details on sampling design and sample processing are available in Peralta-Maraver et al. [
21
]).
2.2. Sampling and Processing of EOCs
Streambed pore-water samples were collected from the studied sites using a dive point piezometer during removal of colonization traps. One sampler per stream (n = 30) was pushed vertically into the streambed sediments to a depth of ~7.5 cm and 50 mL of water was pumped manually. Samples were stored in a coolbox at 4 °C and transported to the laboratory within 24 h, where they were frozen until analysis.
EOCs were analyzed using a previously developed direct-injection ultra-high-performance liquid chromatography–tandem mass spectrometry (UHPLC-MS/MS) method (Posselt et al. 2018). A total of 37 polar organic substances (mostly pharmaceuticals and their transformation products) were selected based on their concentration ranges, detection frequency, degradation behavior, and potential persistence, as well as their occurrence on priority lists [
12
,
30
,
31
,
32
]. Water samples were defrosted and vortexed and a sample volume of 800 μL was combined with 195 μL methanol and 5 μL of an internal standard mix. Afterwards, samples were vortexed again, filtered (Filtropur S 0.45 μm, PES membrane, Sarstedt AG&Co, Nuembrecht, Germany) into LC vials (2 mL, Thermo Scientific, Dreieich, Germany) and analyzed within 12 h. The sample injection volume was 20 μL. Liquid chromatography was performed using a Thermo Scientific Ultimate 3000 UHPLC system equipped with a Waters (Manchester, UK) Acquity UPLC HSS T3 column (1.8 μm, 2.1 mm × 100 mm). The mobile phase consisted of 10 mM acetic acid in deionized water (A) and 10 mM acetic acid in methanol (B). The flow rate was 500 μL min
−1
for the gradient and 1000 μL min
−1
for column equilibration. Instrumental analysis was carried out using a Thermo Scientific Quantiva triple-quadrupole mass spectrometer equipped with a heated electrospray ionization source. Detailed information on the LC gradient and MS instrument settings can be found in Posselt et al. (2018). A series of calibration standards (in 80% LC/MS grade water/20% MeOH) containing the 37 target compounds and isotopically labelled internal standards was measured three times. Data were processed using the Thermo Scientific Xcalibur 3.1.66.10 instrument software and quantification was performed using the internal standard method. Precision was determined by injecting a quality control standard every 15 samples. The relative standard deviation was <1–12% for all detected compounds except for valsartan acid (21%) and 4-hydroxydiclofenac (20%).
Concentrations in both analyzed blank samples were always below the method limit of quantification for all targets. Method limits of quantification for the 37 targeted compounds are provided in
Table S1
and further information regarding materials, chemicals, and standards, as well as additional quality control data can be found elsewhere [
12
].
2.3. Statistical Analysis
First, a non-metric multidimensional scaling (NMDS) ordination model was applied to compare quantitatively the similarities in profile and concentration (µg L
−1
) of dissolved compounds (macronutrients and EOCs) across the 30 studied rivers. Excessively large differences between the smallest nonzero and largest concentration values were reduced using the Wisconsin double standardization of variables [
33
]. This approach improves the detection ability of the similarity index used in NMDS ordination [
34
]. The Canberra index was used to produce the ordination model and it was run iteratively to find the ordination with the best fit (lower stress value). Subsequently, we evaluated the degree to which the number and concentration of EOCs and dissolved compounds such as nutrients were associated with the ordination axis. For this, we fitted all environmental variables collected originally (
Table S1
) and new data on profiles and concentrations of EOCs onto the resulting two-dimensional ordination following Peralta-Maraver et al. [
35
]. Degree correlation and significance of the association between fitted variables and the ordination axis was then assessed after a 1000 randomized permutation test.
Secondly, we applied multiple regression and backward model selection approaches to build the N–M relationship models comparing reference systems (no EOCs detected) with polluted sites (EOCs detected). We pooled data from all colonization traps by study site to provide an integrated sample of the streambed community (n = 30 streambed communities). We constructed the N–M relationship for each site by applying the logarithmic size-binning method [
36
]. Size bins were determined from the (log10) body mass range for each sampled community and the abundances of organisms were then summed within each size bin [
23
]. We used a total of six bins to maximize the number of size bins while minimizing the number of empty size bins in the analysis [
23
,
26
]. Next, we built a saturated model comparing reference systems with EOC-polluted (two-level factor), and all environmental gradients significantly related with the NMDS ordination. Also, and independently of their relationship with the NMDS ordination, we included pH in the saturated model as a classical driver of the N–M relationship in freshwater systems [
37
,
38
]. Covariates were dropped sequentially, and the model re-fitted. Then, the Akaike information criterion (AIC) was applied to select the model with the best fit, and Akaike weights (
wi
) were used to quantify the relative support of each model in comparison to all alternative models (and therefore Σ
wi
= 1). In addition, we studied the potential collinear relationship between all covariates included in the candidate models. Model selection and collinearity testing allowed us to inspect potential confounding effects of EOCs with underlying gradients, such as productivity. Model validation was finally applied to verify the underlying assumptions following Zuur et al. [
39
]. This encompassed testing normality and homoscedasticity of model residuals and their potential dependence with those variables included and not included in the model (e.g., study site).
All statistical analyses were performed using R software (R Core Team, 2019). NMDS ordinations and subsequent variable fitting were carried out using the functions metaMDS and envfit of the R-package Vegan [
40
].
3. Results
From the 37 targeted compounds, a diverse set of 24 EOCs, including pharmaceuticals and other organic contaminants, were collected from the streambed of two thirds of the study sites (
Figure 1
,
Table 1
). The most EOC-polluted sites were mainly distributed in the east and southeast regions of England. The 10 streams unpolluted by EOCs, hereafter called reference sites, were mainly located in the west regions of Wales but were also represented in the southeast of England. The NMDS model based on the 24 EOCs and macronutrients [nitrate, phosphate, and dissolved organic carbon (DOC)] produced a two-dimensional ordination with a very high goodness of fit between the distances in the ordination against the original data (linear fit R
2
= 0.995, non-metric fit R
2
= 0.990). The resulting ordination (
Figure 1
b) showed a strong increasing gradient of number of EOCs and concentration positively related with axis 1 (R
2
= 0.94,
p
< 0.01), while dispersion along axis 2 was better explained by the presence and concentration of dissolved nitrate (R
2
= 0.94,
p
< 0.01) and phosphate (R
2
= 0.21,
p
= 0.04), but not DOC (R
2
= 0.03,
p
= 0.62). Environmental fitting onto the ordination showed that number and concentration of EOCs and macronutrients increased significantly along environmental gradients of longitude (R
2
= 0.56,
p
< 0.04) and temperature (R
2
= 0.26,
p
= 0.02), and in the lowland regions of the UK (R
2
= 0.58,
p
< 0.001;
Figure 1
b).
After model selection routines, all studied variables were excluded from the N–M relationship except EOC pollution in the system (
Table 2
). The AIC model selection approach suggested a certain improvement of model fitting when adding pH and temperature. However, those variables were also excluded in favor of a model simply comparing reference and polluted sites. AIC and Akaike weight indicate a very strong support of the model including the interaction between M and the EOC pollution (presence/absence of EOCs). This specifies that presence of EOCs in the system strongly determines the intercept and slope of the N–M relationship model. The fitted N–M relationship model including information of the comparison between polluted or reference streams also had a high explanatory capacity (R = 0.67).
When over more than 10 orders of magnitude in body mass, from flagellates to macroinvertebrates, abundance declined linearly with body mass with an average N–M slope of −0.37 (95% CI = −0.42, −0.31). However, N–M relationship coefficients varied significantly between reference and polluted streams (
Table 3
). We found that N–M intercepts (as a proxy for community carrying capacity) were higher and size spectra slopes shallower in polluted compared to reference streams. The difference in the 95% CI between fitted regression in the reference and polluted streams became visible in the large size fraction of the N–M relationship, and we attribute this variation to the increase in abundance of the large-size fractions of organisms in polluted sites (
Figure 2
) which was chiefly associated with increases in pollutant-tolerant groups such as Asellidae and Oligochaeta (
Figure 2
b).
4. Discussion
In summary, in this work we detected strong variation from reference status when comparing N–M relationship coefficients between polluted and reference streams. Even though the ecological mechanisms remain unclear, EOC pollution was associated with an increase in abundance of large-size tolerant macroinvertebrates. This resulted in less size-structured assemblages under polluted conditions with direct implications for the structure of the streambed community and potential biomagnification processes along food webs. With this in mind, future research which characterizes food web structures (feeding links) and quantifies concentrations of EOCs at different trophic levels would be particularly instructive.
Author Contributions
Conceptualization, I.P.-M. and A.L.R.; methodology, I.P.-M., M.P., D.M.P., A.L.R.; software, I.P.-M.; validation, I.P.-M., D.M.P.; formal analysis, I.P.-M., M.P.; investigation, I.P.-M., M.P., D.M.P., A.L.R.; resources, I.P.-M., M.P., D.M.P., A.L.R.; data curation, I.P.-M., M.P.; writing—original draft preparation, I.P.-M., D.M.P., A.L.R.; writing—review and editing, I.P.-M., M.P., D.M.P., A.L.R.; visualization, I.P.-M., A.L.R.; supervision, A.L.R.; project administration, I.P.-M., A.L.R.; funding acquisition, D.M.P., A.L.R.
Funding
This project was funded by the European Union Horizon 2020 research and innovation programme under Marie Skłodowska-Curie grant agreement No. 641939.
Acknowledgments
The authors thank Jon Benskin and the two anonymous reviewers, who provided useful suggestions that improved the original manuscript.
Conflicts of Interest
No authors have any conflicting interest.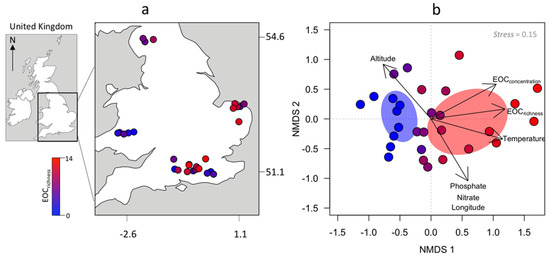 Figure 1.
(
a
) Locations of the study systems in the United Kingdom, including number of emerging organic contaminants (EOCrichness). (
b
) Non-metric multidimensional scaling (NMDS) ordination model based on Canberra index comparing the dissimilarities in profile and concentration (µg L
−1
) of dissolved compounds (macronutrients and EOCs) across the 30 studied rivers. Environmental gradients that were significantly correlated (
p
< 0.05) with the ordination are overlapped with the ordination. The arrows depict the relationship of fitted variables with the ordination.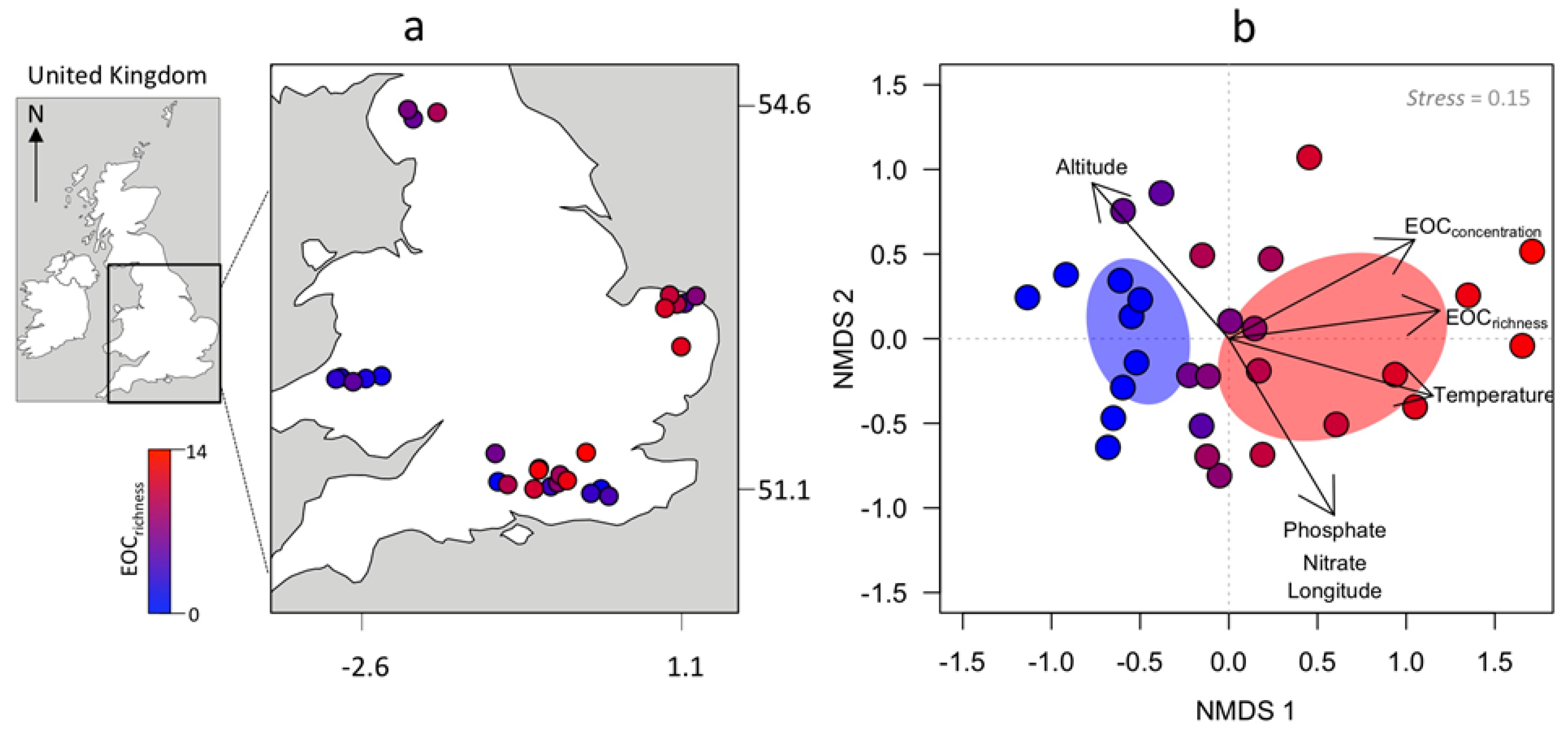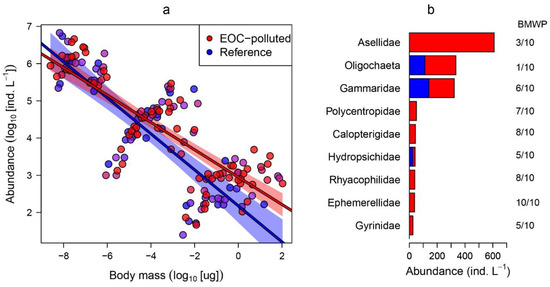 Figure 2. (a) Results from the linear regression of log10 total abundance on log10 body mass bin (N–M relationship) comparing EOC-polluted and reference streams. Each data point denotes the abundance of a given size class for each sampling unit. The fitted lines represent the average N–M slope for EOC-polluted and reference streams. (b) Abundance and biological monitoring working party (BMWP) score of the macroinvertebrate families belonging to the largest size bin across the studied EOC-polluted and reference streams.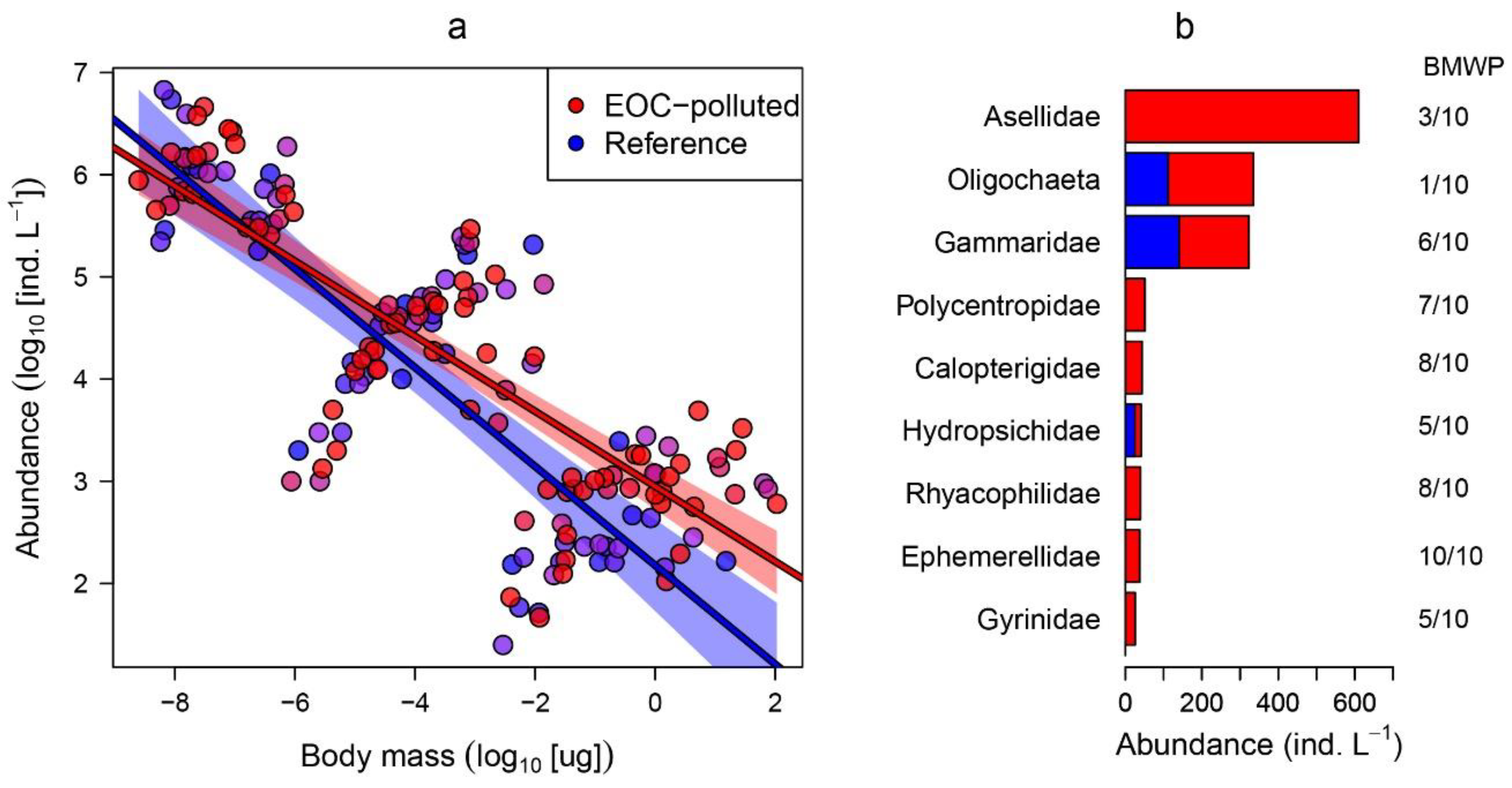 Table 1. Concentration (µg L−1) of the target EOCs analyzed across the 30 studied streams: 1H-benzotriazole (1.H.B.), 2/4-chlorobenzoic acid (C.Acid), 4-hydroxydiclofenac (4.H.D.), acesulfame (Acesu), acetaminophen (Aceta), carbamazepine (Carba), clofibric acid (C.Acid2), diclofenac (Diclo), 11-dihydroxy carbamazepine (11.D.C), furosemide (Furo), gemfibrozil (Gem), guanylurea (Guan), ibuprofen (Ibu), metformin (Metf), metoprolol acid (M.Acid), metoprolol (Meto), naproxen (Napro), O-desmethylvenlafaxine (O.Des), oxazepam (Oxa), propranolol (Prop), sitagliptin (Sita), sotalol (Sota), tramadol (Trama), and venlafaxine (Venl). Table shows latitude (Lat) and longitude (Lon) and total amount of EOCs of studied streams.
River
Lat
Lon
Acesu
Aceta
Sita
O.Des
11.D.C.
Napro
Guan
Metf
Venl
M.Acid
Carba
Oxa
Prop
Sota
4.H.D.
Trama
Diclo
1.H.B.
Ibu
11.D.C.
C.Acid2
Furo
Meto
Gem
Tot
EOCs
Beverly Brooks
51.44
0.25
13.8
0.1
0.4
1.1
44.8
1.5
0.6
0.6
0.2
0.6
0.1
0.2
2.9
0.6
14
Loddon
51.42
1.72
0.8
0.1
0.4
0.8
9.7
0.2
0.2
0.1
0.2
0.7
0.1
0.4
0.1
13
Wey
51.19
0.68
0.8
0.5
0.1
0.1
0.7
5.2
0.4
0.1
0.8
0.3
0.2
0.6
12
Waveney
52.42
1.36
0.5
0.1
0.6
0.2
1.7
0.4
0.2
0.3
0.1
9
Wensum
52.42
1.36
0.2
0.4
0.3
0.4
0.4
0.8
0.2
0.3
8
Deadwater
51.17
0.85
1.9
0.2
0.7
0.1
0.7
0.1
6
Stiffkey
52.92
0.89
0.3
0.2
0.2
0.2
0.1
5
Tat
52.82
0.75
0.5
0.9
0.2
0.9
4
River Leith
54.61
−2.62
0.5
0.4
0.4
3
Nadder
51.12
0.90
1.7
0.4
0.1
3
Test
51.14
1.47
1.0
0.2
0.4
3
Glaven
52.93
1.63
0.2
0.7
0.4
3
Lamports
51.15
1.72
0.1
0.3
0.1
3
Lyde
51.29
1.72
0.2
0.8
0.2
3
GI1
52.14
−3.84
0.4
0.1
2
Howe Beck
54.68
−2.59
0.1
0.7
2
Bure
52.82
1.21
0.1
0.1
2
River Crowdundle
51.15
1.72
0.1
0.1
2
Kennet
51.42
1.72
0.2
0.7
2
River Lyvennet
54.68
−2.61
0.1
0.5
2
LI7
52.13
−3.75
0
LI8
52.16
−3.75
0
LI3
52.14
−3.73
0
Old Lodge
54.65
−2.64
0
Lone Oak
51.77
0.13
0
LI6
51.44
0.25
0
Broadstone Stream
51.89
0.57
0
Oakhanger
51.45
0.79
0
Anton
51.15
1.46
0
Morland Beck
51.23
1.72
0

Table 2. Comparison of the regression models testing EOC pollution, pH, temperature (Temp), longitude (Lon), altitude (alt), nitrate (Nit), and phosphate (Phos) on the abundance–body mass (N–M) relationship (all models include an intercept, which has not been shown for simplicity). Legend: AIC, Akaike information criterion; LogLik, maximum likelihood estimator; wi, Akaike weight. Candidate model with the best fit is highlighted in bold.
Response
Predictors
N
AIC
ΔAIC
LogLik
wi
Log 10 (N)
log10(M) × EOCs + pH + Temp + Lon + Lat + Alt + Nit + Phos
12
403.82
9.23
0.01
0.00
log10(M) × EOCs + pH + Temp + Lon + Lat + Alt + Nit
11
402.30
7.70
0.02
0.01
log10(M) × EOCs + pH + Temp + Lon + Lat + Alt
10
402.35
7.75
0.02
0.01
log10(M) × EOCs + pH + Temp + Lon + Lat
9
401.17
6.57
0.04
0.02
log10(M) × EOCs + pH + Temp + Lon
8
399.18
4.59
0.10
0.05
log10(M) × EOCs + pH + Temp
7
397.32
2.72
0.26
0.12
log10(M) × EOCs + pH
6
396.15
1.55
0.46
0.22
log10(M) × EOCs
5
394.60
0.00
1.00
0.47
log10(M) + EOCs
4
397.88
3.28
0.19
0.09
log10(M)
3
401.22
6.62
0.04
0.02

Table 3.
Summary table of the fitted abundance–body mass regression (fixed coefficients). Fixed coefficients (
Coef
), standard errors (
SE
), degrees of freedom (
DF
),
t
values, and
p
values (
p
) are given. Significance codes (
Sig
): 0 (***), 0.01 (*).
Fixed Equation Terms
Coef
SE

t

Value

p

Value
Sig
Intercept
2.95
0.12
25.20
> 0.001
***
Log10 body mass
−0.37
0.03
−13.87
> 0.001
***
Presence/absence of EOCs
−0.77
0.24
−3.22
0.001
***
Log10 body mass * EOC pollution
−0.12
0.05
0.05
0.02
*

© 2019 by the authors. Licensee MDPI, Basel, Switzerland. This article is an open access article distributed under the terms and conditions of the Creative Commons Attribution (CC BY) license (http://creativecommons.org/licenses/by/4.0/).