Development of a Maximum Entropy-Archimedean Copula-Based Bayesian Network Method for Streamflow Frequency Analysis—A Case Study of the Kaidu River Basin, China
1
School of Fundamental Science, Beijing Polytechnic, Beijing 100176, China
2
School of Labor Economics, Capital University of Economics and Business, Beijing 100070, China
3
Donlinks School of Economics and Management, University of Science and Technology Beijing, Beijing 100083, China
4
Department of Civil and Environmental Engineering, Brunel University, London, Uxbridge UB8 3PH, UK
5
Center for Energy, Environment and Ecology Research, Beijing Normal University, Beijing 100875, China
*
Authors to whom correspondence should be addressed.
Received: 28 October 2018 / Revised: 14 December 2018 / Accepted: 17 December 2018 / Published: 27 December 2018
(This article belongs to the Section
Hydrology
)
Abstract
Frequency analysis of streamflow is critical for water-resources system planning, water conservancy projects and the mitigation of hydrological extremes events. In this study, a maximum entropy-Archimedean copula-based Bayesian network (MECBN) method has been proposed for frequency analysis of monthly streamflow in the Kaidu River Basin, which integrates the maximum entropy-Archimedean copula (MEAC) and Bayesian network methods into a general framework. MECBN is effective for representing the uncertainties that exist in model representation, preserving the distributional characteristics of streamflow records and addressing the correlation structure between streamflow pairs. Application to the Kaidu River Basin shows a good performance of MECBN in describing the historical data of this basin in China. The results indicate that the interactions between two adjacent monthly streamflow pairs are non-linear. There is upper tail dependence between monthly streamflow pairs. The dependence coefficients including Spearman's rho, Kendall's tau, and the upper tail dependence coefficient are in inverse proportion of monthly streamflow values in the Kaidu River Basin, due to the fact that other factors (i.e., rainfall, snow melting, evapotranspiration rate and requirement of water use) provide more contributions to the streamflow in the flooding season. These findings can be used for providing vital information in the prevention and control of hydrological extremes and to further water resources planning in Kaidu River Basin.
View Full-Text
►

▼

Figures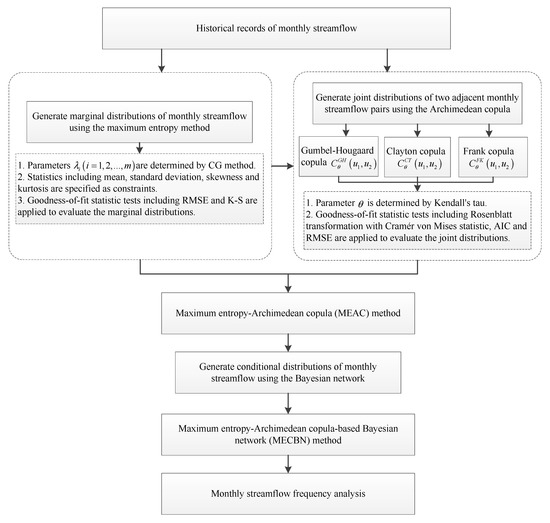 Figure 1
This is an open access article distributed under the
Creative Commons Attribution License
which permits unrestricted use, distribution, and reproduction in any medium, provided the original work is properly cited (CC BY 4.0).

Share & Cite This Article
MDPI and ACS Style
Kong, X.; Zeng, X.; Chen, C.; Fan, Y.; Huang, G.; Li, Y.; Wang, C. Development of a Maximum Entropy-Archimedean Copula-Based Bayesian Network Method for Streamflow Frequency Analysis—A Case Study of the Kaidu River Basin, China. Water 2019, 11, 42.
Note that from the first issue of 2016, MDPI journals use article numbers instead of page numbers. See further details here.
Related Articles
Comments
[Return to top]