Correction of Precipitation Records through Inverse Modeling in Watersheds of South-Central Chile
1
Department of Civil Engineering, Universidad Católica de la Santísima Concepción, Concepción 4090541, Chile
2
Centro de Investigación en Biodiversidad y Ambientes Sustentables (CIBAS), Universidad Católica de la Santísima Concepción, Concepción 4090541, Chile
*
Author to whom correspondence should be addressed.
Received: 6 July 2018 / Revised: 8 August 2018 / Accepted: 10 August 2018 / Published: 17 August 2018
Precipitation is the main input in the water balance of watersheds; therefore, correct estimates are necessary for water resources management and decision making. In south-central Chile there is a low density of precipitation gauges (~1 station/675 km2), most of which are located in low-altitude areas. The spatial distribution of precipitation is, therefore, not properly recorded. In this study an inverse modeling approach is used to estimate the extent to which precipitation amounts must be corrected. Using a lumped water balance model, a factor for correcting precipitation data is calculated for 41 watersheds located in south-central Chile. Then, based on a geo-statistical interpolation, a map for correcting the precipitation amounts is proposed and a validation of these corrections is achieved. The results show that in gently sloping areas, the precipitation records are more representative than in steep mountain areas. In addition, the higher the mountains, the less representative the precipitation records become.
2. Study Area
The study area includes 41 watersheds located in south-central Chile (lat. ~34.5° to 39.5° S,
Figure 1
). Of these, 15 are located in the Andes, 16 in the Central Valley, and 10 in the Coastal Range.
The study area is ~100,000 km
2
and includes the Coastal Range (with an average elevation of 1200 m.a.s.l.), the Andes (with altitudes greater than 4000 m.a.s.l.) and the Central Valley. This last area is a flat valley located between the two mountain ranges (see topography in
Figure 1
). The area has an average precipitation gauge density of 1 precipitation gauge every 675 km
2
, which can be subdivided into 1 precipitation gauge every 540 km
2
in low zones (below 400 m.a.s.l.) and 1 precipitation gauge every 960 km
2
in mountainous areas (above 400 m.a.s.l.). In mountainous areas, the station density is a quarter of that recommended by the World Meteorological Organization [
5
].
3. Data
To carry out the study, an inverse hydrological modeling approach was used, which consists of deriving the precipitation inputs to a watershed from modeling and comparing the results of a model with streamflow records in the modeled watershed.
The modeling requires monthly series of precipitation, streamflow, air temperature and potential evapotranspiration values, in addition to the morphological characterization of each watershed, which was constructed with a digital terrain model made from 1-arc-second-resolution (30 m) ASTER (Advanced Spaceborne Thermal Emission and Reflection Radiometer) images.
Regarding the input data, monthly precipitation time series were collected from precipitation gauge stations managed by the National Water Directorate (Dirección General de Aguas, DGA) (see
Figure 1
). The inverse distance weighting (IDW) method was used to calculate the representative precipitation of each watershed. With respect to temperature records, there were no stations with continuous monthly series and the spatial distribution required for this study; therefore, monthly temperature series provided by University of Delaware (UD) Center for Climatic Research were used [
14
]. To estimate potential evapotranspiration (PE), the formula proposed by Thornthwaite [
15
] and UD temperature data series were used. The spatial distribution of these variables over each watershed was determined using Thiessen polygons. Regarding streamflows, monthly series were collected from streamflow gauging stations managed by the DGA, as indicated in
Figure 1
.
Due to the availability and quality of the input data, the analysis was carried out at a monthly time step over a minimum time window of 10 years.
4. Methods
4.1. Conceptual Model Description
The model used in this article is the conceptual water balance model presented in Muñoz [
16
] and Muñoz et al. [
13
] (
Figure 2
). The model simulates the precipitation-runoff and snowmelt-runoff processes separately. Because the pluvial regime predominates in the study area, only the precipitation-runoff module was used in this study, and it will be briefly described here.
The lumped model considers the watershed a double storage system consisting of subsurface (SS) and deep storage (US). SS represents the water stored in the unsaturated soil layer as soil moisture, while US is the water covering the saturated soil layer. The main input data for the model are precipitation (PM) and potential evapotranspiration (PET). The model output is the total runoff (ETOT) at the watershed outlet, which includes both base flow (ES) and surface runoff (EI). For a further description of the model's characteristics, please refer to Muñoz [
16
] and Muñoz et al. [
13
]. In addition,
Table 1
presents a brief description of the model parameters and their influence on the model.
4.2. Calibration and Calculation of the Precipitation Correction Factor
To calibrate the models implemented in each watershed, the Monte Carlo Analysis Toolbox (MCAT) and the identifiability analysis developed by Wagener and Kollat [
17
] were used. This analysis allows the estimation of a set of suitable parameters in order to obtain good-performing models [
18
] based on a predefined performance measure or objective function. To assess identifiability, MCAT operates by running repeated simulations with a randomly selected parameter set within a user-defined range. This range must be wide enough to cover any possible simulation combination and at the same time must be a valid conceptual range for the purposes of the modeling. Then, the parameter values are compared with the values obtained for the objective function for subsequent analyses.
The identifiability analysis consists of a graphic representation of a sensitivity analysis applied to the best 10% of the simulations and allows parameter ranges and processes that positively influence the model outputs (with respect to a given objective function) to be found, and thereby helps restrict the parameter range such that only good-performing models are kept [
19
,
20
]. In addition, it allows the uncertainty associated with predictions to be determined and reduced, improving the quality of the hydrological model and the reliability of the outputs [
13
].
In the present study, 10,000 simulations were carried out for each model (watershed), and the precipitation adjustment factor (A) was calculated by taking the 50th percentile (P
50
) of the best 10% of the models according to the identifiability analysis and three objective functions. The root mean square error (RMSE), transformed root mean square error (TRMSE) and the runoff coefficient error (ROCE) functions, designed to calibrate a model as a function of high streamflows, low streamflows and long-term water balance closure, respectively, were used [
21
].
To ensure process and simulated-flow representativeness, it was verified that only behavioral models were considered within the best 10% models. Nash–Sutcliffe values higher than 0.6 were used as an acceptance criterion for behavioral models.
4.3. Objective Function Description
(i)

Root mean square error (RMSE) (Equation (1)): this indicator operates as a function of simple differentials of the simulated streamflows (Q

s,t

) with respect to the observed streamflows (Q

o,t

) and is focused on the high flows.

(ii)

Transformed root mean square error (TRMSE) (Equations (2) and (3)): this function is equivalent to RMSE, with the difference that the simulated and observed values are first transformed through Box–Cox transformation, which results in low flows taking on greater importance than medium or high flows.

(iii)

Runoff coefficient error (ROCE) (Equation (4)): this indicator captures the overall water balance, as it combines the flows into just one descriptor of hydrological characteristics—the average annual runoff coefficient—defined as (). The differences in absolute value between the simulated and observed descriptors are compared. This descriptor calculates the volumetric differences between simulated and observed streamflows over a modeling period, and therefore is the most suitable function for the objective of this study.
6. Conclusions
There is a low precipitation gauge station density in south-central Chile, which varies according to accessibility and is highest in the Central Valley and lowest in the mountainous areas. This density also decreases as mountain height increases, mainly due to decreasing accessibility. Although the density is lower than desired and below the level recommended by the World Meteorological Organization, the estimation and spatial representation of precipitation in the Central Valley proves to be acceptable.
In mountainous areas there is a conspicuous underestimation of precipitation due to the low precipitation gauge density. This underestimation increases along with mountain height, making it necessary to carry out precipitation corrections of up to 3 times the values recorded in the lowest areas.
Correction factors for the precipitation records from the national precipitation gauge network were determined and precipitation correction maps, along with average annual precipitation isohyets corrected for the orography, were made.
It is important to point out that this paper is focused on correcting precipitation records based on observations. It is an attempt to improve the current data availability and knowledge in the study area. Orography may not be the only variable related to spatial variability in the study area, and climate change trends and climate variability are not directly considered in the corrected precipitation amounts. Therefore, caution is necessary if climate projections, hydrological projections, or processes analysis are pursued. Including such signals or components may be necessary for medium- and long-term projections.
Although the hydrological model and its parameters, among other factors, may contribute as sources of uncertainty in the study, we deem the model not necessarily to be a major source, especially in the study area. The results show that precipitation is underestimated by up to 3.7 times in some areas. Therefore, precipitation is a great source of uncertainty for modeling and performing precipitation-related studies. In addition, it is important to point out that the methods include the simple inverse distance weighting method in the experimental design; therefore, corrected precipitation represents a further step in the precipitation estimation of the watersheds.
Author Contributions
E.M. designed the experiment, analyses and methods and wrote the paper; M.A., J.L. and I.R. performed the analyses and calculations.
Funding
This research has been supported by the FONDECYT 11121287 project.
Acknowledgments
The authors thank the General Water Directorate (DGA) of the Chilean Ministry of Public Works for providing the precipitation records used in this study and Fondecyt project 11121287, "Hydrological process dynamics in Andean basins. Identifying the driving forces, and implications in model predictability and climate change impact studies".
Conflicts of Interest
The authors declare no conflict of interest.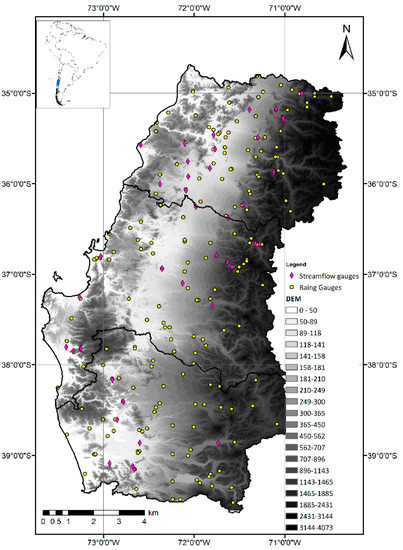 Figure 1. Study area, with locations of precipitation gauge stations (circles) and streamflow gauging stations (rhombuses). Made by the authors.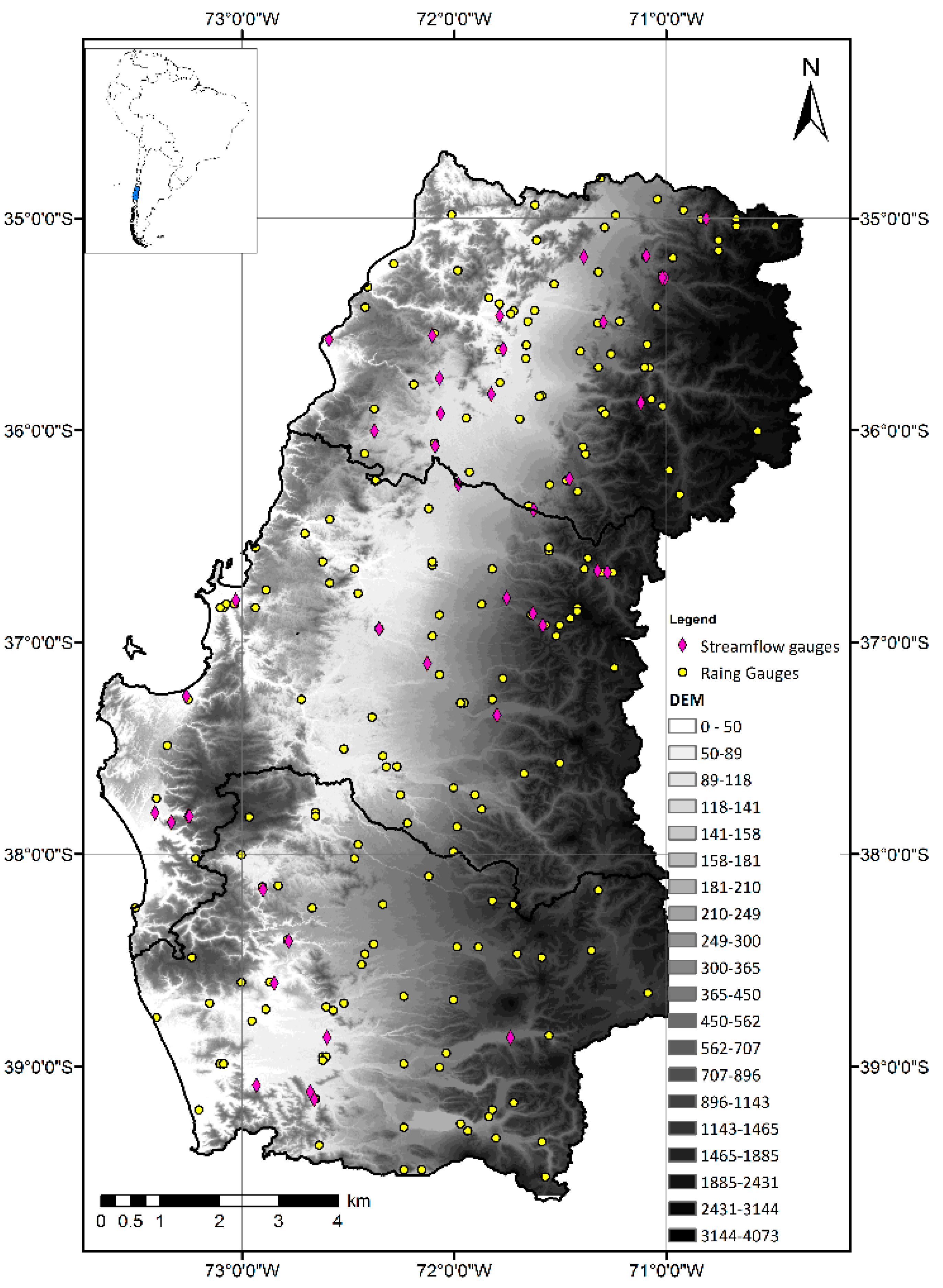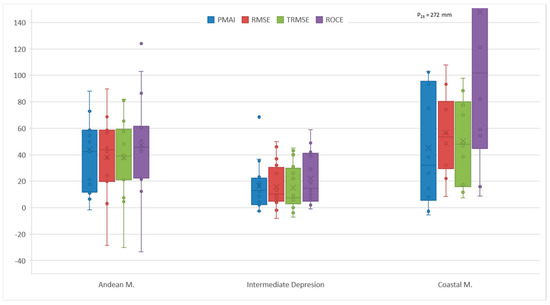 Figure 3. Percent difference in the AAP calculated by isohyets and inverse modeling for each watershed. Made by the authors.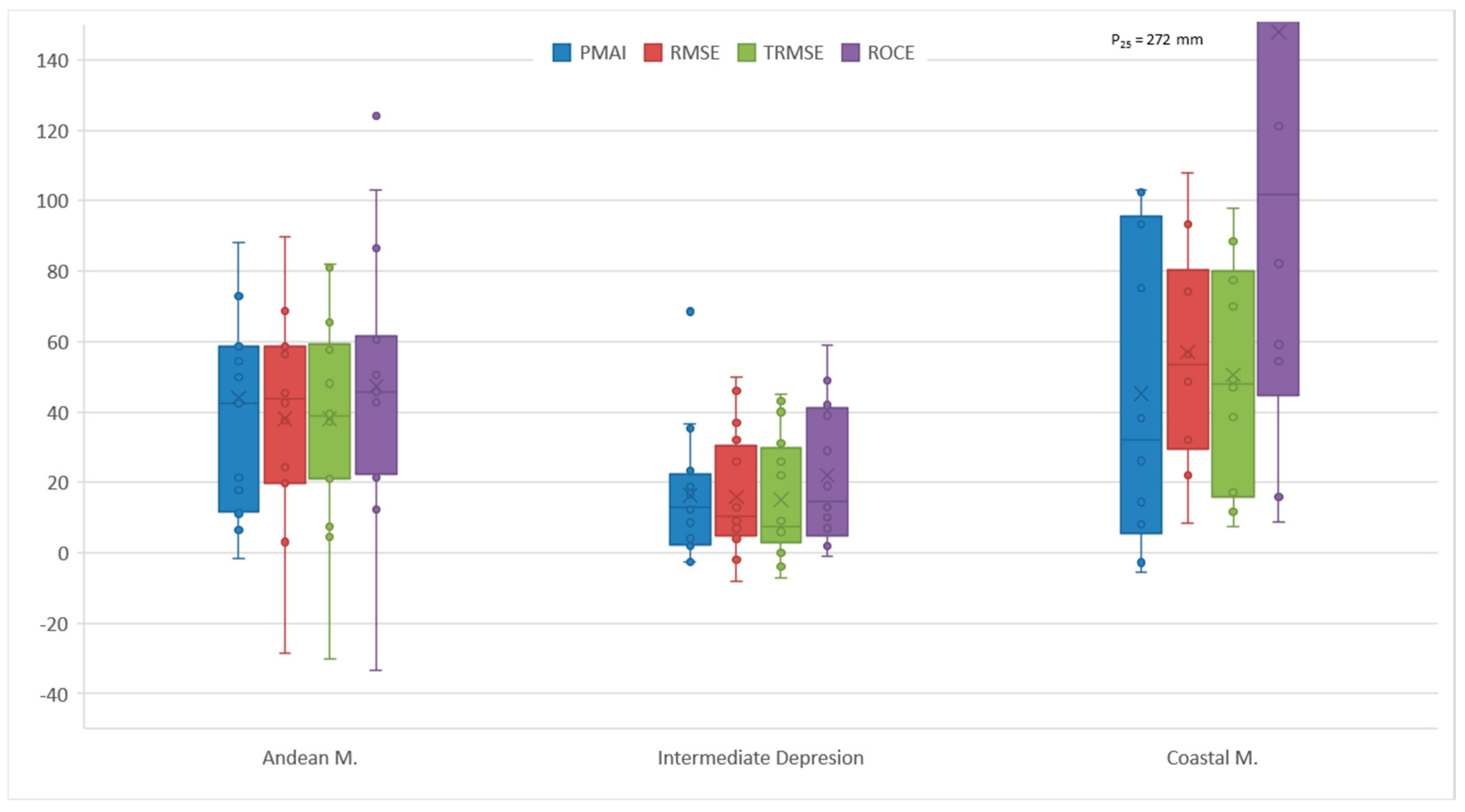 Figure 4. (a) Estimated average annual precipitation based on the results of inverse modeling and a cokriging-z interpolation; (b) Spatially distributed factor for precipitation correction using an approximation of the inverse model and a cokriging-z interpolation. Made by the authors.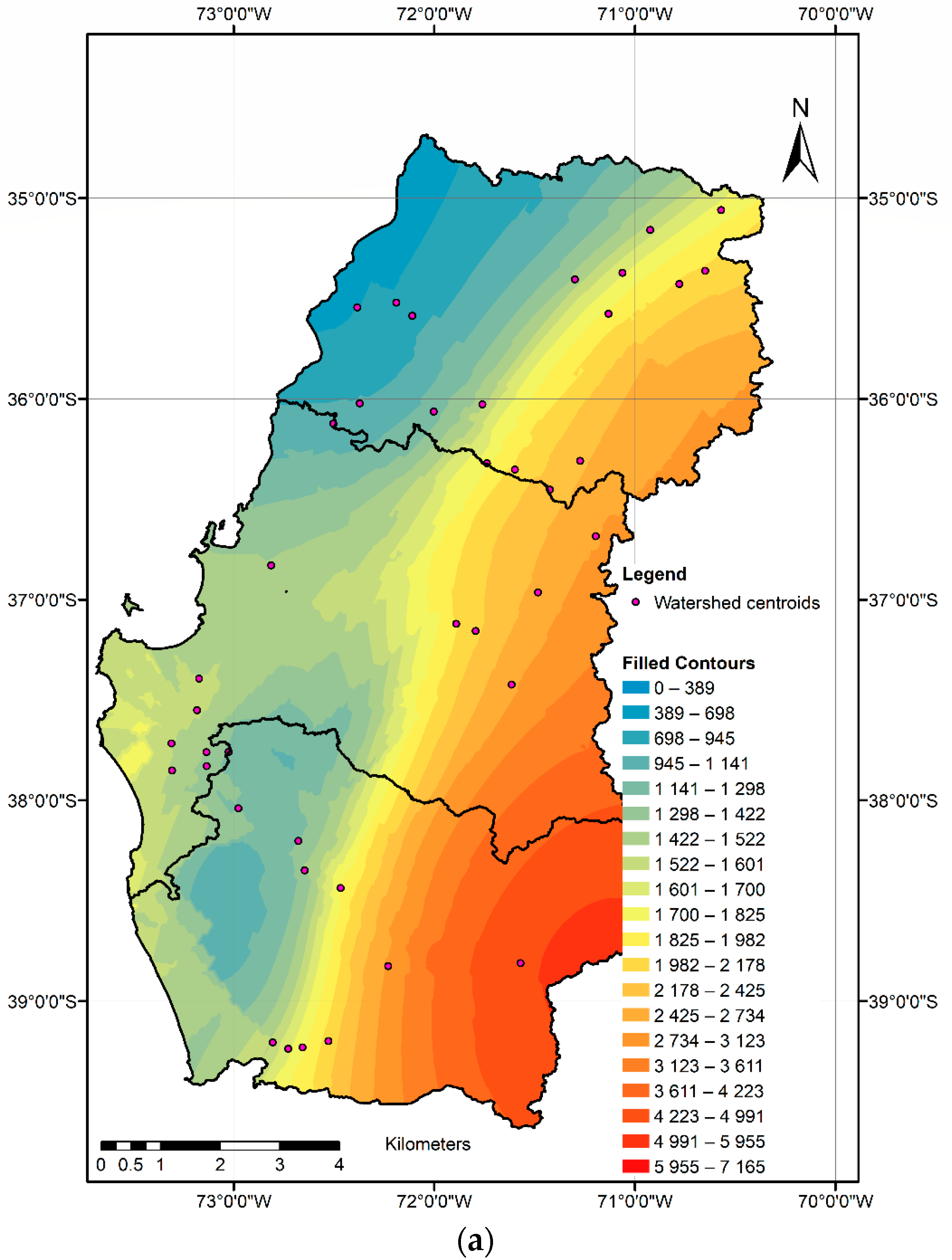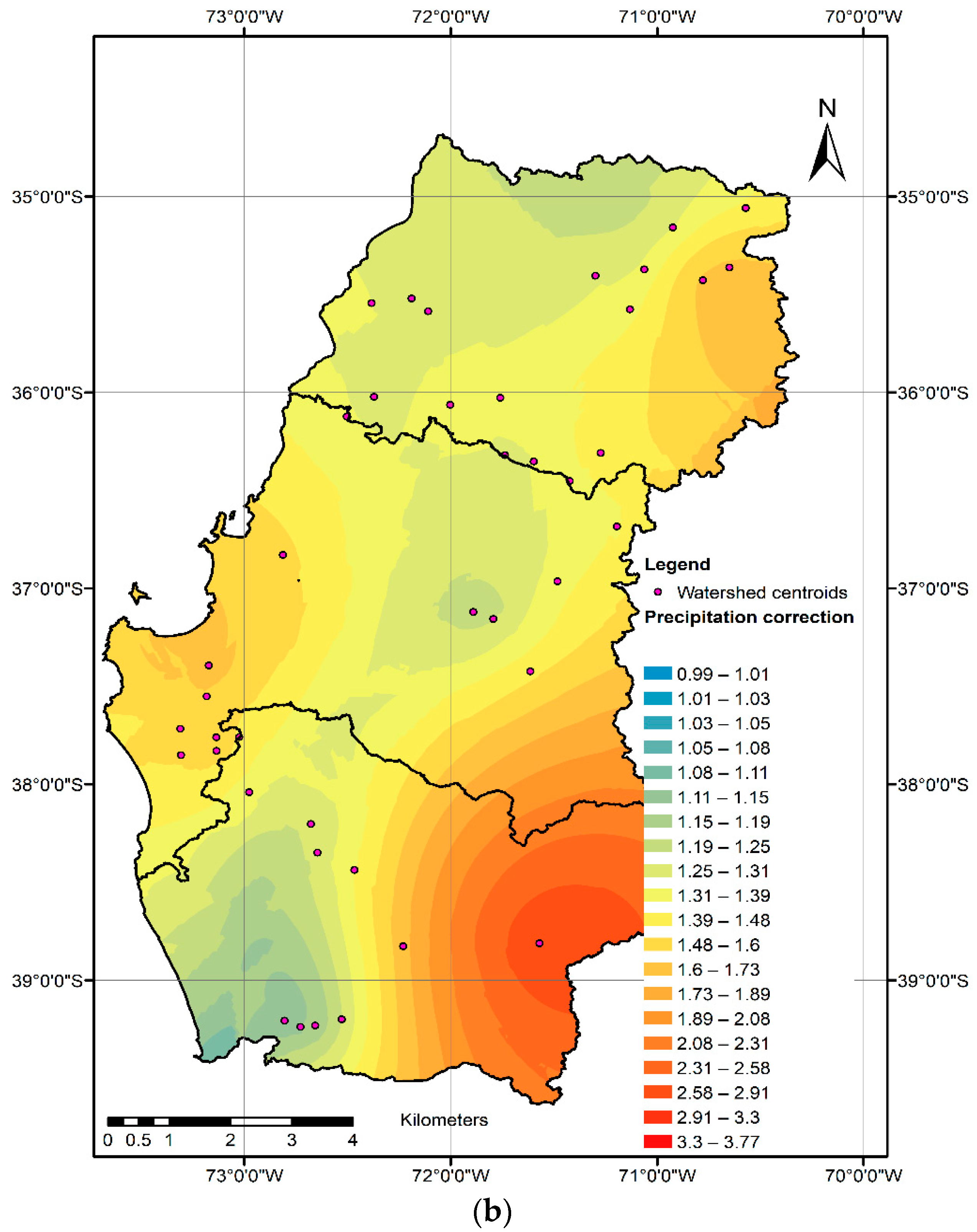 Table 1. Description of the model parameters, adjustment factors, and conceptual-physical range for the precipitation-runoff model.
| Parameter | Description | Influence over | Range |
| --- | --- | --- | --- |
| Cmax | Maximum runoff coefficient when the sub-surface layer is saturated | EI | 0.05–0.70 |
| PLim (mm) | Precipitation limit over which PPD exists | PPD | 0–200 |
| D | Percentage of precipitation over PLim transformed into PPD | PPD | 0–100 |
| Hmax (mm) | Maximum capacity of the soil layer to retain water | Cmax and ER | 200–500 |
| PORC | Fraction of Hmax that defines the soil water content, restricting the evaporation processes | Hmax and ER | 0–100 |
| Ck | Subterranean runoff coefficient | ES | 0.05–0.80 |
| A | Precipitation data adjustment factor | PM | 0.85–2.00 |
| B | Potential evapotranspiration data adjustment factor | PET and ER | 0.85–2.00 |
EI: direct runoff; PPD: direct deep percolation; ER: real evapotranspiration; ES: subterranean runoff; PM: precipitation; PET: potential evapotranspiration.

Table 2. Precipitation correction factors estimated by inverse modeling for each watershed, using three objective functions. In addition, the average annual precipitation amounts from National Water Directorate (DGA) precipitation gauge records (AAPP), isohyets (AAPI) and inverse modeling (AAPc) using different objective functions are shown. Made by the authors.
Area
Watershed
A [-]
AAP [mm]
RMSE
TRMSE
ROCE
AAPP
AAPI
AAPRMSE
AAPTRMSE
AAPROCE
Andes
Chillánen Esperanza
1.38
1.38
1.43
2284
2250
3142
3151
3260
Diguillínen San Lorenzo
1.46
1.48
1.5
2123
2500
3097
3145
3194
Lircay en Puente las Rastras
1.03
1.08
1.12
1673
1783
1731
1798
1879
Longavíen la Quiriquina
1.6
1.58
1.61
1727
2741
2762
2725
2775
Perquilauquénen San Manuel
1.44
1.37
1.43
1918
2733
2754
2632
2742
RenegadoenInvernada
0.72
0.7
0.67
2047
2483
1464
1428
1367
Rucúe en Camino a Antuco
1.45
1.39
1.46
1833
4695
2666
2554
2679
Estero UpeoenUpeo
1.43
1.39
1.46
1063
2000
1516
1476
1550
Claro enlosQueñes
1.03
1.05
1.23
1293
1996
1333
1352
1586
Colorado en Junta con Palos
1.59
1.66
1.87
1407
2109
2232
2329
2626
Palos en Junta con Colorado
1.69
1.81
2.24
1479
2222
2494
2678
3314
Ancoa Antes Túnel Canal Melado
1.9
1.82
2.03
2248
2500
4269
4093
4566
Ñubleen la Punilla
1.2
1.21
1.22
2252
2753
2698
2727
2754
Sauces Antes Junta Con Ñuble
1.24
1.22
1.21
2060
2300
2562
2509
2501
AllipénenMelipeuco
1.56
1.59
1.62
2209
3818
3452
3521
3569
Central Valley
Claro enCamarico
0.92
0.93
1.02
1374
1544
1264
1278
1401
Claro enRauquen
1.37
1.45
1.49
1089
1109
1491
1578
1622
PerquilauquenenGniquen
1.11
1.09
1.15
1397
1907
1551
1523
1607
PerquilauquenenQuella
1.1
1.08
1.19
1292
1550
1421
1395
1537
CauquenesenDesembocadura
1.04
1.06
1.1
763
743
794
809
839
PurapelenSauzal
0.98
1
1.04
703
800
689
703
731
Loncomillaen Bodega
1.46
1.4
1.59
859
1059
1254
1203
1366
Loncomillaen las Brisas
1.26
1.31
1.42
986
1335
1242
1292
1400
ItataenTrilaleo
1.07
1.02
1.02
1731
1801
1852
1766
1766
Itataen General Cruz
1.08
1.06
1.13
1522
1666
1644
1613
1720
LumacoenLumaco
1.09
1.07
1.14
1020
1211
1112
1091
1163
QuillenenGalvarino
1.13
1.22
1.29
1250
1216
1413
1525
1613
CholCholenCholChol
1.32
1.26
1.39
1079
1259
1424
1360
1500
QuepeenQuepe
1.5
1.43
1.5
1633
2752
2450
2335
2450
PuyehueenQuitratue
1
0.96
0.99
2034
2000
2034
1953
2012
DonguilenGorbea
1.11
1.07
1.07
1942
2109
2156
2078
2078
Coastal Range
CauquenesenArrayan
1.32
1.12
1.15
804
759
1062
897
875
LoancoenDesembocadura
1.56
1.39
1.47
739
800
1157
1024
1176
PurapelenNirivilo
1.5
1.47
1.59
699
800
1051
1027
1274
Andalién Camino a Penco
1.74
1.7
1.6
1011
1397
1761
1718
2235
ButamalalenButamalal
1.76
1.77
2.04
1139
2310
2006
2020
4721
CarampangueenCarampangue
2.08
1.98
2.05
1169
2048
2432
2315
4199
CayucupilenCayucupil
1.93
1.89
2.2
1149
2327
2222
2166
5121
ReputoenReputo
1.09
1.08
1.23
1190
1500
1291
1277
1838
Tucapelen Cañete
1.49
1.49
1.65
1228
2375
1823
1832
3912
Mahuidancheen Santa Ana
1.22
1.17
1.19
1876
1825
2287
2200
2175
A: Precipitation data adjustment factor; AAP: Average annual precipitation; RMSE: Root mean squared error; TRMSE: Transformed root mean squared error; ROCE: Runoff coefficient error; AAPP, AAPI: Average annual precipitation calculated from isohyets; AAPRMSE: Average annual precipitation calculated inverse modeling and RMSE objective function; AAPTRMSE: Average annual precipitation calculated inverse modeling and TRMSE objective function; AAPROCE: Average annual precipitation calculated inverse modeling and ROCE objective function.

© 2018 by the authors. Licensee MDPI, Basel, Switzerland. This article is an open access article distributed under the terms and conditions of the Creative Commons Attribution (CC BY) license (http://creativecommons.org/licenses/by/4.0/).