Evolution of Surface Hydrology in the Sahelo-Sudanian Strip: An Updated Review
1
Unité Mixte de Recherche (UMR, Lab) Patrimoines Locaux et Gouvernance (PALOC) Institut de Recherche pour le Développement (IRD)/Muséum National d'Histoire Naturelle (MNHN), Laboratoire Mixte International (LMI) Patrimoines et Territoires de l'Eau(PATEO), IRD Hann, BP 1386, 18524 Dakar, Senegal
2
Centre National de Recherches Météorologiques (CNRM), UMR 3589, Centre National de la Recherche Scientifique (CNRS)/Météo-France, 31057 Toulouse, France
3
UMR Géosciences Environnement Toulouse (GET) CNRS/IRD, Observatoire Midi-Pyrénées (OMP), 31400 Toulouse, France
4
Social and Economic Survey Research Institute (SESRI), Qatar University, Al Dafna. P.O. Box 2713, Doha, Qatar
5
Institut des Géosciences et Environnement (IGE) CNRS/IRD/Université Grenoble-Alpes (UGA)/Grenoble Institut National Polytechnique (GINP), Observatoire des Sciences de l'Univers de Grenoble (OSUG), 38400 Grenoble, France
6
UMR Hydro-Sciences Montpellier (HSM) IRD/Université de Montpellier (UM), 34000 Montpellier, France
7
Direction de la Gestion et de la Planification des Ressources en Eau (DGPRE), BP 14484, 18524 Dakar, Senegal
8
Department of Geography, Zinder University, BP 656, Zinder, Niger
9
Agence Nationale de l'Aviation Civile et de la Météorologie (ANACIM), BP 8184, 18524 Dakar, Senegal
10
Department of Geography, Université Cheikh Anta Diop (UCAD), BP 5005, 18524 Dakar, Senegal
11
UMR ESPACE DEV IRD/Institut de Recherche des Sciences et Technologies de l'Environnement et de l'Agriculture (IRSTEA)/UM, 34000 Montpellier, France
12
Direction Nationale de l'Hydraulique, BP 642, 999049 Conakry, Guinea
13
Coyne et Bellier, Tractebel Engineering France, 92622 Gennevilliers, France
14
Centre de Recherches Hydrologique (CRH) de l'Institut de Recherches Géologiques et Minières (IRGM), BP 4110 Nlongkak, 999108 Yaoundé, Cameroon
15
MEEF Ministère de l'Environnement des Eaux et Forêts/Ministry of Environment, Water and Forests, BP 761, 999049 Conakry, Guinea
*
Author to whom correspondence should be addressed.
Received: 23 March 2018 / Revised: 24 May 2018 / Accepted: 30 May 2018 / Published: 8 June 2018
(This article belongs to the Section
Hydrology
)
Abstract
In the West African Sahel, two paradoxical hydrological behaviors have occurred during the last five decades. The first paradox was observed during the 1968–1990s 'Great Drought' period, during which runoff significantly increased. The second paradox appeared during the subsequent period of rainfall recovery (i.e., since the 1990s), during which the runoff coefficient continued to increase despite the general re-greening of the Sahel. This paper reviews and synthesizes the literature on the drivers of these paradoxical behaviors, focusing on recent works in the West African Sahelo/Sudanian strip, and upscaling the hydrological processes through an analysis of recent data from two representative areas of this region. This paper helps better determine the respective roles played by Land Use/Land Cover Changes (LULCC), the evolution of rainfall intensity and the occurrence of extreme rainfall events in these hydrological paradoxes. Both the literature review and recent data converge in indicating that the first Sahelian hydrological paradox was mostly driven by LULCC, while the second paradox has been caused by both LULCC and climate evolution, mainly the recent increase in rainfall intensity.
View Full-Text
►

▼

Figures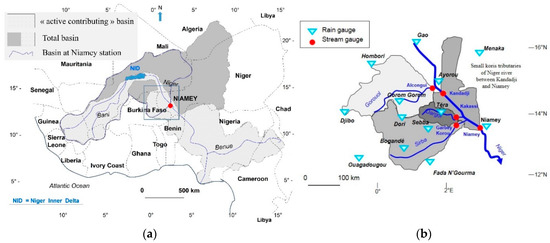 Figure 1
This is an open access article distributed under the
Creative Commons Attribution License
which permits unrestricted use, distribution, and reproduction in any medium, provided the original work is properly cited (CC BY 4.0).

Share & Cite This Article
MDPI and ACS Style
Descroix, L.; Guichard, F.; Grippa, M.; Lambert, L.A.; Panthou, G.; Mahé, G.; Gal, L.; Dardel, C.; Quantin, G.; Kergoat, L.; Bouaïta, Y.; Hiernaux, P.; Vischel, T.; Pellarin, T.; Faty, B.; Wilcox, C.; Malam Abdou, M.; Mamadou, I.; Vandervaere, J.-P.; Diongue-Niang, A.; Ndiaye, O.; Sané, Y.; Dacosta, H.; Gosset, M.; Cassé, C.; Sultan, B.; Barry, A.; Amogu, O.; Nka Nnomo, B.; Barry, A.; Paturel, J.-E. Evolution of Surface Hydrology in the Sahelo-Sudanian Strip: An Updated Review. Water 2018, 10, 748.
Note that from the first issue of 2016, MDPI journals use article numbers instead of page numbers. See further details here.
Related Articles
Comments
[Return to top]