Assessing Urban Water Management Sustainability of a Megacity: Case Study of Seoul, South Korea
1
School of Urban and Civil Engineering, Hongik University, Wausan-ro 94, Mapo-gu, Seoul 04066, Korea
2
Centre for Water Resource Cycle Research, Korea Institute of Science and Technology, Hwarangno 14-gil 5, Seongbuk-gu, Seoul 02792, Korea
3
KWR Watercycle Research Institute, Groningenhaven 7, Nieuwegein 3433 PE, and Copernicus Institute for Sustainable Development and Innovation, Utrecht University, Heidelberglaan 2, 3584 CS Utrecht, The Netherlands
4
Water Recycle Research Division, Seoul Water Institute, Cheonho-daero 716-10, Gwangjin-gu, Seoul 04981, Korea
*
Author to whom correspondence should be addressed.
Received: 17 April 2018 / Revised: 16 May 2018 / Accepted: 22 May 2018 / Published: 24 May 2018
Many cities are facing various water-related challenges caused by rapid urbanization and climate change. Moreover, a megacity may pose a greater risk due to its scale and complexity for coping with impending challenges. Infrastructure and governance also differ by the level of development of a city which indicates that the analysis of Integrated Water Resources Management (IWRM) and water governance are site-specific. We examined the status of IWRM of Seoul by using the City Blueprint® Approach which consists of three different frameworks: (1) Trends and Pressures Framework (TPF), (2) City Blueprint Framework (CBF) and (3) the water Governance Capacity Framework (GCF). The TPF summarizes the main social, environmental and financial pressures that may impede water management. The CBF assesses IWRM of the urban water cycle. Finally, the GCF identifies key barriers and opportunities to develop governance capacity. The results indicate that nutrient recovery from wastewater, stormwater separation, and operation cost recovery of water and sanitation services are priority areas for Seoul. Furthermore, the local sense of urgency, behavioral internalization, consumer willingness to pay, and financial continuation are identified as barriers limiting Seoul's governance capacity. We also examined and compared the results with other mega-cities, to learn from their experiences and plans to cope with the challenges in large cities.
Author Contributions
H.K. and J.S. acquired and analyzed data; J.P., K.v.L., and H.K. wrote the paper; K.v.L. and S.K. conceived and designed the analysis; S.L. and Y.J.C. and contributed to conception of the paper and interpretation of data.
Acknowledgments
This research was supported by Basic Science Research Program through the National Research Foundation of Korea (NRF) funded by the Ministry of Science and ICT (NRF-2016R1C1B1011770). The City Blueprint Action Group is part of Watershare (
https://www.watershare.eu/
) and the European Innovation Partnership on Water of the European Commission (
http://www.eip-water.eu/City_Blueprints
). Part of this research was carried out in the context of the POWER project. The European Commission is acknowledged for funding POWER in H2020-Water Under Grant Agreement No. 687809.
Conflicts of Interest
The authors declare no conflict of interest.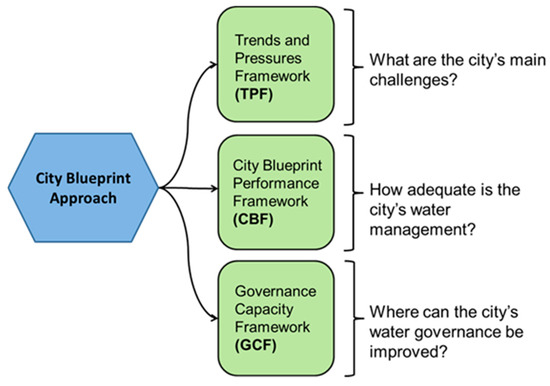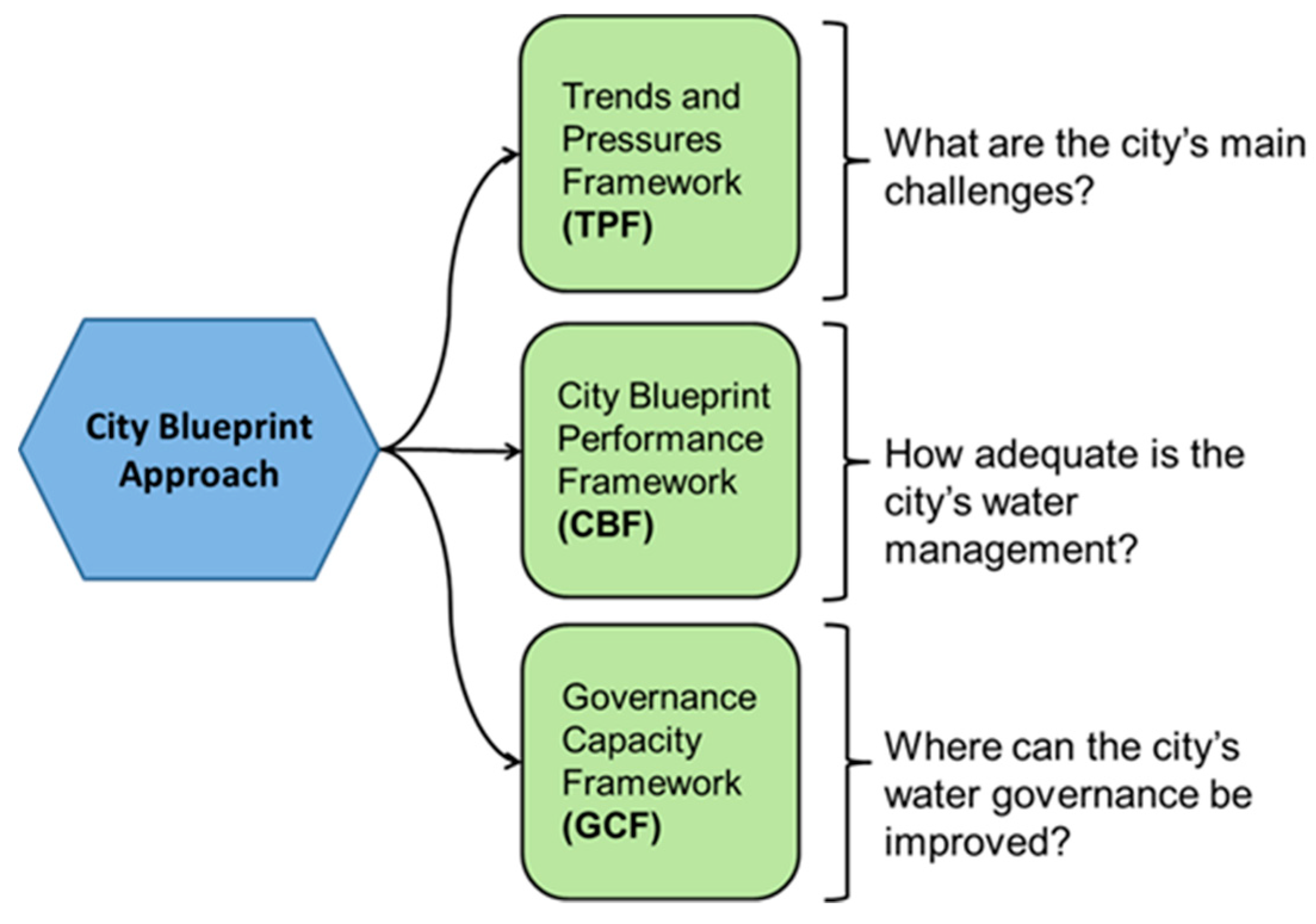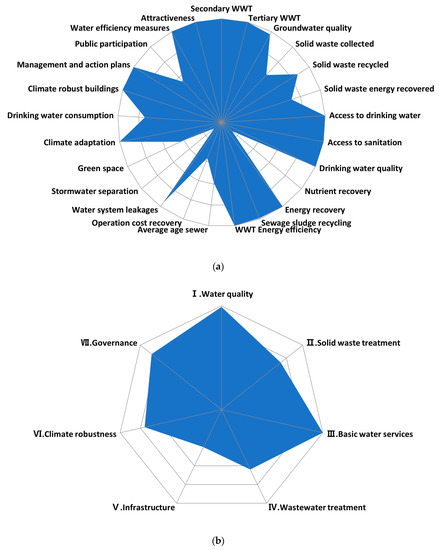 Figure 2. The City Blueprint of Seoul (a) based on 25 indicator scores and (b) the average scores of the seven categories. The Blue City Index, the geometric mean of all 25 indicators, is 7.3.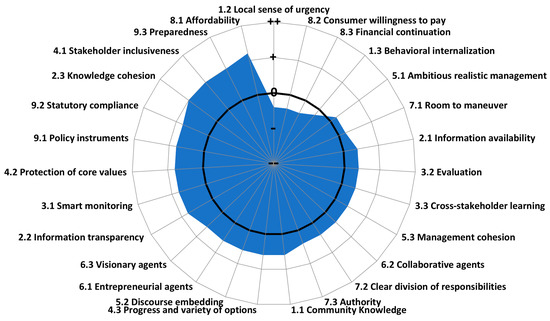 Figure 3. Result of the Governance Capacity Framework (GCF) of Seoul. The 27 indicators are organized clockwise around the spider web by most limiting (−−) to most encouraging (++) for the overall governance capacity.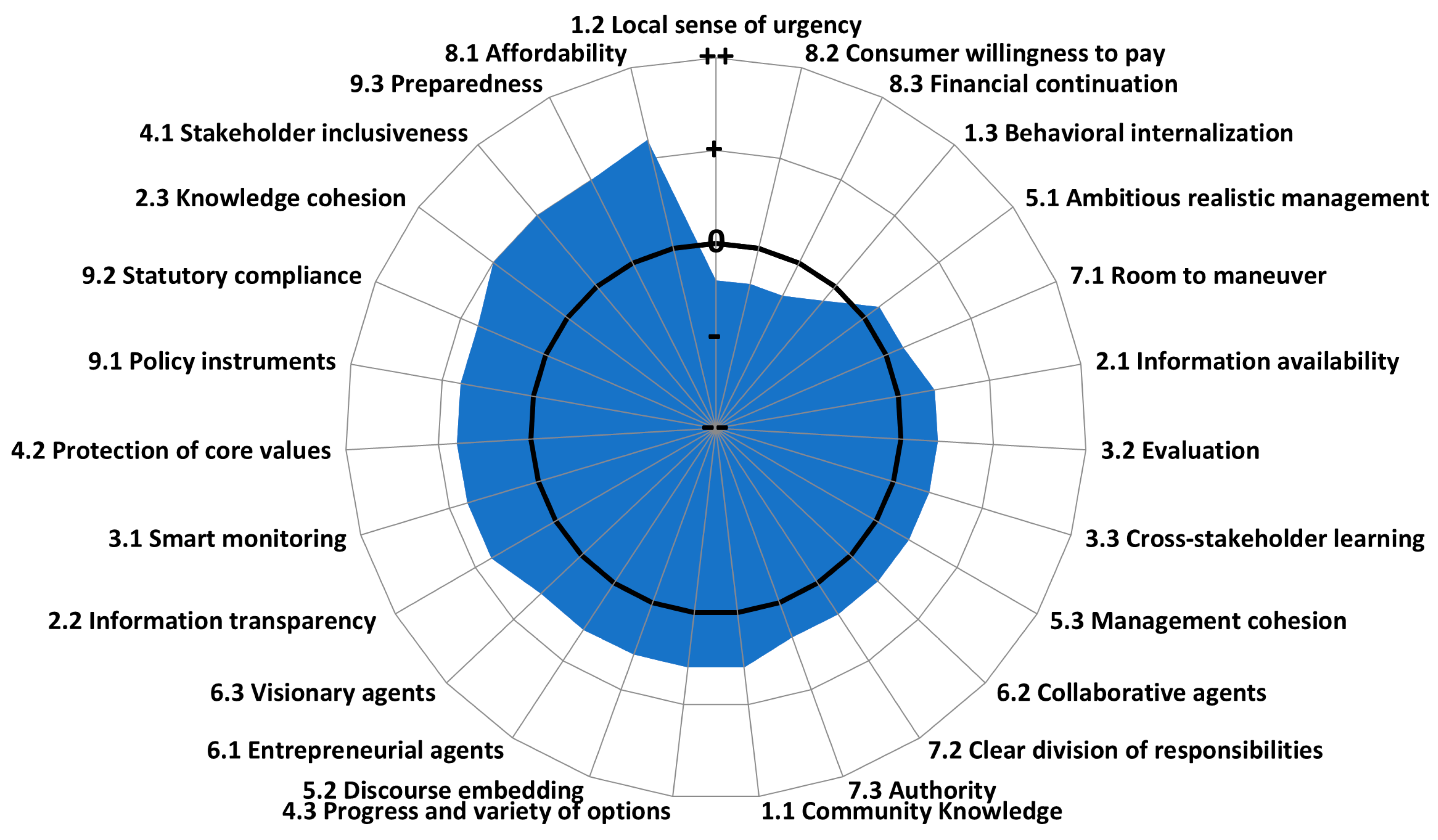 Figure 4.
Results of the City Blueprint analysis of 70 municipalities and regions in 37 different countries. The Blue City Index, the geometric mean of 25 indicators of the City Blueprint, has been calculated according to Koop and Van Leeuwen [
13
,
14
,
15
]. The BCIs of Seoul, New York City, London, and Istanbul are highlighted.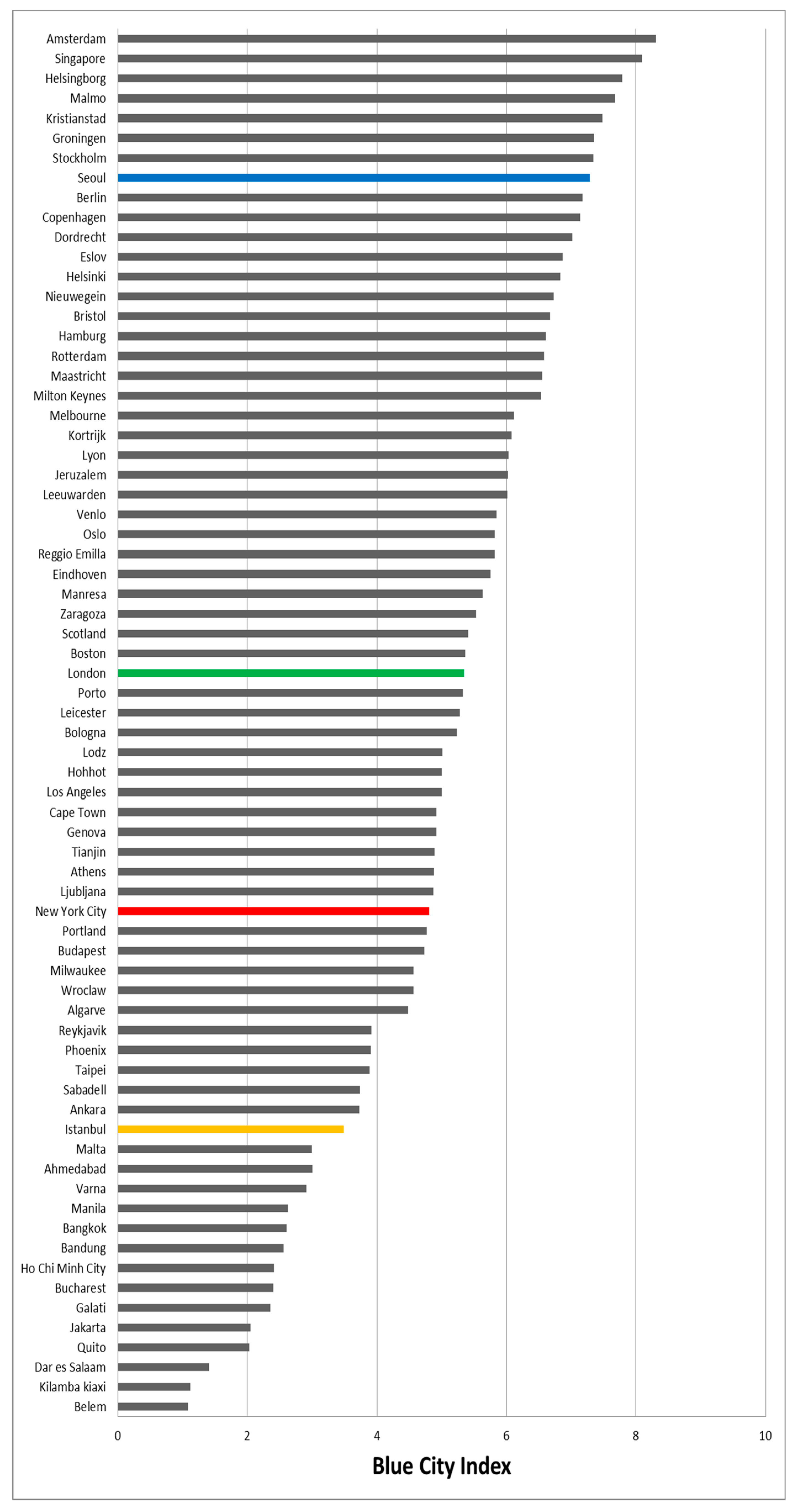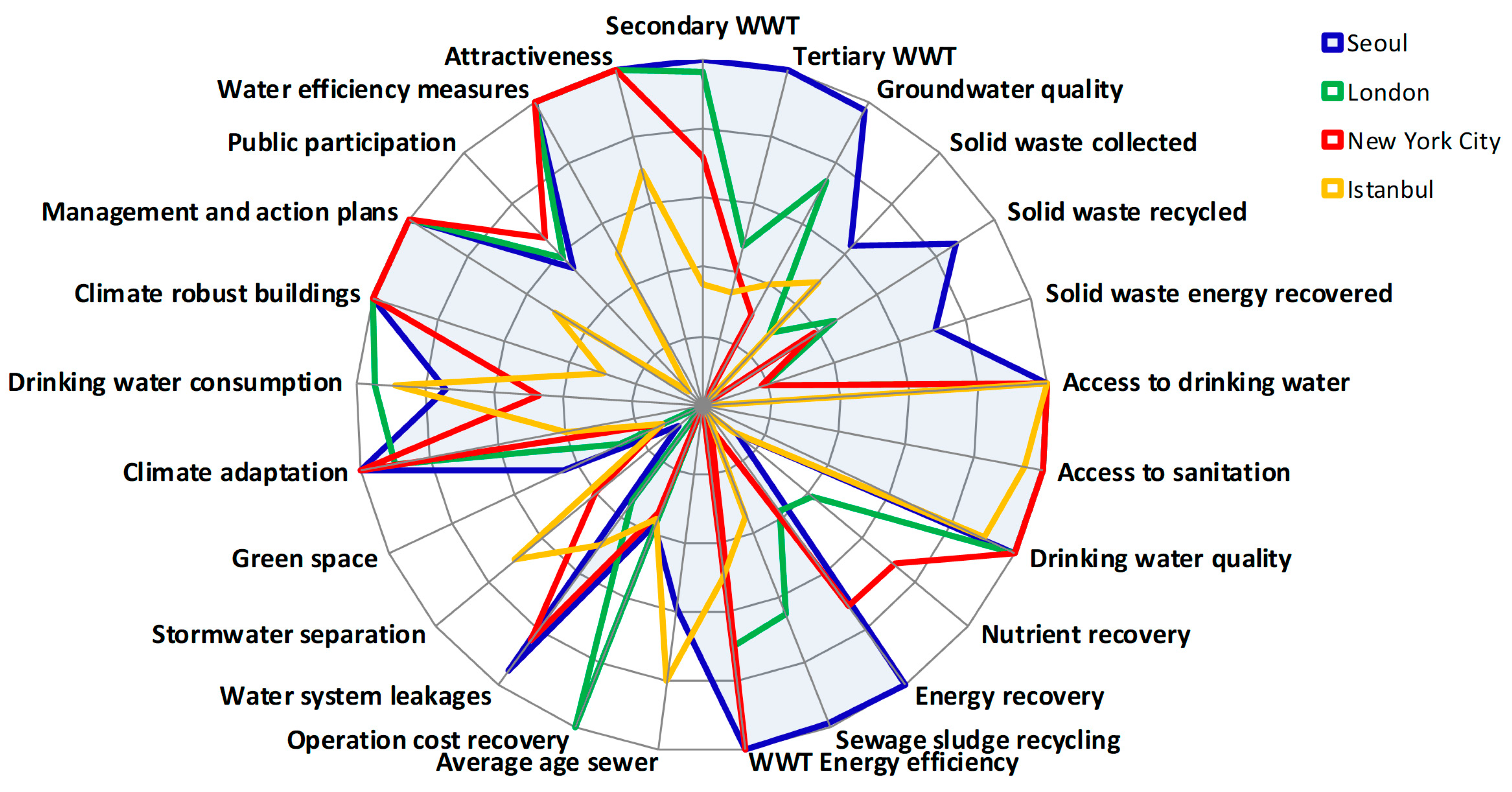 Trends and Pressures Framework (TPF)
Goal
Baseline assessment of social, environmental, and financial pressures
Indicators
Framework
Social pressures
1. Urbanization rate
2. Burden of disease
3. Education rate
4. Political instability
Environmental pressures
5. Flooding
6. Water scarcity
7. Water quality
8. Heat risk
Financial pressures
9. Economic pressure
10. Unemployment rate
11. Poverty rate
12. Inflation rate
Data
Public data or data provided by Seoul Metropolitan Government
Scores
0: no concern, 1: little concern, 2: medium concern, 3: concern and 4: great concern
Overall score
Trends and Pressure Index (TPI), the arithmetic mean of 12 indicators. Indicators scoring a concern or great concern (3 or 4 points) are communicated as a priority
City Blueprint Framework (CBF)
Goal
Baseline performance assessment of the state of IWRM
Framework
Twenty-five indicators divided over seven broad categories:
1. Water quality
2. Solid waste
3. Basic water services
4. Wastewater treatment
5. Infrastructure
6. Climate robustness
7. Governance
Data
Public data or data provided by the water and wastewater utilities and cities based on a questionnaire [15]
Scores
0 (low performance) to 10 (high performance)
Overall score
Blue City Index (BCI), the geometric mean of 25 indicators
Governance Capacity Framework (GCF)
Goal
Baseline assessment of the governance capacity of a city
Framework
Five challenges: (1) water scarcity, (2) flood risk, (3) wastewater treatment, (4) solid waste treatment, and (5) UHI. In each water challenge, 27 indicators are divided over nine broad categories:
1. Awareness
2. Useful knowledge
3. Continuous learning
4. Stakeholder engagement process
5. Management ambition
6. Agents of change
7. Multi-level network potential
8. Financial viability
9. Implementing capacity
Data
Policy documents, scientific literature, and interviews
Total interviewees: 10 (academia: 5, practitioners or civil servants: 5)
2~3 interviewees for each challenge
Scores
'very encouraging (++)' to 'very limiting (−−)'
Dimension
Conditions
Indicators
Water Scarcity
Flood Risk
Waste Water Treatment
Solid Waste Treatment
Urban Heat Islands
Knowing
1. Awareness
1.1 Community Knowledge
0
+
0
++
0
1.2 Local sense of urgency
−
+
−
0
−
1.3 Behavioral internalization
−
+
−
+
−
2. Useful knowledge
2.1 Information availability
+
+
0
0
0
2.2 Information transparency
+
+
0
+
+
2.3 Knowledge cohesion
+
+
+
+
+
3. Continuous learning
3.1 Smart monitoring
+
+
+
+
0
3.2 Evaluation
+
0
0
+
0
3.3 Cross-stakeholder learning
0
0
+
+
0
Wanting
4. Stakeholder engagement process
4.1 Stakeholder inclusiveness
+
+
+
+
+
4.2 Protection of core values
0
+
+
+
+
4.3 Progress and variety of options
+
0
0
+
+
5. Management ambition
5.1 Ambitious realistic management
0
0
0
+
0
5.2 Discourse embedding
0
+
0
+
+
5.3 Management cohesion
0
+
0
+
0
6. Agents of change
6.1 Entrepreneurial agents
0
+
+
+
0
6.2 Collaborative agents
0
+
+
0
0
6.3 Visionary agents
−
++
+
+
0
Enabling
7. Multi-level network potential
7.1 Room to maneuver
−
+
+
0
0
7.2 Clear division of responsibilities
0
0
+
+
0
7.3 Authority
-
+
+
+
0
8. Financial viability
8.1 Affordability
++
0
++
+
+
8.2 Consumer willingness to pay
0
-
0
0
-
8.3 Financial continuation
0
-
0
0
-
9. Implementing capacity
9.1 Policy instruments
0
+
+
+
+
9.2 Statutory compliance
0
+
+
+
+
9.3 Preparedness
+
+
+
+
+
Yellow: limiting (−); light green: encouraging (+); dark green: very encouraging (++).
1.2 Local sense of urgency.
To what extent do actors have a sense of urgency, resulting in widely supported awareness, actions, and policies that address the water challenge?


The perception regarding this indicator varied considerably between the stakeholders. Few experts and NGOs have recognized the uncertain threats from climate change and urbanization, and express their increasing concerns for the future. However, most of the general public does not feel this urgency about these water-related challenges.
1.3 Behavioral internalization
To what extent do local communities and stakeholders try to understand, react, anticipate and change their behavior in order to contribute to solutions regarding the water challenge?


Although actions to improve urban water-related resilience (e.g. separate collection, green roofs, green space) exist, measures are only taken under external pressure, including restraints and economic incentives.
8.2 Consumer willingness to pay
How is expenditure regarding the water challenge perceived by all relevant stakeholders (i.e., is there trust that the money is well-spent)?


Differences in awareness of the urgency of water challenges in communities determine the willingness to pay for measures. In general, rates of cost recovery in each neighborhood of the city are lower than the actual costs, even when funds are provided by the national or local governments, leading the neighborhood to maintain the status quo.
8.3 Financial continuation
To what extent do financial arrangements secure long-term, robust policy implementation, continuation, and risk reduction?


To deal with future water challenges, long-term strategies have been planned in a ten-year cycle. However, since financial resource allocation support and maintain the status quo, there is a lack of resources to deal with prevention of unpredictable future risks. Furthermore, some water challenges that seem relatively minor issues for the communities do not receive sufficient financial resources for research and improvement.

© 2018 by the authors. Licensee MDPI, Basel, Switzerland. This article is an open access article distributed under the terms and conditions of the Creative Commons Attribution (CC BY) license (http://creativecommons.org/licenses/by/4.0/).