Improving Stochastic Modelling of Daily Rainfall Using the ENSO Index: Model Development and Application in Chile
1
Centro Interdisciplinario de Cambio Global, Pontificia Universidad Católica de Chile, Av. Vicuña Mackenna 4860, Santiago 7820436, Chile
2
Departamento de Recursos Hídricos y Ciencias Ambientales, Universidad de Cuenca, Cuenca 010150, Ecuador
3
Departamento de Ecosistemas y Medio Ambiente, Pontifica Universidad Católica de Chile, Av. Vicuña Mackenna 4860, Santiago 7820436, Chile
4
Aquasec IAI Center of Excellence for Water Security, Santiago 7820436, Chile
5
Centro de Desarrollo Urbano Sustentable CONICYT/FONDAP 15110020, Av. Vicuña Mackenna 4860, Santiago 7820436, Chile
6
Centro de Investigación para la Gestión Integrada de Desastres Naturales CONICYT/FONDAP 15110017, Av. Vicuña Mackenna 4860, Santiago 7820436, Chile
7
Departamento de Ingeniería Hidráulica y Ambiental, Pontifica Universidad Católica de Chile, Santiago 7820436, Chile
*
Author to whom correspondence should be addressed.
Received: 21 December 2017 / Revised: 18 January 2018 / Accepted: 30 January 2018 / Published: 2 February 2018
Abstract
Stochastic weather simulation, or weather generators (WGs), have gained a wide acceptance and been used for a variety of purposes, including climate change studies and the evaluation of climate variability and uncertainty effects. The two major challenges in WGs are improving the estimation of interannual variability and reducing overdispersion in the synthetic series of simulated weather. The objective of this work is to develop a WG model of daily rainfall, incorporating a covariable that accounts for interannual variability, and apply it in three climate regions (arid, Mediterranean, and temperate) of Chile. Precipitation occurrence was modeled using a two-stage, first-order Markov chain, whose parameters are fitted with a generalized lineal model (GLM) using a logistic function. This function considers monthly values of the observed Sea Surface Temperature Anomalies of the Region 3.4 of El Niño-Southern Oscillation (ENSO index) as a covariable. Precipitation intensity was simulated with a mixed exponential distribution, fitted using a maximum likelihood approach. The stochastic simulation shows that the application of the approach to Mediterranean and arid climates largely eliminates the overdispersion problem, resulting in a much improved interannual variability in the simulated values.
View Full-Text
►

▼

Figures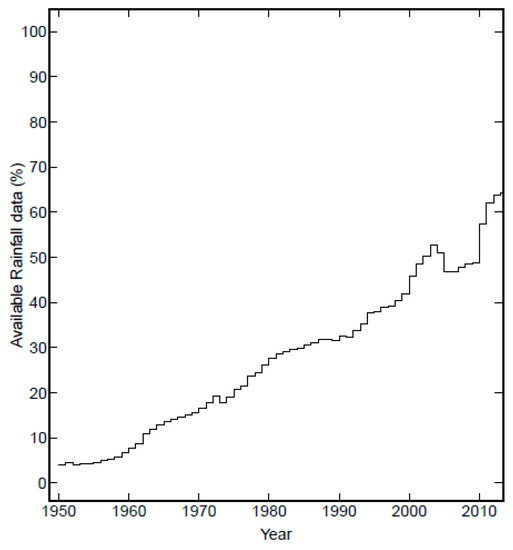 Figure 1
This is an open access article distributed under the
Creative Commons Attribution License
which permits unrestricted use, distribution, and reproduction in any medium, provided the original work is properly cited (CC BY 4.0).

Share & Cite This Article
MDPI and ACS Style
Urdiales, D.; Meza, F.; Gironás, J.; Gilabert, H. Improving Stochastic Modelling of Daily Rainfall Using the ENSO Index: Model Development and Application in Chile. Water 2018, 10, 145.
Note that from the first issue of 2016, MDPI journals use article numbers instead of page numbers. See further details here.
Related Articles
Comments
[Return to top]