Distribution and Potential Risk of Heavy Metals in Sediments of the Three Gorges Reservoir: The Relationship to Environmental Variables
1
State Key Laboratory of Hydro-science and Engineering, Department of Hydraulic Engineering, Tsinghua University, Beijing 100084, China
2
State Key Laboratory of Lake Science and Environment, Nanjing 210008, China
3
Changjiang River Scientific Research Institute of Changjiang Water Resources Commission, Wuhan 430015, China
*
Authors to whom correspondence should be addressed.
Received: 11 November 2018 / Revised: 5 December 2018 / Accepted: 10 December 2018 / Published: 12 December 2018
Abstract
In this study, surface sediment samples were taken from the Three Gorges Reservoir (TGR) in June 2015 to estimate the spatial distribution and potential risk of Cu, Zn, Cd, Pb, Cr, and Ni (34 sites from the mainstream and 9 sites from the major tributaries), and correlations with environmental variables were analyzed (e.g., median sediment size, water depth, turbidity, dissolved oxygen of the bottom water samples, and total organic carbon, total nitrogen, and total phosphorus of the surface sediment samples). Results show that the heavy metal concentrations in the sediments have increased over the last few decades, especially for Cd and Pb; and the sites in the downstream area, e.g., Badong (BD) and Wushan (WS), have had greater increments of heavy metal concentrations. The sampling sites from S6 to S12-WS are identified as hot spots for heavy metal distribution and have relatively high heavy metal concentrations, and there are also high values for the sites affected by urban cities (e.g., the concentrations of Zn, Cd, Cr and Ni for the site S12-WS). Overall, the heavy metal concentrations increased slightly along the mainstream due to pollutants discharged along the Yangtze River and sediment sorting in the reservoir, and the values in the mainstream were greater than those in the tributaries. Meanwhile, the heavy metal concentrations were generally positively correlated with water depth (especially for Ni), while negatively correlated with dissolved oxygen, turbidity, and median sediment size. These environmental variables have a great impact on the partition of heavy metals between the sediment and overlying water. According to the risk assessment, the heavy metals in the surface sediments of TGR give a low to moderate level of pollution.
View Full-Text
►

▼

Figures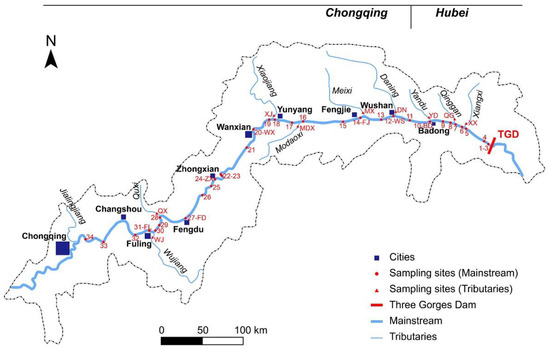 Figure 1
This is an open access article distributed under the
Creative Commons Attribution License
which permits unrestricted use, distribution, and reproduction in any medium, provided the original work is properly cited (CC BY 4.0).

Share & Cite This Article
MDPI and ACS Style
Huang, L.; Fang, H.; Ni, K.; Yang, W.; Zhao, W.; He, G.; Han, Y.; Li, X. Distribution and Potential Risk of Heavy Metals in Sediments of the Three Gorges Reservoir: The Relationship to Environmental Variables. Water 2018, 10, 1840.
Note that from the first issue of 2016, MDPI journals use article numbers instead of page numbers. See further details here.
Related Articles
Comments
[Return to top]