Open Access This article is
freely available
re-usable
Article
A Cost–Benefit Based, Parametric Procedure to Screen Existing Irrigation and Municipal Supply Reservoirs for Wind Energy Storage
1
Dipartimento di Ingegneria Civile, Ambientale, Aerospaziale e dei Materiali, Palermo University, 90128 Palermo, Italy
2
Independent Researcher, 90142 Palermo, Italy
3
Independent Researcher, 90143 Palermo, Italy
*
Author to whom correspondence should be addressed.
Received: 9 November 2018 / Accepted: 3 December 2018 / Published: 9 December 2018
Abstract
:
Pumped hydro storage (PHS) is one of the more suitable energy storage technologies to provide bulk storage of intermittent renewable energy sources (RES) such as wind. Since the main limiting factors to the expansion of this mature technology are environmental and financial concerns, the use of an existing reservoir can help mitigate both types of impacts. In addition, the high number of reservoirs for municipal and irrigation supply in many areas of the world makes the idea of using PHS as a relatively diffuse, open-market, technology for RES management attractive. These arguments in favor of PHS must, however, be convincing for investors and regulators from an economic standpoint. To this end, this paper presents a methodological tool to screen the feasibility of a PHS facility around an existing reservoir based on the principles of cost–benefit analysis, calibrated with data from Sicily, Italy. Each potential plant is characterized by two locational and two plant-specific parameters. Costs and benefits are assessed through a simulation model of the storage–release process on an hourly basis. Costs include both investment, and operation and maintenance expenditures, while the benefits considered include the opportunity cost of the current energy mix substituted by the stored energy, and the avoided CO2 emissions. The evaluation exercise is carried out parametrically, i.e., looking at a large number of combinations of the four parameters, in order to explore a wide range of possible plant configurations and to identify optimal ones under different locational conditions. A sensitivity analysis performed on models' parameters points out the sensitivity of results to benefit, rather than cost-related, input parameters, such as the efficiency of the generating and pumping system and the opportunity cost of energy.
Keywords:
reservoirs; wind energy; pumped hydro storage; cost–benefit analysis
1. Introduction
In addition, the screening procedures developed so far do not specifically address the role of PHS as storage of power surpluses generated by wind farms. This study is hence motivated by the need to support planners, regulators, and investors with a simple, quick tool to appraise the economic feasibility of PHS as bulk energy storage for wind power surpluses, providing optimal plant configuration for a wide range of the main locational and technological parameters that characterize a PHS plant with an existing reservoir.
2. Materials and Methods
In this work, the whole island was treated as a single load center supplied by conventional sources and wind farms. The grid, with its operation rules and structural bottlenecks, was not considered in this study, so storable energy surpluses stem from comparing observed load with wind power production. Hourly load data are available for the last years, as well as wind power absorbed by the grid, also on an hourly basis. In this work, the 26,304 hourly data from years 2011–2013 were used.
2.1. Estimation of Wind Power Production Data
In 2011–2013 Sicily had on average 54 working wind farms (
Figure 1
), with an increase from 53 at the beginning to 56 at the end of the period. As production data were not available, they were reconstructed for each wind farm using average hourly wind speed data at 2 m or 10 m, when available, from SIAS, the Sicilian Agro-meteorological Service [
28
]. SIAS provides on-line measurements mainly for the purpose of crop management, implying that location of meteorological stations was not selected in light of wind energy development. This may constitute a potential source of bias in the estimation of energy production. As the location of wind farms does not coincide with that of the gauge stations, wind data were selected by a criterion of proximity and similarity: a number of wind farms were associated to a single gauge station, as shown in
Figure 1
.
Wind speeds at 2 m or 10 m were first turned to the wind speed at the hub height of the turbines of the specific plant, through the Hellmann power law with an exponent of 0.25. Power production was assessed from wind speed using the wind speed–power characteristic of each specific wind farm, accounting for the turbine-specific cut-in and cut-off thresholds, i.e., wind speeds below and over which no energy is produced. Eighteen different types of turbines were detected in the surveyed plants. In addition, a row factor of 0.90 and an availability factor of 0.95 were multiplied by the production of each plant's turbines to account for both interference among turbines and out-of-service periods. The resulting aggregated wind power production (i.e., the sum in each hour of production from all the plants) looks quite realistic, both in terms of number of equivalent hours (averagely 1681 in 2011–2013) and in terms of overall average yearly energy production (2800 GWh), which is quite close to the wind power absorbed by the grid.
2.2. Load Data
Spells of wind energy surplus are obtained by comparing production with load for each hour of years 2011–2013. Here load is the wind energy absorbed by the grid, as provided by Terna, the grid operator (
www.terna.it
). Clearly, the amount of wind energy absorbed by the grid in a certain hour depends not only by the overall energy demand in that hour, but also on the specific condition of the grid and on the way the grid is managed. A more complete approach would hence require that the whole energy dispatch process be simulated, considering the overall energy demand, introducing some reasonable dispatch rule and assessing how energy demand is allocated among the different supply sources. Given the exploratory character of this work, this was not done, but, as said, the duration and magnitude of surpluses was obtained by comparing the estimated potential wind power production with wind power absorption in each hour of years 2011–2013.
2.3. The Evaluation Model
In a scheme with an existing reservoir and the other one to be built, the evaluation model simulates the refill–drawdown process of the upper reservoir during the spells of power surplus/demand. Surplus events are constituted by consecutive hours in which wind power production WP exceeds demand DEM, giving rise to a power surplus w (in MW). The j-th event is characterized by a duration Tj, and by a magnitude Mj defined as:
where t1
j
is the initial hour of the j-th surplus event.
Figure 2
depicts the characteristics of the surplus events in terms of duration and magnitude for years 2011–2013 separately. The elbow shape of these relationships is the consequence of the highly skewed distribution of hourly wind speeds, and gives rise to a considerable scope for optimization when defining the design variables (first of all, storage capacity and installed power) of the PHS plants. These aspects are however better analyzed through a simple model of the storage–release process, illustrated in the following section.
2.3.1. Modelling the Storage–Release Process
The governing equations of the simulation model are the following:
In Equation (2), St is the water volume stored in the upper reservoir in the t-th hour of simulation, Qt is the pumped water from the lower reservoir in the t-th hour (Qt > 0 only during a surplus event), K is upper reservoir's active capacity, and Rt is the release from the upper reservoir. Rt > 0 only outside surplus events, so that Rt × Qt = 0. All quantities are in m3.
In Equation (3), H (in m) is the net head between water levels in the upper and lower reservoirs. H was assumed constant along the year, which is not always the case, especially for existing reservoirs with seasonal uses such as irrigation. The efficiency of the pumping system, ηp, is set equal to 0.85; g (in ms−2) is the acceleration of gravity, wt is the available energy surplus (in MW), ΔY (in m) is friction loss along the pipes, and is the maximum volume conveyable in a hour by n independent pipes, each of diameter D (in m). In Equation (4), L (in m) is the length of the pipes connecting bidirectionally the upper and the lower reservoir, D is the pipes' diameter (assumed constant for all pipes), and β is Darcy's friction factor for steel pipes (Equation (4a)).
Upon substitution of (4a) in (4) and (4) in (3), the following cubic equation results:
which can be handled in closed form through the Cardan solution [
29
].
In simulating the release process, it is assumed that release R
t
= R
max
, unless water in the reservoir is not sufficient, in which case R
t
= S
t
. According to Equation (6), R
max
is given by the flow that can be conveyed at the maximum admissible velocity v
max
by the n pipes connecting bidirectionally the upper and lower reservoir, each having an internal section of ω (in m
2
). Although both n, D (and hence ω), and v
max
could be selected by an optimization study, we rather adopted the following reference values for D and v
max
: D = 2 m, v
max
= 4 m/s. We then obtained n, recalling that the maximum flow that can be pumped by a pump system with installed power P is:
where D
max
= 4Q
max
/(π × v
max
), and subsequently
Equations (2)–(6) contain the four main parameters describing a PHS plant for wind energy storage with an existing reservoir. Two of these parameters are locational, namely L and H, and characterize the site where the plant is located; as such they must be considered design parameters. The other two are K and P: they are plant-specific and can be considered as design variables.
Given a discrete domain for each of these four parameters (
Table 1
), we consider all their combinations in order to simulate the performances of a broad spectrum of different plants. For each (H, L, K, P) combination, the time series of power surpluses w
t
(including w
t
= 0 when production is less than demand) for the 26,304 h of triennium 2011–2013 can be routed through Equations (2)–(6), and for each time step energy production may be evaluated:
where η
turb
is the efficiency of the power generation system (the turbines), set equal to 0.90. From Equation (10), the overall energy produced during the three year period can be assessed as
The energy absorbed by the plant at time t (in MWh) can be defined as:
and the energy absorbed over the whole simulation period is given by
2.3.2. Assessing the Economic Indicators of the Plant
For each (H, L, K, P) combination, the following indicators were assessed:
1)

NPV of the plant:

where C

0

is the investment cost, assumed concentrated in year 0, B

y

is the benefit in year y, C

y

is the cost in year y and r is the social discount rate (SDR), set equal to 3.5% [

30

]. The methodology to obtain costs is illustrated in 2.3.3, and benefit estimation is reported at 2.3.4. After N years, at the end of the planning period, a residual value of the existing infrastructure should be considered. In addition, depending on N, the cost for equipment renewal should be concentrated in some year distant from the first one (say the 20th or the 30th). In this analysis, the planning horizon was set equal to 25 years so to avoid considering renewal costs, while residual value was conservatively omitted.
It should be observed that from the standpoint of a public planner/regulator, which is the one adopted here, an economic, rather than a financial approach is appropriate to carry out a cost–benefit analysis of this kind of investment. From this perspective, another choice leading to conservative results was to avoid consideration of conversion factors that are used in practical CBA to account for distortions in certain markets of interest for the analysis [
30
,
31
]. In this specific case, markets such as labor and that of large, patented, pumping and power generation systems can hardly be considered undistorted: avoiding consideration of their conversion factors leads to a more conservative (severe) estimation of costs and hence to an understatement of the economic indicators.
2)

IRR of the plant: the discount rate that makes NPV = 0.

3)

B/C: the ratio between actualized benefits and costs:

4)

LCOE, the levelized cost of energy:

where IC

y

, M

y

and F

y

respectively represent investment, operation and maintenance costs (O&M), and fuel expenditures in year y. LCOE has the dimension of a price and is similar to B/C ratio, except that benefits are not quantified explicitly.
In addition to these economical parameters, the energy efficiency of the plant can be defined as the ratio between the energy produced and the energy absorbed by the plant:
5)

Eff = Ereltot/Eabstot

Finally, a saturation index may be defined, as the ratio between energy produced and the total energy surplus:

6)

Sat = Ereltot/Wtot

The first three indicators require an explicit assessment of both costs and benefits of the plant.
2.3.4. Benefits Assessment
The benefits produced by a PHS plant as energy storage are manifold [
34
,
35
,
36
,
37
]. They include, besides energy storage bulk capacity, transmission grid ancillary benefits, such as firming capacity and reserves, reactive power, black start capability, spinning reserve, and overall balancing and voltage and/or frequency stability of the grid, for time spans ranging from seconds to hours.
In this work we only concentrated on the benefits associated to the bulk storage function, the one that allows energy storage for many hours. This approach is conservative, in that benefits generated by the plant are certainly higher than those obtained here. Two types of benefits were considered: the first type is generated by the fact that stored energy, when released, substitutes energy produced by the current sources; energy surpluses are assumed to be withdrawn from the grid for free and released when needed. This assumption holds certainly true if the PHS plant is built by a wind power producer or by the grid operator. Strictly speaking, this type of benefit should be expressed as the opportunity cost of the saved energy, to be assessed as the long run marginal cost (LRMC) of the energy mix. In this exercise, the average unit price of energy in the target area (Sicily) was taken as a proxy of the economic value of the current energy mix.
This price assumption seems conservative, as this type of stored energy could be used to cover peak demands and hence substitutes for the costliest sources such as turbo-gas generators; the effect of storage on price was analyzed, with different outcomes [
38
,
39
,
40
]; in this analysis we stuck to average values. The second type of benefit is associated with the reduction of CO
2
emissions. To assess this external effect, released energy was first turned into avoided tons of CO
2
using an emission coefficient of 433.2 CO
2
tons/GWh, according to Italian technical standard UNI/TS 11300-4; the economic value of avoided CO
2
tons was then attributed using the reference tables of the European Commission [
29
], which provide for each year of application (from 2010 to 2050) a range of values (lower–central–upper, in €/CO
2
tons) for the avoided emissions. For this application, the central value, spanning from 25 €/CO
2
ton in 2010 to 85 €/CO
2
ton in 2050, was used.
3. Results and Discussion
The relationships were mildly non-linear; a similar behavior was found for all the different combinations of H and L. Each optimal (P, K) pair in a given (L, H) locational scenario can feature quite different NPV and IRR values from its neighbors. Such relationships may be used as a guide to determine the design characteristics of a PHS plant in the surroundings of an existing reservoir: the location of the reservoir to be built is selected according to geological and other site constraints, thereby determining H and L.
The latter four, deriving from the model simulating the storage–release process, are obviously insensitive to the economical parameters and in the model only depend upon pumping and generation efficiency as well as water velocity.
4. Conclusions
The paper has presented a parametric engineering–economical assessment of a PHS plant with an existing reservoir for absorbing energy surpluses from wind farms, based on production and load data from Sicily, Italy. Although conducted with site-specific data, the assessment procedure is generalizable to other areas and the results are also likely to be generalizable in contexts with duration curves of wind power surpluses similar to those of
Figure 2
. The assessment is aimed at understanding the economic feasibility of new facilities in a decentralized perspective, to be suitably regulated [
45
]. Results show that there is a wide spectrum of economically feasible plants for different plant locational and design parameters. However, constraints on minimum head between the two reservoirs are binding, in that no plant looks feasible with heads less than 70–80 m. The study has clarified the interrelation among the different key parameters of the plant, and has provided optimal relationships between storage capacity and installed power as well as insights into the sensitivity of the economic indicators to some relevant input parameters, such as the efficiency of the generation and pumping system and the unit price of energy. A number of future developments can stem from this exploratory study: in the first place, a more detailed engineering-economical analysis can be performed, based on a more realistic description of a number of processes involved in the storage and subsequent production of energy. The storage process in the existing reservoir, for example, can show head variations of up to tenths of meters during the drawdown season. As the head between the upper reservoirs and the power plant remains the same, such variations require that more energy be absorbed by the PHS to produce the same quantity of energy. The assumption of constant pumping and generation efficiency is also something of an abstraction and can be better modelled and described, especially considering that economic indicators have proven sensitive to these parameters. In addition, the potential plant could also be embedded into the whole generation system, including all the other sources with their dispatch rules and ramp-up constraints, as performed in other studies. Future research might also seek to understand the potential development of multiple plants in a target area, looking at the way they should be operated.
Finally, the method presented can be applied to a given area to complement the topographical investigations described in References [
20
,
21
,
22
], and to confirm that potentially suitable sites identified for the development of a PHS facility in the surroundings of each existing reservoir are also promising from an economic perspective.
Author Contributions
Conceptualization, C.A., M.G. and M.R.M.; Formal analysis, C.A. and A.L.; Funding acquisition, M.R.M.; Investigation, A.L. and I.M.; Methodology, C.A. and M.G.; Resources, A.L.; Software, C.A.; Supervision, C.A., M.G. and M.R.M.; Validation, M.G.; Writing—original draft, C.A.; Writing—review & editing, M.G. and M.R.M.
Funding
This study was commissioned by Fondazione AMGA—Genova, a no profit organization funded by Genoa's (Italy) multiutility with the aim to initiate, promote and further cultural initiatives aimed at safeguarding nature and environment, particularly in the field of water resources and water management.
Conflicts of Interest
The authors declare no conflict of interest. The funders had no role in the design of the study; in the collection, analyses, or interpretation of data; in the writing of the manuscript, or in the decision to publish the results.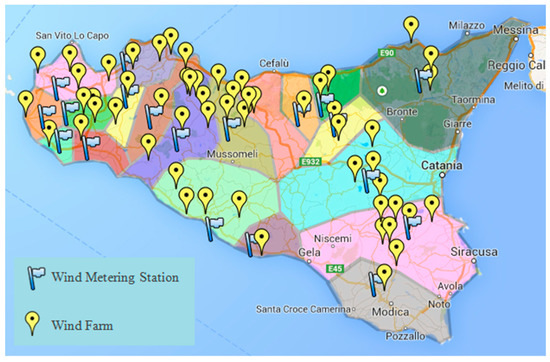 Figure 1. Location of wind farms in Sicily and wind metering stations used to reconstruct wind power production. The colored areas cover clusters of wind farms of which production is assessed using data from the same wind gauge station.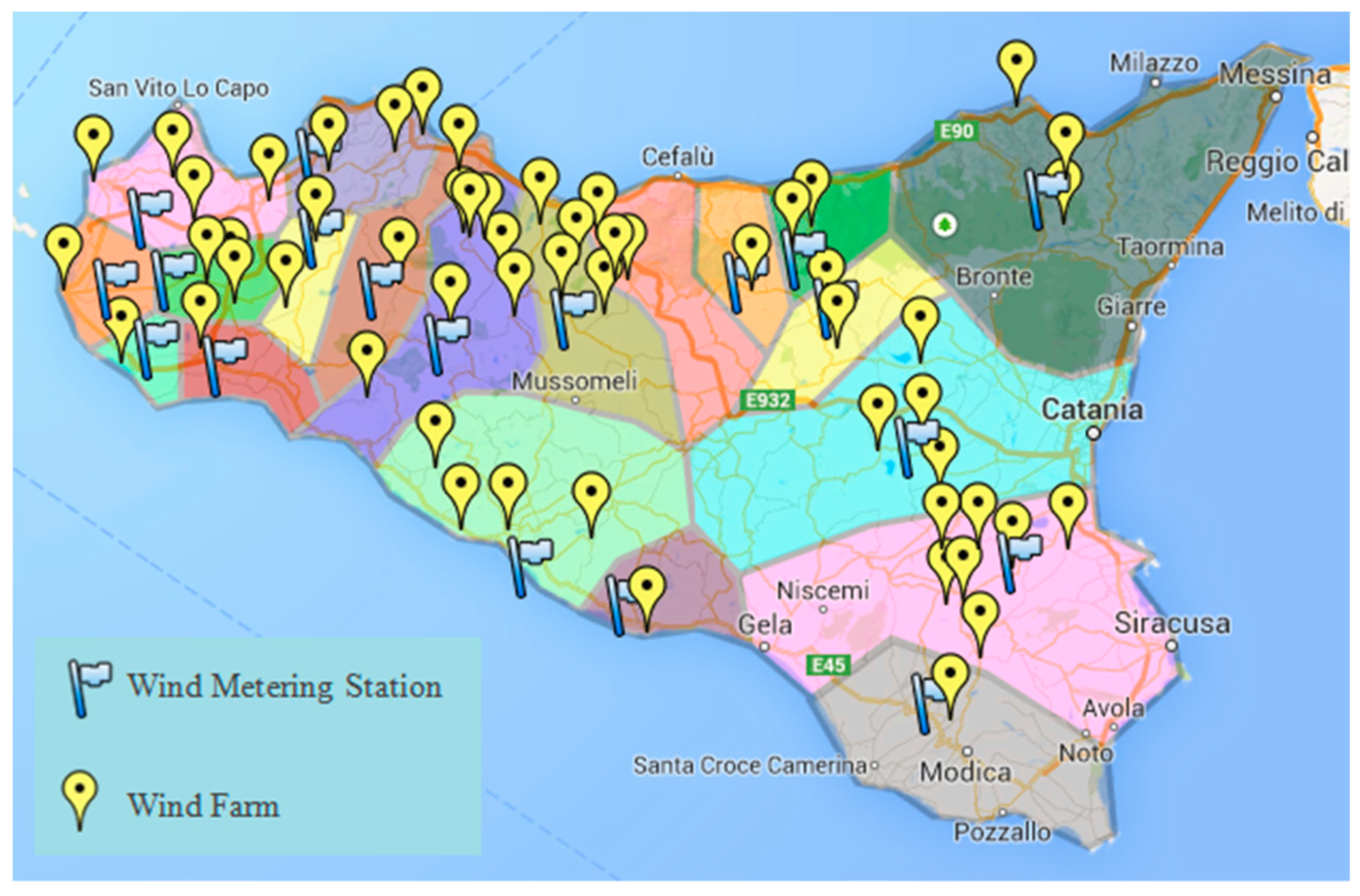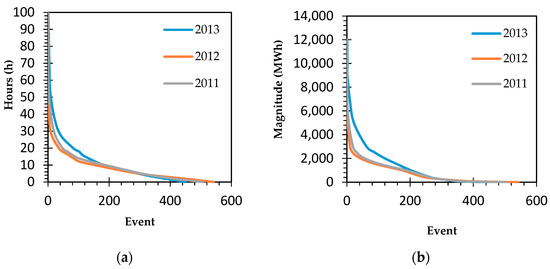 Figure 2. (a) Distribution of the duration of events of wind power surplus for years 2011–2013; (b) magnitude of wind power surpluses for the same period.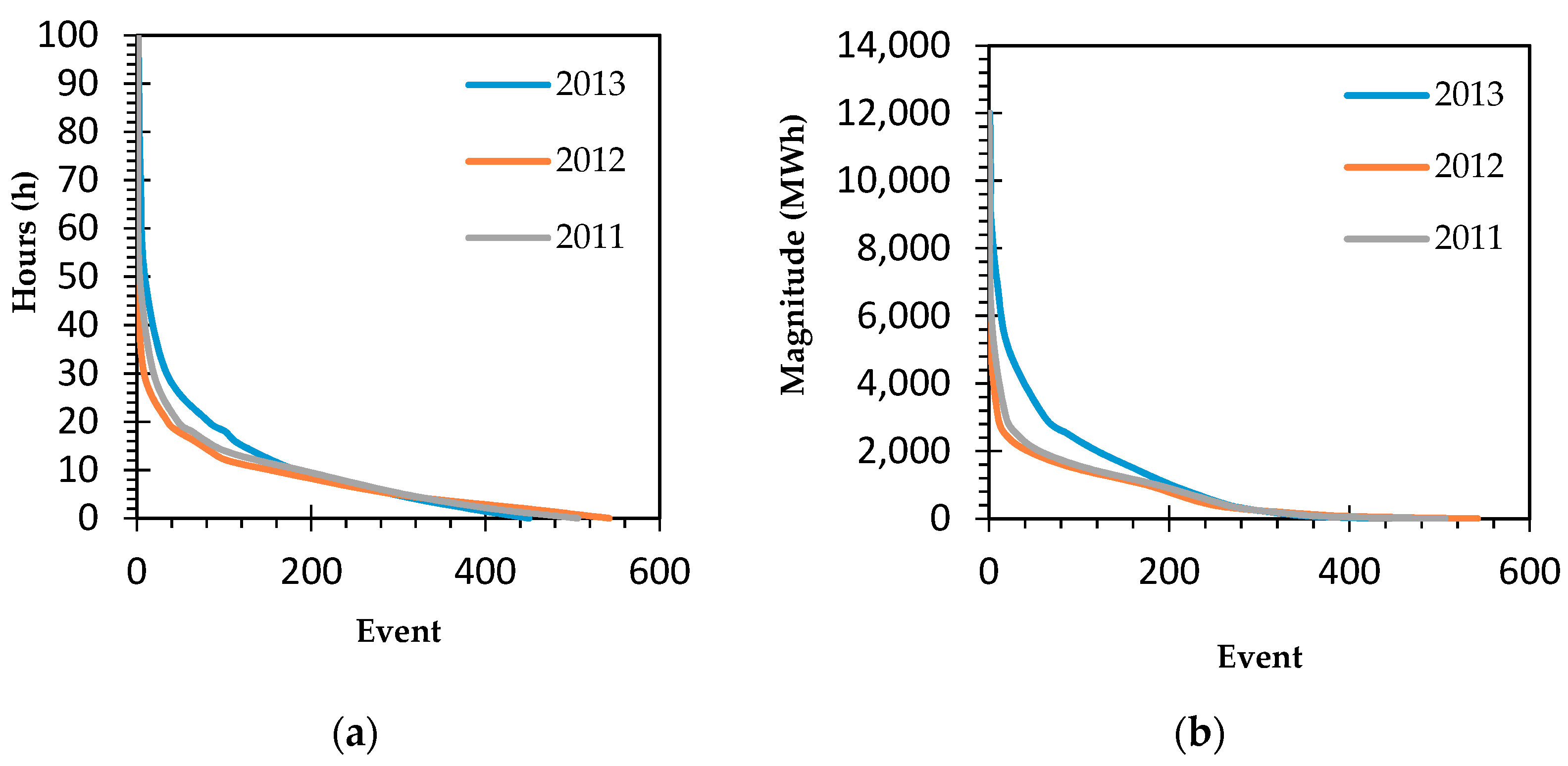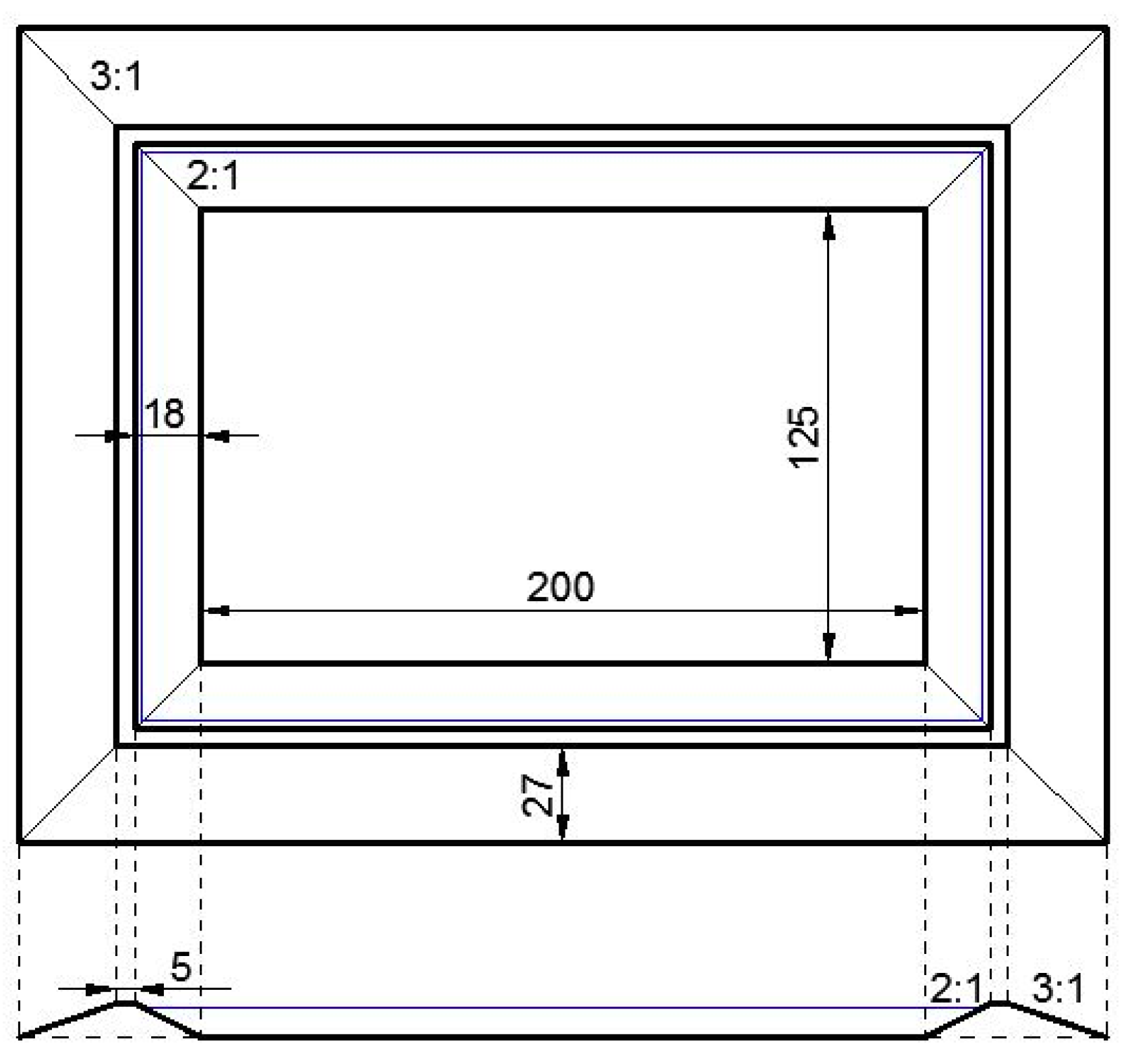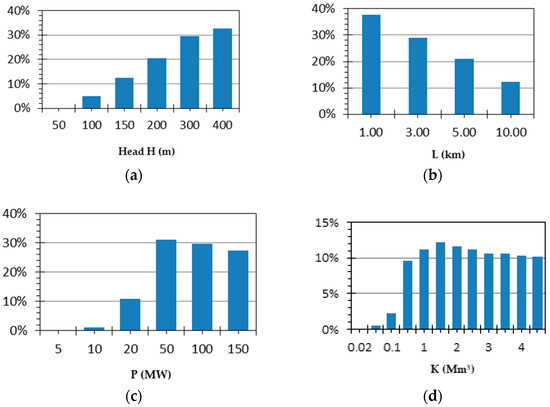 Figure 4. Percentage of economically worthwhile plants classified by head (a), distance between reservoirs (b), installed power (c), and active storage capacity (d).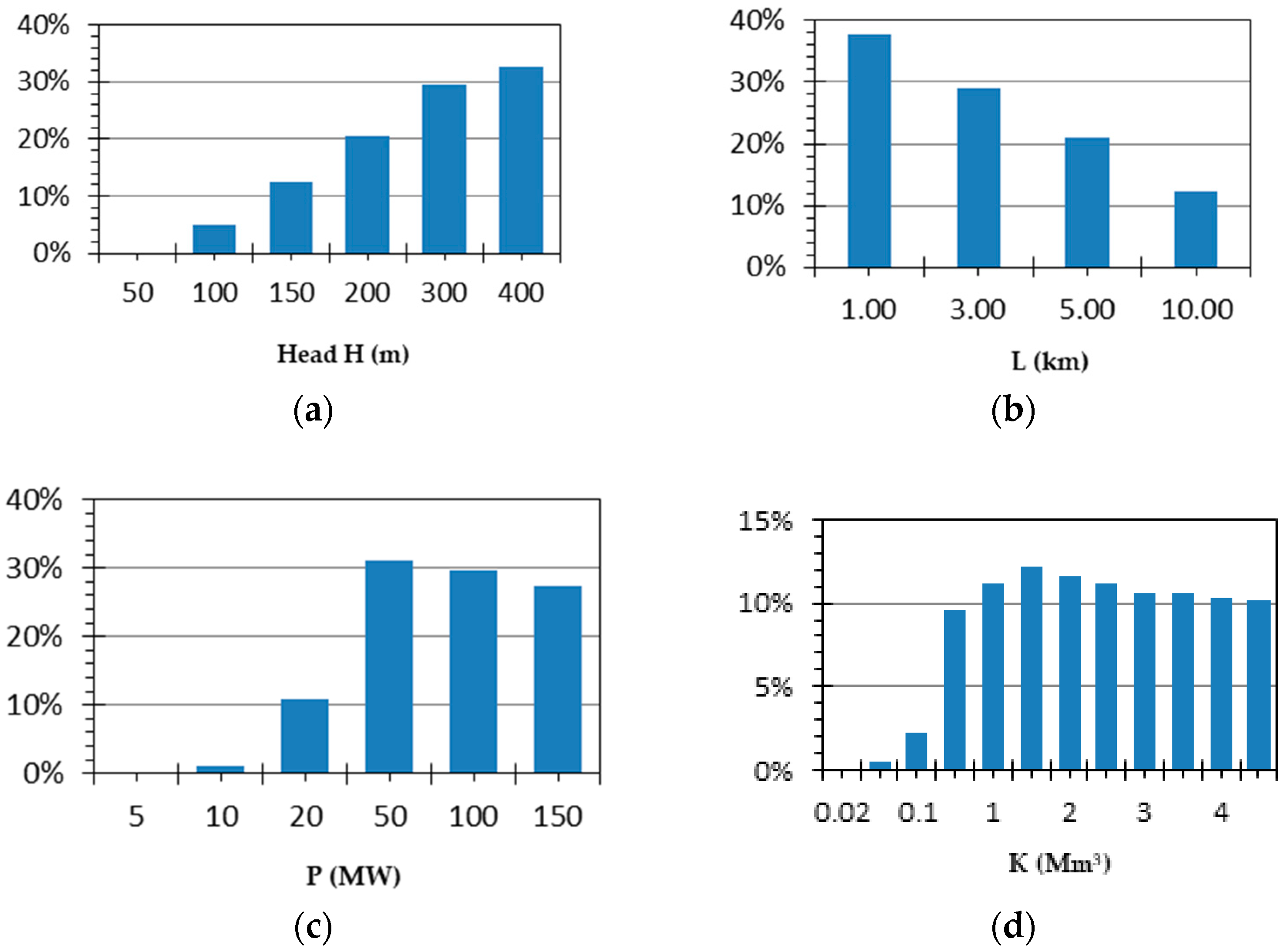 Figure 5. (a) NPV, (b) IRR, (c) B/C, (d) LCOE, (e) Eabstot, (f) Ereltot, (g) efficiency and (h) saturation as a function of storage capacity for different power capacities. H = 200 m and L = 3000 m.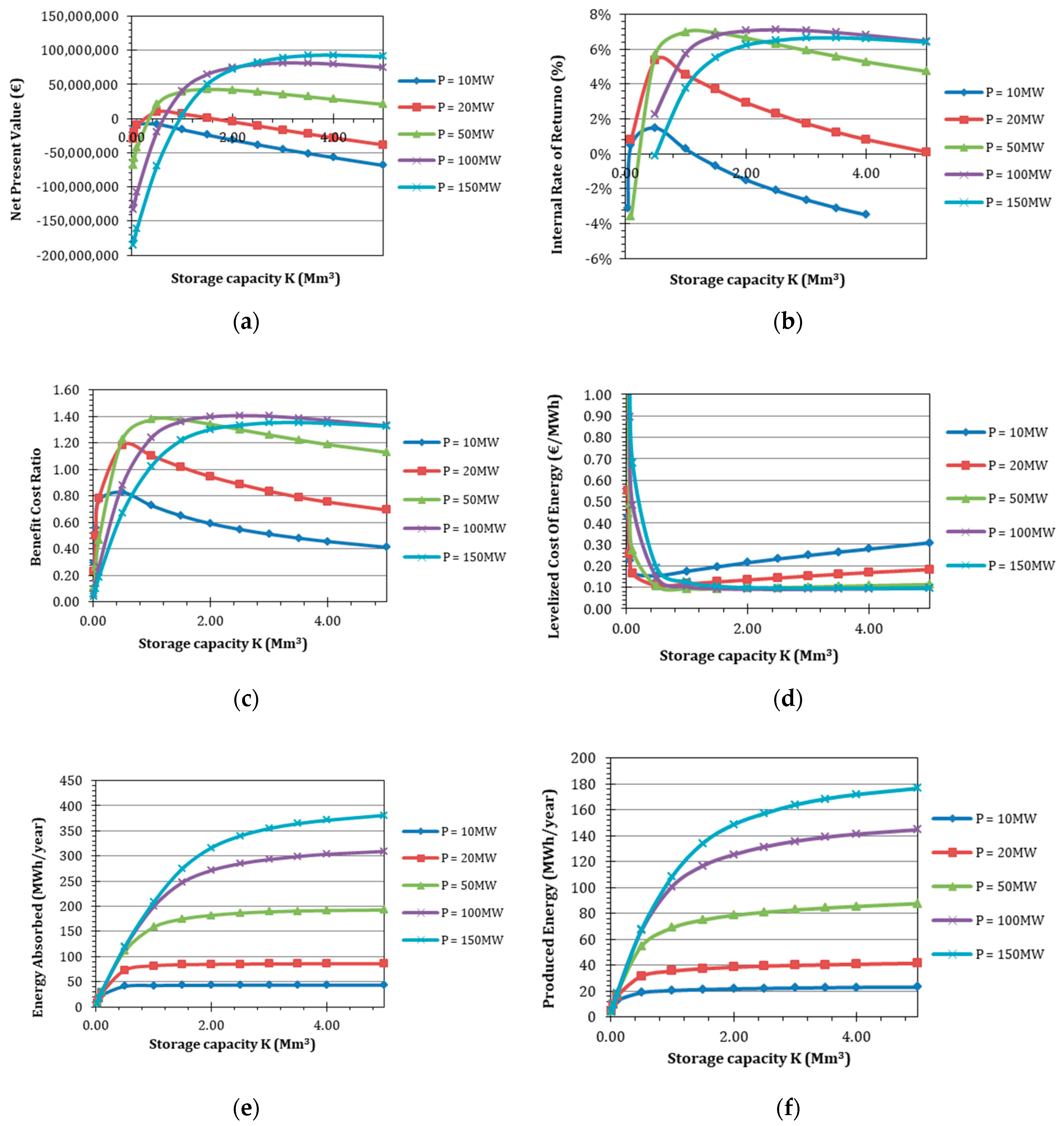 Figure 6. Plots of (P, K) pairs that maximize IRR for (a) L = 1000 m, H = 100 m; (b) L = 1000 m, H = 400 m; (c) L = 3000 m, H = 100 m; (d) L = 3000 m, H = 400 m; (e) L = 5000 m, H = 150 m; (f) L = 10,000 m, H = 200 m.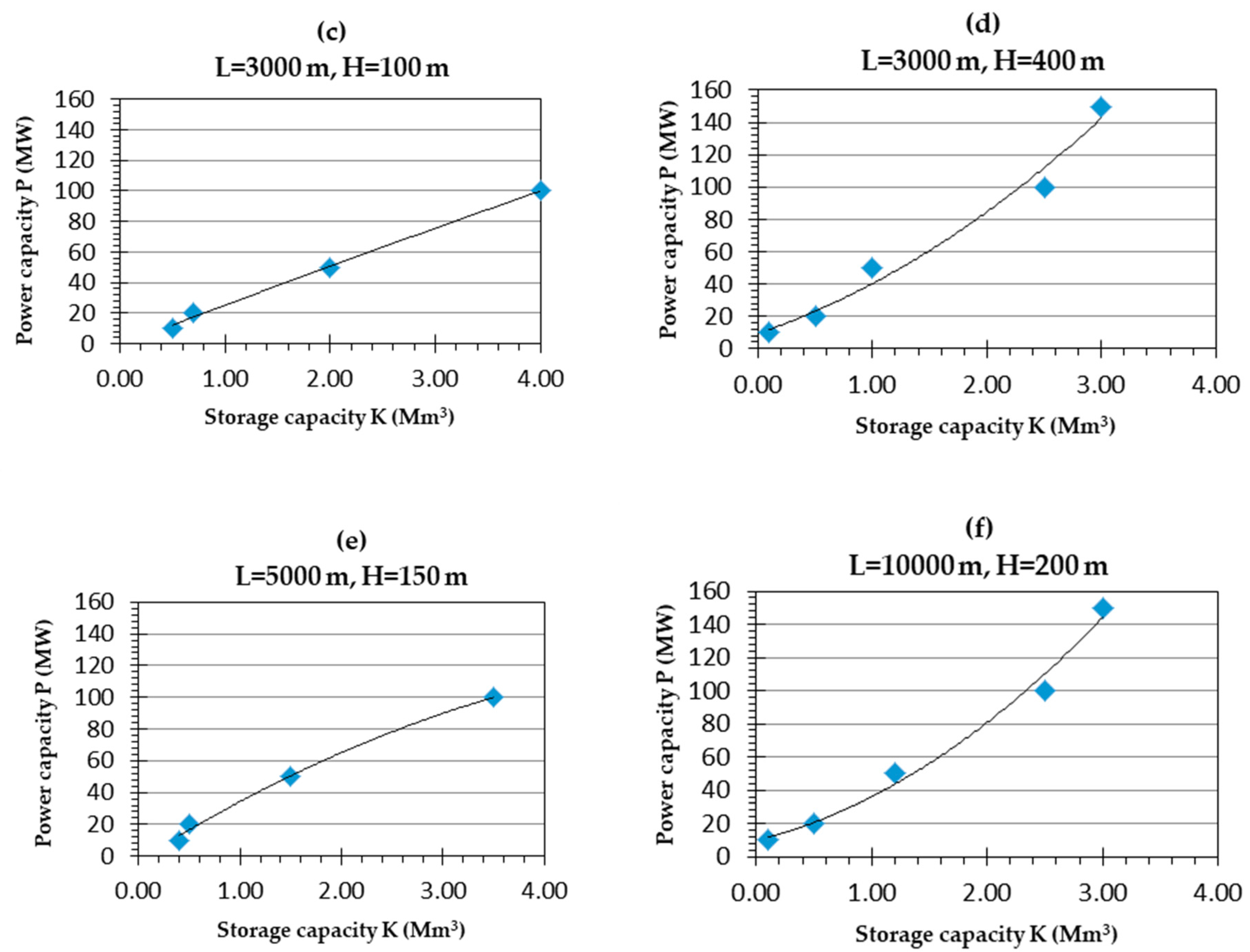 Figure 7. NPV sensitivity to ηturb as a function of the head (a), distance between reservoirs (b), installed power (c), and upper reservoir's active capacity (d). Dotted lines indicate average elasticity value ± elasticity standard deviation.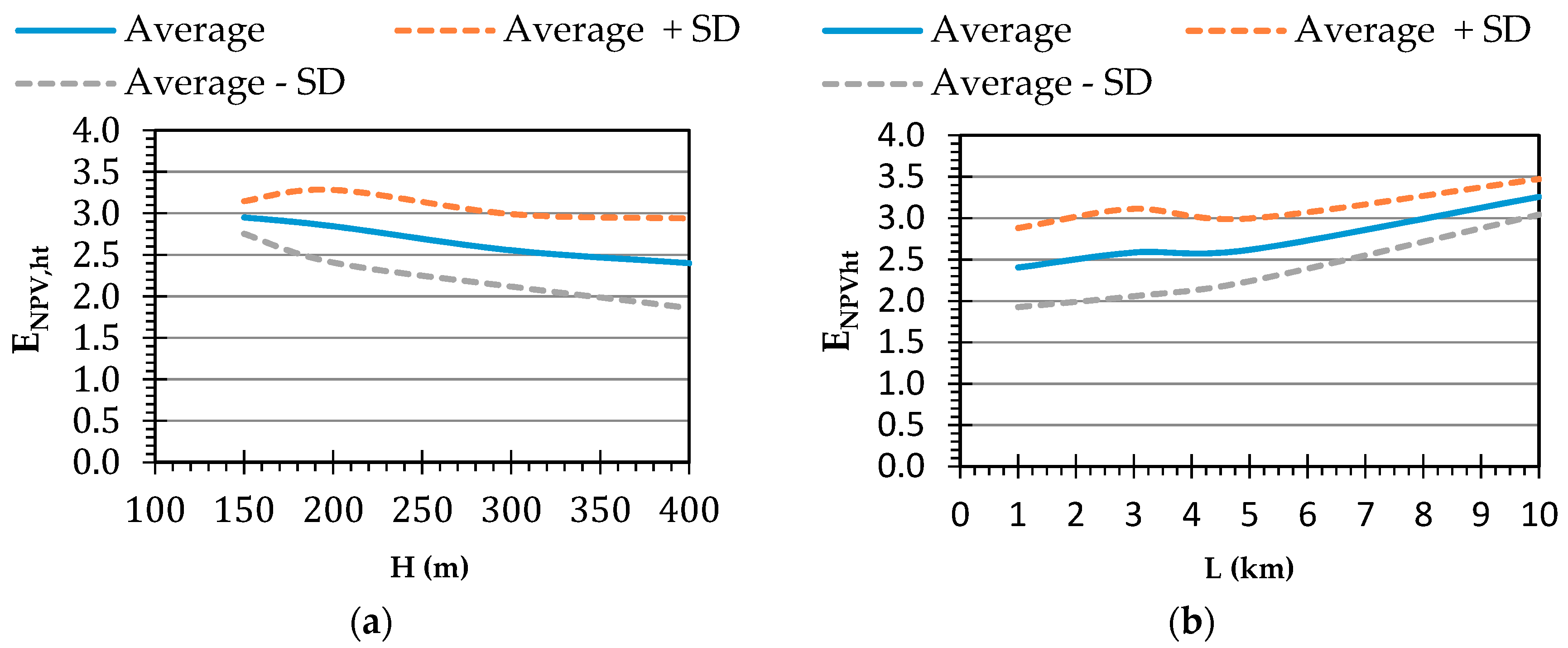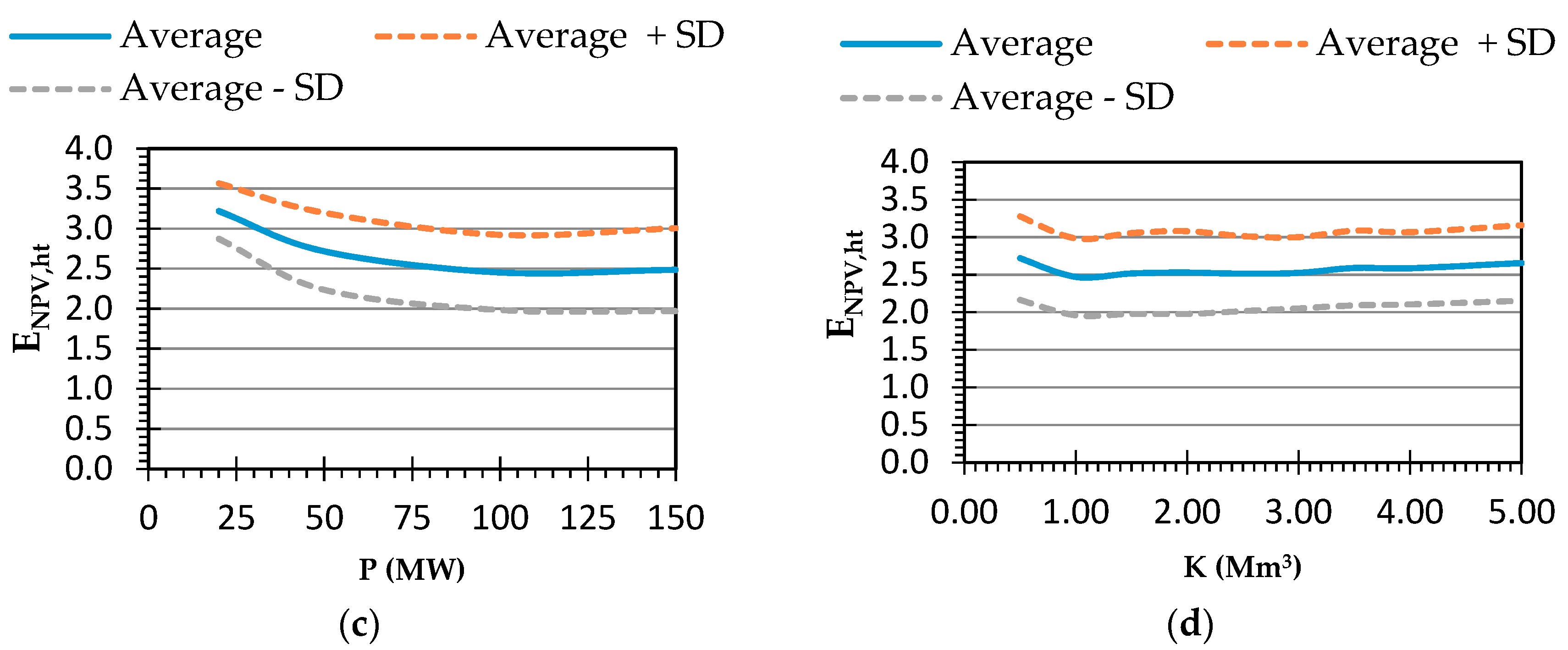 Table 1. Values of the four locational (H and L) and design (P and K) parameters used in the parametric analysis.
| H (m) | L (km) | P (MW) | K (Mm3) |
| --- | --- | --- | --- |
| 50 | 1 | 5 | 0.02 |
| 100 | 3 | 10 | 0.05 |
| 150 | 5 | 20 | 0.10 |
| 200 | 10 | 50 | 0.50 |
| 300 | | 100 | 1.00 |
| 400 | | 150 | 1.50 |
| | | | 2.00 |
| | | | 2.50 |
| | | | 3.00 |
| | | | 3.50 |
| | | | 4.00 |
| | | | 5.00 |

Table 2. Cost items, parametric investment cost models, and maintenance costs considered in the analysis.
| Symbol | Cost Item | Parametric Investment Cost Model | Maintenance Costs (€/year) |
| --- | --- | --- | --- |
| CK | Upper reservoir | Ck = K × 0.0038 × (K)−0.35/1.275 K (m3) | 0.0025 × CK |
| Cpipes | Pipelines | Cpipes = 0.0375 × (D)1.4562 × NT × L D (mm) L (m) | 0.0015 × Cpipes |
| Cturb | Power Generation (Turbines and equipment) | Cturb = 1.1948 × (P)0.7634 × Nturb × 0.82234 × 106 P(MW) | 0.0030 × Cturb |
| Cpump | Pumping System | 0.5 × Cturb | 0.0040 × Cpump |
| Cacc_res | Reservoir ancillary works (fencing, lighting, access roads etc.) | 0.15 × Cres | 0.0030 × Cacc_res |
| Cacc_turb | Pumping and generation ancillary works (power and pump house, keeper's house, services etc.) | 0.05 × Cturb | 0.0040 × Cacc-turb |
| CLand | Land | 0.005 × (Cres + Cpipes + Cturb + Cpump) | |
| CS | Electric substation and connection to AC grid | 0.20 × (Cturb + Cpump) | |
| CTE | Technical expenditures | 0.1 × (Cres + Cpipes + Cturb + Cpump+ Cacc_res + Cacc_turb + CLand + Cs) | |

Table 3. Parameters considered in the sensitivity analysis and parameter range (%s are on the central value).
No
Parameter
Parameter Range
Lower Value
Central Value
Upper Value
1
Reservoir cost
CK
90%
100%
110%
2
Generation equipment cost
Cturb
90%
100%
110%
3
Pumping system cost
Cpump
90%
100%
110%
4
Pipelines cost
Cpipes
90%
100%
110%
5
Total operation cost
Cgtot
90%
100%
110%
6
Economic value of avoided energy production from the present mix
PUN
90%
100%
110%
7
Value of avoided CO2 emissions
CO2
90%
100%
110%
8
Efficiency of the generation system
ηt
0.80
0.85
0.90
9
Efficiency of the pumping system
ηp
0.75
0.80
0.85
10
Maximum water velocity in the pipelines
v
3 m/s
4 m/s
5 m/s

Table 4. Importance matrix of the parameters analyzed. The elements of the matrix indicate the frequency (on the sample of the plants with IRR ≥ 7%) with which a parameter ranks first to second…tenth, by order of importance.
Parameter
Cardinality of the Order of Importance
1°
2°
3°
4°
5°
6°
7°
8°
9°
10°
CK
0.00
0.00
0.00
0.44
0.40
0.09
0.04
0.01
0.00
0.00
Cpipes
0.00
0.00
0.00
0.00
0.07
0.21
0.14
0.06
0.34
0.19
Cturb
0.00
0.00
0.05
0.50
0.44
0.01
0.00
0.00
0.00
0.00
Cpump
0.00
0.00
0.00
0.00
0.04
0.46
0.32
0.15
0.04
0.00
Cgtot
0.00
0.00
0.00
0.00
0.00
0.00
0.00
0.03
0.27
0.70
PUN
0.00
0.97
0.03
0.00
0.00
0.00
0.00
0.00
0.00
0.00
CO2
0.00
0.00
0.00
0.00
0.00
0.04
0.26
0.52
0.18
0.00
ηp
0.00
0.03
0.92
0.04
0.00
0.00
0.00
0.00
0.00
0.00
ηt
1.00
0.00
0.00
0.00
0.00
0.00
0.00
0.00
0.00
0.00
v
0.00
0.00
0.00
0.01
0.05
0.18
0.24
0.23
0.18
0.12
| Order of Importance | 1° | 2° | 3° | 4° | 5° | 6° | 7° | 8° | 9° | 10° |
| --- | --- | --- | --- | --- | --- | --- | --- | --- | --- | --- |
| Parameters ordered by importance—NPV | | PUN | | Cturb | Ck | CO2 | Cpump | Ck | Cgtot | v |
| Average elasticity value (over the 225 plants)—NPV | 2.56 | 2.22 | 1.79 | −0.51 | −0.52 | 0.35 | −0.25 | −0.20 | −0.15 | −0.06 |
| Parameters ordered by importance—IRR | | PUN | | Cturb | Ck | Cpump | CO2 | v | Ck | Cgtot |
| Average elasticity value (over the 225 plants)—IRR | 1.40 | 1.23 | 0.98 | −0.48 | −0.48 | 0.23 | 0.18 | 0.16 | 0.17 | −0.08 |
| Parameters ordered by importance—B/C | | PUN | | Cturb | Ck | Cpump | CO2 | v | Cgtot | Ck |
| Average elasticity value (over the 225 plants)—B/C | 1.00 | 0.86 | 0.70 | −0.34 | 0.33 | −0.16 | 0.14 | 0.07 | −0.09 | 0.11 |

© 2018 by the authors. Licensee MDPI, Basel, Switzerland. This article is an open access article distributed under the terms and conditions of the Creative Commons Attribution (CC BY) license (http://creativecommons.org/licenses/by/4.0/).