Open Access This article is
freely available
re-usable
Article
A Multidecadal Analysis of Föhn Winds over Larsen C Ice Shelf from a Combination of Observations and Modeling
Institute for Marine and Atmospheric Research, Utrecht University, 3508 TA Utrecht, The Netherlands
*
Author to whom correspondence should be addressed.
Received: 3 April 2018 / Accepted: 2 May 2018 / Published: 5 May 2018
Abstract
:
The southward progression of ice shelf collapse in the Antarctic Peninsula is partially attributed to a strengthening of the circumpolar westerlies and the associated increase in föhn conditions over its eastern ice shelves. We used observations from an automatic weather station at Cabinet Inlet on the northern Larsen C ice shelf between 25 November 2014 and 31 December 2016 to describe föhn dynamics. Observed föhn frequency was compared to the latest version of the regional climate model RACMO2.3p2, run over the Antarctic Peninsula at 5.5-km horizontal resolution. A föhn identification scheme based on observed wind conditions was employed to check for model biases in föhn representation. Seasonal variation in total föhn event duration was resolved with sufficient skill. The analysis was extended to the model period (1979–2016) to obtain a multidecadal perspective of föhn occurrence over Larsen C ice shelf. Föhn occurrence at Cabinet Inlet strongly correlates with near-surface air temperature, and both are found to relate strongly to the location and strength of the Amundsen Sea Low. Furthermore, we demonstrated that föhn occurrence over Larsen C ice shelf shows high variability in space and time.
Keywords:
Föhn; Antarctic Peninsula; Larsen ice shelf; multidecadal analysis; automatic weather station; regional climate model
1. Introduction
In this paper, we study the dynamics of föhn in the AP using a combination of observations and regional climate modeling. First, we examine data of an Automatic Weather Station (AWS) located in Cabinet Inlet, in the northwest section of LCIS. These data are compared to output of the polar version of the regional climate model RACMO2, the output of which enables us to discuss variability of föhn on annual and decadal time scales (1979–2016). Finally, we demonstrate how föhn in different parts of the AP is associated with different large-scale circulation patterns.
3. Results and Discussion
First, the dynamics of föhn in CI as recorded by AWS18 are presented and interpreted in
Section 3.1
, followed by a comparison with RACMO2 in
Section 3.2
. In
Section 3.3
and
Section 3.4
the analysis of föhn winds in the model is extended both in time (1979–2016) and in space.
3.1. Observational Föhn Characteristics
Application of the three föhn criteria (
Section 2.3
) to AWS18 data between 25 November 2014 and 31 December 2016 yielded a total of 130 individual föhn events, totaling approximately 107 days of föhn (14.0% of the time). Roughly 80% of these events lasted no longer than a day, and less than 5% lasted longer than 48 h (black lines in
Figure 2
). In terms of wind speed at the AWS site, 50% of the föhn events were associated with wind speeds under 8 m s
−1
, whereas only 5% of the föhn winds exceeded 16 m s
−1
. The seasonal distribution of total monthly föhn duration reveals a highly variable pattern, averaging 103 h per month with a standard deviation of 84 h per month (
Figure 3
). Averaging over all föhn events resulted in a 2 m air temperature anomaly of +8.9 °C and skin temperature anomaly of +8.5 °C (
Table 1
). Relative humidity during föhn was 25% lower on average, as a result of increased saturation vapor pressure.
The effects of föhn on near-surface conditions are further demonstrated by a case study of a well-developed, early-autumn föhn event. On 23 March 2015, a low-pressure system reached the northern AP and proceeded to pass over the peninsula. This resulted in outspoken föhn conditions at CI in the observational data. Air temperatures at 2 m were nearly 20 °C higher during föhn conditions than a day earlier (
Figure 4
a). Skin temperature reached the melting point during most of the föhn event (
Figure 4
b). Relatively high wind speeds (up to 10 m s
−1
,
Figure 4
c) from a predominantly northwesterly direction (
Figure 4
d) further characterized this event. The AWS captured the variable nature of the wind very well, as with each slight turning of the wind towards northeasterly, wind speed was greatly reduced and föhn conditions were briefly interrupted. Lastly, relative humidity decreased by approximately 40% during the event (
Figure 4
e).
3.2. RACMO2 Model Evaluation
3.3. Temporal Variability of Föhn Occurrence at CI
3.4. Spatial Impact of Föhn in the AP
RACMO2 output enables us to display the Larsen C ice shelf-wide 1979–2016 average 2 m temperature anomaly during föhn conditions at CI (
Figure 8
). When föhn occurs at CI from late autumn to early spring, modeled 2 m air temperatures are up to 12 °C higher than average on the LCIS. In such cases, skin temperature can reach the melting point even in mid-winter. In May, July and August, the entire LCIS is affected by above-average temperatures, whereas, in the other months, the warming is concentrated in the region near the foot of the AP mountain range, gradually diminishing towards the east. The highest warming is modeled near other inlets, indicating that föhn occurs simultaneously at CI and other inlets. The temperature anomaly is smallest during the summer months, when the surface-based temperature inversion over the LCIS becomes small in response to a positive surface radiation balance [
34
] and wind speed is lower than in winter.
To further our insight into the spatial variability of föhn impact on the climate of LCIS, the föhn identification scheme was also applied to a location in Evans Inlet (EI), in the Larsen B embayment, and to Mobil Oil Inlet (MOI), located on the southern LCIS. The number of recorded föhn events is comparable for each inlet, however there is a clear difference in spatial representation (
Figure 9
). When föhn conditions are present over EI, temperature anomalies and wind speeds are highest at EI, whereas those parameters are more weakly influenced over LCIS to the south (
Figure 9
a). Similarly, föhn at MOI leads to minor temperature and wind speed anomalies at EI (
Figure 9
c). Clearly, föhn at CI is the best predictor for temperature anomalies over the entire LCIS. Furthermore, when föhn is occurring at CI, föhn conditions are also present at EI and föhn jets are easily distinguished over the inlets south of CI. Presumably, this is because upwind wind direction (northwesterly) is favorable for föhn at both CI and EI.
4. Summary and Conclusions
Our spatial analysis based on RACMO2 output shows that the occurrence of föhn at CI is a good predictor for positive temperature anomalies over the entire Larsen C ice shelf, in contrast to locations in inlets to the north and south. It therefore seems worthwhile to maintain this AWS into the future, as a valuable benchmark for Larsen C climate variability and change.
Author Contributions
J.M.W. and P.K.M. conceived the ideas for this study. J.M.W. performed the scientific analysis. C.J.P.P.S. prepared the automatic weather station data, and P.K.M. post-processed these data. All authors contributed to writing and editing of the paper.
Funding
This research was funded by a Netherlands Earth System Science Centre (NESSC) grant to M.R.v.d.B. The automatic weather station is partly funded by MIDAS (Impact of Melt on Ice Shelf Dynamics and Stability), a NERC award granted to Swansea and Aberystwyth Universities under number NE/L006707.
Acknowledgments
J.M.W. and P.K.M. acknowledge funding from the Netherlands Earth System Science Centre (NESSC). We thank Willem Jan van de Berg, Melchior van Wessem (IMAU) and the Royal Netherlands Meteorological Institute (KNMI) for RACMO2 support. J.M.W. appreciates support from Leo Kroon and Bert Holtslag (Wageningen University and Research). Finally, we thank the British Antarctic Survey personnel for servicing of the AWS. The AWS18 dataset is publicly accessible and can be found online [
43
]. RACMO2 data are available from the authors without conditions.
Conflicts of Interest
The authors declare no conflict of interest.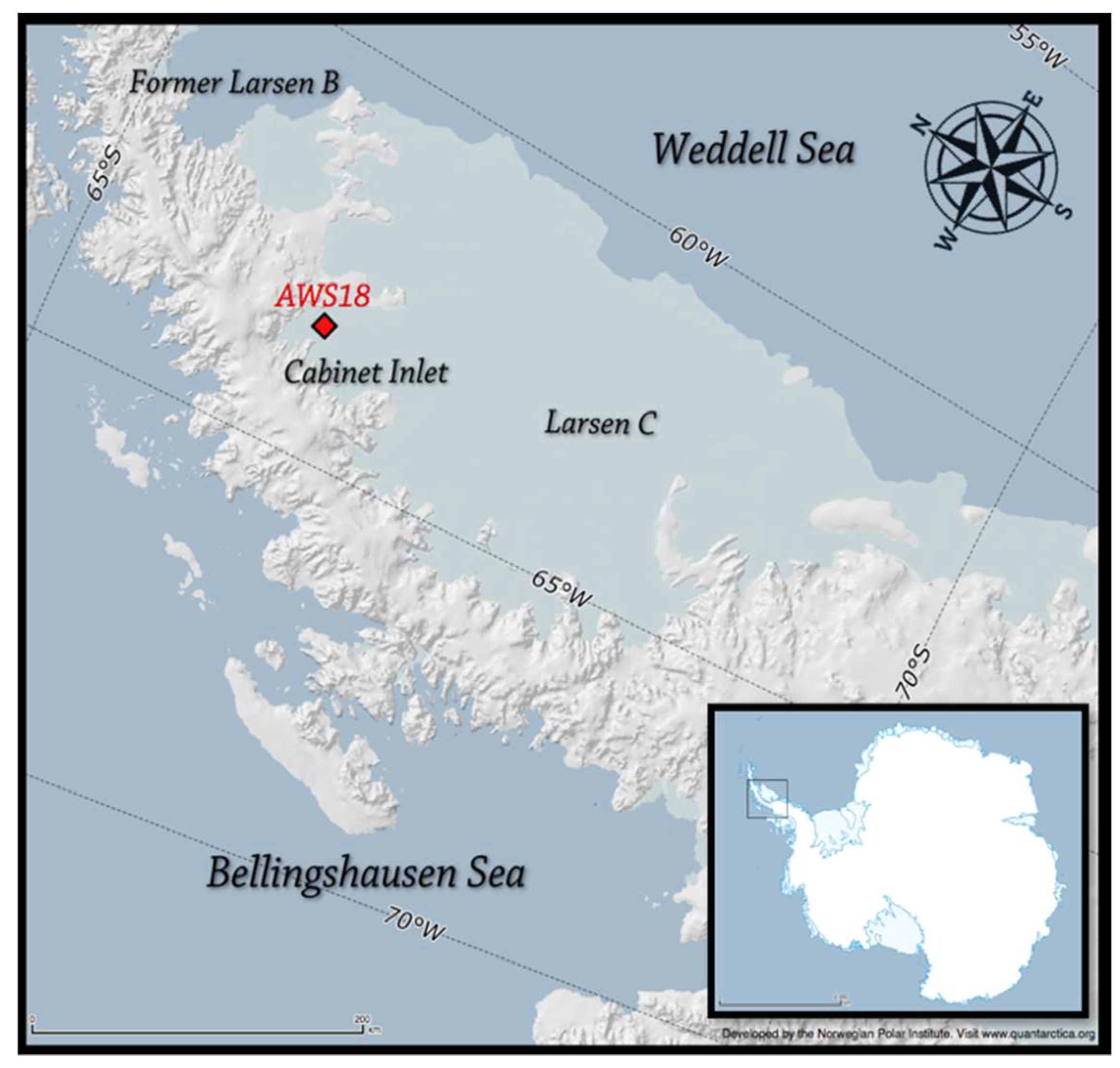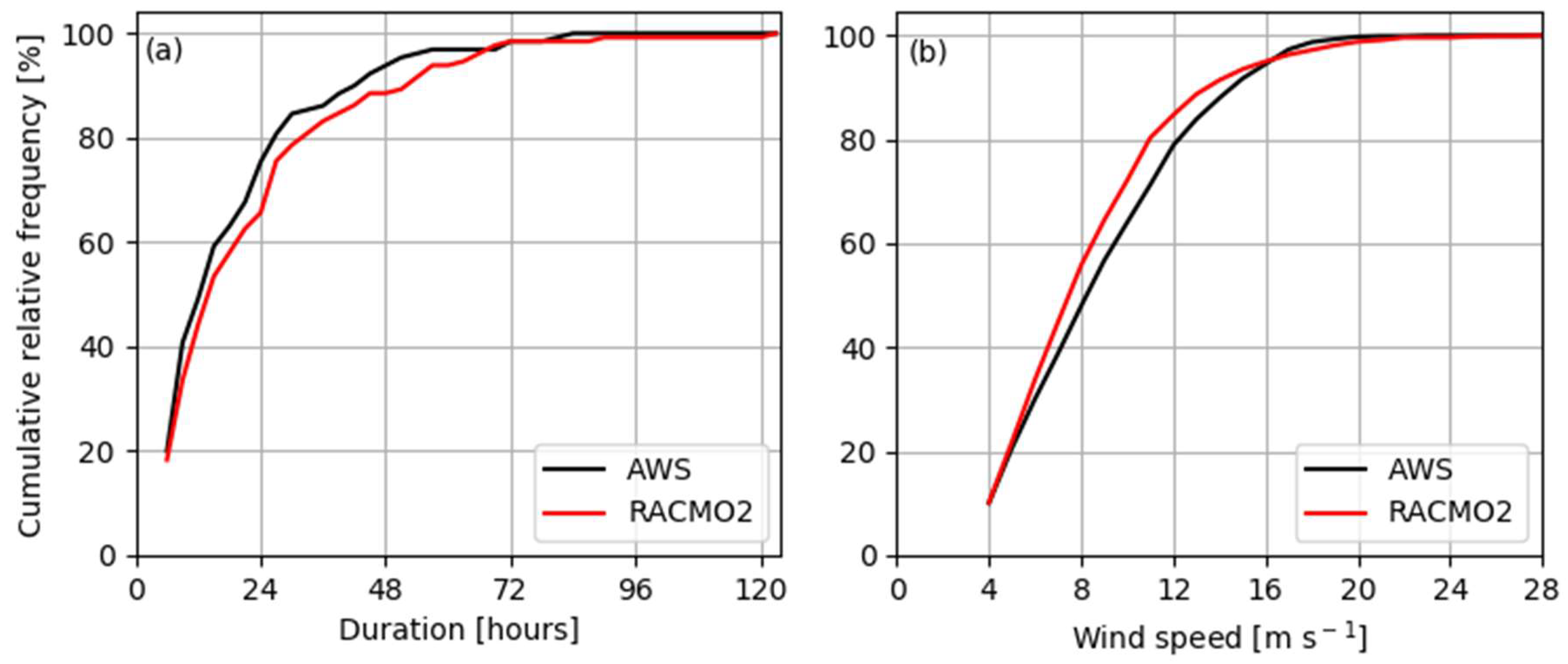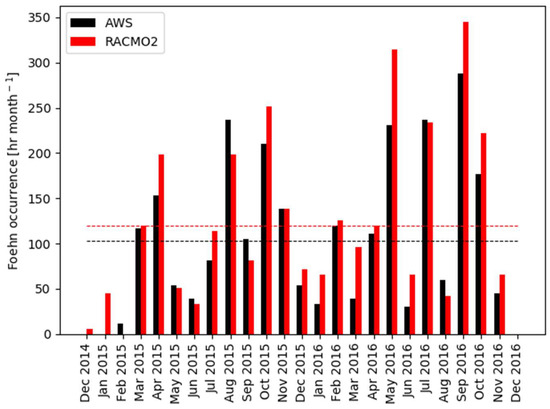 Figure 3. Hours of föhn per month. Dashed line denotes the average over the December 2014–December 2016 period.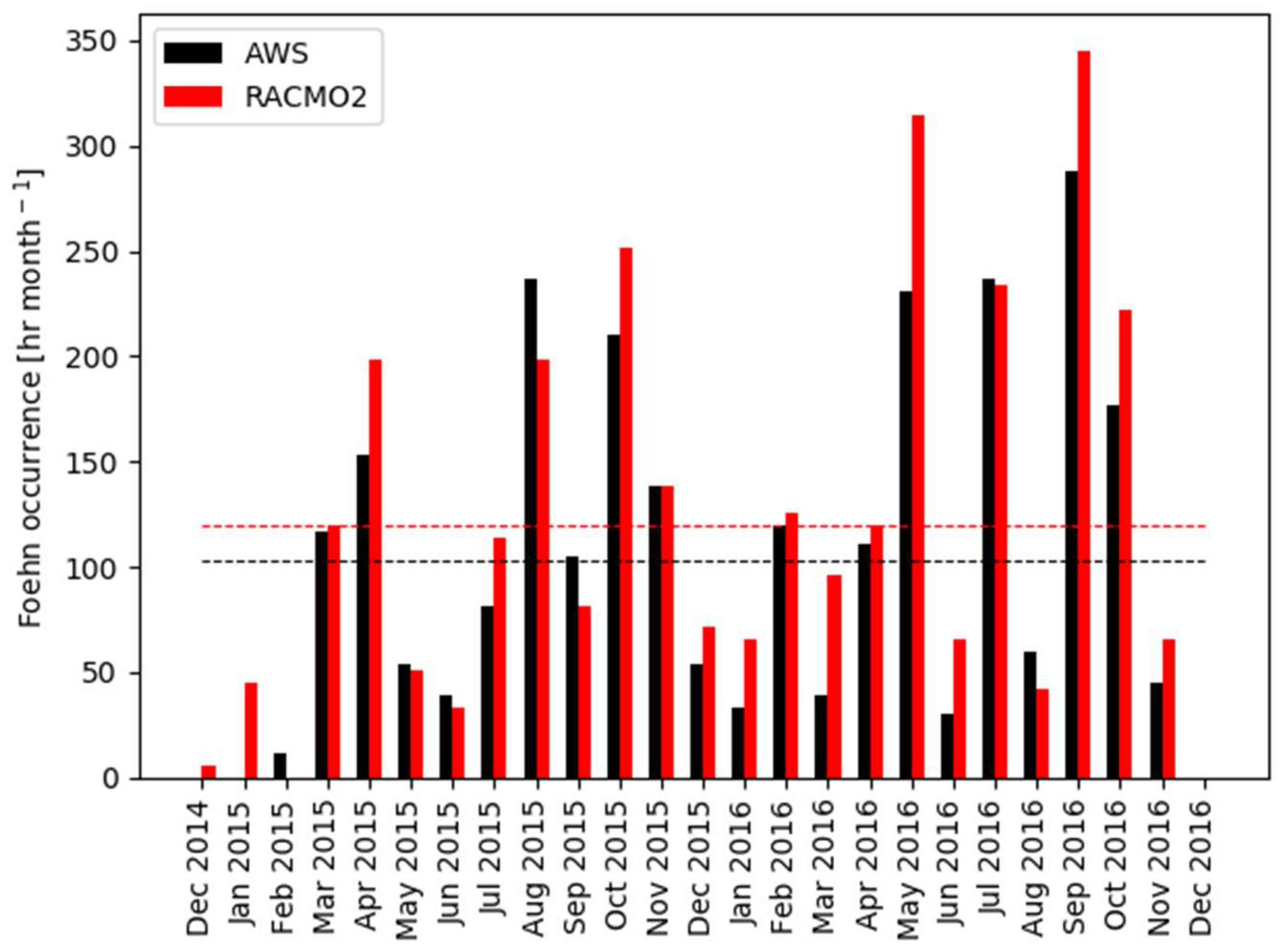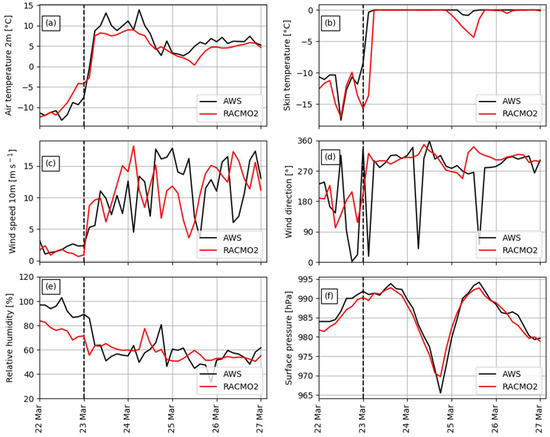 Figure 4. Time evolution of: (a) 2 m air temperature; (b) skin temperature; (c) 10 m wind speed; (d) wind direction; (e) relative humidity; and (f) surface pressure from 22 to 27 March 2015. The black dashed line denotes the transition from non-föhn to föhn conditions, as used in the text.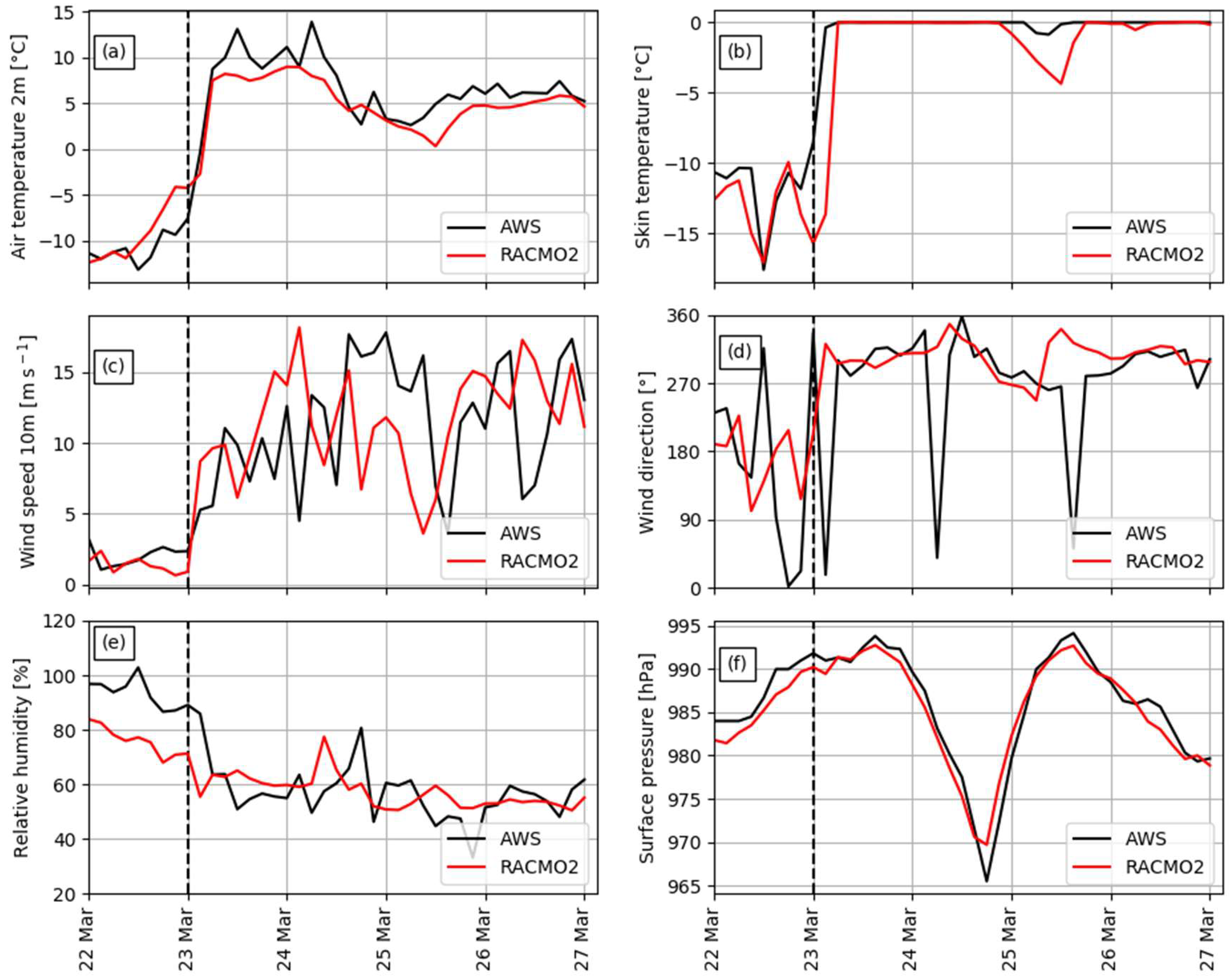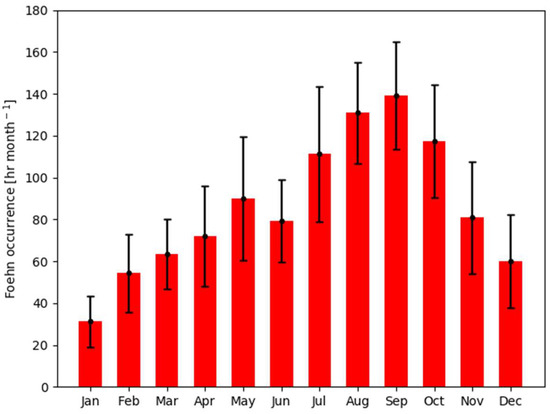 Figure 5. Modeled monthly averaged hours of föhn per month over the period 1979–2016. Error bars depict one standard deviation.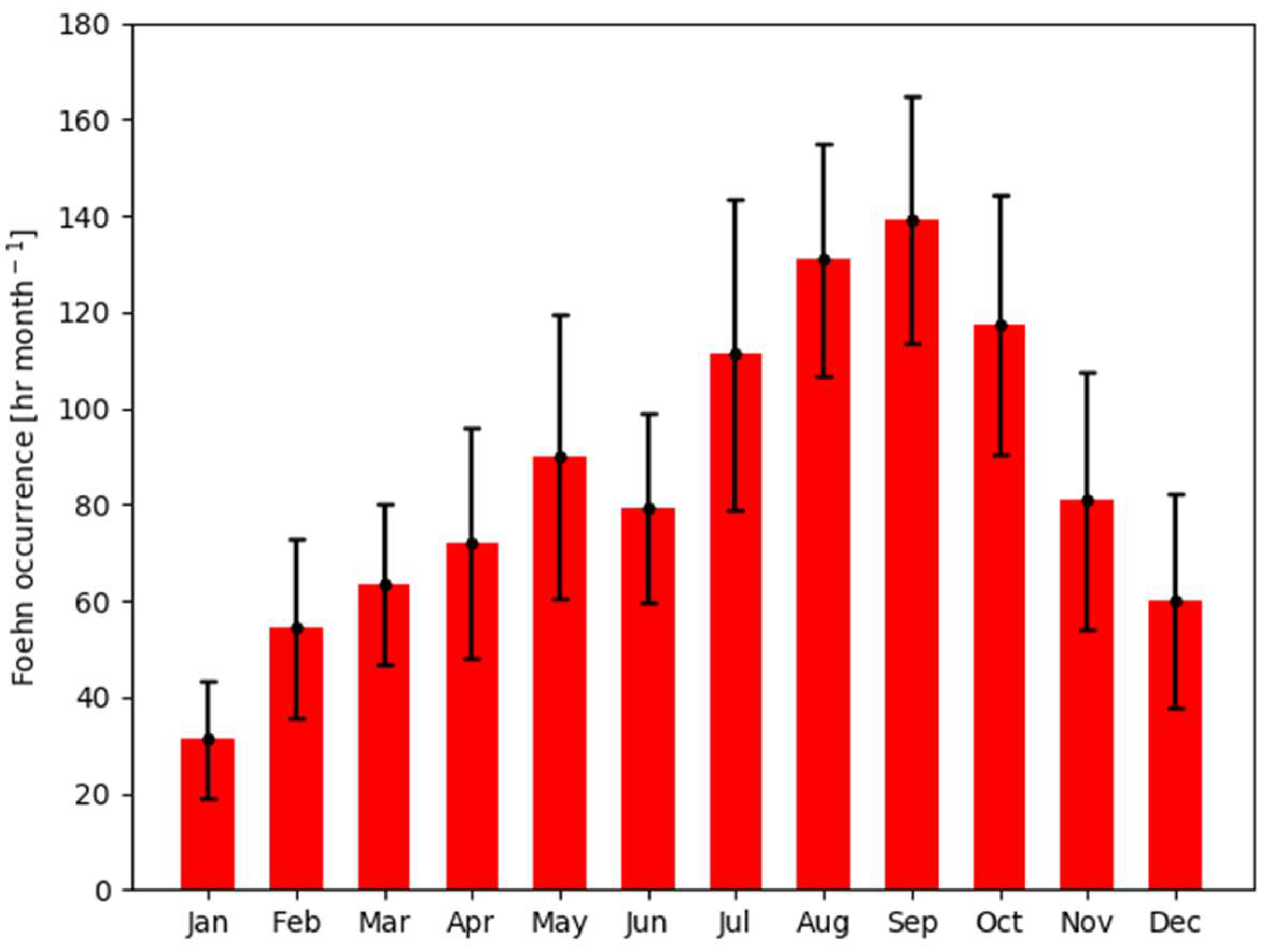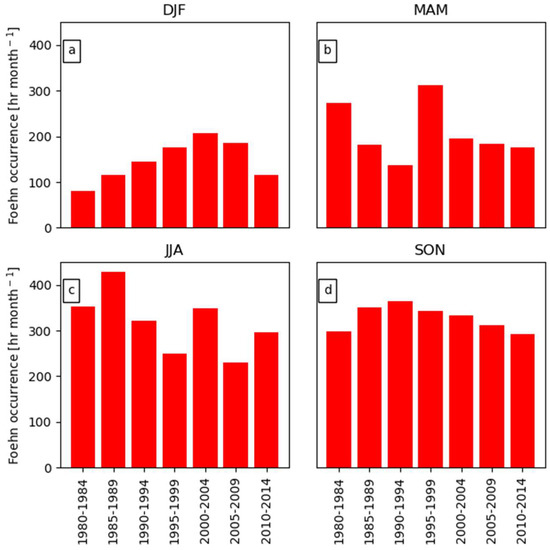 Figure 6. Modeled five-year average of hours of föhn per month for: (a) summer (DJF); (b) autumn (MAM); (c) winter (JJA); and (d) spring (SON).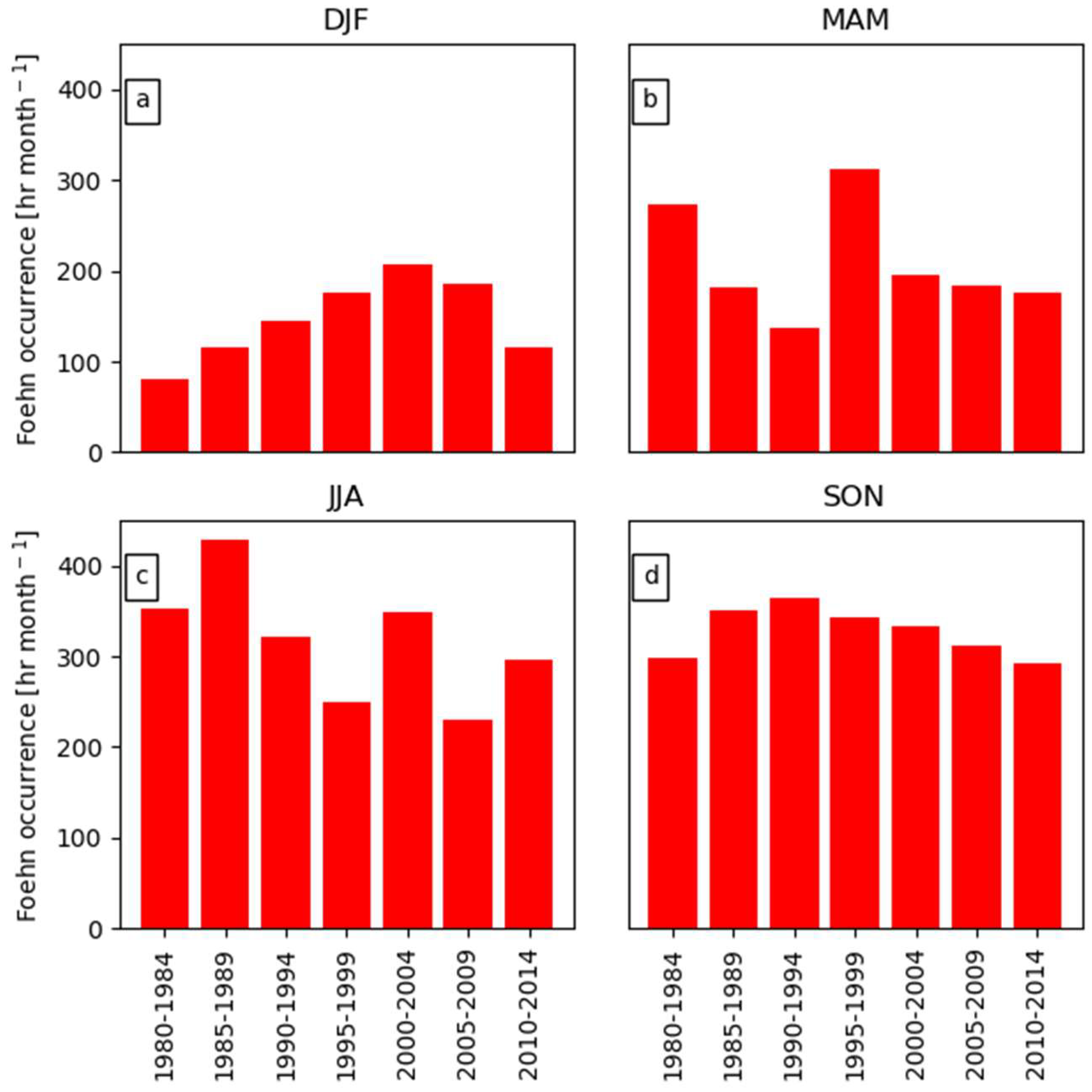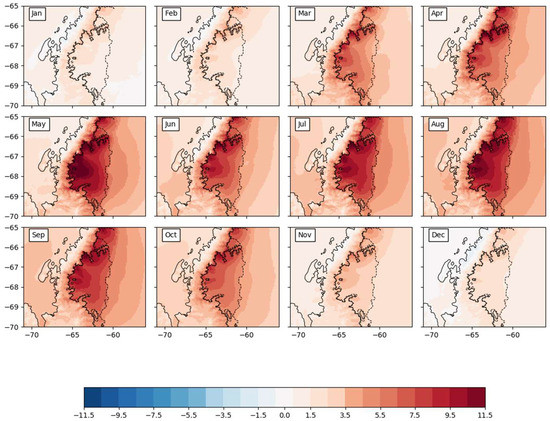 Figure 8. Two-meter air temperature anomaly (°C) during föhn occurring at Cabinet Inlet for each month from 1980 to 2016.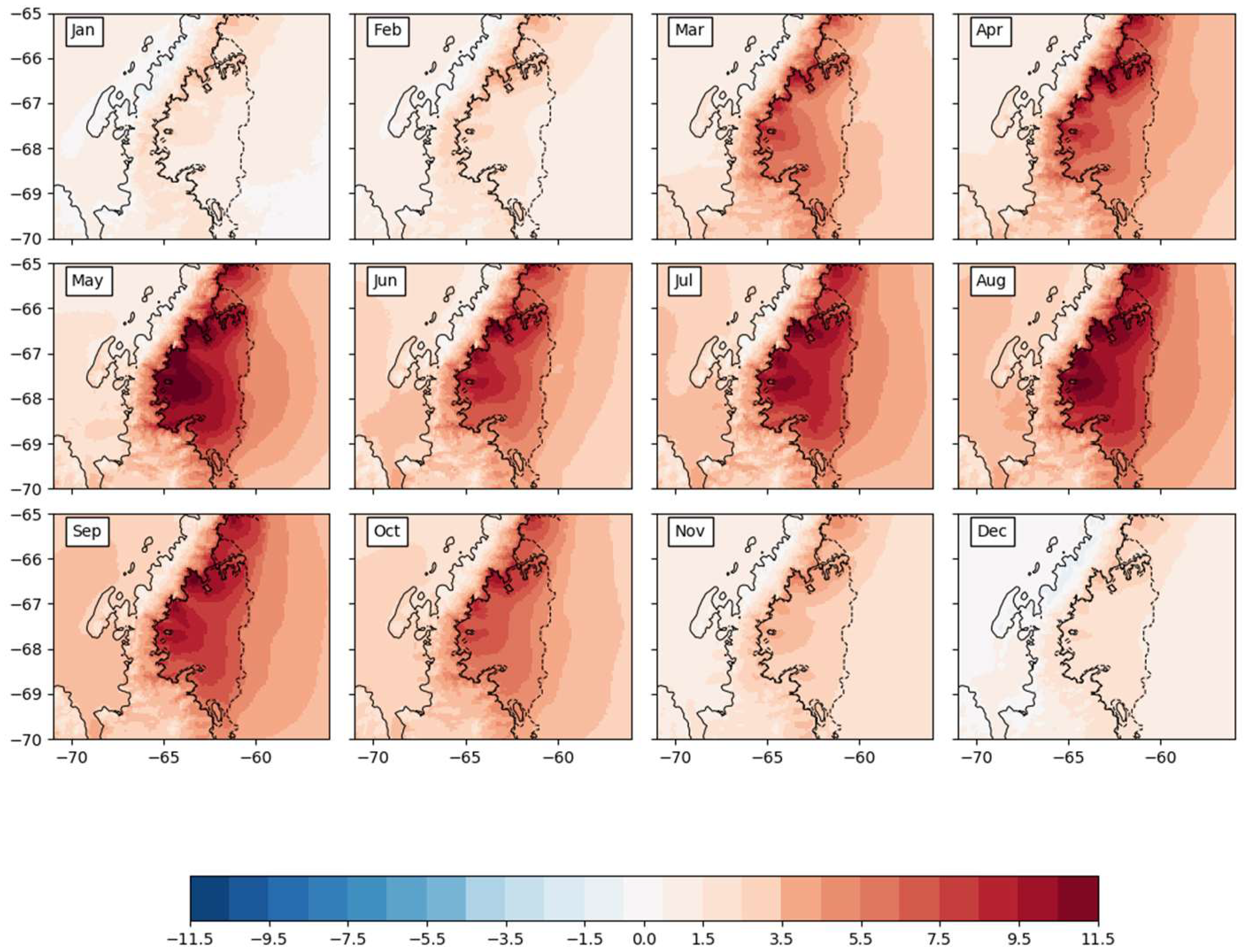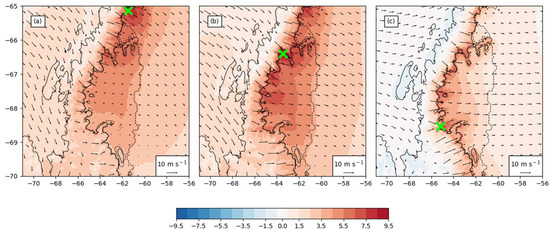 Figure 9. Two-meter air temperature anomaly (°C) and averaged wind vectors during föhn occurring over the period 1980 to 2016 at: (a) Evans Inlet; (b) Cabinet Inlet; and (c) Mobil Oil Inlet. Locations are indicated by a lime-colored "×".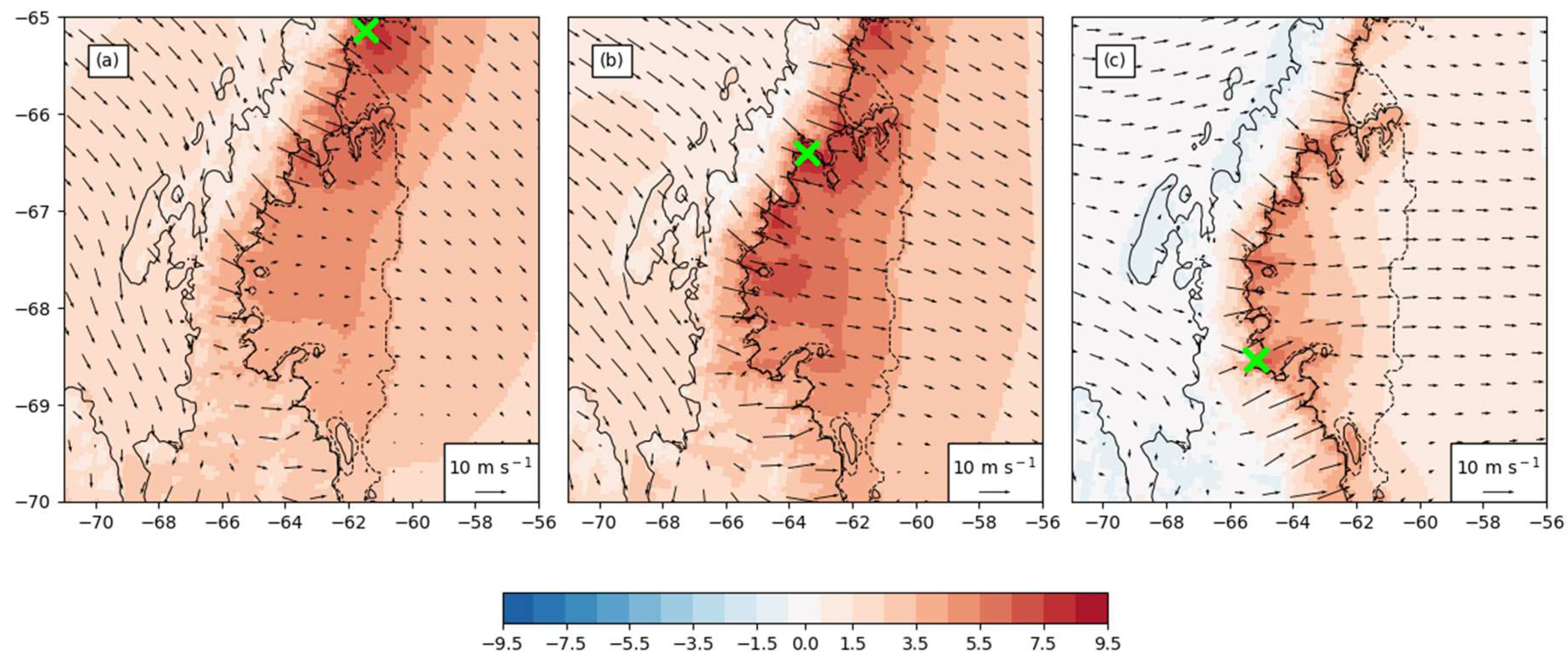 Table 1. Three-hour averaged near-surface meteorological variables over the entire period (All) and during föhn conditions (Föhn).
Parameters
Unit
All
Föhn
AWS
RACMO2
AWS
RACMO2
Air temperature (2 m)
°C
−11.3
−10.4
−2.4
−2.7
Skin temperature
°C
−13.2
−13.7
−4.7
−6.9
Relative humidity (2 m)
%
89.1
74.4
63.7
57.4
Wind speed (10 m)
m s−1
3.6
3.5
8.7
8.6
Wind direction
°
279
268
300
307

Table 2. Comparison of near-surface meteorological variables in RACMO2 and AWS over the period 25 November 2014 18:00 UTC to 31 December 2016 21:00 UTC.
Parameters
Unit
ME
RMSE

r

r

2
Air temperature (2 m)
°C
0.9
4.2
0.925
0.856
Specific humidity (2 m)
g kg−1
0.0
0.4
0.931
0.843
Relative humidity (2 m)
%
−13.6
20.9
0.520
0.270
Skin temperature
°C
−0.5
4.2
0.923
0.851
Surface pressure
hPa
−1.5
2.1
0.990
0.980
Wind speed
m s−1
−0.1
2.4
0.766
0.587

© 2018 by the authors. Licensee MDPI, Basel, Switzerland. This article is an open access article distributed under the terms and conditions of the Creative Commons Attribution (CC BY) license (http://creativecommons.org/licenses/by/4.0/).