Seasonal Variations and Sources of Airborne Polycyclic Aromatic Hydrocarbons (PAHs) in Chengdu, China
1
State Key Laboratory of Geohazard Prevention and Geoenvironment Protection, Chengdu University of Technology, Chengdu 610059, China
2
State Environmental Protection Key Laboratory of Synergetic Control and Joint Remediation for Soil & Water Pollution, Chengdu University of Technology, Chengdu 610059, China
*
Author to whom correspondence should be addressed.
Received: 6 January 2018 / Revised: 8 February 2018 / Accepted: 9 February 2018 / Published: 11 February 2018
Abstract
The concentrations of polycyclic aromatic hydrocarbons (PAHs) in the air of Chengdu, a southwest city of China, were determined from March 2015 to February 2016. Here, two diagnostic ratios (DR) were determined and a principal component analysis/multiple linear regression (PCA/MLR) analysis was performed to identify the sources of PAHs during the four seasons. The gaseous and particle phase samples were analyzed separately. The sampled air had a gas-to particle ratio of 4.21, and between 18.7% and 31.3% of the total detected PAHs were found in the particulate phase. The total concentration of all 16-PAHs combined (gas + particles) varied from 176.94 in summer to 458.95 ng·m
−3
in winter, with a mean of 300.35 ± 176.6 ng·m
−3
. In the gas phase, phenanthrene(Phe) was found at the highest concentrations in all four seasons, while benzo[b]fluoranthene(BbF) and (in winter) chrysene(Chr) were the highest in the particle phase. The DR of Fluroanthene (Flua)/(Flua + Pyrene (Pyr)) was higher in the gas phase than in the particle phase, while the Indeno[1,2,3-cd]pyrene(IcdP)/(IcdP + Benzo[ghi]perylene (BghiP)) ratio was more variable in the gas than that in the particle phase. The main sources for both phases were a mixture of liquid fossil fuel combustion and the burning of biomass and coal, with clear seasonal variation. Principal Component Analysis/Multiple Linear Regression (PCA/MLR) analysis identified the main PAH sources as coal burning (52%) with motor vehicle exhaust and coke (48%) in spring; coal (52%), coke (21%), and motor vehicle exhaust (27%) in summer; coal (47%), vehicle exhaust (34%), and coke (19%) in autumn; and coal (58%) and vehicle exhaust (42%) in winter.
View Full-Text
►

▼

Figures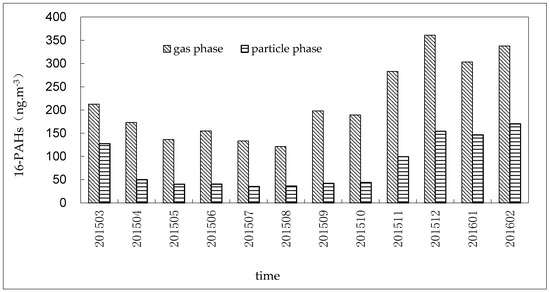 Figure 1
This is an open access article distributed under the
Creative Commons Attribution License
which permits unrestricted use, distribution, and reproduction in any medium, provided the original work is properly cited (CC BY 4.0).

Share & Cite This Article
MDPI and ACS Style
Yang, J.; Xu, W.; Cheng, H. Seasonal Variations and Sources of Airborne Polycyclic Aromatic Hydrocarbons (PAHs) in Chengdu, China. Atmosphere 2018, 9, 63.
Note that from the first issue of 2016, MDPI journals use article numbers instead of page numbers. See further details here.
Related Articles
Comments
[Return to top]