Open Access This article is
freely available
re-usable
Perspective
Unmanned Aerial Systems for Monitoring Trace Tropospheric Gases
Department of Chemistry, University of Kentucky, Lexington, KY 40506, USA
*
Author to whom correspondence should be addressed.
Received: 6 October 2017 / Accepted: 21 October 2017 / Published: 23 October 2017
Abstract
:
The emission of greenhouse gases (GHGs) has changed the composition of the atmosphere during the Anthropocene. Accurately documenting the sources and magnitude of GHGs emission is an important undertaking for discriminating the contributions of different processes to radiative forcing. Currently there is no mobile platform that is able to quantify trace gases at altitudes <100 m above ground level that can achieve spatiotemporal resolution on the order of meters and seconds. Unmanned aerial systems (UASs) can be deployed on-site in minutes and can support the payloads necessary to quantify trace gases. Therefore, current efforts combine the use of UASs available on the civilian market with inexpensively designed analytical systems for monitoring atmospheric trace gases. In this context, this perspective introduces the most relevant classes of UASs available and evaluates their suitability to operate three kinds of detectors for atmospheric trace gases. The three subsets of UASs discussed are: (1) micro aerial vehicles (MAVs); (2) vertical take-off and landing (VTOL); and, (3) low-altitude short endurance (LASE) systems. The trace gas detectors evaluated are first the vertical cavity surface emitting laser (VCSEL), which is an infrared laser-absorption technique; second two types of metal-oxide semiconductor sensors; and, third a modified catalytic type sensor. UASs with wingspans under 3 m that can carry up to 5 kg a few hundred meters high for at least 30 min provide the best cost and convenience compromise for sensors deployment. Future efforts should be focused on the calibration and validation of lightweight analytical systems mounted on UASs for quantifying trace atmospheric gases. In conclusion, UASs offer new and exciting opportunities to study atmospheric composition and its effect on weather patterns and climate change.
Keywords:
remote sensing; unmanned aerial vehicles; unmanned aerial systems; drones; atmospheric composition; sensors
2. Classification of UASs
However, it must be noted that adding rotors increases battery consumption and results in shorter flight times. Thus, a primary consideration for maximizing flight duration for a given payload is to optimize the number of rotors needed.
LASEs are the most diverse class of UASs, and are characterized by simplicity and ease of use. The wingspans are limited to 3 m, and offer payloads from 2 to 5 kg. These UASs can be hand-launched or catapult-launched, and offer flight times from 45 to 120 min. This class of UASs can also be fit with autopilot features that offer the advantage of pre-planned flight patterns to ensure systematic sampling.
In summary, selecting the most appropriate UAS for sampling in the lower atmosphere requires consideration of the mission objectives, environmental conditions, and budget. The frame of the selected UAS model requires alteration for carrying the trace gas detection system to be deployed. Different sensor technologies for trace gas detection are discussed below.
3. Sensors for Trace Gases
4. Implementation of Sensor Technology Onboard UASs
Several different categories and models of UASs have been introduced above and the significant factors for selecting between them are size, range, payload, and whether it is a fixed-wing or rotary-wing vehicle. These UASs can be modified to include sensors for monitoring trace tropospheric gases at low altitudes, as demonstrated in recent experimental efforts that have been successfully employed three different sensor technologies: (1) a portable IR laser-absorption spectrometer; (2) two semiconductor sensors; and, (3) a catalytic type sensor.
5. Interface for Integration of Analytical Sensors into UASs and Initial Cost Considerations
The miniaturization of sensor packages can be enabled by printed circuit boards (PCBs). Software such as Fritzing allows for the design and printing of unique circuit boards that can integrate several gas sensors into a small, lightweight package [
55
]. These PCBs are generally battery powered, although the development of radio frequency identification (RFID) tags provides a promising future for wireless powering of these low-power consuming devices. These PCBs are programmed with microcontrollers or microcomputers on single integrated circuits. Typical microcomputers employed combine a processing core, RAM, and an operating system (e.g., Linux) to operate microcontrollers. Programing of the microcomputer is enabled with software using a keyboard and monitor connected to the device. Among the options for collecting data from the sensor package, there are two common reliable practices: (1) to store data on a SD card for later retrieval and analysis; and, (2) to wirelessly transmit data in real time to an online database or back to the users' computer via Wi-Fi or Bluetooth.
The costs of UASs such as MAV, LASE, and VTOL can vary widely based on the airframe, the GPS navigation system to be added, the autopilot and telemetry system, and motor/battery combination chosen. Airframe costs can range from $250 to $5000 depending on the type and complexity of the aircraft. Although the GPS navigation system can be costly (e.g., ~$4000), it is a significant component to determine the quality of flight. The autopilot systems can vary significantly due to the quality of the flight control with prices starting at $50 that for higher-end systems increases to $300. Batteries for UASs range from $65 to $200, but the number of batteries required for operation could range from 1 to 6 depending on the number of rotors. Additionally, spare batteries are required to keep the UAS in flight as much as possible, what impacts the total battery cost to range between $65 and $1200. In addition, battery chargers cost $60–200. For those airframes that do not come equipped with a motor, an additional investment of $30–120, depending on size and rating, is needed. Many users of UASs also find it useful to have onboard digital-to-analog (DAC) converters, which cost between $200 and $300. Thus, just for the total cost of a UAS, a figure of $5000 to $12,000 can be obtained.
The cost of sensor packages can also vary slightly based on the type of microcontroller/microcomputer used, the number and type of analytical sensors deployed, and how the device is powered. The microcontrollers/microcomputers cost $25–40, but it may require multiple shields (or a PCB) to incorporate data transmission, as well as a memory card, which could cost an additional $35. Batteries are approximately $20 each, and at least two batteries are required per unit to run continuously all day. The price of analytical gas sensors certainly depends on the detection method chosen. Many electrochemical, photoionization, catalytic, and semiconductor type sensors are readily commercially available, but the price definitely reflects the quality of the sensor. Many gas sensors are available for $5–10, however for the highest-quality gas sensors, the price range can jump to $300–1000. There is a large variety of gas sensors priced in-between as well, but again the price reflects the quality. It is recommended to verify the following information is available when purchasing sensors: calibration, lifetime, sensitivity, response time, and size/weight. Lastly, there are no commercially available IR laser-absorption instruments. This means that the instruments reviewed above were custom built for that UAS, making cost estimates difficult. However, given the costs of lasers, optical cables, gas chambers, and detectors, it is the most expensive method to deploy.
6. Restrictions and Regulations in the United States and European Countries
Lastly, certified operations are considered high risk and include large or complex UAS operating continuously over open assemblies of people, or operating beyond visual line of sight in high density airspace. Certified operations also include UASs that are used for transporting dangerous goods or people. These operations are more closely governed by the laws of manned aircraft, and require the certification of the operator and the aircraft, as well as the licensing of the flight crew. Certified operations are outside the scope of this perspective and will not be discussed further.
7. Conclusions
Monitoring trace tropospheric gases with UASs is a promising methodology for atmospheric chemistry applications. MAVEs, VTOL, and LASE aircrafts are the most practical UASs for trace gas monitoring. Specifically, those UASs with wingspans under 3 m for payloads <5 kg are the best compromise between cost and convenience for deploying sensors. These UASs offer altitude capabilities of a few hundred meters with flight times ranging from 30 min to 2 h. Examples of how these UASs can carry lightweight, low-power, cheap trace gas sensors have been provided. However, further progress is needed to achieve the accurate quantification of a mixture of gases under variable environmental conditions. The most expensive part of integrating analytical sensors into UASs is also the most difficult to quantify, because time and investment for research and development of these new analytical methods of gas detection are needed. Numerous hours, days, and months of innovation in the laboratory and application in the flying field will need to be invested, which is costly and nearly impossible to put a dollar amount for comparison to the cost of the individual components. Future progress in this area will be possible when new instruments that are integrated into UASs are developed, calibrated, and validated.
Acknowledgments
This research was supported by the U.S. National Science Foundation under RII Track-2 FEC award No. 1539070. Special thanks to the Collaboration Leading Operational Unmanned Aerial Systems Development for Meteorology and Atmospheric Physics (CLOUDMAP) consortium for promoting and sharing knowledge about UASs.
Author Contributions
All authors conceived and wrote the paper.
Conflicts of Interest
The authors declare no conflict of interest.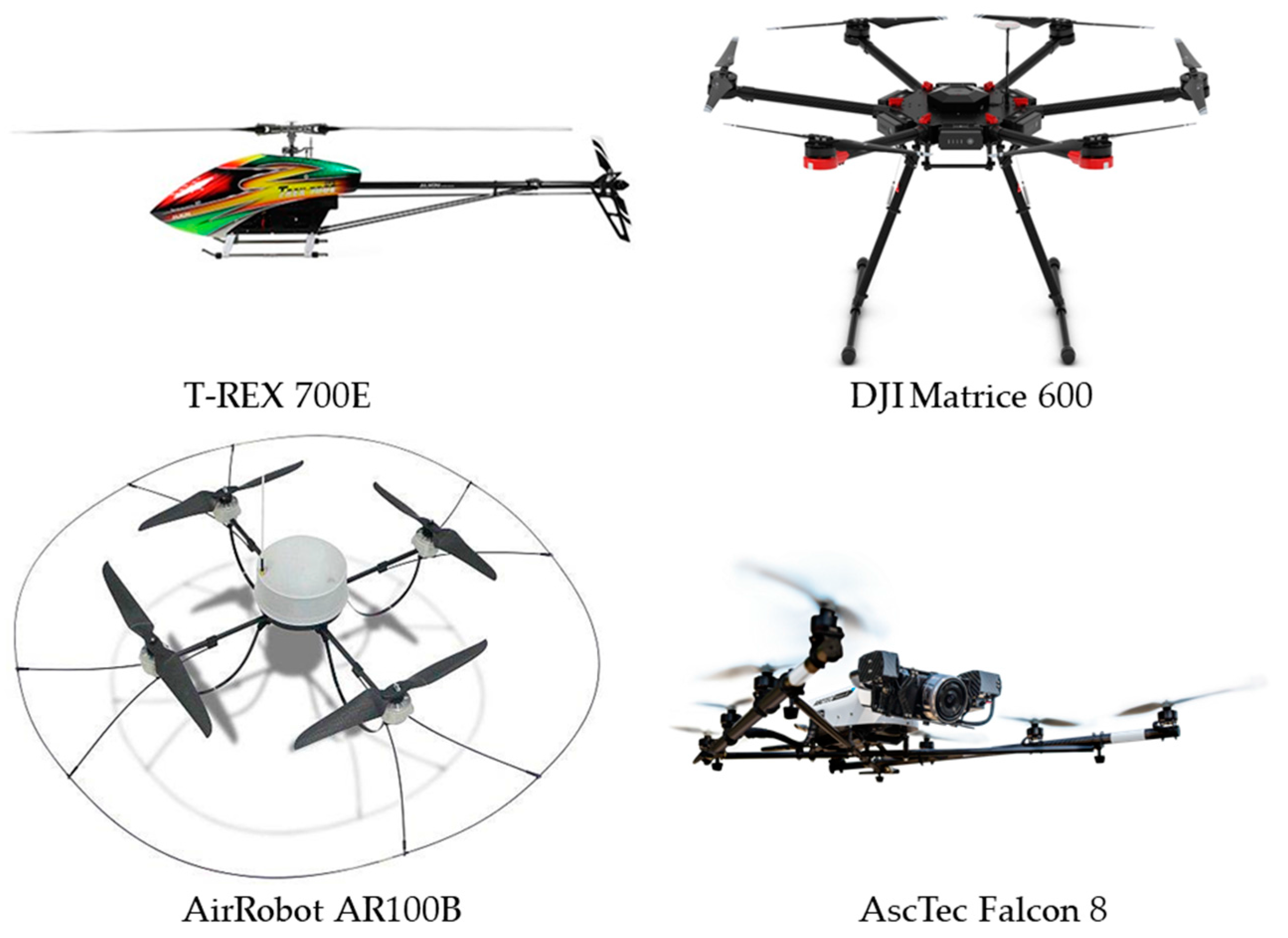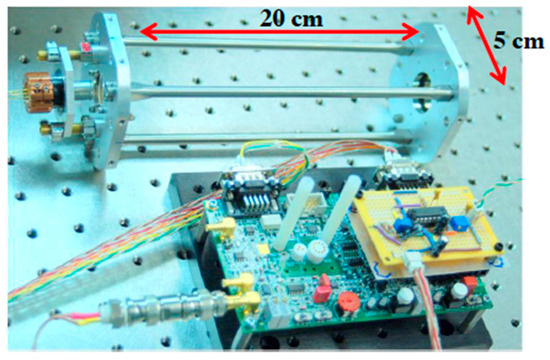 Figure 3.
Low-power vertical cavity surface emitting laser with multi-pass cell and photodetector. Reproduced with permission from Khan, A. et al. [
40
], Remote Sensing; published by MDPI, 2012.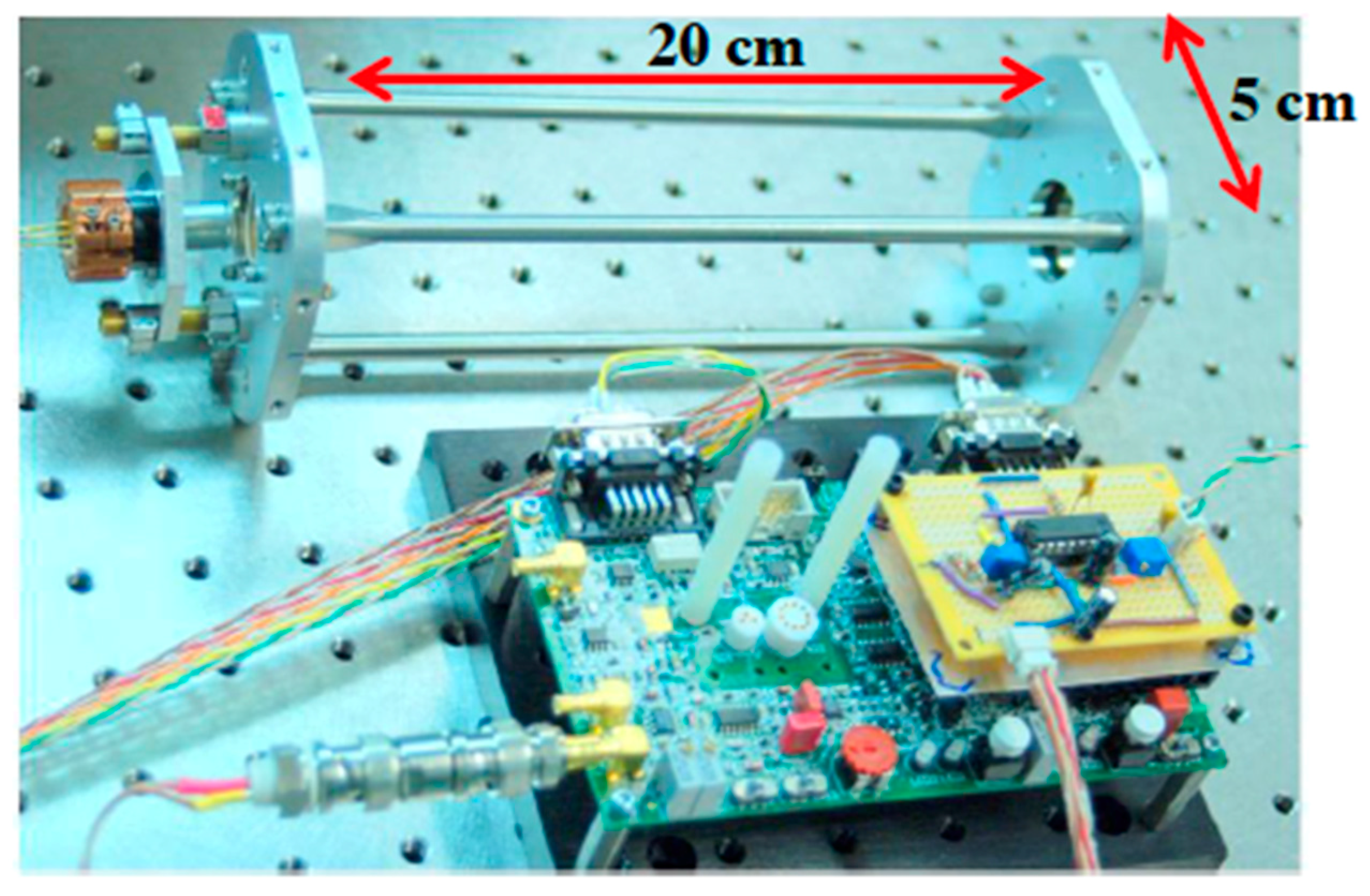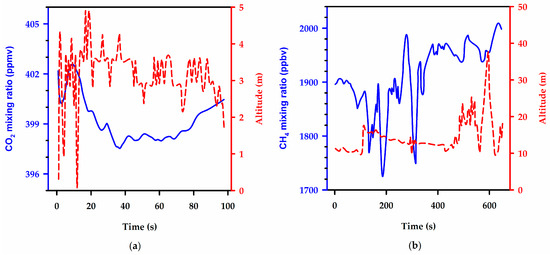 Figure 4.
Time series for the mixing ratios of (
a
) carbon dioxide (CO
2
) and (
b
) methane (CH
4
) vs. flying altitude obtained by laser-absorption spectroscopy [
40
].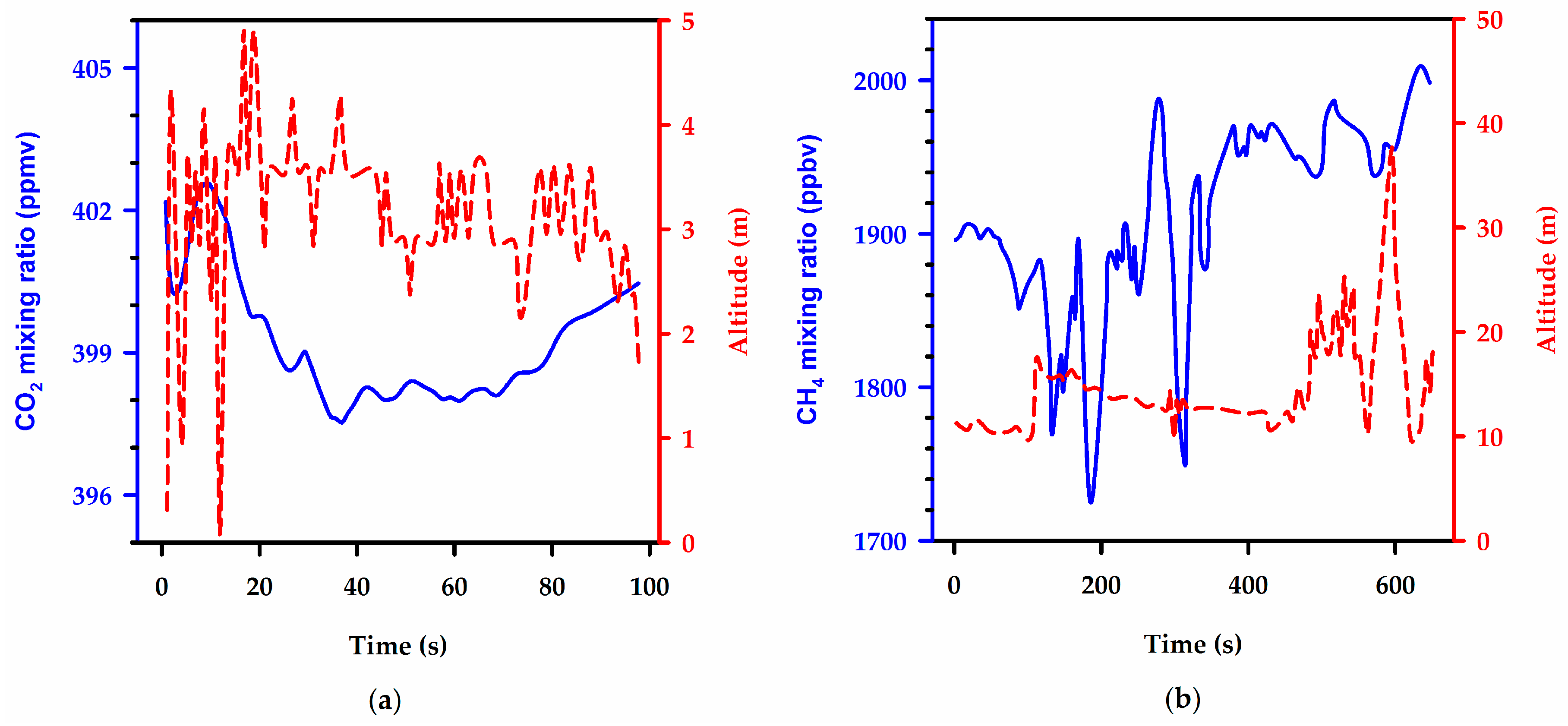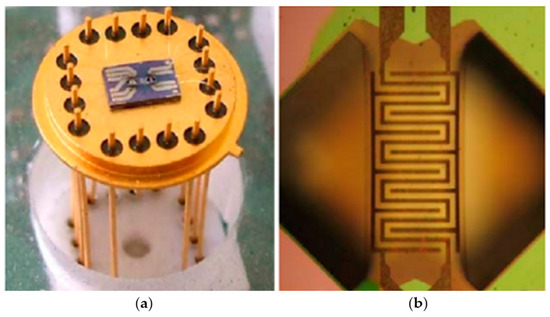 Figure 5.
(
a
) Micro electro mechanical system bonded to a tungsten trioxide (WO
3
) metal oxide sensor. (
b
) Detailed image of the nanoporous WO
3
layer. Reproduced with permission from Rossi, M. et al. [
26
], IEEE Sensors 2014 Proceedings; published by IEEE, 2014.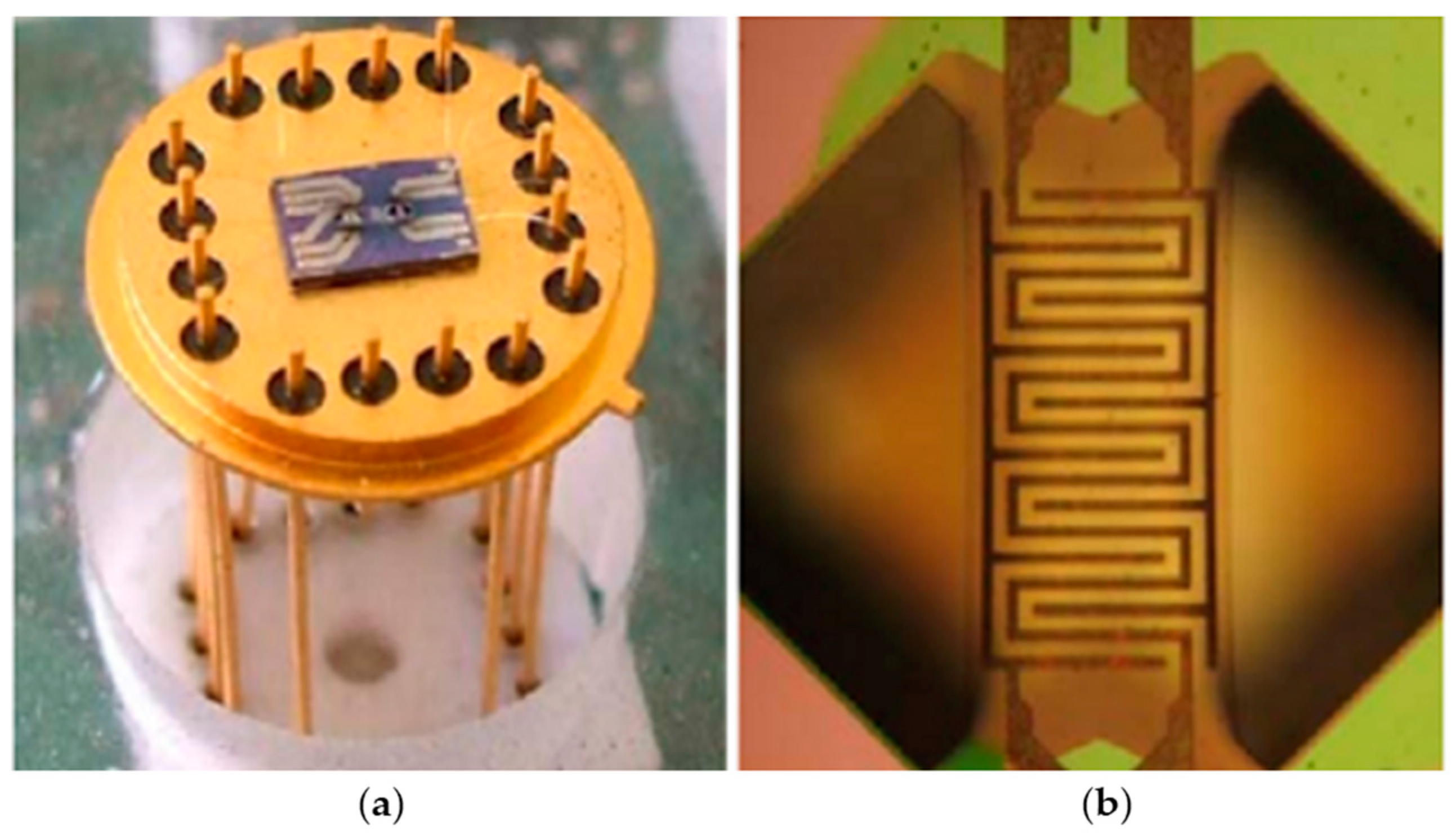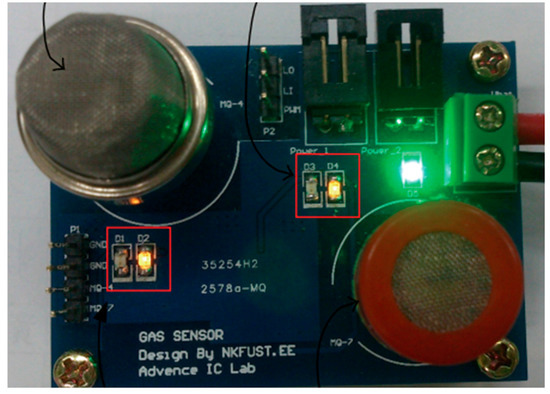 Figure 6.
MQ-4 sensor (top left) with serial ports attached to a microcontroller. Reproduced with permission from Chen, M. et al., International Journal of Distributed Sensor Networks; published by SAGE, 2015 [
42
].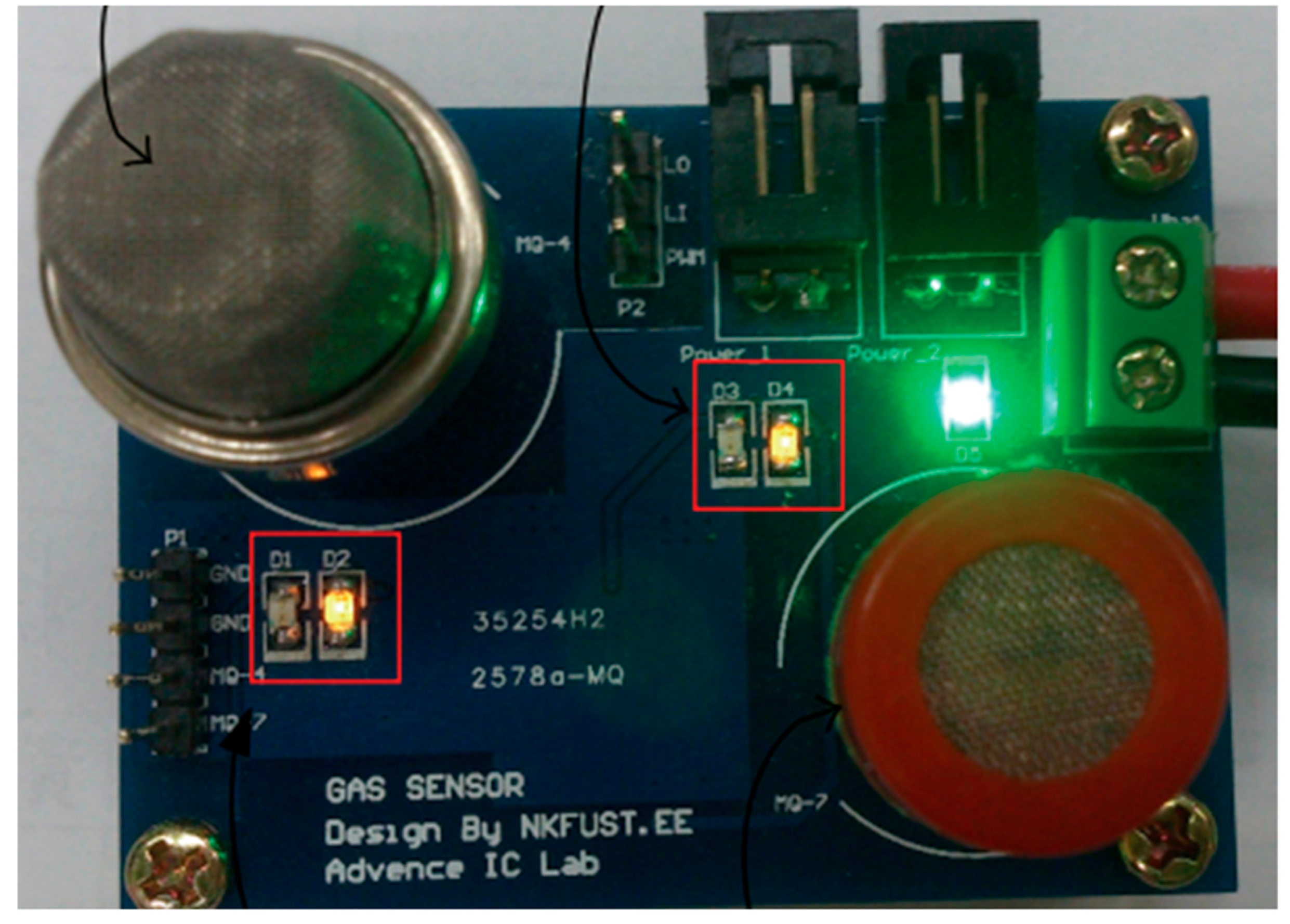 Table 1. Detection limits and expected ranges of selected trace atmospheric gases.

| Trace Atmospheric Gas of Interest | Useful Detection Limit | Expected Range |
| --- | --- | --- |
| Ozone | 10 ppbv | 0–150 ppbv |
| Carbon monoxide | 100 ppbv | 0–300 ppbv |
| Carbon dioxide | 100 ppmv | 350–600 ppmv |
| Nitrogen dioxide | 10 ppbv | 0–50 ppbv |
| Sulfur dioxide | 10 ppbv | 0–100 ppbv |
| Methane | 500 ppbv | 1500–2000 ppbv |
| VOCs | 1 µg m–3 | 5–100 µg m–3 (total) |
Table 2. Summary of UASs Regulations for Selected European Countries.
Country
MTOM a Limit
Categories
License
Height Limit
Austria
150 kg
5 kg; 25 kg
More risky categories with an increase of pilot qualification
150 m AGL e
Belgium
150 kg
<1 kg recreational;
<5 kg class 2;
>5 kg class 1
Yes for Class 1 (including LAPL medical); Class 2: practical examination with certificate (no medical)
91 m AGL e
Czech Republic
150 kg
0.91 kg;
7 kg;
20 kg
UAS for professional use needs authorization. Pilot passes practical and theoretical tests
300 m AGL e; in CTR 100 m AGL e
Denmark
>25 kg need authorization
1A: <1.5 kg
1B: <7 kg
2: 7–25 kg
3: BVLO c
For commercial use in populated areas, permission is needed. Applicants need have an operations handbook and pass a practical test
100 m
Finland
25 kg
7 kg over densely populated areas
No
150 m
France
150 kg
Captive RPAS d and RPAS <2 kg, <25 kg; and >25 kg
RPAS d >25 kg need a remote-pilot license. For scenario S1, S2, and S3: theoretical certificate, and practical test. For scenario S4: theoretical certificate + manned aviation license.
150 m; (50 m in scenarios S2, RPAS d >2 kg)
Germany
25 kg
<25 kg;
>25 kg
Theoretical and practical requirements above 5 kg.
100 m
Ireland
150 kg
1, 5, 7, and 20 kg
No, but theoretical and practical requirements
120 m for <20 kg
Italy
As per basic regulation
0.3 kg;
2 kg;
25 kg
Yes, pilot certificate for VLOS b and <25 kg, otherwise license. Medical class LAPL/3.
150 m
Lithuania
>25 kg need registration
1. <300 g;
2. >300–25 kg;
3. >25 kg
Yes, requirements set up in conditions for conducting commercial flights
122 m
Malta
150 kg
No
Medical Declaration
122 m
Netherlands
150 kg
No
Yes
120 m
Poland
150 kg
25 kg
Certificate of qualification, including medical for commercial pilots
Portugal
>25 kg need authorization; toy <1 kg
Toy <1 kg;
>25 kg with authorization
Case by case, >25 kg
120 m; toy 30 m outside controlled airspace
Slovenia
150 kg
No
Yes
Spain
150 kg
<2 kg;
<25 kg;
and >25 kg
<25 kg theoretical knowledge + practical course on RPAS d + LAPL; >25 kg pilot license
120 m
Sweden
150 kg
1A: 0–1.5 kg/max 150 J/VLOS b
1B: 1.5–7 kg/max 1000 J/VLOS
2: 7–150 kg/VLOS b
3: BVLOS c
Yes >7 kg
120 m
Switzerland
150 kg
Open: <30 kg, 100 m outside crowds VLOS b;
Specific: Anything else
Pilot skills in the total hazard and risk assessment (GALLO)
No limit (with GALLO)
United Kingdom
150 kg
<20 kg;
>20–150 kg
>20 kg or BVLOSc; <20 kg VLOS b: pilot competency assessment required if requesting permission.
122 m (>7–20 kg); <7 kg VLOS
a: MTOM = Maximum Take Off Mass, b: VLOS = Visual Line of Sight, c: BVLOS = Beyond VLOS, d: RPAS = Remotely Piloted Aircraft System, e: AGL = Above Ground Level.
© 2017 by the authors. Licensee MDPI, Basel, Switzerland. This article is an open access article distributed under the terms and conditions of the Creative Commons Attribution (CC BY) license (http://creativecommons.org/licenses/by/4.0/).