A Novel Role of PM Extracts on the Post-Transcriptional Control of Pro-Inflammatory Mediators, IL-6 and CXCL8
1
Center for Environmental and Toxicological Research, University of Puerto Rico Medical Sciences Campus, PO Box 365067, San Juan 00936-5067, Puerto Rico
2
School of Science & Technology, Universidad Ana G. Méndez, Road 190, Km 1.8, Barrio Sabana Abajo, Carolina 00983, Puerto Rico
3
School of Pharmacy, Concordia University of Wisconsin, 12800 N Lake Shore Drive, Mequon, WI 53097, USA
4
Institute of Biomedical and Forensic Sciences Research of Puerto Rico Inc. (IBFSR), P.O. Box 362764, San Juan 00936-2764, Puerto Rico
5
Department of Biochemistry, School of Medicine, University of Puerto Rico Medical Sciences Campus, P.O. Box 365067, San Juan 00936-5067, Puerto Rico
*
Author to whom correspondence should be addressed.
Received: 29 March 2019 / Revised: 2 May 2019 / Accepted: 6 May 2019 / Published: 14 May 2019
Abstract
Exposure to airborne particulate matter (PM) has been associated with the transcriptional up-regulation of pro-inflammatory mediators. However, the effect of PM on post-transcriptional regulation of pro-inflammatory mediators has not been fully explored. In this study, we examined the acute effect of organic extracts from urban PM, rural PM and diesel exhaust particles (DEP) on the post-transcriptional control of interleukin-6 (IL-6) and interleukin-8 (CXCL8) using a human bronchial epithelial cell line. Both PM and DEP extracts induced the release of IL-6 and CXCL8 after 24 h of exposure. Time-course experiments were conducted to examine changes in mRNA steady-state levels and half-lives. The steady-state levels of CXCL8 mRNA increase at 15 min on cells exposed to both PM and DEP extracts. Meanwhile only the urban extract induced significant increases of IL-6 mRNA levels at 15 min. Indirect measurements of IL-6 mRNA half-life showed a dramatic increase in cells exposed to the organic extracts. CXCL8 mRNA half-life increases in cells exposed to PM extracts and not DEP extract. Nuclear run-ons demonstrated that the urban PM and DEP extracts promoted an up-regulation in the transcription rate of CXCL8 at 15 min but not for IL-6. Urban and rural PM influences the post-transcriptional control of CXCL8.
View Full-Text
►

▼

Figures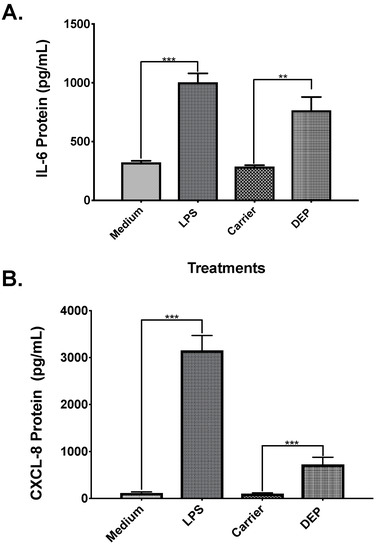 Figure 1
This is an open access article distributed under the
Creative Commons Attribution License
which permits unrestricted use, distribution, and reproduction in any medium, provided the original work is properly cited (CC BY 4.0).

Share & Cite This Article
MDPI and ACS Style
Rivera-Ramírez, E.; Méndez, L.B.; Ortíz-Rivera, A.; Rodríguez-Cotto, R.I.; Jiménez-Vélez, B. A Novel Role of PM Extracts on the Post-Transcriptional Control of Pro-Inflammatory Mediators, IL-6 and CXCL8. Atmosphere 2019, 10, 270.
Note that from the first issue of 2016, MDPI journals use article numbers instead of page numbers. See further details here.
Related Articles
Comments
[Return to top]