Functional Evolution of Avian RIG-I-Like Receptors
Department of Evolutionary Studies of Biosystems, SOKENDAI (The Graduate University for Advanced Studies), Kanagawa 240-0193, Japan
*
Author to whom correspondence should be addressed.
Received: 13 August 2018 / Revised: 6 September 2018 / Accepted: 6 September 2018 / Published: 12 September 2018
Abstract
RIG-I-like receptors (retinoic acid-inducible gene-I-like receptors, or RLRs) are family of pattern-recognition receptors for RNA viruses, consisting of three members: retinoic acid-inducible gene I (
RIG-I
), melanoma differentiation-associated gene 5 (
MDA5
) and laboratory of genetics and physiology 2 (
LGP2
). To understand the role of RLRs in bird evolution, we performed molecular evolutionary analyses on the coding genes of avian RLRs using filtered predicted coding sequences from 62 bird species. Among the three RLRs, conservation score and dN/dS (ratio of nonsynonymous substitution rate over synonymous substitution rate) analyses indicate that avian MDA5 has the highest conservation level in the helicase domain but a lower level in the caspase recruitment domains (CARDs) region, which differs from mammals;
LGP2
, as a whole gene, has a lower conservation level than
RIG-I
or
MDA5
. We found evidence of positive selection across all bird lineages in
RIG-I
and
MDA5
but only on the stem lineage of Galliformes in
LGP2
, which could be related to the loss of
RIG-I
in Galliformes. Analyses also suggest that selection relaxation may have occurred in
LGP2
during the middle of bird evolution and the CARDs region of
MDA5
contains many positively selected sites, which might explain its conservation level. Spearman's correlation test indicates that species-to-ancestor dN/dS of
RIG-I
shows a negative correlation with endogenous retroviral abundance in bird genomes, suggesting the possibility of interaction between immunity and endogenous retroviruses during bird evolution.
View Full-Text
►

▼

Figures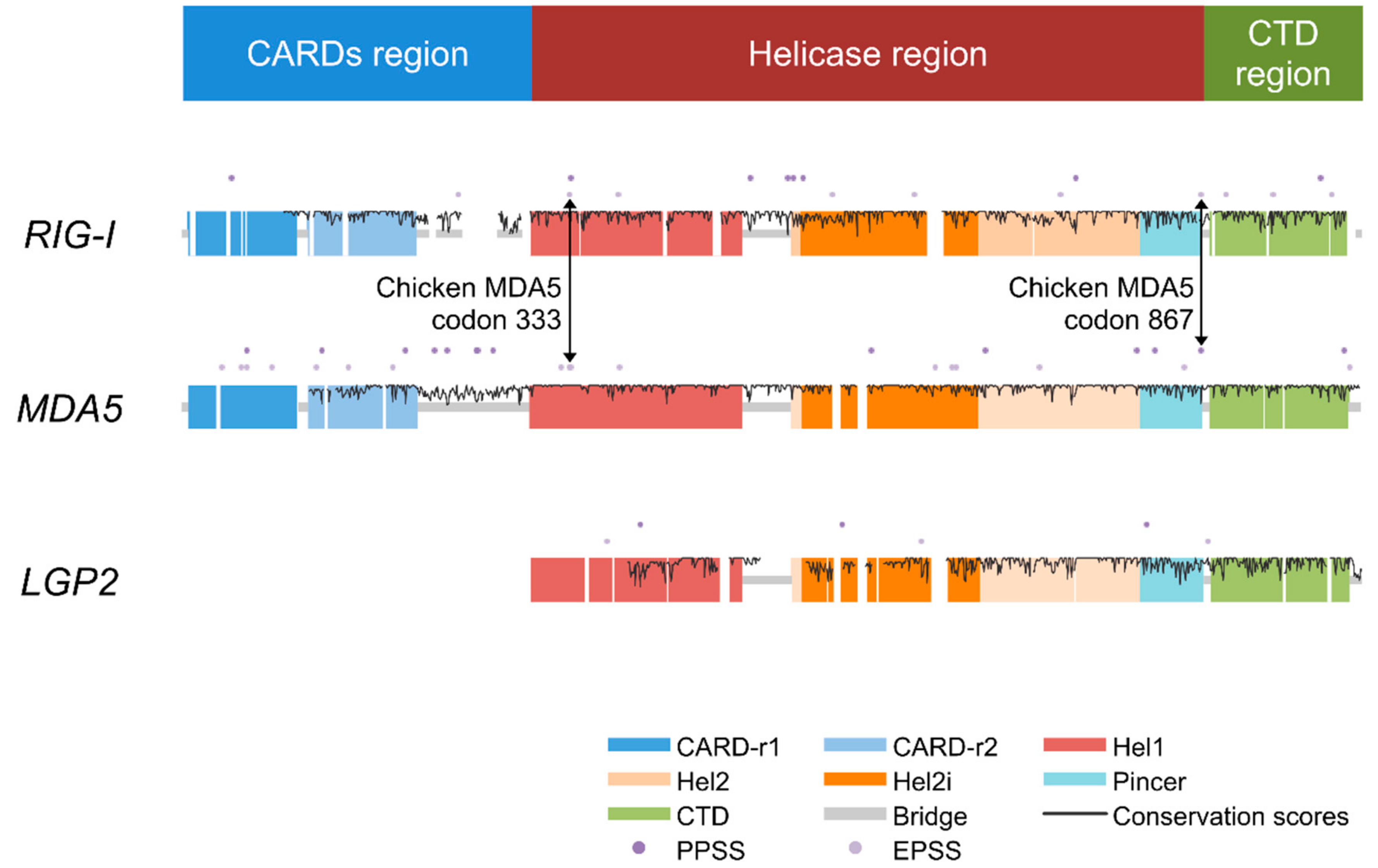 Figure 1
This is an open access article distributed under the
Creative Commons Attribution License
which permits unrestricted use, distribution, and reproduction in any medium, provided the original work is properly cited (CC BY 4.0).

Share & Cite This Article
MDPI and ACS Style
Zheng, W.; Satta, Y. Functional Evolution of Avian RIG-I-Like Receptors. Genes 2018, 9, 456.
Note that from the first issue of 2016, MDPI journals use article numbers instead of page numbers. See further details here.
Related Articles
Comments
[Return to top]