Open Access This article is
freely available
re-usable
Review
Development of Microplatforms to Mimic the In Vivo Architecture of CNS and PNS Physiology and Their Diseases
1
Biomedical Engineering Program, American University of Beirut (AUB), Beirut 1107 2020, Lebanon
2
Department of Biochemistry, Faculty of Science, King Abdulaziz University (KAU), Jeddah 21589, Saudi Arabia
3
Department of Biology, Faculty of Science, Lebanese University, Beirut 6573/14, Lebanon
4
Department of Anatomy, Cell Biology and Physiological Sciences, Faculty of Medicine, American University of Beirut (AUB), Beirut 1107 2020, Lebanon
*
Author to whom correspondence should be addressed.
Received: 30 April 2018 / Accepted: 31 May 2018 / Published: 6 June 2018
Abstract
:
Understanding the mechanisms that govern nervous tissues function remains a challenge. In vitro two-dimensional (2D) cell culture systems provide a simplistic platform to evaluate systematic investigations but often result in unreliable responses that cannot be translated to pathophysiological settings. Recently, microplatforms have emerged to provide a better approximation of the in vivo scenario with better control over the microenvironment, stimuli and structure. Advances in biomaterials enable the construction of three-dimensional (3D) scaffolds, which combined with microfabrication, allow enhanced biomimicry through precise control of the architecture, cell positioning, fluid flows and electrochemical stimuli. This manuscript reviews, compares and contrasts advances in nervous tissues-on-a-chip models and their applications in neural physiology and disease. Microplatforms used for neuro-glia interactions, neuromuscular junctions (NMJs), blood-brain barrier (BBB) and studies on brain cancer, metastasis and neurodegenerative diseases are addressed. Finally, we highlight challenges that can be addressed with interdisciplinary efforts to achieve a higher degree of biomimicry. Nervous tissue microplatforms provide a powerful tool that is destined to provide a better understanding of neural health and disease.
Keywords:
organ-on-a-chip; nervous tissues; cell co-cultures; blood-brain barrier; neurodegenerative diseases; brain cancer; metastasis
1. Introduction
1.1. Nervous System Cells: Their Roles and Microenvironment
The design of biomimetic platforms to study neural physiology requires an understanding of the native structure of these tissues including cells, matrix and their interactions. The functioning brain tissue is constituted from several types of cellular elements that are anatomically integrated. Of particular significance to this review are two classes of cells, neurons and glia, which are interconnected via very complex circuitries [
1
]. Neurons and glia exist in the brain in approximately equal numbers; however, neurons are responsible for most of the brain's unique functions. The neuron itself is the fundamental element and the backbone of the nervous tissue. Glial cells on the other hand, also called the "sleeping giants" of neuroscience, have highly diverse and incompletely understood roles [
1
,
2
,
3
]. We know however that without glia, the brain cannot function properly as they play a huge role in maintaining, processing and supporting neuronal functionalities. Several classes of neuroglia exist; these include astrocytes (the most numerous), oligodendroglia, microglia and Schwann cells. Their roles include myelination (Schwann and oligodendroglia), enveloping synaptic junctions to control neurotransmitter overspread in the synaptic cleft (astrocytes), regulating concentrations of certain ions in the extracellular medium (astrocytes), scavenging molecular and cellular debris in addition to dead or degenerating neurons and glia (microglia), secretion of trophic factors (astrocytes), as well as development and maintenance of the (BBB) [
3
,
4
]. In addition to neuroglia and neurons, ependymal cells exist in ventricular regions to direct cell migration during brain development.
All our thoughts, behaviors, emotions and actions are encoded at the level of complex neuron-neuron interactions as well as the circuits where these interactions take place and that constitute the structural basis for brain function. Neurons can be categorized according to their morphology, size, topographic location, neurochemistry, and more importantly connectivity [
5
]. Information delivered to the peripheral nervous system (PNS) is carried by motor neurons, and information delivered back to the brain is carried by primary sensory neurons, whereas interneurons (the most numerous in the nervous tissues) form connections only with other neurons [
6
,
7
]. All of these factors are important determinants of the role the neurons play within the tissues they reside in. Population of neurons projecting from one region to another form macrocircuits, whereas local neuron-neuron interactions within a brain region form microcircuits [
7
,
8
,
9
]. Neurons are embedded with membrane-spanning proteins known as ion channels that allow the passage of specific charged particles (ions) through their pores and that are gated via complex mechanisms. It is the passage of these ions that generates voltage, the currency of the brain. Ion channels are the maestros of neuronal functionalities and the secret to decode the brain lies at their behalf. If we need to understand the neuronal basis of healthy and diseased brains, we need to understand how ion channels cooperate to generate voltage as well as these macro- and microcircuits interactions. Thus, these cellular and circuit characteristics allow us to appreciate the special structural and biochemical qualities a neuron exhibits in relation to its surroundings [
1
].
Morphologically, three major regions can be defined in a typical neuron [
10
]: (1) the cell body (soma or cyton), which contains the nucleus and other important cytoplasmic organelles (like the rough endoplasmic reticulum, the smooth endoplasmic reticulum, the Golgi apparatus, and the mitochondria); (2) dendrites, which emanate from the soma as antennas and are covered with thousands of synapses (the wide variety of dendritic shapes and branches are used to classify different groups of neurons); and (3) axon, an extrusion from the soma which tapers away much farther than dendritic branches do [
1
,
10
]. Axons are generally smooth, emit one or more collaterals, and are surrounded by the myelin sheath that facilitates rapid impulse conduction. The end of the neuron, called the axon terminal, is the site where the neuron comes in contact with other neurons (or other cells) and passes signals to them. This point of contact is called the synapse [
1
,
10
]. The synapse has two sides: presynaptic and postsynaptic (the names indicate the usual direction of information flow from "pre" to "post"). The presynaptic side is basically the axon terminal, whereas the postsynaptic side can be a dendrite or the soma of another neuron. These factors display a wide range of morphological specializations, depending on the target area in the central or peripheral nervous system. Therefore, in mimicking a physiologic or pathophysiologic condition one needs to take into account the actual composition of cells and their surrounding matrix for the target area.
1.2. Microfluidic and Organ-on-Chip Technology
The field of microfluidics (key to the development of lab-on-a-chip technology) first appeared in the 1980s, and since that time has attracted increasing attention as a promising field merging the areas of science and device engineering [
11
,
12
,
13
]. Microfluidic platforms, as an alternative to two-dimensional (2D) cell cultures, enable cell growth, reactions, and analysis on the same device, in turn reducing cost, time, and labor [
14
,
15
]. Microfluidic systems may consist of parallel, splitting, and merging channels besides functional units such as pumps, mixers, reactors, valves, and porous membranes [
16
,
17
]. Moreover, microfluidic chips can be integrated with biochemical or electrical sensors [
18
]. The fabrication of micro-miniaturized devices involving multiple channels and chambers enables the investigation of multiple samples in parallel under controlled conditions [
19
]. The dimensions of the microchannels are usually in the range of tens to hundreds of micrometers, allowing sample/reagent volumes in the range of nano- to pico-liters to be handled. Indeed, small microfluidic tools provide many advantages such as minimal waste production, speedy reaction times (seconds or milliseconds), rapid mass and heat transfer rates, and rapid diffusion [
13
,
20
,
21
]. Enhanced sensitivity, resolution, and precision in microfluidic systems may be attributed to high surface-to-volume ratio in the microstructure [
22
]. Several surface-related properties guiding the microfluidic system include laminar flow, surface tension, electrokinetics, and thermal response time [
23
]. When fluids are confined in microchannels their physics differ, and hence, the relationship between the inertial and viscous forces can be calculated by the Reynolds number (Re) according to the following formula:
where
ρ
is the flow density, V is the flow rate, D
h
is the hydraulic diameter, and µ is the viscosity. Typically, the Re is less than 2300 due to the small dimensions of the microfluidic channels and the fact that the laminar flow is more dominant than the turbulent flow (
Figure 1
) [
24
,
25
,
26
].
Microfluidic technology allows the in vivo organ microenvironment to be mimicked by fabricating a three-dimensional (3D) cell culture that models physiological conditions (
Figure 2
). The integration of 3D cell culture and cell-based analysis techniques allows for multiple steps such as culture, capture, lysis, and detection of living cells to be performed on the same platform [
14
,
27
]. Indeed, 3D cell cultures more closely resemble the in vivo environment with respect to morphology, proliferation, differentiation, and migration. Thus, organ-on-a-chip technology has been exploited to mimic living tissues through the fabrication of the minimal functional units of an organ (
Table 1
). Developed chips enable the culture of living cells with a continuous supply of oxygen and nutrients as well as a minimal number of components in a microfluidic chamber that is adequate for maintaining interactions at the level of tissues and organs [
28
]. Hence, organ-on-a-chip platforms allow the investigation of cell behavior by simulating the complex cell–cell and cell–matrix interactions [
29
]. Depending on the microfluidic architecture and tissue perfusion, biological and physiological reactions can be monitored for approximately one month on the fabricated device [
30
]. Organ-on-a-chip technology offers many possibilities for investigating cell responses to biochemical and mechanical stimuli from the surrounding environment. Many organ-on-a-chip tools have been fabricated mimicking brain [
31
], cardiac [
32
], lung [
33
], liver [
34
], kidney [
28
], and intestinal [
35
] tissues, and have been used in drug screening assays to evaluate cell response as well as drug efficacy and toxicity [
36
]. The possibility of connecting organ-on-a-chip platforms with a circulatory system allows for the estimation of drug absorption, distribution, metabolism, and excretion in an in vivo-like model [
23
]. The engineering of lung tissues into microfluidic channels allows for research into inhaled drug delivery. The toxicity of pharmaceutical compounds can be examined using heart-, gut-, and kidney-on-a-chip devices, while the liver-on-a-chip can be used to examine their toxicity [
37
]. For the evaluation of drug effects using organ-on-a-chip devices, it is necessary to fabricate special platforms that take into consideration the relevant biological barriers. Multilayered membrane-based microfluidic chips that model biological barriers such as the skin, nasal and small intestine mucosa, as well as the BBB, have been successfully developed [
38
].
Organ-on-a-chip microenvironments not only aid in improving our understanding of the basic mechanisms governing the function of organs, but also provide a high-throughput human organ simulation model that enables drug screening under specific biomimetic controlled conditions. These 3D platforms aim to replace animals used in clinical research, reduce costs and labor, offer alternative tools with greater flexibility and enable real-time monitoring of dynamic processes. Organ-on-a-chip models of nervous tissues are of paramount importance given the delicate nature of the tissues which limits in vivo experimentation especially in the central nervous system (CNS). The next section reviews models that mimic the CNS and PNS microenvironment to answer basic and applied questions about key neural physiological events.
2. Nervous System-on-a Chip Models That Mimic the CNS and PNS Microenvironment and Its Physiology
2.1. Neurons and Skeletal Muscle Cells Co-Culture and Neuromuscular Junctions
The neuromuscular junction (NMJ) is a synapse of the PNS which has long been used as a model for the basic principles of synapse development and maintenance due to its experimental accessibility [
43
]. Functional in vitro NMJs have been developed by co-culturing motoneurons and skeletal muscle fibers [
44
,
45
]. These models have contributed to understanding the formation and maturation of the NMJ which will provide insight into clinical solutions for spinal cord injury and neuromuscular diseases [
46
]. However, these co-cultured models cannot generate functional NMJ since the skeletal muscle cells cannot contract as they are adhered to the culture dishes. These models do not mimic the in vivo niche, especially the 3D architecture of native tissues. NMJ-on-chip devices are being developed to identify the essential interactions and pathways in the formation and maturation of the NMJ and to screen potential drugs [
45
]. To mimic the in vivo niche of the NMJ, a model was developed to study the pharmacokinetics of NMJ and contractility of muscle fibers [
47
]. The model was achieved by utilizing tissue engineering methods in synthesizing free-standing muscle fibers. Mouse myoblasts, C2C12 were 3D cultured in patterned Matrigel on polydimethylsiloxane (PDMS) substrates and attached to glass sections. The myoblasts were then differentiated into muscle fibers which were aligned within the Matrigel. Mouse embryonic stem cells (mESC) composed of neurospheres were immobilized onto the muscle fibers by minimizing the culture medium and then differentiating the neurospheres into mature neurons. This model was able to show the difference in the displacement of muscle fibers with electrodes in the presence or absence of active neurons. The contractile displacement of standalone muscle fibers stimulated by electrodes was around 1 µm while that of activated neurons was around 38 µm. This model is, however, limited in its ability to stimulate each cell type independently. In this essence, compartmentalized devices have been of interest to investigate synaptogenesis of NMJ and to dissect the pathways between motoneurons and muscle fibers [
48
]. A microfluidic device with two compartments separated by microchannels was developed with a compartment for neurons derived from mESC and a compartment for muscle fibers differentiated from C2C12 cells [
49
]. The microchannels separating the two compartments were 10 µm wide, with a length of 500 µm and height of 2.5 µm. The differentiated motoneurons were able to develop axons that crossed the microchannels into the muscle fiber compartment and formed NMJs. The maintenance of the NMJ in this model through anterograde and retrograde transport was investigated by studying the role of glial-derived neurotrophic factor (GDNF) when added to the different compartments [
50
]. GDNF showed a positive effect on axonal growth and muscle innervation when added to the muscle fiber compartment while no effect was observed when added to the motoneuron compartment [
50
]. This model using motoneurons and muscle fibers is a simple representation of the in vivo niche. A similar model was designed to recapitulate the in vivo niche by adding Schwann cells to neurons, along with muscle cells [
51
]. The model used primary spinal motoneurons and glial cells, and skeletal myocytes taken from Sprague-Dawley rats. The model showed that NMJs were formed from mature motoneurons and that the viability of the motoneurons improved with the addition of glial cells.
2.2. Neuron Cultures, Neurogenesis and Synaptic Formation, and Neural Networks
The ability to generate cultures of neuronal cells has been a fundamental challenge but also a fundamental necessity to help advance our understanding of nervous system functionality. Culturing neuronal cells in vitro is challenging because mature neurons do not undergo cell division. Recent advancements in cell culturing have enabled us to study neuronal differentiation, growth factor–dependent cell survival, axon outgrowth, and other basic mechanisms of sensory nerve conduction via dissociated primary sensory neurons [
52
,
53
,
54
,
55
]. Sensory neurons for culturing can be obtained easily from dorsal root ganglia (DRGs) located along the spinal column, or from cranial sensory ganglia (like trigeminal ganglia (TGs) in cranial nerve V) from mouse or rat embryos shortly after sensory neurons are generated [
56
,
57
,
58
,
59
,
60
]. Cultured TGs and DRGs neurons exhibit and share many of the neurophysiological features of the sensory neurons in vivo. They have been used extensively in a wide range of studies including investigation of programmed neuronal death [
61
,
62
,
63
,
64
], growth factor signaling pathways [
62
,
65
,
66
,
67
,
68
], exploring location-specific signaling pathways [
69
,
70
], regeneration [
71
,
72
], and the role of axonal proteins in modulating synaptic function [
73
,
74
,
75
]. Cultured neurons are used extensively to study neural electrophysiology and they retain the ability to respond to chemical [
76
,
77
,
78
], thermal [
79
,
80
] and mechanical [
81
] stimuli in culture. Microfluidic technology has been used successfully for in vitro sensory neuron culturing to understand how perturbations in the neuron's microenvironment can affect various neural physiological events including axonal mitochondrial movement among others [
82
,
83
,
84
,
85
,
86
]. Moreover, microfluidics are able to isolate the somas of neurons from axons, enabling spatially restricted studies of injury and exposure to changes in pH, neurotoxins and cell-cell communication [
87
,
88
,
89
].
The field of neurogenesis, generation of new neurons, has come a long way in the past two decades [
90
,
91
,
92
,
93
,
94
]. For many years however, neuroscientists believed that neurogenesis was restricted to early brain development. It was not until the 1990s that this view was challenged, and scientists started to believe that neural stem cells (NSCs) are incorporated into the adult brain as well [
95
,
96
,
97
]. This mechanism was identified in songbirds [
98
] but then afterwards discovered in reptiles and fish [
99
]. In mammals, neurogenesis appears to be a peculiarity of the dentate gyrus (DG) of the hippocampus as well as the olfactory bulb (OB), although new neurons have been reported in other areas (neocortex [
100
,
101
,
102
] and hypothalamus [
103
]). The ability of NSCs to proliferate and differentiate into all various kinds of cells of the brain necessitates the thorough understanding of these cells and the underlying mechanisms that govern their differentiation. NSCs generate neural progenitor cells (NPCs) which eventually differentiate to neurons or glia. NPCs from the subventricular zone (SVZ) migrate and supply newborn neurons for the OB; those in the subgranular zone (SGZ) migrate a short distance into the DG and integrate into the existing circuitry of the hippocampus. Glial cells play a key role in the development and maintenance of neurogenesis. In particular, interactions between microglia and NPCs regulate neurogenesis via phagocytosis and secretion of cytokines and chemokines [
104
,
105
,
106
,
107
]. Astrocytes in turn induce neuronal differentiation of NPCs via the release of neurogenic factors [
108
,
109
,
110
]. For example, it has been shown that astrocytes produce brain-derived neurotrophic factor (BDNF) neurotrophins that regulate hippocampal neurogenesis [
111
,
112
,
113
,
114
]. Neurogenesis is regulated via several mechanisms and at different levels, including the network and local circuit level [
115
,
116
], neuromodulatory level like serotonin (5-HT), norepinephrine (NE), dopamine (DA), and acetylcholine (ACh) [
117
,
118
,
119
,
120
], local signaling level like astrocytes [
110
], and other extrinsic factors level like exercise, stress and diet [
102
,
109
,
121
,
122
,
123
,
124
]. Recently, 3D neurovascular tissues were constructed by combining in vitro neurogenesis and angiogenesis models using a microfluidic platform [
125
,
126
], where a triculture of human NSCs, human brain microvascular ECs (BMECs) and human mesenchymal stem cells (MSCs) was combined [
125
]. The success of these culture models is very important as it enables not only the investigation of the various neuronal functionalities but also drug screening studies [
125
,
127
,
128
,
129
,
130
].
It remains an active area of research to unveil where, when and how synapses are formed (synaptogenesis), as this plays a key role in our understanding of the organization of neuroarchitecture and how circuits are wired and organized to allow information storage and eventually behavior. The formation of neuronal circuitry requires the delicate orchestration of several developmental events including cell fate specification, cell migration, axon guidance, dendritic growth, synaptic target selection, and synaptogenesis [
131
,
132
,
133
,
134
]. Circuit formation begins with cell fate specification which is regulated via various transcriptional factors and precursor cells. These factors and cells act as conveying points that guide various developmental stages from cell identity to neurite guidance and eventually to synapse assembly [
134
,
135
,
136
]. The extension of polarized projections to become axons and dendrites is the next step after neural cell fate is specified and its accompanying precursors migrate to the corresponding regions. Axons, however, need to be guided to reach their postsynaptic sites. This guidance process is orchestrated by the growth cone which is a "sensing" site existing at the tip of the outgrowing axon [
137
,
138
] and is directed by various molecular cues such as Netrin, which regulates neural polarization which then leads to growth cone formation [
134
,
139
,
140
,
141
]. The "stop" signal that ultimately slows down the growth cone extension to the target cell is calcium/cAMP, which also mediates synaptic differentiation [
133
,
134
]. The genesis of the synapse officially starts with the contact and communication between the pre- and the postsynaptic partners which is mediated by cell surface adhesion molecules like NCAM, laminin and cadherins [
131
,
142
,
143
,
144
,
145
,
146
], and which are all Ca
++
dependent.
2.3. Neuron and Glial Co-Culture and Neuron-Glial Interactions
2.4. Blood-Brain Barrier-on-a-Chip and Drug Delivery
The BBB maintains and protects the CNS environment by regulating the exchange between the blood and the CNS. Endothelial cells found on the luminal side compose the barrier which is induced and maintained mainly by astrocytes [
155
]. Pericytes, microglia and neurons have also been shown to induce some BBB characteristics when cultured with endothelial cells [
156
]. The limited ability of drugs to cross the BBB presents a major difficulty in the treatment of CNS diseases [
157
]. Nanoscale particles can cross the BBB, mediating the development of therapeutic strategies [
158
]. In vitro BBB models have been used to investigate transport across the BBB and to study the mechanisms which regulate and maintain the BBB. A monoculture BBB microfluidic device was developed to study the permeability of the BBB under pulsed electric fields (PEFs) [
159
]. The device consists of six bottom parallel channels with a top channel running perpendicular to the bottom channels separated by a porous membrane. The top channel is lined with human cerebral microvascular endothelial cells (hCMECs) which comprise the BBB, and electrodes are placed at the openings of the bottom channel to produce the PEFs. The model showed that hCMECs prevented high molecular weight dextrans from crossing, but under PEFs, the tight junctions (TJs) were disrupted and allowed dextrans to cross. The study showed that regardless of the magnitude of the PEFs, increasing the pulse number beyond 10 decreased the viability of the hCMECs which led to irreversible effects. However, low amplitude PEFs with 10 pulses led to BBB permeability due to TJ deformation and allowed for complete recovery after treatment. Microfluidic models have gained much interest in this field due to the feasibility of applying physiological shear stress to endothelial cells which have shown to enhance barrier function [
160
]. A microfluidic platform was developed to mimic the flow of brain capillaries to enhance barrier function and simulate drug delivery to the brain and its efficacy. The microfluidic platform was comprised of two main channels placed on top of each other and separated by a porous membrane [
161
] (
Figure 3
A). The top channel represents the blood chamber and is placed perpendicular to the bottom channel which is the brain chamber. There are two other channels parallel to the bottom channel which are used to 3D culture the human glioblastoma cell line, U251, in agarose gels. The model permeability was validated by using sodium fluorescein and fluorescent dextran. The model was then tested for the permeability of sunitinib, which is known to cross the BBB and its toxicity to U251 cells was assessed. The model showed that sunitinib could cross the model BBB and that U251 cells cultured in 3D demonstrate a superior survival rate compared to 2D culture [
161
]. Yeon et al. developed a 2-channel microfluidic device utilizing human umbilical vein endothelial cells (HUVECs) [
162
]. The two channels were separated with a microhole array that was small and allowed a monolayer to be formed. The HUVECs were cultured with astrocyte-conditioned media (ACM) that induced TJ formation compared to cultures without ACM enhancing BBB-like properties. Permeability assay performed on the device showed that large molecular weight dextrans were not able to pass while smaller ones could with a decrease of permeability in HUVECs cultured with ACM. Deosarkar et al. developed a more biologically relevant BBB-on-chip which utilized astrocytes to further induce BBB characteristics. The model consisted of a central channel with porous interface which represents the brain compartment with two channels on either side representing the blood compartments [
163
] (
Figure 3
B). Rat brain capillary endothelial cells (RBECs) and rat neonatal astrocytes were cultured in the blood and brain compartments, respectively. The model showed significantly lower permeability of fluorescent dextran when compared to its Transwell counterpart. The model also showed that choosing the appropriate cell source plays a major role where neonatal RBECs improved model permeability and the transendothelial electrical resistance (TEER) compared to using adult RBECs [
163
]. Another BBB-on-chip was developed using an immortalized mouse brain capillary endothelial cell line, b.End3 in combination with a mouse astrocytic cell line, C8-D1A [
164
]. The device comprised two channels on top of each other separated by a porous membrane, and glass electrodes for real-time TEER measurements showed better TEER values and lower permeability coefficients (
Figure 3
C). The study showed that static co-culture of endothelial cells and astrocytes had better TEER than endothelial cells monocultured under dynamic conditions and that dynamic co-culture conditions showed the best results [
164
]. Brown et al. utilized microfluidic technology and 3D culture to create a BBB-on-a-chip that is more physiologically relevant. The device had a similar architecture to the previous model and used primary human brain microvascular endothelial cells in the luminal side and astrocytes and pericytes in the abluminal side with the addition of neurons derived from human induced pluripotent stem cells (hiPSCs), in a 3D collagen matrix [
165
] (
Figure 3
D). The model had high TEER measurements and low permeability to FITC dextran of different molecular weights. Tissue engineering strategies have also been utilized to create a membrane-free BBB-on-a-chip. The model consists of two channels and one middle chamber side by side [
166
] (
Figure 3
E). The middle chamber contained the endothelial cells while astrocytes and neurons are cultured in a fibrin hydrogel in the adjacent pockets. This allowed the astrocytes to be in direct contact with the endothelial cells while being spatially separated and was shown to further induce BBB like characteristics. The model was able to obtain close to in vivo results of permeability for 20 and 70 kDa FITC dextran [
166
]. Koo et al. developed a tetra-culture 3D BBB microfluidic device that was used to test the permeability and toxicity of organophosphate-based compounds [
167
]. The model was made on the 2-lane OrganoPlate using murine neuroblastoma cell line, N2a, C8-D1A and murine microglia cell line, BV-2 embedded in rat tail collagen type I gel with b.End3 cultured on the surface. The device utilizes capillary pressure barriers to separate the gel and the media. The model generated reproducible results which could be used to extrapolate in vivo results, reducing the need for animal models. BBB-on-a-chip models that closely resemble in vivo BBB models provide better insight into the factors involved in inducing and maintaining the BBB and allow an easy and reproducible means of studying pharmacological candidates to cross the BBB.
3. Nervous System Disease Models on Microplatforms to Replicate Cancer and Neurodegenerative Diseases
3.1. BBB Disruption and CNS Diseases
Disruption of the BBB by loss of TJs leads to impaired transport processes of molecules between the blood and brain [
168
]. Compromised BBB function has been implicated with various neuropathology, such as neuroinflammation and cerebral ischemia, and neurodegenerative diseases, such as Alzheimer's disease (AD), Parkinson's disease (PD) and multiple sclerosis [
169
]. The mechanisms of BBB breakdown and the resultant of its breakdown are not well understood. Models that can dissect the mechanisms of BBB disruption and study the effects of the disruption are essential in advancing research and effective therapeutic strategies. A small microfluidic BBB model was developed to study the effects of mechanical and biochemical stimulation of immortalized human brain endothelial cell line, hCMEC/D3 [
170
]. The microfluidic chip was comprised of two channels separated by a porous membrane with hCMEC/D3 cultured on the top channel. The model integrated electrodes in the top and bottom channels for TEER measurements (
Figure 4
A). The hCMEC/D3 was subjected to shear-stress and had TEER values three times greater than static conditions. The model was then used to study the effects of proinflammatory cytokine, tumor necrosis factor alpha (TNF-α). Stimulation by TNF-α decreased the TEER values by 10-fold, leading to the breakdown of the BBB. Another model was designed to study BBB disruption under neuroinflammation and ischemic conditions. The BBB model was a 3D microfluidic platform with a main vascular compartment and multiple smaller channels perpendicular to the main compartment [
130
]. The blood compartment was coated with collagen type I gel and cultured with rat brain endothelial cells, RBE4 (
Figure 4
B). The model was validated by showing that neutrophils could not cross the vascular compartment into the smaller channels by adding interleukin 8 (IL8) which primarily attracts neutrophils to sites of injury. The model probed the effect of TNF-α. Treatment of TNF-α led to the reduction and delocalization of TJ protein, zonula occludens-1 (ZO-1) on the cellular boundaries. The model was then used to study the effect of ischemia by oxygen-glucose deprivation. The effect of ischemia led to elevated reactive oxygen species (ROS) production and to significant loss of ZO-1 expression [
130
]. These two models contribute to the understanding of BBB functionality under health and disease. However, the models utilize monoculture and are lacking in terms of capturing the crucial role played by astrocytes and pericytes. A triculture model using human brain microvascular endothelial cells (hBMECs), astrocytes and pericytes was developed to investigate the underlying mechanisms of neuroinflammation (
Figure 4
C). The model was comprised of a single channel coated with collagen type I gel embedded with astrocytes and seeded with hBMECs on the surface of the gel or with pericytes and hBMECs seeded on the surface of the gel [
171
]. The model showed that co-culture with either astrocytes or pericytes increased barrier function by reducing the permeability of fluorescent dextran into the surrounding gel. The cells were treated with TNF-α and the cytokine release profiles were analyzed. The coculture condition when compared to hBMECs alone had higher release of IL6, IL8 and granulocyte colony stimulating factor (G-CSF). IL6 and G-CSF are responsible for neuroactivation and neuroprotection, signifying the contribution of astrocytes and pericytes in understanding BBB disruption and maintenance. A brain-on-chip was designed to study the effects of neuroinflammation to the BBB as well as neurons. The chip was designed with two channels separated with a porous membrane culturing hBMECs, astrocytes, pericytes and neurons [
172
]. The hBMECs were cultured on the top of the porous membrane and astrocytes and pericytes on the bottom (
Figure 4
D). Neurons derived from pluripotent stem cells were later introduced in a collagen gel below the astrocytes and pericytes. The chip modeled inflammation by adding lipopolysaccharide (LPS), which represents a systemic infection, or adding a cytokine cocktail. The addition of LPS or the cytokine cocktail both resulted in BBB breakdown, but the BBB was able to regain its function under the LPS condition. The brain-on-chip was able to observe that cytokines in the top (vascular) compartment and bottom compartments were differentially elevated at later stages of LPS or cytokine cocktail exposure. These models are crucial in mapping metabolic pathways and responses of different environments which will lead to new insights in developing therapeutic strategies.
3.2. Brain Cancer and Metastasis
3.3. Alzheimer's and Parkinson's Diseases
3.4. Axon Regeneration and Neural Cell Biology
Peripheral nerves that have suffered axonal injury can regenerate the injured axon and reinnervate their target even in cases of axotomy [
226
]. However, axonal regeneration is not found in the CNS when axonal injuries occur [
227
]. Neuronal survival and axon regeneration processes involve a myriad of intrinsic and extrinsic factors [
228
]. The superior regenerative properties of the PNS are caused by their more suitable microenvironment which permits axonal regeneration following injury unlike the CNS [
229
]. Compartmentalized lab-on-chip systems have become a very valuable tool to culture CNS neurons and to study neurodegeneration and neuroregeneration. Different lab-on-chip systems have been engineered to study CNS axotomy by applying physical forces or chemicals agents [
230
]. A two-chamber CMD was developed to study CNS axotomy by vacuum aspiration of the axonal chamber [
217
]. The device had two chambers separated by microgrooves running perpendicular to the main chambers (
Figure 5
A). The device isolates axons by directing axonal growth from one compartment to the other by using fluidic flow through the microgrooves. Axotomy is achieved by vacuum aspiration of the axonal compartment. The device provides insight into axonal injury and regeneration. An integrated microfluidic devices utilizing lasers to precisely induce axotomy of single axons was developed using a pulsed laser microbeam [
231
]. The device reproduces Wallerian degeneration where the severed axon degenerates. The device contained a neuron culture compartment with channels to guide axonal growth (
Figure 5
B). Complete and partial axotomy of embryonic rat cortex neurons was carried out in normal culture medium and in ethylene glycol-bis(P-aminoethyl ether)-
N
,
N
-tetraacetic acid (EGTA, a calcium-specific chelant) treated media. The study showed that axonal degeneration in partial axotomy was reduced and regeneration was observed, especially in EGTA-treated media [
231
]. This further validates the role of calcium ions influx in neuronal cell death. Another lab-on-chip device was developed to model neurons in the CNS undergoing chemically induced axotomy. The device was composed of three compartments separated with microchannels [
232
]. Neurons derived from embryonic mice were seeded in one compartment while they developed axons that crossed through the other two compartments (
Figure 5
C). A detergent was then added to the central compartment to sever the axons. The model mimicked features of the Wallerian degeneration such as distal axon fragmentation. The model also showed that distal axon degeneration was delayed by β-Nicotinamide adenine dinucleotide hydrate (βNAD) [
232
]. Another compartmentalized model was developed to investigate the role of glial cells in neuronal injury repair. The model used neurons, astrocytes and Schwann cells taken from Sprague-Dawley rat pups and was composed of four compartments: (i) glial cell culture, (ii) neuron culture, (iii) axonal isolation, and (iv) glial cell culture which was separated by microchannels (
Figure 5
D) [
233
]. Axonal injury was achieved by applying a chemical, acrylamide (ACR) into either the axonal isolation or neuron culture compartments. When the neurons were co-cultured with glial cells, their survival rate increased and axonal regeneration was observed, indicating the secretion of trophic factors from cells since they were not in contact with the neurons. Axonal regeneration was achieved due to the microtubules remaining intact after ACR treatment. This provides insight into understanding the transport machinery responsible for transporting material blocks for regeneration.
4. Conclusions and Future Directions
Microplatforms represent an excellent device to create biomimetic models for nervous tissues and to perform basic and applied investigations on neural health and disease. Organ-on-a-chip systems enable the control of parameters including media flow, nutrients, test agents, cell-cell and cell-matrix interactions. These platforms also permit the analysis of cellular responses to mechanical, chemical and electrical stimuli while assessing cellular responses in situ. Organ-on-a-chip systems represent a close approximation of the in vivo environment and thus provide more realistic cell responses when compared to the commonly adopted 2D cultures. The ability to precisely control flows and stimuli in an automated manner improves standardization and reproducibility, leading to more precise outcomes in systematic studies. Organ-on-a-chip tools have been successfully used to enhance our understanding of the physiology of the NMJ, neurogenesis, synaptic formation and neuro-glial interactions. The microplatforms have also been used to mimic the BBB and investigate its role in drug delivery and CNS disease. In addition, organ-on-a-chip systems have been used to study brain cancer, metastasis, degenerative diseases, and axonal regeneration.
Despite being more biomimetic than traditional 2D culture systems, organ-on-a-chip systems still require significant improvement to replace in vivo studies. Although it is already common knowledge that 3D cultures are more representative than 2D, many organ-on-a-chip systems are based on 2D growth of cells. Achieving more representative models requires the use of 3D culturing tools, which have witnessed in the past few decades a major leap in both methods and materials. The literature is rich with biocompatible synthetic and natural biomaterials that can be prepared with a variety of methods, with high precision (e.g., bioprinting and two-photon lithography among others). The chemistry used in biomaterials preparation can also be mild to elicit minimal or no cell response so that cells are encapsulated in biomaterials and cultured for long periods. Another area of focus is in situ stimulation and activity recording, which is of particular importance in nervous tissues. Most organ-on-a-chip systems currently focus on investigating specific cell behavior without taking in consideration the importance of neural activity, which is integral for neuronal response. The systems also do not record neural activity except for very few cases. Lab-on-chip (LOC) and organ-on-a-chip systems may be designed to enable recording and stimulation of neurons in precise predefined locations to gain more insight into neural responses. This can be achieved by using conductive materials in the preparation of the platforms and micropatterning cells and corresponding stimulation/recoding spots. Finally, although one of the main goals of organ-on-a-chip systems is to mimic the in vivo scenario and ultimately replace/reduce animal models, rarely do organ-on-a-chip studies provide a systematic comparative analysis of the developed system with an in vivo model. A systematic comparison between developed organ-on-a-chip systems and an in vivo model would provide a very strong statement to the relevance of the organ-on-a-chip model.
The integration of patient-derived cells with microfluidic devices to create realistic neurodegenerative disease microenvironments has huge scientific implications. This could have an even stronger impact when ECM biomaterials are used along with the induction of biochemical and mechanical factors to enable various electrophysiological and histological approaches. Microfluidic devices exhibit the capability of integrating these components into small LOC style devices that could meet a variety of needs from basic science to translational drug discovery.
Funding
This work was supported by the American University of Beirut University Research Board (URB) grant and the Centre National de la Recherche Scientifique (CNRS).
Conflicts of Interest
The authors declare no conflict of interest.

Figure 1. Schematic showing the laminar and turbulent flow. The Reynolds number (Re) describes the physical characteristics of the fluid flow in microfluidic channels. In laminar flow (Re < 2300), the two streams move in parallel to the flow direction and mixed based on the diffusion (Left). In turbulent flow (Re > 4000), fluids move in all three-dimensions without correlation with the flow direction (Right). The transition region (2300 < Re < 4000) shares the features of laminar and turbulent flow.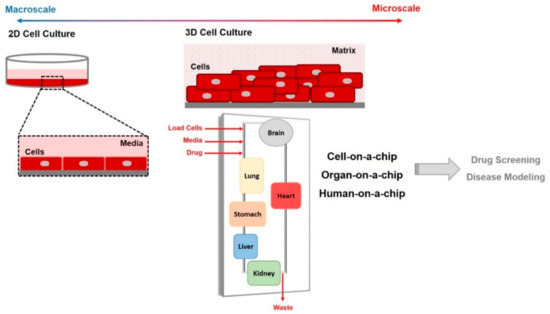 Figure 2. A schematic diagram of traditional two-dimensional (2D) monolayer cell culture and three-dimensional (3D) microfluidic cell culture systems.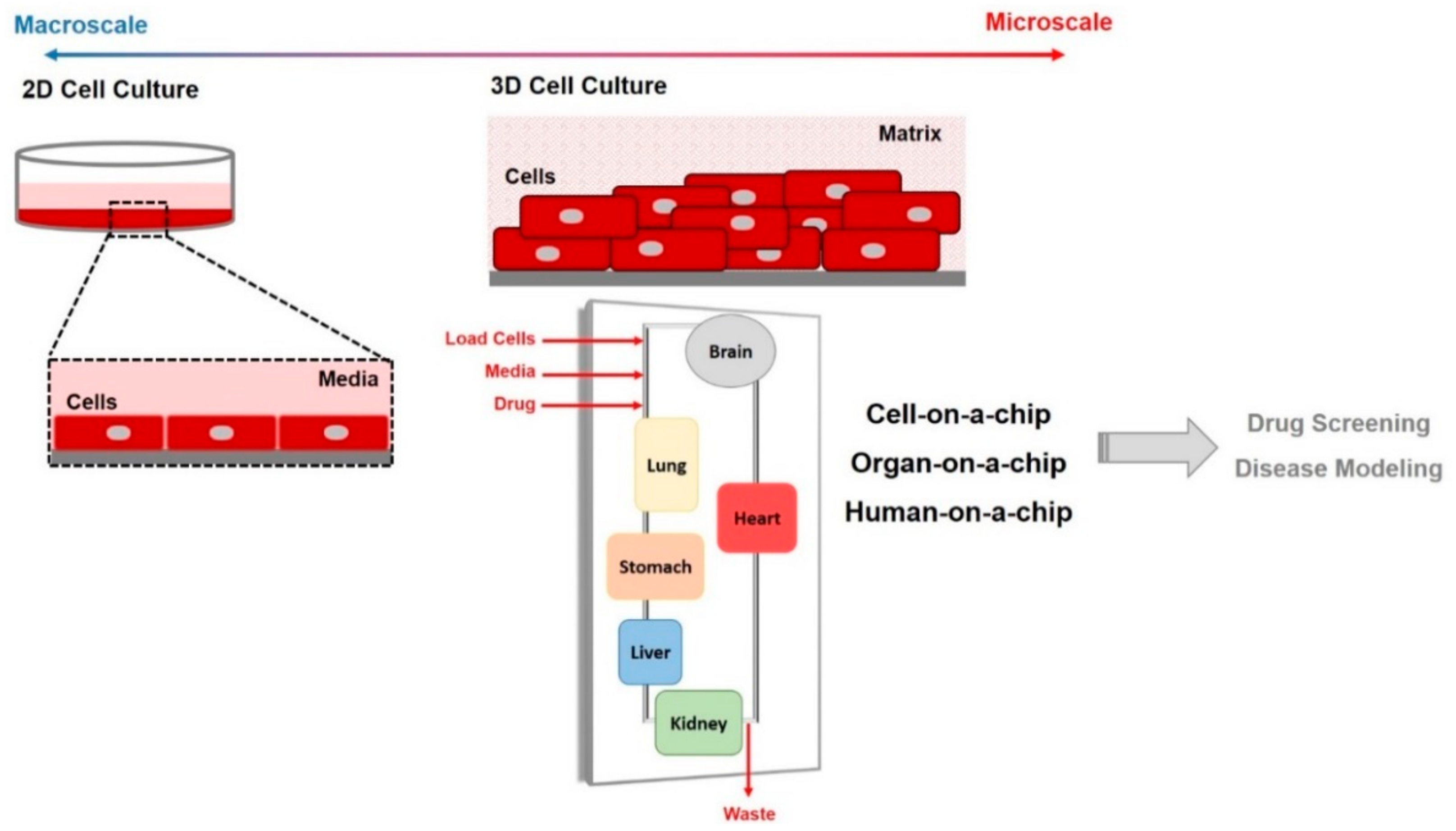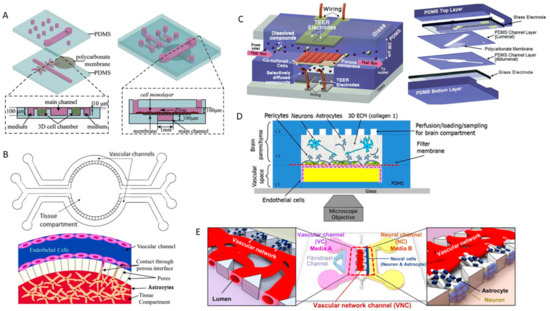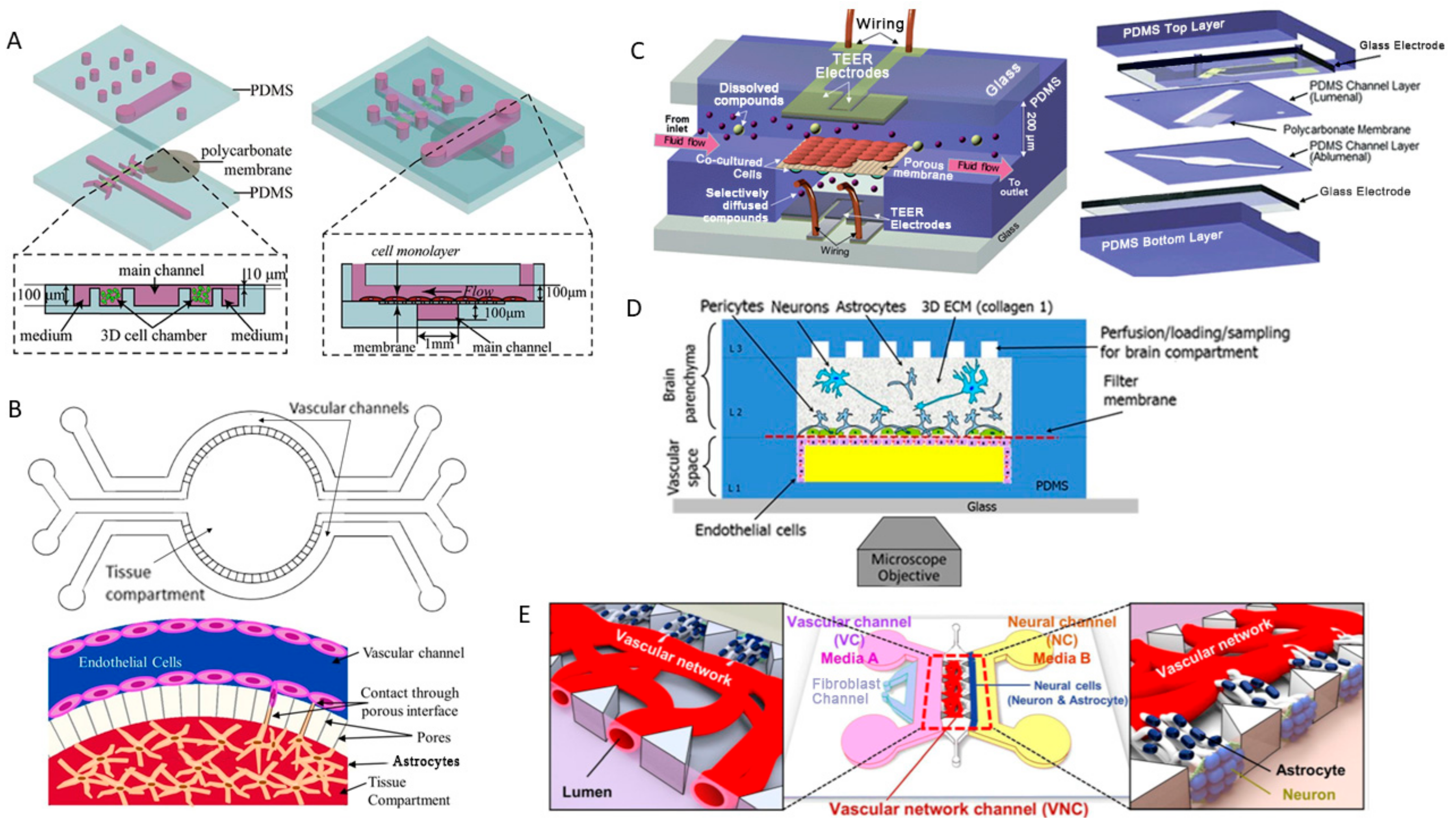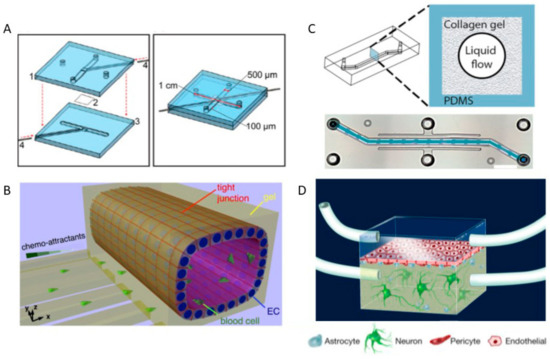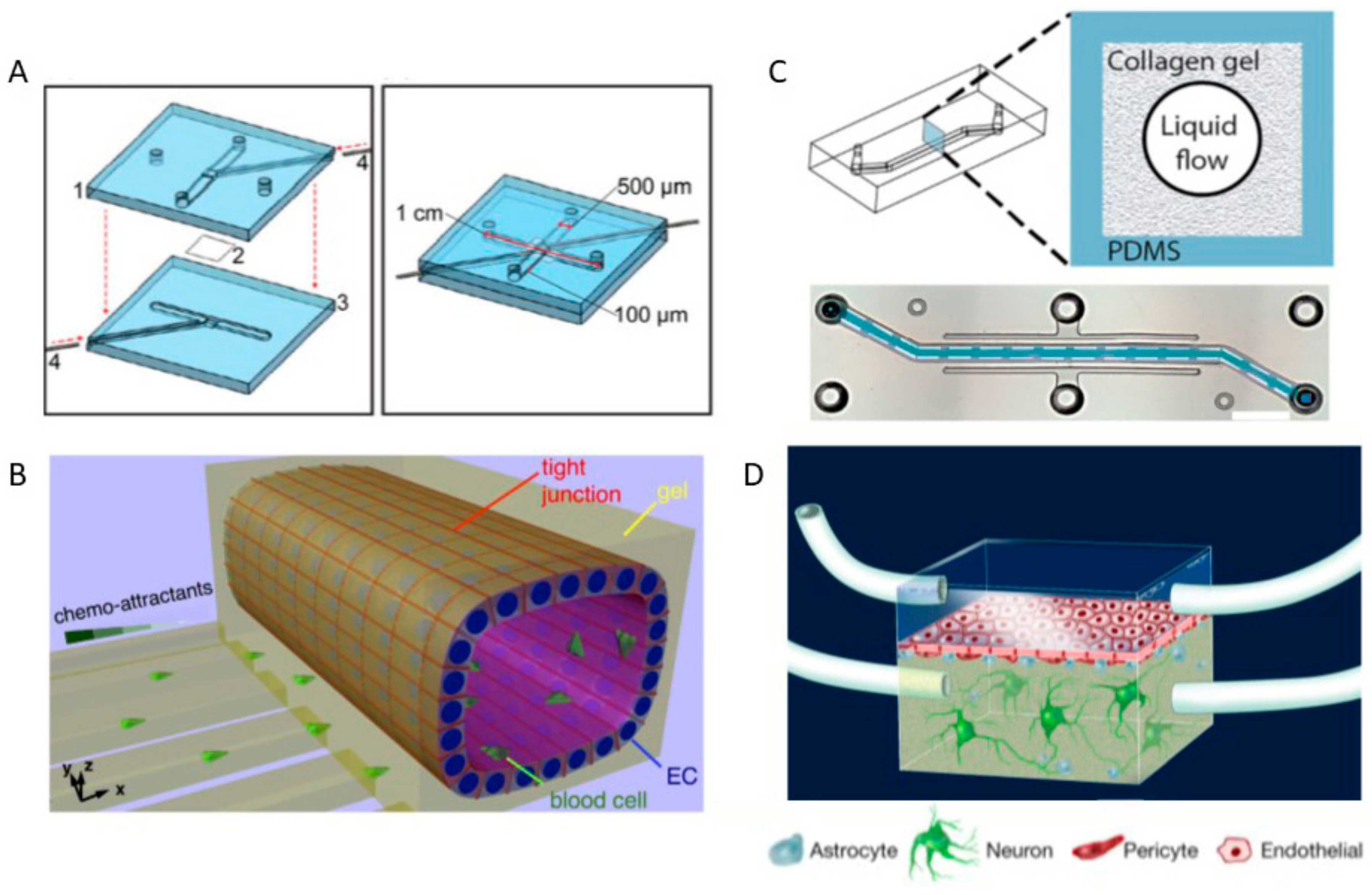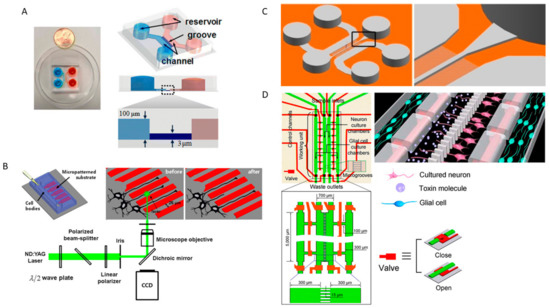 Figure 5.
Schematic diagrams of axonal injury and regeneration models. (
A
) Two-chamber CMD. Figure adapted from [
230
]; (
B
) Pulsed laser microbeam integrated microfluidic device. Figure adapted from [
230
]; (
C
) Three-chamber CMD [
232
]; (
D
) Multi-chamber CMD controlled with valves. Figure adapted from [
233
].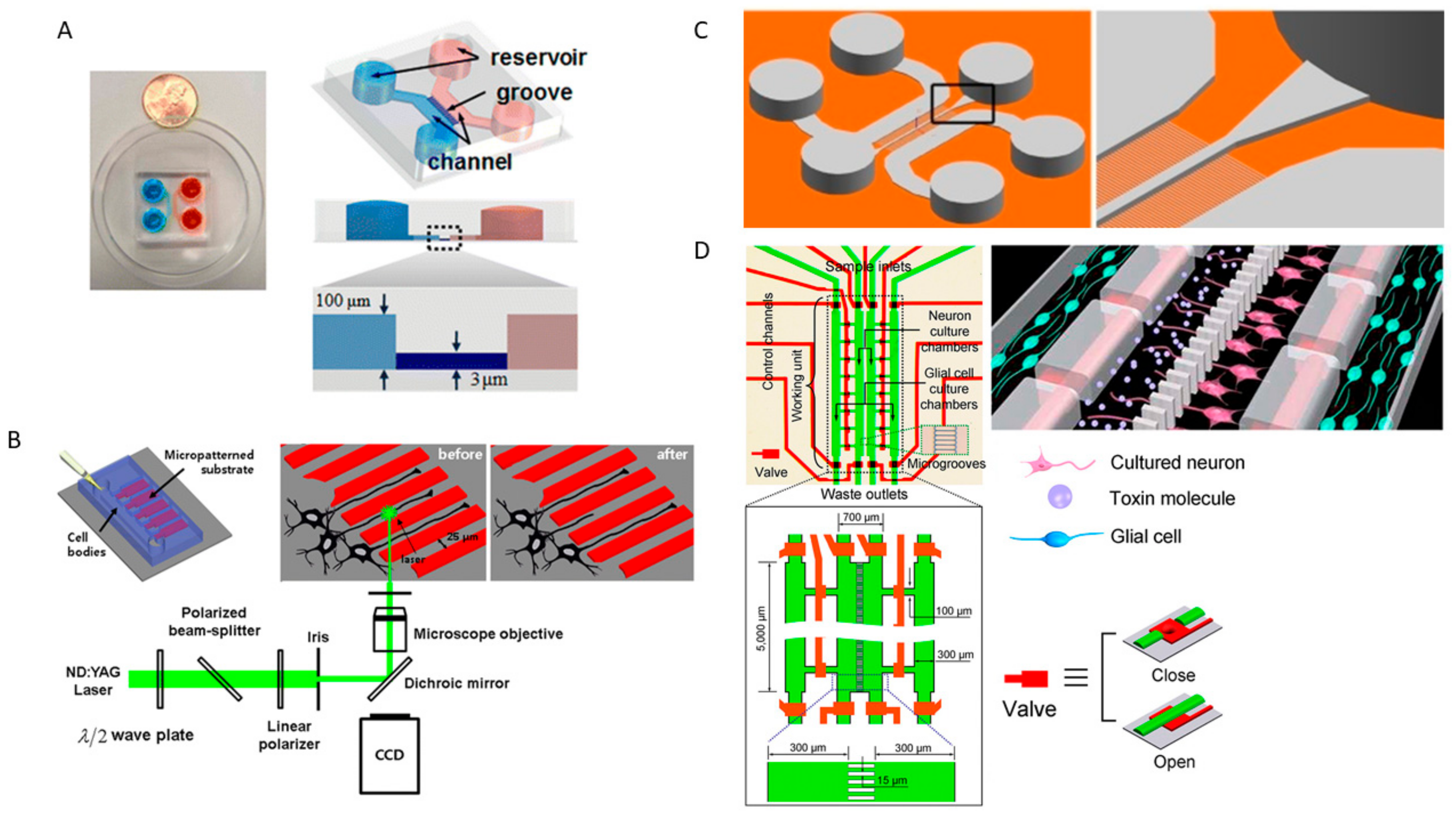 | 2D Cell Culture | Cellular Characteristics | 3D Cell Culture |
| --- | --- | --- |
| Flat and stretched cells on monolayer | Morphology | Form natural shape in aggregate or spheroid structures |
| Faster rate than in vivo | Proliferation | Depends on the cell type and 3D model system |
| Exhibits differential gene/protein expression levels | Gene/Protein Expression | Similar to in vivo tissue models |
| Only on edges | Cell-to-Cell contact | Dominant |
| Most cells are at the same stage (usually proliferating stage) | Stage of Cell Cycle | Different stages: proliferating, hypoxia, and necrotic cells |
| Grow and adhere on a flat substrate | Growth Conditions | Grow on matrix or in suspension media |
| No | Diffusion gradient of O2, nutrients, drugs, waste | Yes |
| No | Show resistivity to anticancer drugs | Yes |
| No | Mimicking in vivo environment | Yes |

© 2018 by the authors. Licensee MDPI, Basel, Switzerland. This article is an open access article distributed under the terms and conditions of the Creative Commons Attribution (CC BY) license (http://creativecommons.org/licenses/by/4.0/).