Chronic and Occult Hepatitis B Virus Infection in Pregnant Women in Botswana
1
Botswana Harvard AIDS Institute Partnership, Gaborone BO320, Botswana
2
Department of Medical Laboratory Sciences, Faculty of Health Sciences, University of Botswana, Gaborone 0022, Botswana
3
Department of Biological Sciences, Faculty of Science, University of Botswana, Gaborone 0022, Botswana
4
Harvard College, Cambridge, MA 02138, USA
5
Department of Immunology and Infectious Diseases, Harvard T.H. Chan School of Public Health, Boston, MA 02115, USA
6
Goodtables Data Consulting, Norman, OK 73019, USA
7
University of Cincinnati College of Medicine, Cincinnati, OH 45627, USA
8
Department of Psychiatry, Boston Children's Hospital, Boston, MA 02115, USA
9
Brigham and Women's Hospital, Boston, MA 02115, USA
*
Author to whom correspondence should be addressed.
Received: 27 February 2018 / Revised: 11 May 2018 / Accepted: 11 May 2018 / Published: 17 May 2018
Abstract
The hepatitis B virus (HBV) is a global problem; however, the burden of HBV infection in pregnant women in Botswana is unknown. We sought to determine the prevalence of chronic and occult HBV infection in human immunodeficiency virus (HIV)-infected and -uninfected pregnant women in Botswana. Samples from 752 pregnant women were tested for hepatitis B surface antigen (HBsAg), and HBsAg-positive samples were tested for hepatitis B e antigen (HBeAg) and HBV DNA load. Samples that were HBsAg negative were screened for occult HBV infection by determining the HBV DNA load. HBV genotypes were determined based on a 415-base-pair fragment of the surface gene. Among the 752 women tested during pregnancy or early postpartum, 16 (2.1%) (95% confidence interval (CI): 2.0–2.2) were HBsAg-positive. The prevalence of chronic HBV infection was higher (3.1%) among HIV-infected (95% CI: 3.0–3.2) compared with HIV-uninfected women (1.1%) (95% CI: 1.07–1.1,
p
= 0.057). Among the 622 HBsAg-negative women, the prevalence of occult HBV infection was 6.6% (95% CI: 6.5–6.7). Three of thirteen HBsAg-positive participants were HBeAg-positive, and all were HIV-negative. Of the 11 maternal samples successfully genotyped, five (45.5%) were genotype D3, five (45.5%) were genotype A1, and one was genotype E (9%). Low and similar proportions of HIV-infected and -uninfected pregnant women in Botswana had occult or chronic HBV infection. We identified a subset of HIV-negative pregnant women who had high HBV DNA levels and were HBeAg-positive, and thus likely to transmit HBV to their infants.
View Full-Text
►

▼

Figures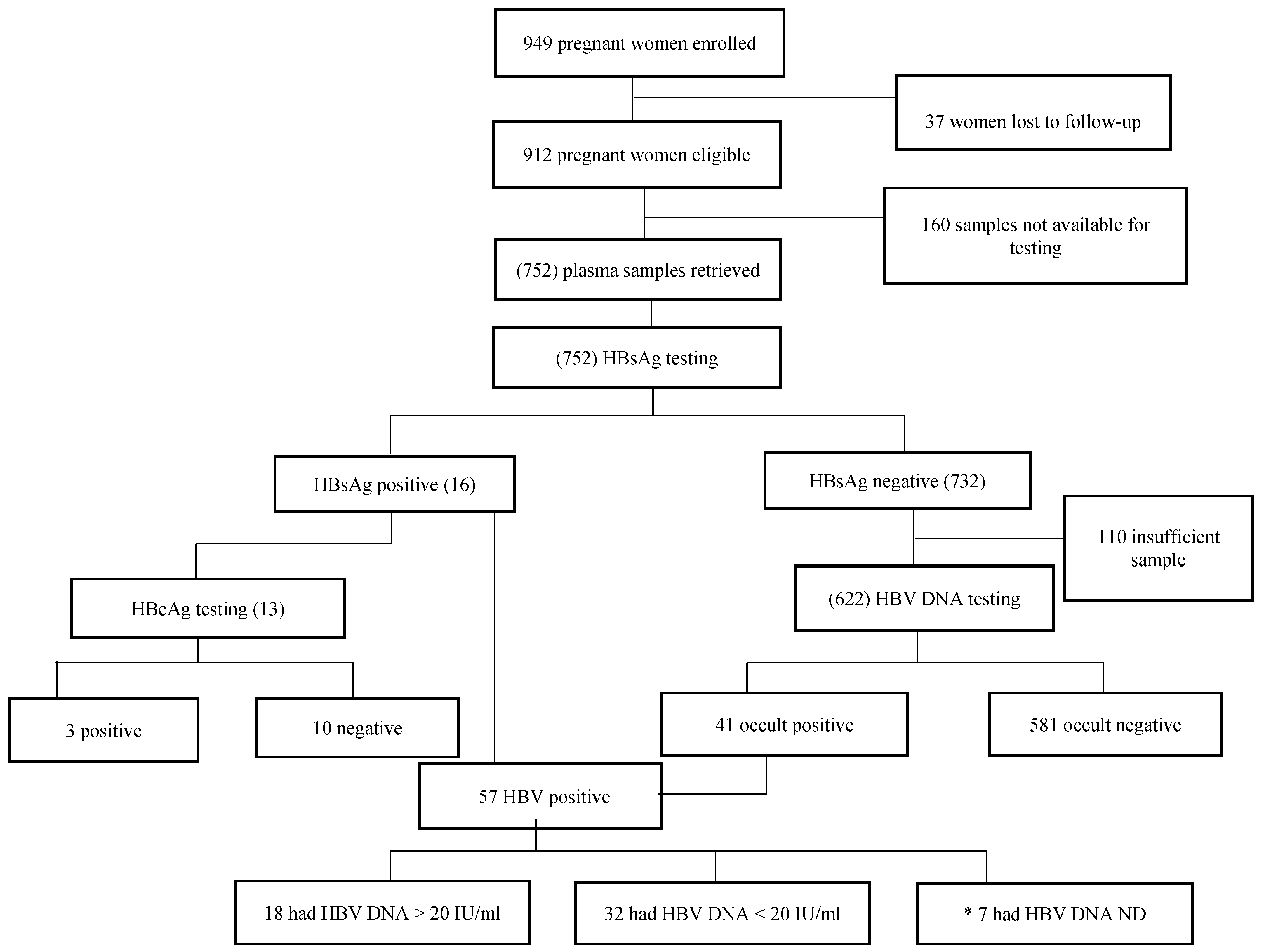 Figure 1
This is an open access article distributed under the
Creative Commons Attribution License
which permits unrestricted use, distribution, and reproduction in any medium, provided the original work is properly cited (CC BY 4.0).

Share & Cite This Article
MDPI and ACS Style
Mbangiwa, T.; Kasvosve, I.; Anderson, M.; Thami, P.K.; Choga, W.T.; Needleman, A.; Phinius, B.B.; Moyo, S.; Leteane, M.; Leidner, J.; Blackard, J.T.; Mayondi, G.; Kammerer, B.; Musonda, R.M.; Essex, M.; Lockman, S.; Gaseitsiwe, S. Chronic and Occult Hepatitis B Virus Infection in Pregnant Women in Botswana. Genes 2018, 9, 259.
Note that from the first issue of 2016, MDPI journals use article numbers instead of page numbers. See further details here.
Related Articles
Comments
[Return to top]