Shared and Species-Specific Patterns of Nascent Y Chromosome Evolution in Two Guppy Species
1
Department of Genetics, Evolution and Environment, University College London, London WC1E 6BT, UK
2
Department of Animal and Plant Sciences, University of Sheffield, Sheffield S10 2TN, UK
3
Department of Organismal Biology, Uppsala University, 752 36 Uppsala, Sweden
*
Author to whom correspondence should be addressed.
Received: 27 March 2018 / Revised: 20 April 2018 / Accepted: 26 April 2018 / Published: 3 May 2018
Abstract
Sex chromosomes form once recombination is halted around the sex-determining locus between a homologous pair of chromosomes, resulting in a male-limited Y chromosome. We recently characterized the nascent sex chromosome system in the Trinidadian guppy (
Poecilia
reticulata
). The guppy Y is one of the youngest animal sex chromosomes yet identified, and therefore offers a unique window into the early evolutionary forces shaping sex chromosome formation, particularly the rate of accumulation of repetitive elements and Y-specific sequence. We used comparisons between male and female genomes in
P. reticulata
and its sister species, Endler's guppy (
P. wingei
), which share an ancestral sex chromosome, to identify male-specific sequences and to characterize the degree of differentiation between the X and Y chromosomes. We identified male-specific sequence shared between
P. reticulata
and
P. wingei
consistent with a small ancestral non-recombining region. Our assembly of this Y-specific sequence shows substantial homology to the X chromosome, and appears to be significantly enriched for genes implicated in pigmentation. We also found two plausible candidates that may be involved in sex determination. Furthermore, we found that the
P. wingei
Y chromosome exhibits a greater signature of repetitive element accumulation than the
P. reticulata
Y chromosome. This suggests that Y chromosome divergence does not necessarily correlate with the time since recombination suppression. Overall, our results reveal the early stages of Y chromosome divergence in the guppy.
View Full-Text
►

▼

Figures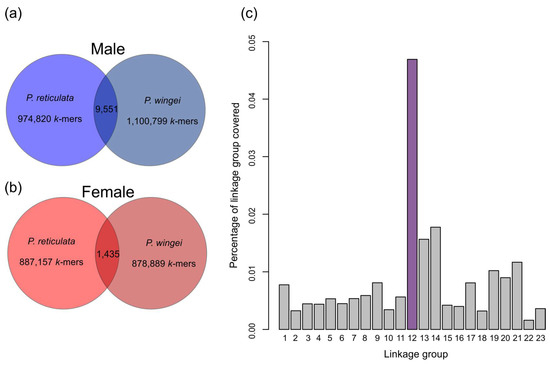 Figure 1
This is an open access article distributed under the
Creative Commons Attribution License
which permits unrestricted use, distribution, and reproduction in any medium, provided the original work is properly cited (CC BY 4.0).

Share & Cite This Article
MDPI and ACS Style
Morris, J.; Darolti, I.; Bloch, N.I.; Wright, A.E.; Mank, J.E. Shared and Species-Specific Patterns of Nascent Y Chromosome Evolution in Two Guppy Species. Genes 2018, 9, 238.
Note that from the first issue of 2016, MDPI journals use article numbers instead of page numbers. See further details here.
Related Articles
Comments
[Return to top]