Exploring the Variable Phenotypes of
RPGR

Carrier Females in Assessing Their Potential for Retinal Gene Therapy

1

Oxford Eye Hospital, John Radcliffe Hospital, Oxford University Hospitals NHS Foundation Trust, Oxford OX3 9DU, UK

2

Eye Clinic, Sacco Hospital, University of Milan, 20157 Milan, Italy

3

Oxford Medical Genetics Laboratories, The Churchill Hospital, Oxford University Hospitals NHS Foundation Trust, Oxford OX3 7LE, UK

4

Nuffield Department of Clinical Neurosciences, Level 6, West Wing, John Radcliffe Hospital, Oxford OX3 9DU, UK

*

Author to whom correspondence should be addressed.

Received: 23 October 2018 / Revised: 27 November 2018 / Accepted: 13 December 2018 / Published: 18 December 2018
Abstract
Inherited retinal degenerations are the leading cause of blindness in the working population. X-linked retinitis pigmentosa (XLRP), caused by mutations in the Retinitis pigmentosa GTPase regulator (
RPGR
) gene is one of the more severe forms, and female carriers of
RPGR
mutations have a variable presentation. A retrospective review of twenty-three female
RPGR
carriers aged between 8 and 76 years old was carried out using fundoscopy, autofluorescence imaging (AF), blue reflectance (BR) imaging and optical coherence tomography (OCT). Confirmation of the genetic mutation was obtained from male relatives or Sanger genetic sequencing. Fundus examination and AF demonstrate phenotypic variability in
RPGR
carriers. The genetic mutation appears indeterminate of the degree of change. We found four distinct classifications based on AF images to describe
RPGR
carriers; normal (N) representing normal or near-normal AF appearance (
n
= 1, 4%); radial (R) pattern reflex without pigmentary retinopathy (
n
= 14, 61%); focal (F) pigmentary retinopathy (
n
= 5, 22%) and; male (M) phenotype (
n
= 3, 13%). The phenotypes were precisely correlated in both eyes (rs = 1.0,
p
< 0.0001). Skewed X-inactivation can result in severely affected carrier females—in some cases indistinguishable from the male pattern and these patients should be considered for
RPGR
gene therapy. In the cases of the male (M) phenotype where the X-inactivation was skewed, the pattern was similar in both eyes, suggesting that the mechanism is not truly random but may have an underlying genetic basis.
View Full-Text
►

▼

Figures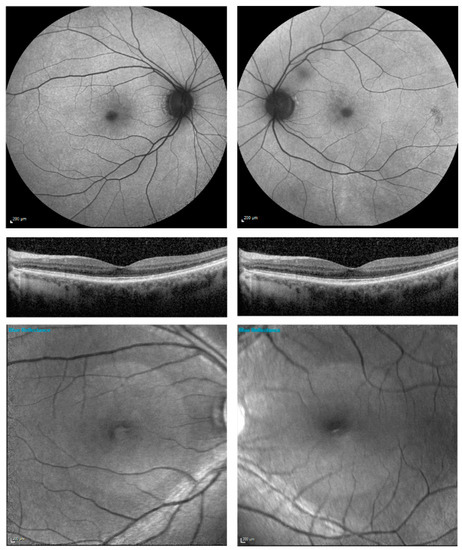 Figure 1
This is an open access article distributed under the
Creative Commons Attribution License
which permits unrestricted use, distribution, and reproduction in any medium, provided the original work is properly cited (CC BY 4.0).

Share & Cite This Article
MDPI and ACS Style
Nanda, A.; Salvetti, A.P.; Clouston, P.; Downes, S.M.; MacLaren, R.E. Exploring the Variable Phenotypes of RPGR Carrier Females in Assessing Their Potential for Retinal Gene Therapy. Genes 2018, 9, 643.
Note that from the first issue of 2016, MDPI journals use article numbers instead of page numbers. See further details here.
Related Articles
Comments
[Return to top]