Open Access This article is
freely available
re-usable
Brief Report
Functional Analysis of the rs774872314, rs116171003, rs200231898 and rs201107751 Polymorphisms in the Human
RORγT
Gene Promoter Region
1
Laboratory of TranscriptionalRegulation, Institute of MedicalBiology, PolishAcademy of Sciences, 93-232 Lodz, Poland
2
BiobankLab, Department of MolecularBiophysics, Faculty of Biology and Environmental Protection, University of Lodz, 90-237 Lodz, Poland
3
MycobacteriumGenetics and Physiology Unit, Institute of MedicalBiology, PolishAcademy of Sciences, 93-232 Lodz, Poland
4
Laboratory of Cellular Immunology, Institute of MedicalBiology, PolishAcademy of Sciences, 93-232 Lodz, Poland
*
Author to whom correspondence should be addressed.
Academic Editor: Santiago Rodriguez
Received: 20 March 2017 / Accepted: 13 April 2017 / Published: 21 April 2017
Abstract
:
RAR-related orphan receptor gamma RORγT, a tissue-specific isoform of the
RORC
gene, plays a critical role in the development of naive CD4+ cells into fully differentiated Th17 lymphocytes. Th17 lymphocytes are part of the host defense against numerous pathogens and are also involved in the pathogenesis of inflammatory diseases, including autoimmune disorders. In this study, we functionally examined four naturally occurring polymorphisms located within one of the previously identified GC-boxes in the promoter region of the gene. The single nucleotide polymorphisms (SNPs) rs774872314, rs116171003 and rs201107751 negatively influenced the activity of the
RORγT
promoter in a gene reporter system and eliminated or reduced Sp1 and Sp2 transcription factor binding, as evidenced by the electrophoretic mobility shift assay (EMSA) technique. Furthermore, we investigated the frequency of these SNPs in the Polish population and observed the presence of rs116171003 at a frequency of 3.42%. Thus, our results suggest that polymorphisms within the
RORγT
promoter occurring at significant rates in populations affect promoter activity. This might have phenotypic effects in immune systems, which is potentially significant for implicating pathogenetic mechanisms under certain pathological conditions, such as autoimmune diseases and/or primary immunodeficiencies (e.g., immunoglobulin E (IgE) syndrome).
Keywords:
RORγT;
RORC
; Th17; promoter; polymorphism
Acknowledgments
This work was supported by National Science Centre Grant 2015/18/E/NZ5/00733. Populous collection was supported by the Polish POIG Grant 01.01.02-10-005/08 TESTOPLEK from the European Regional Development Fund.
Author Contributions
M.R. developed the original idea of the study and designed and performed the experiments. M.S., K.K., M.S.-K., M.K.-M., A.S. performed experiments, M.R., M.S., M.S.-K., J.Dz., D.S., J.D. analyzed and discussed the data, M.R. and J.D. wrote the manuscript.
Conflicts of Interest
The authors declare no conflict of interest.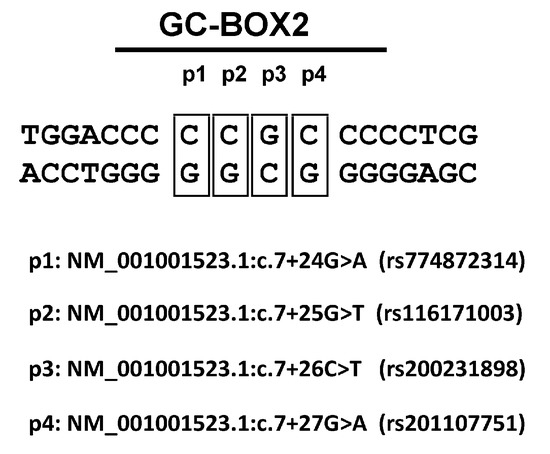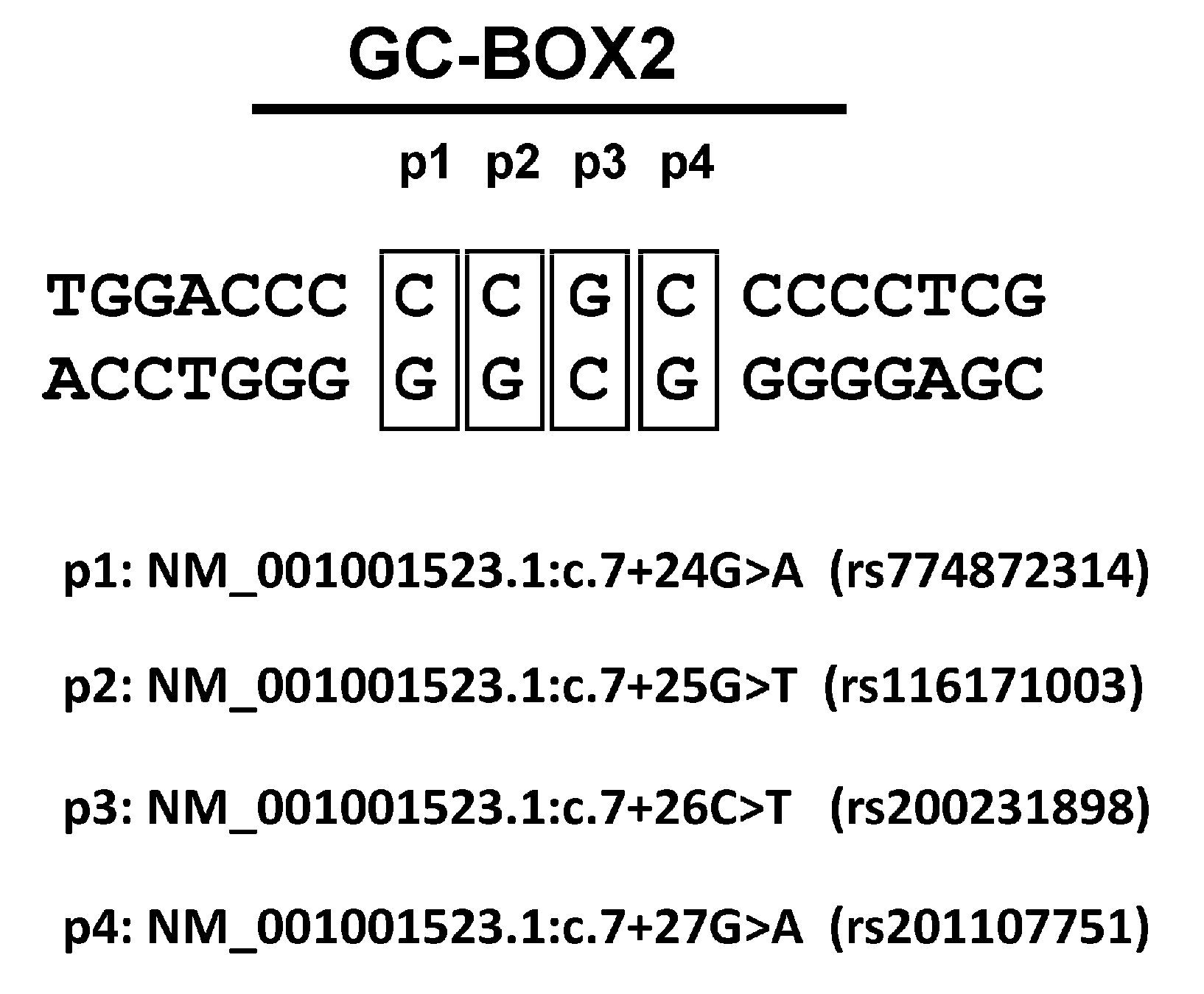 Figure 2.
Effect of introduced polymorphisms of GC-box2 on the activity of the
RORγT
proximal promoter in Jurkat cells; phRORγT(−180/+78)Luc contains the wild-type sequence (wt), whereas phRORγTp1(−180/+78)Luc (rs774872314), phRORγTp2(−180/+78)Luc (rs116171003), phRORγTp3(−180/+78)Luc (rs200231898), and phRORγTp4(−180/+78)Luc (rs201107751) contain the mutated sequence. The results shown are from two independent transfections, each performed in triplicate. *Significantly different from the wild type vector (
p
< 0.001;
n
= 6).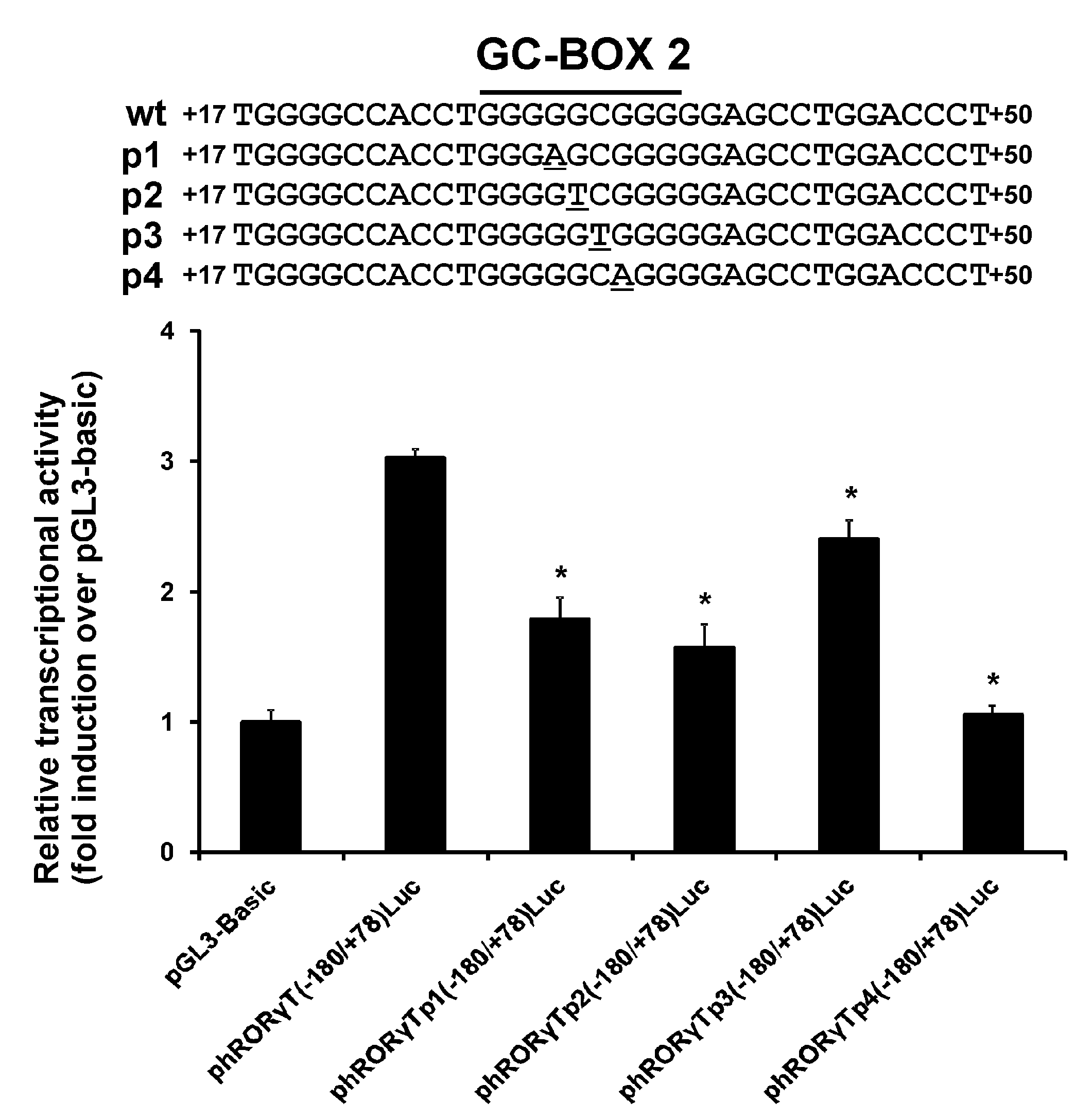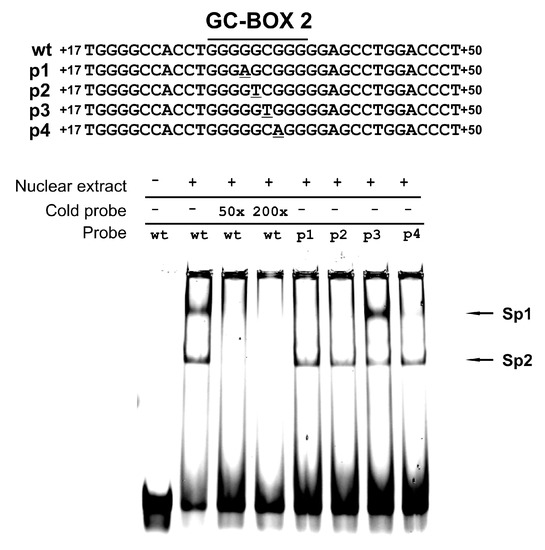 Figure 3. Effect of polymorphisms of GC-box2 on Sp protein binding demonstrated by the electrophoretic mobility shift assay (EMSA).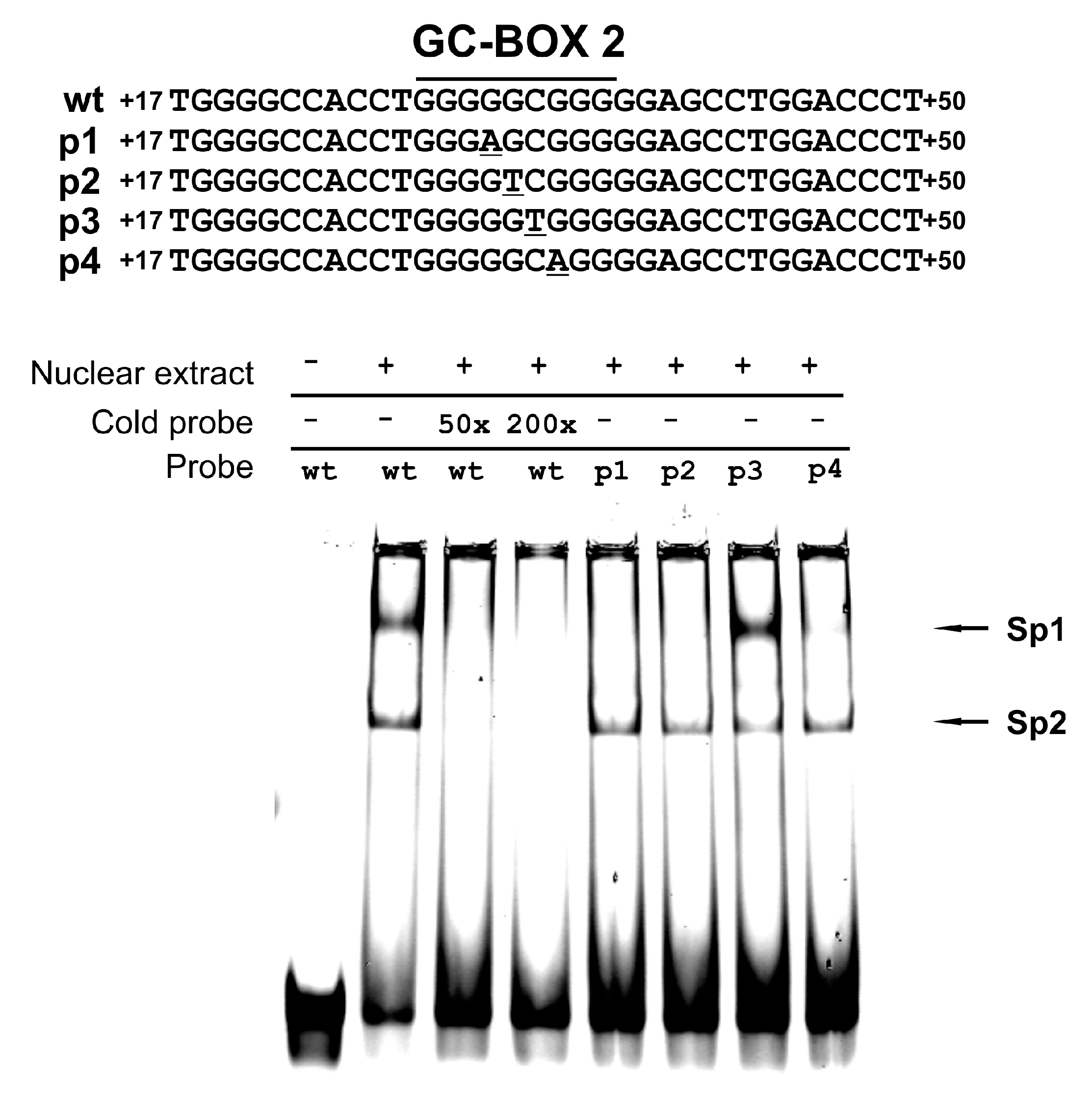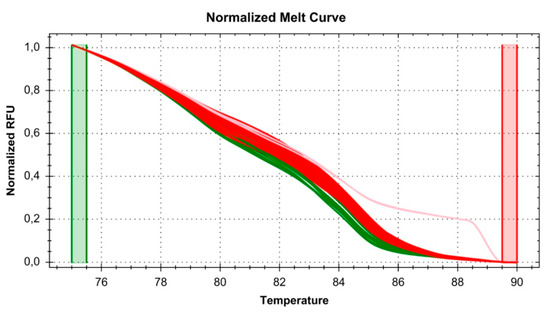 Figure 4. Example of the High Resolution Melt (HRM) assay from scanning 95 DNA samples, run in duplicate. The red cluster is for the reference sequence; the green cluster is for the heterozygous variant of the rs116171003 polymorphism; the pink cluster is for the homozygous variant of the rs116171003 polymorphism. RFU, relative fluorescence units.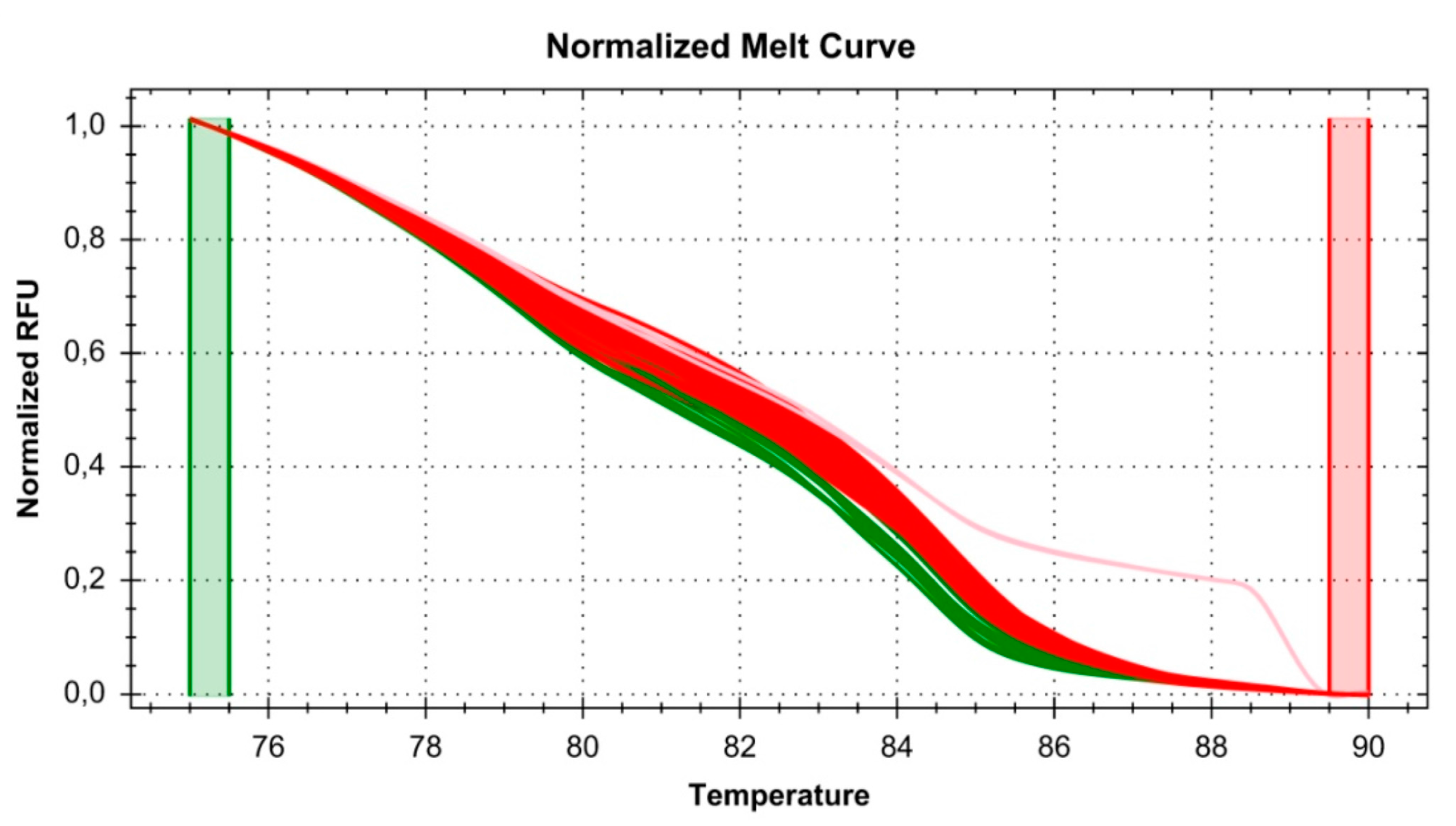 SNP
Genotype
N
%
MAF
NM_001001523.1:c.7+25G>T (rs116171003)
GG
4878
96.575
(T) 0.017
GT
171
3.385
TT
2
0.040
NM_001001523.1:c.7+34C>G (rs111882199)
CC
4993
98.852
(G) 0.006
CG
57
1.128
GG
1
0.020
SNP, single nucleotide polymorphisms; N, number of samples; MAF, Minor allele frequency.

© 2017 by the authors. Licensee MDPI, Basel, Switzerland. This article is an open access article distributed under the terms and conditions of the Creative Commons Attribution (CC BY) license (http://creativecommons.org/licenses/by/4.0/).