Open Access This article is
freely available
re-usable
Review
The MYCN Protein in Health and Disease
Department of Microbiology, Tumor and Cell Biology (MTC), Karolinska Institutet, Stockholm SE-171 77, Sweden
*
Author to whom correspondence should be addressed.
Academic Editor: Daitoku Sakamuro
Received: 31 January 2017 / Accepted: 27 March 2017 / Published: 30 March 2017
Abstract
:
MYCN
is a member of the
MYC
family of proto-oncogenes. It encodes a transcription factor, MYCN, involved in the control of fundamental processes during embryonal development. The MYCN protein is situated downstream of several signaling pathways promoting cell growth, proliferation and metabolism of progenitor cells in different developing organs and tissues. Conversely, deregulated MYCN signaling supports the development of several different tumors, mainly with a childhood onset, including neuroblastoma, medulloblastoma, rhabdomyosarcoma and Wilms' tumor, but it is also associated with some cancers occurring during adulthood such as prostate and lung cancer. In neuroblastoma,
MYCN
-amplification is the most consistent genetic aberration associated with poor prognosis and treatment failure. Targeting MYCN has been proposed as a therapeutic strategy for the treatment of these tumors and great efforts have allowed the development of direct and indirect MYCN inhibitors with potential clinical use.
Keywords:
MYCN; embryonal development; childhood tumors; neuroblastoma; targeted therapy
1. Introduction
The
MYC
proto-oncogene family includes three paralogs:
c-MYC
,
MYCN
and
MYCL
[
1
,
2
]. They are situated on different chromosomes (
Table 1
) and are expressed at specific times during development, but encode proteins with similar functional domains, including the trans-activating and DNA binding domains (
Figure 1
) [
1
]. These proteins, c-MYC, MYCN and MYCL (here together referred to as "MYC"), are transcription factors that belong to a larger class of proteins which contain a basic-region/helix-loop-helix/leucine-zipper (bHLHZip) important for protein dimerization and sequence-specific DNA binding [
3
]. The conserved transcriptional activation domain (TAD) is located in the N-terminus while the bHLHZip and nuclear localization sequences (NLS) are found in the C-terminus of the respective proteins (
Figure 1
). MYC is normally unstructured until dimerization with the MYC-associated protein X (MAX) to assist in DNA interaction [
4
,
5
]. The MYC family and its extended protein network is important in regulating several processes such as cell growth, differentiation and apoptosis [
6
]. Aberrant MYC regulation can lead to increased cell proliferation and is commonly observed in cancers [
2
].
MYCN is a 60–63 kDa protein with a short half-life of around 30 min [
12
] whose gene was first discovered in 1983 by Schwab et al. as a paralog to
c-MYC
[
13
]. Protein stability is controlled by the phosphorylation of specific residues. A first phosphorylation at Ser-62, mediated by cyclin-dependent kinase (Cdk1)-cyclin A/Cdk1-Cyclin B1 complexes, allows the recognition and phosphorylating activity of serine-threonine kinase glycogensynthase kinase 3β (GSK3β) on Thr-58 [
14
]. This modification leads to the ubiquitination and proteasomal degradation of MYCN [
15
,
16
]. The activation of the phosphoinositide 3-kinase/Protein kinase B (PI3K/AKT) axis is able to inhibit this process, since active AKT phosphorylates and inactivates GSK3β, thus leading to MYCN stabilization [
16
,
17
].
MYCN is part of the larger MYC/MAX protein network consisting of several bHLHZip regulators; the MYC family (c-MYC, MYCN and MYCL), the MXD (Max-dimerization partner) family (MXD1, MXD2, MXD3, MXD4), MAX network transcriptional repressor (MNT) and MAX gene associated (MGA) [
18
] (
Figure 1
). The extended members of the MYC transcriptional network all contain a conserved bHLHZip region along with individual conserved regions. The MXD family includes a SIN3-interacting domain (SID) region which directly interacts with the mSin3 corepressor associated with histone deacetylases (HDAC) [
19
]. Heterodimers of MYC and MAX form to bind to the E-box sequence CACGTG [
20
,
21
,
22
] and recruit histone acetyl transferases (HATs) and Tat-interactive protein 60 kDa (TIP60) to keep chromatin in an open configuration [
3
,
20
]. All MYC family paralogs and bHLHZip family members bind with MAX, and each hetero-complex has shared and unique sets of target genes [
2
]. The MYC/MAX heterodimers are essential for MYC function as the protein remains inactive until bound [
2
,
23
]. While MYC/MAX heterodimers promote proliferation through the recruitment of HATs, MXD/MAX represses transcription through HDAC activity [
20
]. Interestingly, overexpression of MXD can inhibit MYC controlled proliferation and can accumulate cells in the G0/G1 phase [
18
]. The opposite activities of MYC and MXD highlight the interconnected regulation between cell growth and cell death [
20
]. There is also a parallel network to MYC/MAX, which includes a MAX-like protein called MLX, that controls metabolism [
24
]. MLX is similar to MAX in that it contains a bHLHZip domain but additionally has a dimerization and cytoplasmic localization domain (DCD), which allows translocation from the nucleus to the cytoplasm following stress signals [
18
,
25
]. The MAX-like protein (MLX) binds to MXD1, MXD4, MNT as well as to two large bHLHZip proteins, MondoA and MondoB [
18
,
24
].
2. Cellular Regulation by MYCN
2.1. MYCN and the Cell Cycle
2.2. MYCN in Apoptosis and Cell Death
3. MYCN and Embryonic Tumors
3.1. MYCN, Embryonic Development and Pluripotency
As mentioned, MYCN has an important role during development, especially in the nervous system, with a strict spatial and temporal expression pattern. During mouse embryogenesis,
Mycn
is strongly expressed in gastrulating cells, and decreases afterwards in most tissues except in the central and peripheral nervous system, in the cranial and spinal ganglia and in the heart. Expression can also be detected in the developing lungs, kidney and gut [
78
]. In newborn mice, high levels of
Mycn
are found in the brain, the kidney and the intestine, but they progressively decrease while progressing into adulthood, with weak expression remaining in the adult brain, testis and heart [
79
]. During weeks 12–24 of gestation, high
MYCN
expression is found in undifferentiated neural cells in the brain, the retina, and in neuroepithelial cells in the lungs of human fetuses [
80
,
81
]. In another study, human fetuses between 16 and 19 weeks showed high
MYCN
mRNA levels in the differentiating epithelial mesenchyme in the kidney, and throughout the brain, especially in the intermediate zone between the subependymal and the cortical layers [
82
].
Homozygous null
Mycn
mice die between 10.5 and 12.5 days of gestation, showing multiple defects in organ development, especially in the heart and in the cranial and spinal ganglia, with a pattern more consistent with reduced proliferation than with impaired differentiation [
83
,
84
]. Heterozygous
Mycn
null mice only show a reduced survival, but no other observable phenotype [
78
]. In wildtype mice,
Mycn
is expressed throughout the developing neuroepithelium, with expression peaking in the neural tube, sensory neural-crest derived structures, forebrain and hindbrain [
78
]. In the null embryos, those normally
Mycn
high-expressing tissues showed structural deficiencies, reduced size and mitotic rate with fewer neurons [
78
,
84
]. Conditional knock-out of
Mycn
in neuronal progenitor cells leads to a two-fold decrease in brain mass, specially affecting the cerebellum and cortex, mainly mediated by reduced proliferation and enhanced differentiation, without evident effects on apoptosis [
85
]. Overexpression of
Mycn
in Japanese quail neural crest cells transferred into chicken embryos results in increased ventral migration and neuronal differentiation [
86
]. Conditional overexpression of the human
MYCN
gene under the rat tyrosine hydroxylase (TH) promoter in the TH-
MYCN
mouse model (see below) prevents the commitment of nestin positive sympathetic progenitors into the glial lineage, instead promoting the proliferation of paired-like homeobox 2B (Phox2B) positive neural progenitors and preventing their terminal differentiation [
87
]. Increased proliferation, apoptosis and commitment into the neural lineage were also consequences of overexpressing
Mycn
in mouse sympathoadrenal progenitor cells in vitro [
88
].
Importantly, MYCN has been more recently associated with the acquisition and maintenance of pluripotency. Exogenous MYCN expression, although not indispensable, is able to promote somatic cell reprogramming into induced pluripotent stem cells (iPSCs) [
89
]. MYCN promotes the expression of pluripotency associated genes in neural stem cells (NSCs) in vitro [
90
]. Both MYCN and c-MYC are involved in the proliferation, differentiation and survival of hematopoietic stem cells (HSCs) [
91
], and MYCN is in addition essential for the proliferation of cerebellum progenitor cells [
92
]. Deletion of endogenous
MYCN
and
c-MYC
in iPSCs and embryonic stem cells (ESCs) limits self-renewal capacity, pluripotency and survival, followed by induction of differentiation [
93
,
94
]. The potential involvement of MYCN in both stemness and proliferation may explain why the derregulated expression of the gene is involved in the development of a variety of human tumors and diseases (
Table 2
).
3.3. Wilms' Tumor
Wilms' tumor, or nephroblastoma, is the most common childhood renal neoplasm with approximately one child affected per 10,000 worldwide, and accounts for 90% of renal tumors and 6% of all childhood cancers [
136
,
137
]. It arises as a consequence of impaired kidney differentiation [
138
]. Anaplastic tumor histology is a significant prognostic factor for poor outcome and is associated with
MYCN
copy gain [
139
]. Anaplasia is defined as a three-fold nuclear enlargement, hyperchromasia and abnormal mitotic figures [
136
]. Overexpression of MYCN is common in Wilms' tumor even in the absence of increased copy number of the gene [
136
,
139
,
140
]. Though a recurrent copy gain on 2p24.3 has been observed which encompasses the
MYCN
locus [
140
]. Amplification of the
MYCN
gene results in increased transcription, which in turn leads to dysregulation of cellular process [
140
,
141
]. Some reports have suggested that MYCN function is potentiated by several mechanisms. Copy increase of
MYCN
accounts for 12.7% of tumors overall and in 30.4% of diffuse anaplastic Wilms' tumors [
140
]. Point mutation at c.131C > T accounts for 3.8% of Wilms' tumors and this mutation has also been observed in neuroblastoma with presumed gain of function [
140
,
142
].
MYCN
-amplification dysregulates the cell cycle progress leading to relapse and poor survival [
140
].
3.4. Retinoblastoma
Retinoblastoma, an embryonic neoplasm of retinal origin, was initially thought to be caused exclusively by the loss of function of the retinoblastoma (
RB1
) gene, but
MYCN
-amplification has also been reported to initiate the disease [
143
,
144
,
145
]. It is the most common retinal cancer in children with approximately one incidence per 17,000 births and of these 40% are considered heritable [
144
,
146
]. Based upon the 'two-hit theory' (known as the Knudson hypothesis), retinoblastoma originally paved the avenue leading to better understanding of tumor-suppressor genes, which was confirmed by the discovery of the
RB1
gene [
144
,
147
]. Interestingly, MYCN expressing retinoblastomas are larger than
RB1
-only mutated retinoblastomas of the equivalent age [
144
]. Recent research show that some retinoblastomas with no evidence of
RB1
mutations carry an amplification of the
MYCN
oncogene [
144
]. Additional evidence has shown that
MYCN-
amplification is controlled by MDM2 through a p53-independent mechanism [
53
]. MDM2 increases
MYCN
transcription and translation and thus sustain the high levels of MYCN essential for increased retinoblastoma proliferation [
53
]. Conversely, rapid retinoblastoma cell death occurs when
MYCN
is knocked out [
144
]. Together, findings strongly indicate the therapeutic potential of
MYCN
gene in retinoblastoma.
3.5. Medulloblastoma
Medulloblastoma is a childhood cancer where approximately 10% of cases are linked to the
MYCN
oncogene [
33
,
148
,
149
]. It is the most common malignant neuroectodermal tumor originating from the brain with an annual incidence rate of 6.8 cases/million children in Europe [
33
,
150
,
151
,
152
]. Medulloblastoma is classified into four major subgroups based on copy number variation and transcription profile [
33
,
150
].
MYCN
-amplification has been observed in all four of the groups and is correlated with poor prognosis [
150
]. MYCN is the only member of the MYC family that is expressed in the proliferative zone of the cerebellum and it is regulated by MXD3 (see
Figure 1
) [
20
,
153
]. Upregulation of MYCN has also been observed in proliferating neural precursor cells in medulloblastoma [
153
]. As discussed above, MYCN is important in cell cycle progression and apoptosis and it is the dysfunction of these processes due to amplification of the
MYCN
gene that contributes to aggressive medulloblastoma [
151
,
153
].
3.6. Rhabdomyosarcoma
Rhabdomyosarcoma is a pediatric tumor of the mesoderm that comprises approximately 5% of solid childhood tumors and 55% of soft tissue sarcoma in children and adolescents [
154
,
155
,
156
]. This tumor is associated with the skeletal muscle lineage and is categorized into embryonal rhabdomyosarcoma (ERMS) and alveolar rhabdomyosarcoma (ARMS) [
156
,
157
].
MYCN
-amplification has been observed in ARMS, with 25% of all cases showing a 5–20-fold amplification, and in 16% of ERMS [
155
,
156
,
158
].
MYCN
-amplification is not the only critical event for aberrant cell growth of rhabdomyosarcoma, as copy number can influence cell growth. Interestingly, while other tissues and tumor type cell lines downregulate
MYCN
mRNA levels post-transcriptionally, in rhabdomyosarcoma, as in neuroblastoma, MYCN is expressed at both mRNA and protein level [
157
]. Amplification of
MYCN
is also associated with copy number gain [
158
,
159
]. ARMS patients with high levels of MYCN are prone to relapse and have a worse survival than those with lower MYCN expression [
158
]. The copy number gain and overexpression of MYCN are associated with a poor prognosis in ARMS patients and thus targeting MYCN as a novel therapy could be of relevance [
158
,
159
]. Initial reports of the inhibition of MYCN in rhabdomyosarcoma cells have shown reduced cell proliferation, induction of myogenesis and a rescue of p53 regulation [
159
]. The restoration of p53 has been linked to tumor regression and due to apoptosis and cell growth suppression [
160
]. The inhibition of cell growth by inhibiting MYCN shows promising therapeutic potential for rhabdomyosarcoma as well as other
MYCN
-amplified cancers.
4. Other MYCN-Related Diseases
5. MYCN as a Therapeutic Target
As reviewed above, MYCN is a complex regulator that has several seemingly contradicting functions, as it is, for instance, involved in both cell cycle regulation and apoptosis [
45
], depending not only on the state of the cell or the level of amplification and copy number gain [
45
,
188
]. Heterogeneity of MYCN has been documented recently to vary from tumor sites, during cancer progression and even following treatment [
188
]. This highlights the need to fully understand MYCN and its complex relationship to other proteins as well as its targets within the cell. As described above and summarized in
Table 2
,
MYCN
genetic aberrations are involved in the development of a wide variety of diseases. Many malignancies would benefit from improved MYCN-targeting approaches with therapeutic purposes. Several strategies have been developed to date to target MYCN at the transcriptional or protein level, including protein stability and dimerization, immune therapy and synthetic lethality (
Figure 2
). These approaches have shown different efficacy and success, some of them providing very promising results.
6. Conclusions
MYCN plays crucial roles during embryonic development, being involved in the control of a large variety of cellular processes fundamental for organogenesis, such as regulation of pluripotency, cell cycle, apoptosis and metabolism. It is the ability to promote these various mechanisms which makes pathological MYCN activation able to initiate and support malignant phenotypes. Understanding of
how
those processes are controlled,
how
MYCN contributes to them, and
how
they can be targeted is fundamental in order to develop novel and efficient therapeutic strategies. Advances in the knowledge of the roles of MYCN during both physiological and pathological conditions, as well as in the development of small molecule inhibitors, will provide new possibilities to improve patient treatment. Targeting MYCN as an effective anticancer therapy seems today to be an objective that is closer to reality than ever.
Acknowledgments
Our research is supported by grants from the Swedish Research Council, the Swedish Cancer Society, the Swedish Childhood Cancer Foundation, the Knut and Alice Wallenberg Foundation, the King Gustaf V Jubilee Foundation and Karolinska Institutet.
Author Contributions
M.V.R.P. and M.A.H. planned the content of the manuscript, M.V.R.P. and A.B.H. wrote the text and prepared figures and tables, and M.A.H. edited and commented on the manuscript. All authors discussed and approved the final version of the manuscript.
Conflicts of Interest
Authors declare no conflict of interest.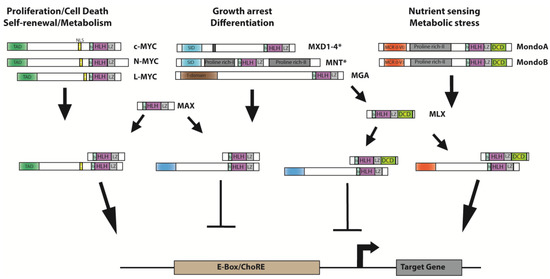 Figure 1. The MAX/MLX protein networks with domain organization of the members. The organization of the MAX and MLX network proteins with colored boxes indicating the functional domains. Each network reciprocal heterodimerization partner is indicated with its binding site. MAX: MYC associated factor X; MLX: MAX-like protein X; MGA: MAX gene-associated; MNT: MAX network transcription repressor; MXD: MAX dimerization protein; TAD: transcriptional activation domain; NLS: nuclear localization signal; b: basic region; HLH: helix loop helix; LZ: leucine zipper; SID: SID3-interacting domain; MCR: Mondo conserved region which contains six conserved regions creating a glucose sensing domain; DCD: dimerization and cytoplasmic localization domain; E-box: enhancer-box; ChoRE: carbohydrate response element. *MXD1, MXD4 and MNT bind to MLX while MXD2 and MXD3 do not.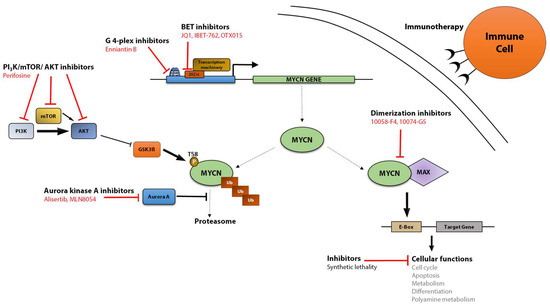 Figure 2.
Strategies for direct and indirect targeting of MYCN
.
Different approaches have been developed to hinder MYCN activity, including inhibition of
MYCN
gene transcription, disruption of the dimerization with its transcriptional partner MAX, induction of MYCN protein destabilization, inhibition of MYCN-promoted cellular processes as well as immunotherapy. Specific inhibitors are highlighted in red. Solid lines indicate direct activity. Dashed lines indicate different protein status (inactive monomeric, active dimeric and degradation-targeted phosphorylated MYCN). PI3K: phosphoinositide 3-kinase; AKT: protein kinase B; GSK3ß: glycogen synthase kinase 3 beta; mTOR, mammalian target of rapamycin; BRD, bromodomain; BET, bromodomain and extra terminal domain; Ub: ubiquitin.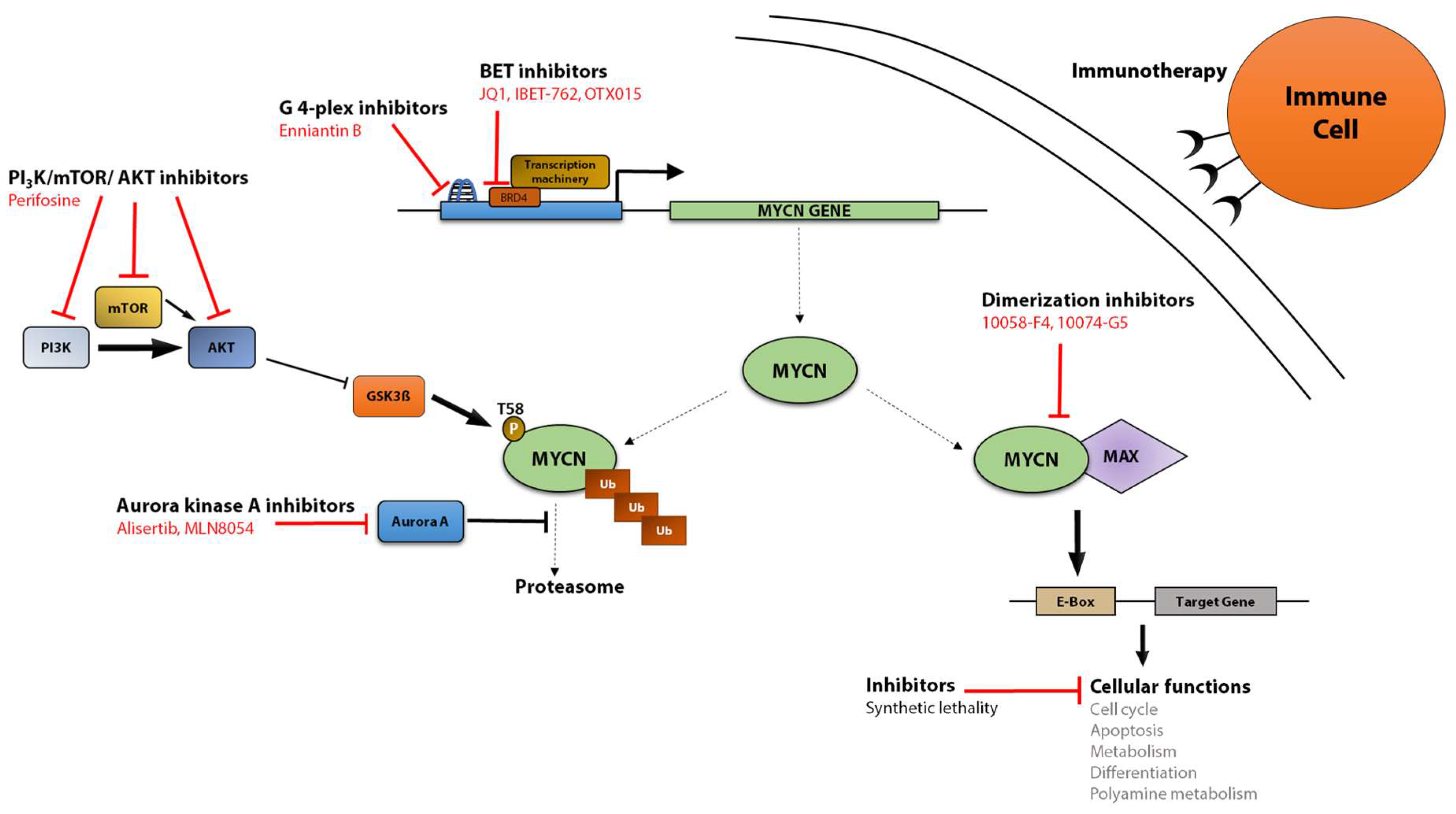 Chromosomal Location
Gene
Human
Mouse
References

MYCN/Mycn

2p24.3
12-A3.B
[7,8]

MYCL/Mycl

1p34.2
4-D2.2
[8,9]

MYC/c-myc

8q24.21
15-D1
[10,11]
Disease
Onset
Primary Location

MYCN

Aberration
% of Patients Showing

MYCN

Aberration
Neuroblastoma
Childhood
Peripheral nervous system
Amplification/overexpression
25%
Medulloblastoma
Childhood
Cerebellum
Amplification
7–10%
Retinoblastoma
Childhood
Retina
Amplification
2%
Rabdomyosarcoma (ARMS/ERMS)
Childhood
Skeletal muscle
Copy number gain/amplification/Increased stability
25% of ARMS
16% of ERMS
Wilms' tumor
Childhood
Kidney
Copy number gain/Overexpression/mutation
13%
9%
4%
Feingold syndrome
Childhood
Physical and learning developmental disorders
Amplification/ deletion/loss of function
50%
Leukemia (CLL/ALL)
Childhood/adulthood
White blood cells
Copy number gain/amplification/Increased expression
7% of ALL
35% of CLL
Prostate cancer
Adulthood
Prostate
Amplification
14%
Basal cell carcinoma
Adulthood
Skin
Copy number gain/increased expression
18%
73%
Lung cancer
Adulthood
Lung
Copy number gain
6%
ARMS: Alveolar rhabdomyosarcoma; ERMS: Embryonal rhabdomyosarcoma; CLL: Chronic lymphocytic leukemia; ALL: Acute lymphoblastic leukemia.

© 2017 by the authors. Licensee MDPI, Basel, Switzerland. This article is an open access article distributed under the terms and conditions of the Creative Commons Attribution (CC BY) license (http://creativecommons.org/licenses/by/4.0/).