Open Access This article is
freely available
re-usable
Review
Type 1 Diabetes Candidate Genes Linked to Pancreatic Islet Cell Inflammation and Beta-Cell Apoptosis
1
Copenhagen Diabetes Research Center (CPH-DIRECT), Department of Pediatrics, University Hospital Herlev and Gentofte, Herlev 2730, Denmark
2
Department of Clinical Medicine, Faculty of Health and Medical Sciences, University of Copenhagen, Copenhagen 2200, Denmark
*
Author to whom correspondence should be addressed.
Academic Editor: Rajkumar Dorajoo
Received: 8 January 2017 / Accepted: 10 February 2017 / Published: 16 February 2017
Abstract
:
Type 1 diabetes (T1D) is a chronic immune-mediated disease resulting from the selective destruction of the insulin-producing pancreatic islet β-cells. Susceptibility to the disease is the result of complex interactions between environmental and genetic risk factors. Genome-wide association studies (GWAS) have identified more than 50 genetic regions that affect the risk of developing T1D. Most of these susceptibility loci, however, harbor several genes, and the causal variant(s) and gene(s) for most of the loci remain to be established. A significant part of the genes located in the T1D susceptibility loci are expressed in human islets and β cells and mounting evidence suggests that some of these genes modulate the β-cell response to the immune system and viral infection and regulate apoptotic β-cell death. Here, we discuss the current status of T1D susceptibility loci and candidate genes with focus on pancreatic islet cell inflammation and β-cell apoptosis.
Keywords:
GWAS; beta-cell; gene expression; apoptosis
1. Introduction
The identification of specific genes and the underlying mechanisms involved in β-cell destruction is essential for the development of new therapeutic strategies to improve β-cell function in recent-onset T1D patients and to avoid β-cell impairment in risk individuals.
2. T1D Pathogenesis
T1D is caused by an immune-mediated targeted destruction of the pancreatic β-cells leading to absolute insulin deficiency. The pathogenesis can be divided into two main phases—the initiation phase involving innate immune mechanisms, and the execution phase involving adaptive immune mechanisms. During the initiation phase, initial β-cell damage and death are induced, leading to the invasion of the islets of activated T-lymphocytes that mediate the killing of the β-cells [
11
,
12
,
13
,
14
]. Evidence from animal models supports that the Fas/FasL system, perforin/granzyme pathway, and pro-inflammatory cytokines, including interleukin (IL)-1β, interferon (IFN)-γ, and tumor necrosis factor (TNF)-α, contribute to the killing of the β-cells [
12
,
13
,
15
,
16
].
The complex etiology of T1D is underlined by the fact that the timeframe from initial β-cell damage to manifestation of clinical diabetes may stretch over several years. Studies now suggest that, in most cases, T1D patients have substantial residual β-cell mass at the time of diagnosis. Further, some patients with long-standing T1D still have the capability to produce and secrete low amounts of insulin [
17
,
18
], while others, despite having insulin-positive cells in the pancreas, do not secrete detectable C-peptide levels [
11
,
19
]. However, a recent report demonstrated that isolated islets from pancreas biopsies from T1D patients at the time of disease onset can regain their insulin secretion following in vitro culture [
20
]. These findings strongly suggest that the loss of β-cell function in T1D is not solely caused by a decline in β-cell mass, but also caused by β-cell functional impairment. This lends hope that the residual β-cell mass/function at T1D onset might be preserved and enhanced by therapeutic intervention. The differences in the remaining β-cell mass/function in T1D patients at diagnosis may also reflect individual variation in β-cell mass/function at birth and differences in the tempo of β-cell destruction which affect the rate of inter-individual disease progression [
21
,
22
]. Hence, better insight into the specific genes and mechanisms involved in β-cell destruction and functional impairment is of utmost importance to develop new treatment strategies to improve β-cell mass and/or function in newly-diagnosed T1D patients and to avoid β-cell impairment in risk individuals.
3. Expression of T1D Risk Genes in Islets
As of today, more than 50 T1D risk loci have been identified by GWAS and meta-analyses [
7
,
23
,
24
,
25
]. Together, these loci explain some 80%–85% of the heritability of T1D [
26
,
27
,
28
], which is noticeably higher than for other complex diseases [
29
]. Most of the T1D susceptibility loci harbor numerous genes, and for most of the loci the causal gene(s) and variant(s) await identification. If all genes located within 100 kilo bases from GWAS-significant SNPs are taken into consideration, the total number of genes in T1D loci is almost 1000 [
5
,
30
] all of which are potentially important causal candidate genes. Transcriptome profile studies have revealed that many of these genes are expressed in pancreatic islets and β-cells where they likely have a major impact on the triggering and development of T1D putatively by affecting the function and survival of the β-cells [
2
,
3
,
31
]. Such studies also identified clusters of genes regulated by cytokines and pinpointed key transcription factors. Further, studies analyzing protein–protein interactions between the products encoded by the genes in T1D loci have identified specific networks that are enriched in T1D candidate genes [
2
,
31
,
32
,
33
]. This suggests that a proportion of the genes located in T1D risk loci interact in networks at the islet level, further adding to the possibility that many genes affecting T1D risk do so by having functional roles in the islet cells. Importantly, it should be kept in mind that while transcriptome data supports that many candidate genes are expressed in islet tissue and β-cells, these same candidate genes may also be expressed in immune cells. In fact, it is highly likely that some of the causal genes in T1D affect disease susceptibility in cell-specific manners both at the islet and immune cell levels. In the sections below, we will, however, focus solely on candidate genes that have proven functional roles in β-cells.
4. T1D Candidate Genes that Affect Islet Inflammation and Apoptosis
5. Genetic Risk-Score of Islet-Expressed T1D Candidate Genes as Predictor of Disease Progression
As evident from above, a number of candidate genes for T1D play crucial roles in β-cells by affecting their vulnerability to undergo apoptosis, viral infection, and/or cytokine/chemokine production. It is highly likely that these genes act in concert to affect disease risk as well as disease progression once clinically manifested.
We recently hypothesized that a genetic risk-score (GRS) of islet-expressed T1D candidate genes could be a valuable method to predict disease progression in newly-diagnosed patients, the rationale being that islet-expressed candidate genes would be the best predictors of β-cell function. We therefore investigated the impact of an increasing GRS on β-cell function and glycemic control during the first year after T1D onset [
75
]. The GRS was constructed from 11 T1D risk genes, including some of the genes described in detail above that we found to be expressed and cytokine regulated in human islets. For each additional risk allele, i.e., for each unit increase in the GRS, a decreased β-cell function and a worsened glycemic control from 6 to 12 months after disease onset were observed [
75
]. Remarkably, we also found that several of the 11 genes used in the GRS interacted in a common network, further supporting that they cooperate to regulate T1D risk at the β-cell level. Hence, these results indicate that profiling of selected genetic variants serving as markers of β-cell risk genes holds the potential to better predict disease progression in recent-onset patients and whether T1D advance in risk individuals.
6. MHC and the β-Cell
MHC, which encodes the human leukocyte antigens (HLA), accounts for approximately half of the genetic risk to T1D. Traditionally, the role of MHC in T1D etiology is considered to be in central immunotolerance and antigen presentation. However, evidence supports that the β cell itself may be an active player in the MHC-conferred susceptibility. Hence, β-cell hyperexpression of MHC class I, including β2-microglobulin, is consistently seen in pancreatic samples from human T1D patients [
76
,
77
,
78
] and following cytokine exposure of human islets [
3
]. β-cell-induced immune cell activation via MHC I-mediated interaction is likely an important mechanism by which the β cell is recognized and killed by the immune system (
Figure 1
).
We have previously proposed that part of the genetic component of T1D is caused by variation in genes regulating posttranslational modification (PTM) processes in the β-cell [
79
]. We identified a number of genes involved in generation of various PTMs that all have T1D-associated SNPs mapping to either introns or up- or downstream regions (within 5 kb of the gene). This provides support that such genes contribute to the generation of PTMs of β-cell proteins that could lead to peptide neo-epitopes with antigenic potential when presented by T1D-associated HLA class I and II molecules.
7. Non-Coding RNAs Regulating the β-Cell Genome
Several classes of non-coding RNAs have been investigated in relation to diabetes, however, the best studied class is microRNAs (miRNAs), which represent a class of evolutionary conserved 22–25 nucleotides long molecules that function as posttranscriptional regulators by binding to the 3′ untranslated region (3′UTR) of target mRNAs, causing translational repression or mRNA degradation [
80
]. Evidence suggests that miRNAs are critical for pancreatic development and differentiation, and for β-cell function [
81
,
82
]. The expression of multiple miRNAs is modulated by pro-inflammatory cytokines or glucose in islets and β-cells. These miRNAs seem to modulate insulin expression/secretion, proliferation, and/or apoptosis [
83
].
The T1D susceptibility loci harbor several miRNA genes [
5
]. T1D risk SNPs may affect T1D susceptibility by altering the seed-sequence in miRNAs or by changing the miRNA target sites in protein-coding genes. Alternatively, they may cause alterations in the structure of flanking regions, thereby modulating the accessibility for miRNA binding. Accordingly, T1D SNPs have been shown to disrupt or introduce miRNA binding sites in coding candidate genes [
84
]. Variation in miRNA genes and miRNA binding sites in target genes have also been associated with T2D [
85
].
Recently, a study reported that β-cells secrete exosomal miRNAs which can be taken up by neighbouring β cells [
86
]. This opens up for the fascinating possibility that miRNA-mediated communication between the β-cells, between β-cells and other islet cell types, and/or between β-cells and immune cells, may play an important pathogenic role. Only a few studies have addressed the role of miRNAs specifically in relation to β-cell function in human T1D. Recently, Samandari et al. [
87
] identified a miRNA signature that correlated with residual β-cell function up to one year after T1D diagnosis in children and adolescents, and Grieco et al. [
88
] identified miRNAs that regulate the expression of pro-apoptotic proteins in human β-cells—thus regulating apoptotic cell death. Intriguingly, there was no overlap in identified miRNAs between these studies, indicating that the pathway/network regulatory effects of miRNAs are both tissue and context specific.
8. Conclusions
T1D risk is conferred by genetic aberrations of both the immune system and the β-cell. Characterization of the β-cell transcriptome and the molecular disease mechanisms taking place in the β-cells in T1D are crucial to understand the disease and for developing new strategies to prevent β-cell destruction in T1D. New integrative approaches that combine different omics-technologies and functional experiments are in great need and should further our understanding of the molecular disease mechanisms in the β-cell.
The disease is complex. It is also heterogeneous. Such heterogeneity might be explained by a combination of individual risk profiles and exposure to different environmental factors that can be very well reflected at the level of the β-cell. In some individuals, an excessive innate immune response might prevail, while in others, the β-cells may be extraordinarily vulnerable to immune-mediated apoptosis. This suggests that different therapeutic strategies will be required depending on the genetic background of the affected individuals. The challenge will be to decipher T1D complexities and move towards precision medicine approaches.
Acknowledgments
This study was supported in part by grants from The Danish Research Council (4183-00031), The Sehested Hansen Foundation, and The European Foundation for the Study of Diabetes.
Author Contributions
Joachim Størling and Flemming Pociot contributed equally to the paper. Joachim Størling designed the figure.
Conflicts of Interest
The authors declare no conflict of interest. The founding sponsors had no role in the design of the study; in the collection, analyses, or interpretation of data; in the writing of the manuscript, and in the decision to publish the results.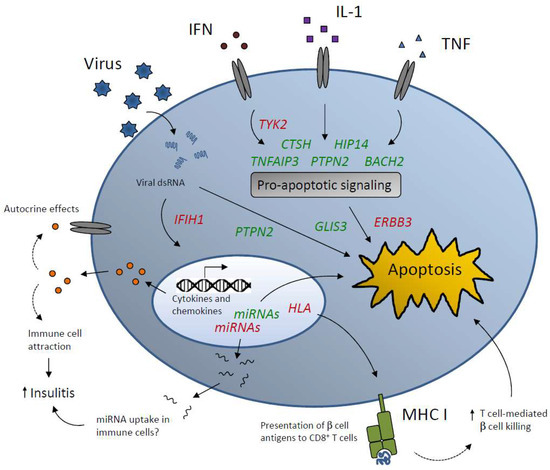 Figure 1.
A number of type 1 diabetes (T1D) candidate genes are known to modulate β-cell apoptosis, viral infection, and islet inflammation. Genes marked in green and red designate protective and deleterious roles in the β-cell, respectively. Some of the T1D risk genes including
HIP14
,
TNFAIP3
,
TYK2
, and
CTSH
are regulators of cytokine effects at the level of pro-apoptotic signal transduction. Other genes such as
IFIH1
and
PTPN2
are involved in the cellular responses to viral double stranded RNA (dsRNA). Downstream signaling events include alterations in expression and secretion of inflammatory cytokines and chemokines that may exert detrimental autocrine effects and/or attract immune cells, thereby amplifying insulitis. Secreted micro RNAs (miRNAs) from β-cells may also increase islet inflammation and β-cell damage by modulating immune cell activity. Finally, genetic variants in
HLA
genes may cause β-cell hyperexpression of major histocompatibility complex (MHC) I presenting β-cell (neo)epitopes to cytotoxic T cells.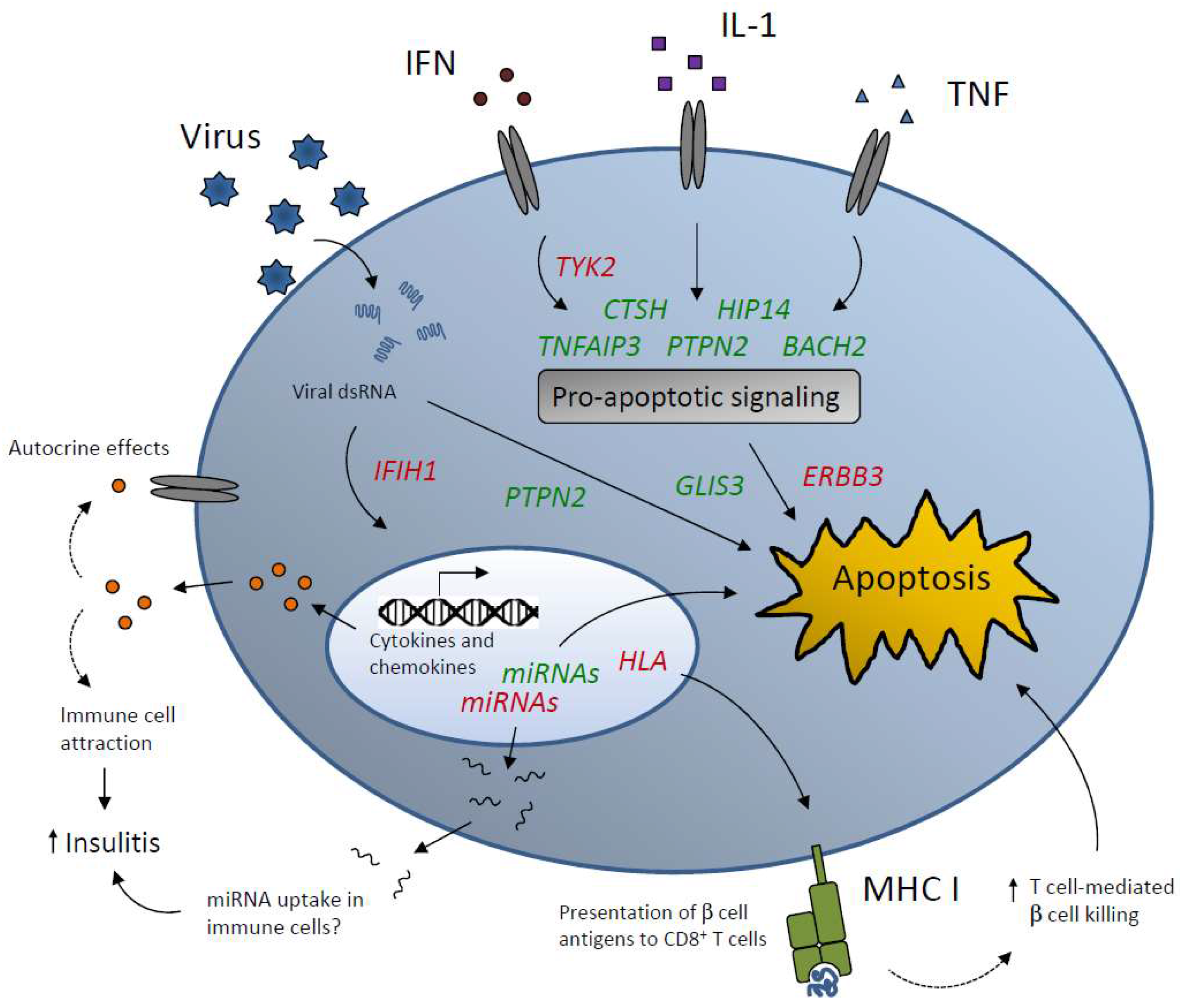 © 2017 by the authors. Licensee MDPI, Basel, Switzerland. This article is an open access article distributed under the terms and conditions of the Creative Commons Attribution (CC BY) license ( http://creativecommons.org/licenses/by/4.0/).