Mesenchymal Stem Cell-Conditioned Medium Modulates Apoptotic and Stress-Related Gene Expression, Ameliorates Maturation and Allows for the Development of Immature Human Oocytes after Artificial Activation
1
Department of Anatomy, Afzalipour Faculty of Medicine, Kerman University of Medical Sciences, 7616913555 Kerman, Iran
2
Cellular and Molecular Research Center, Gerash University of Medical Science, 7441758666 Gerash, Iran
3
Department of Biology and Anatomical Sciences, Shahid Sadoughi University of Medical Sciences, 8916978477 Yazd, Iran
4
Afzalipour Clinical Center for Infertility, Afzalipour Hospital, Kerman University of Medical Sciences, 7616913555 Kerman, Iran
5
Department of Medical Microbiology, Kerman University of Medical Sciences, 7616913555 Kerman, Iran
6
Neuroscience Research Center, Institute of Neuropharmacology, Kerman University of Medical Sciences, 7616913555 Kerman, Iran
*
Authors to whom correspondence should be addressed.
Academic Editor: Paolo Cinelli
Received: 14 September 2017 / Revised: 30 October 2017 / Accepted: 21 November 2017 / Published: 8 December 2017
Abstract
The aim of the present study was to determine whether mesenchymal stem cell-conditioned medium (MSC-CM) modulates apoptotic and stress-related gene expression, and ameliorates maturation and developmental potential of immature human oocytes after artificial activation. A total of 247 surplus immature germinal vesicle (GV) oocytes obtained from infertile women were allocated into two in vitro maturation (IVM) groups: 1: GV oocytes (
n
= 116) matured in vitro (fIVM), and 2: GV oocytes (
n
= 131) that were vitrified, then in vitro matured (vIVM). Also, two maturation media were used: Alpha-minimum essential medium (α-MEM) and human umbilical cord-derived MSCs (hUCM). After 36 h of incubation, the IVM oocytes were examined for nuclear maturation. In IVM-matured oocytes, cytoplasmic maturation was evaluated after artificial activation through Ionomycin. Moreover, the quantitative expressions of B-cell CLL/lymphoma 2 (
BCL2
), BCL2-associated X protein (
BAX
), superoxide dismutase (
SOD
), and Heat shock proteins (
HSP70
) in matured oocytes were assessed by quantitative Real-time polymerase chain reaction (qRT-PCR) and compared with fresh and vitrified in vivo matured oocytes, which were used as fIVM and vIVM controls, respectively. The highest maturation rate was found in hUCM in fIVM, and the lowest maturation rate was found using α-MEM in vIVM (85.18% and 71.42%, respectively). The cleavage rate in fIVM was higher than that in vIVM (83.4% vs. 72.0%). In addition, the cleavage rate in α-MEM was lower than that in the hUCM (66.0% vs. 89.4%). Furthermore, the difference between parthenote embryo arrested in 4–8 cells (
p
< 0.04) and the quality of embryo arrested in 8-cell (
p
< 0.007) were significant. The developmental stages of parthenote embryos in hUCM versus α-MEM were as follows: 2–4 cell (89.45% vs. 66.00%, respectively), 4–8 cell (44.31% vs. 29.11%, respectively), morula (12.27% vs. 2.63%, respectively), and blastocysts (2.5% vs. 0%, respectively). The messenger RNA (mRNA) expression levels of BCL2, BAX and SOD were significantly different (
p
< 0.05) between the matured IVM oocytes. Overall, hUCM showed potential efficacy in terms of ameliorating oocyte maturation and in promoting the development and mRNA expression of BAX, BCL2, and SOD.
View Full-Text
►

▼

Figures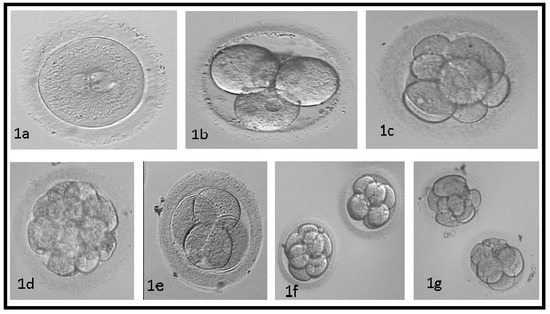 Figure 1
This is an open access article distributed under the
Creative Commons Attribution License
which permits unrestricted use, distribution, and reproduction in any medium, provided the original work is properly cited (CC BY 4.0).

Share & Cite This Article
MDPI and ACS Style
Akbari, H.; Eftekhar Vaghefi, S.H.; Shahedi, A.; Habibzadeh, V.; Mirshekari, T.R.; Ganjizadegan, A.; Mollaei, H.; Ahmadi, M.; Nematollahi-Mahani, S.N. Mesenchymal Stem Cell-Conditioned Medium Modulates Apoptotic and Stress-Related Gene Expression, Ameliorates Maturation and Allows for the Development of Immature Human Oocytes after Artificial Activation. Genes 2017, 8, 371.
Note that from the first issue of 2016, MDPI journals use article numbers instead of page numbers. See further details here.
Related Articles
Comments
[Return to top]