High Quality Unigenes and Microsatellite Markers from Tissue Specific Transcriptome and Development of a Database in Clusterbean (
Cyamopsis tetragonoloba

, L. Taub)

1

ICAR-National Research Centre on Plant Biotechnology, New Delhi 110012, India

2

ICAR-Indian Agricultural Research Institute, New Delhi 110012, India

3

ICAR-Indian Institute of Pulse Research, Kanpur 208204, India

4

Department of Biotechnology and Molecular Biology, CCS Haryana Agricultural University, Hisar 125004, India

*

Author to whom correspondence should be addressed.

†

Current address: National Agri-Food Biotechnology Institute, Mohali 140306, India.

Received: 23 August 2017 / Revised: 23 October 2017 / Accepted: 6 November 2017 / Published: 9 November 2017
Abstract
Clusterbean (
Cyamopsis tetragonoloba
L. Taub), is an important industrial, vegetable and forage crop. This crop owes its commercial importance to the presence of guar gum (galactomannans) in its endosperm which is used as a lubricant in a range of industries. Despite its relevance to agriculture and industry, genomic resources available in this crop are limited. Therefore, the present study was undertaken to generate RNA-Seq based transcriptome from leaf, shoot, and flower tissues. A total of 145 million high quality Illumina reads were assembled using Trinity into 127,706 transcripts and 48,007 non-redundant high quality (HQ) unigenes. We annotated 79% unigenes against Plant Genes from the National Center for Biotechnology Information (NCBI), Swiss-Prot, Pfam, gene ontology (GO) and KEGG databases. Among the annotated unigenes, 30,020 were assigned with 116,964 GO terms, 9984 with EC and 6111 with 137 KEGG pathways. At different fragments per kilobase of transcript per millions fragments sequenced (FPKM) levels, genes were found expressed higher in flower tissue followed by shoot and leaf. Additionally, we identified 8687 potential simple sequence repeats (SSRs) with an average frequency of one SSR per 8.75 kb. A total of 28 amplified SSRs in 21 clusterbean genotypes resulted in polymorphism in 13 markers with average polymorphic information content (PIC) of 0.21. We also constructed a database named 'ClustergeneDB' for easy retrieval of unigenes and the microsatellite markers. The tissue specific genes identified and the molecular marker resources developed in this study is expected to aid in genetic improvement of clusterbean for its end use.
View Full-Text
►

▼

Figures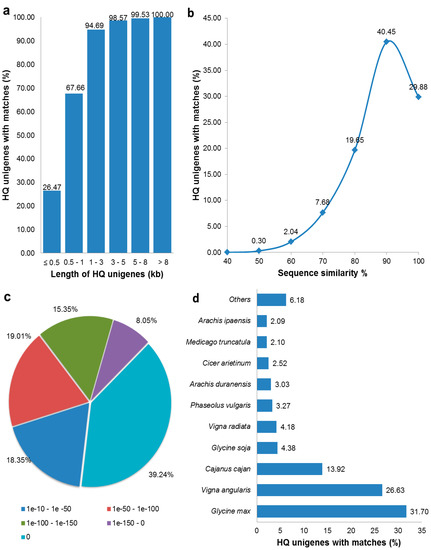 Figure 1
This is an open access article distributed under the
Creative Commons Attribution License
which permits unrestricted use, distribution, and reproduction in any medium, provided the original work is properly cited (CC BY 4.0).

Share & Cite This Article
MDPI and ACS Style
Rawal, H.C.; Kumar, S.; Mithra S.V., A.; Solanke, A.U.; Nigam, D.; Saxena, S.; Tyagi, A.; V., S.; Yadav, N.R.; Kalia, P.; Singh, N.P.; Singh, N.K.; Sharma, T.R.; Gaikwad, K. High Quality Unigenes and Microsatellite Markers from Tissue Specific Transcriptome and Development of a Database in Clusterbean (Cyamopsis tetragonoloba, L. Taub). Genes 2017, 8, 313.
Note that from the first issue of 2016, MDPI journals use article numbers instead of page numbers. See further details here.
Related Articles
Comments
[Return to top]