Open Access This article is
freely available
re-usable
Review
Therapeutic Targeting of Telomerase
1
Institute of Laboratory Medicine, Clinical Chemistry and Pathobiochemistry, Charité-Universitätsmedizin Berlin, Augustenburger Platz 1, Berlin 13353, Germany
2
Labor Berlin-Charité Vivantes Services GmbH, Sylter Str. 2, Berlin 13353, Germany
*
Author to whom correspondence should be addressed.
Academic Editor: Gabriele Saretzki
Received: 1 May 2016 / Accepted: 24 June 2016 / Published: 21 July 2016
Abstract
:
Telomere length and cell function can be preserved by the human reverse transcriptase telomerase (hTERT), which synthesizes the new telomeric DNA from a RNA template, but is normally restricted to cells needing a high proliferative capacity, such as stem cells. Consequently, telomerase-based therapies to elongate short telomeres are developed, some of which have successfully reached the stage I in clinical trials. Telomerase is also permissive for tumorigenesis and 90% of all malignant tumors use telomerase to obtain immortality. Thus, reversal of telomerase upregulation in tumor cells is a potential strategy to treat cancer. Natural and small-molecule telomerase inhibitors, immunotherapeutic approaches, oligonucleotide inhibitors, and telomerase-directed gene therapy are useful treatment strategies. Telomerase is more widely expressed than any other tumor marker. The low expression in normal tissues, together with the longer telomeres in normal stem cells versus cancer cells, provides some degree of specificity with low risk of toxicity. However, long term telomerase inhibition may elicit negative effects in highly-proliferative cells which need telomerase for survival, and it may interfere with telomere-independent physiological functions. Moreover, only a few hTERT molecules are required to overcome senescence in cancer cells, and telomerase inhibition requires proliferating cells over a sufficient number of population doublings to induce tumor suppressive senescence. These limitations may explain the moderate success rates in many clinical studies. Despite extensive studies, only one vaccine and one telomerase antagonist are routinely used in clinical work. For complete eradication of all subpopulations of cancer cells a simultaneous targeting of several mechanisms will likely be needed. Possible technical improvements have been proposed including the development of more specific inhibitors, methods to increase the efficacy of vaccination methods, and personalized approaches. Telomerase activation and cell rejuvenation is successfully used in regenerative medicine for tissue engineering and reconstructive surgery. However, there are also a number of pitfalls in the treatment with telomerase activating procedures for the whole organism and for longer periods of time. Extended cell lifespan may accumulate rare genetic and epigenetic aberrations that can contribute to malignant transformation. Therefore, novel vector systems have been developed for a 'mild' integration of telomerase into the host genome and loss of the vector in rapidly-proliferating cells. It is currently unclear if this technique can also be used in human beings to treat chronic diseases, such as atherosclerosis.
Keywords:
telomerase; telomeres; aging; senescence; atherosclerosis; cancer; gene therapy; immunotherapy; regenerative medicine; personalized medicine
1. Telomeres and Telomerase in Aging and Cancer
2. Telomerase as a Target for Regenerative Medicine
3. Telomerase as a Target for Cancer Treatment
4. Advantages, Pitfalls, and Outlook
Acknowledgments
The authors acknowledge the financial support of the Sonnenfeldstiftung (to Kathrin Jäger) and Katja Tränkner (WriteNow, Berlin, Germany) for preparing the drawings.
Author Contributions
Kathrin Jäger and Michal Walter wrote this review.
Conflicts of Interest
The authors declare no conflict of interest.
Abbreviations
The following abbreviations are used in this manuscript:
| | |
| --- | --- |
| ALT | alternative lengthening of telomeres |
| CRP | C-reactive protein |
| hTERT | human telomerase reverse transcriptase |
| hTR | human telomerase RNA |
| IL-6 | interleukine-6 |
| LTL | leucocyte telomere length |
| mTERT | mouse telomerase reverse transcriptase |
| rAAV | recombinant adeno-associated virus |
| ROS | reactive oxygen species |
| TERC | telomerase RNA component |
| TERT | telomerase reverse transcriptase |
| VEGF | vascular endothelial growth |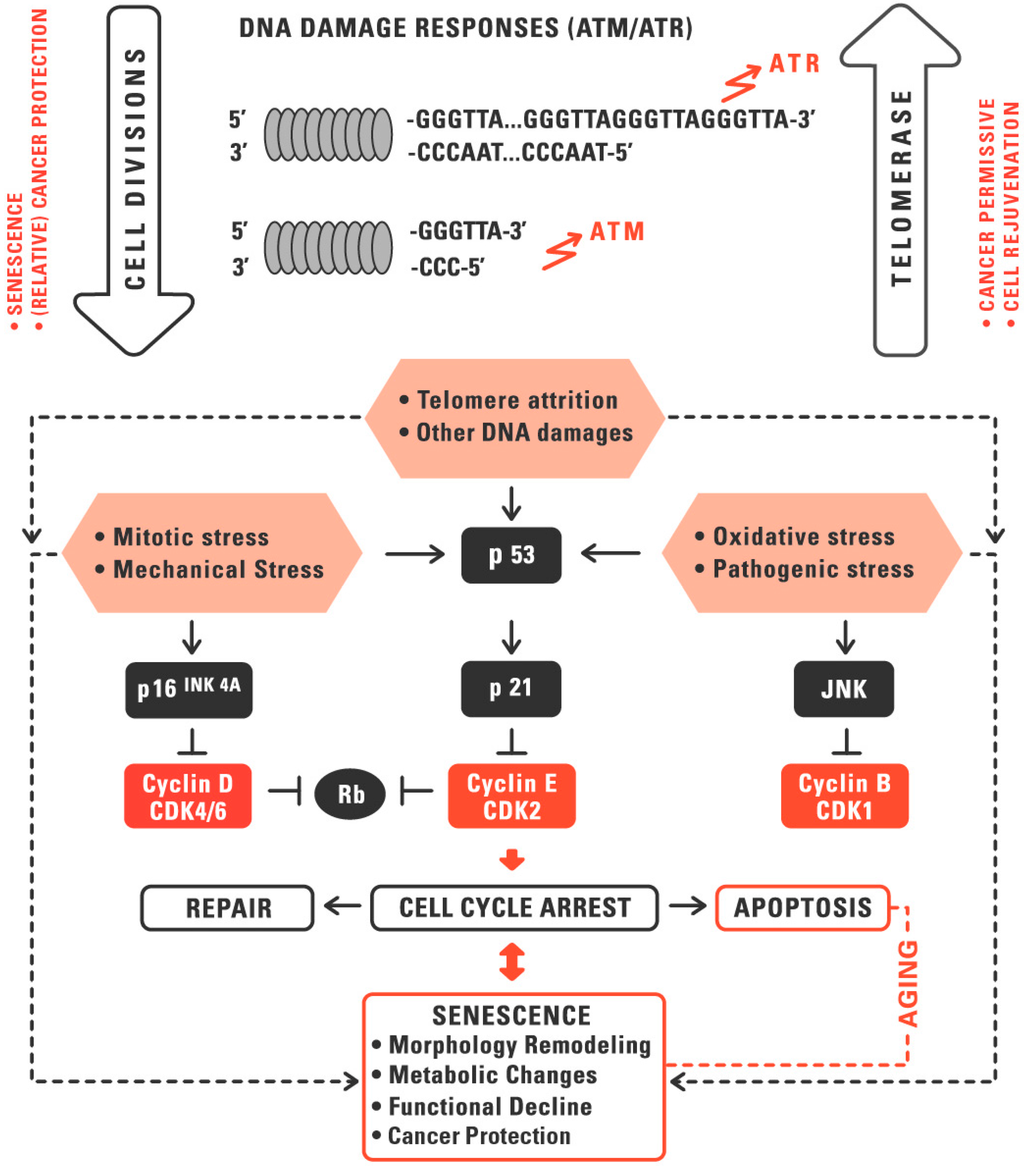 Figure 1.
Replicative aging cooperates with other aging mechanisms to activate the p53 and/or Rb signaling pathways. ATM and ATR are sensors of DNA double- and single-strand damage induced by replicative senescence or other DNA damage. Activated ATM and ATR trigger checkpoint responses to induce cell cycle arrest. A stronger stimulation of p53 may lead to apoptosis by activating the mitochondrial pathway of apoptosis. Telomere length and cell function can be preserved by the reserve transcriptase telomerase, which synthesizes the new telomeric DNA from the RNA template. Telomerase may help to avoid senescence and to rejuvenate tissues, but is also permissive for carcinogenesis. Senescence may help to prevent tumor growth but can also be overcome by a process called crisis, and then has paracrine and other pro-tumorigenic effects. With permission, adapted from [
1
].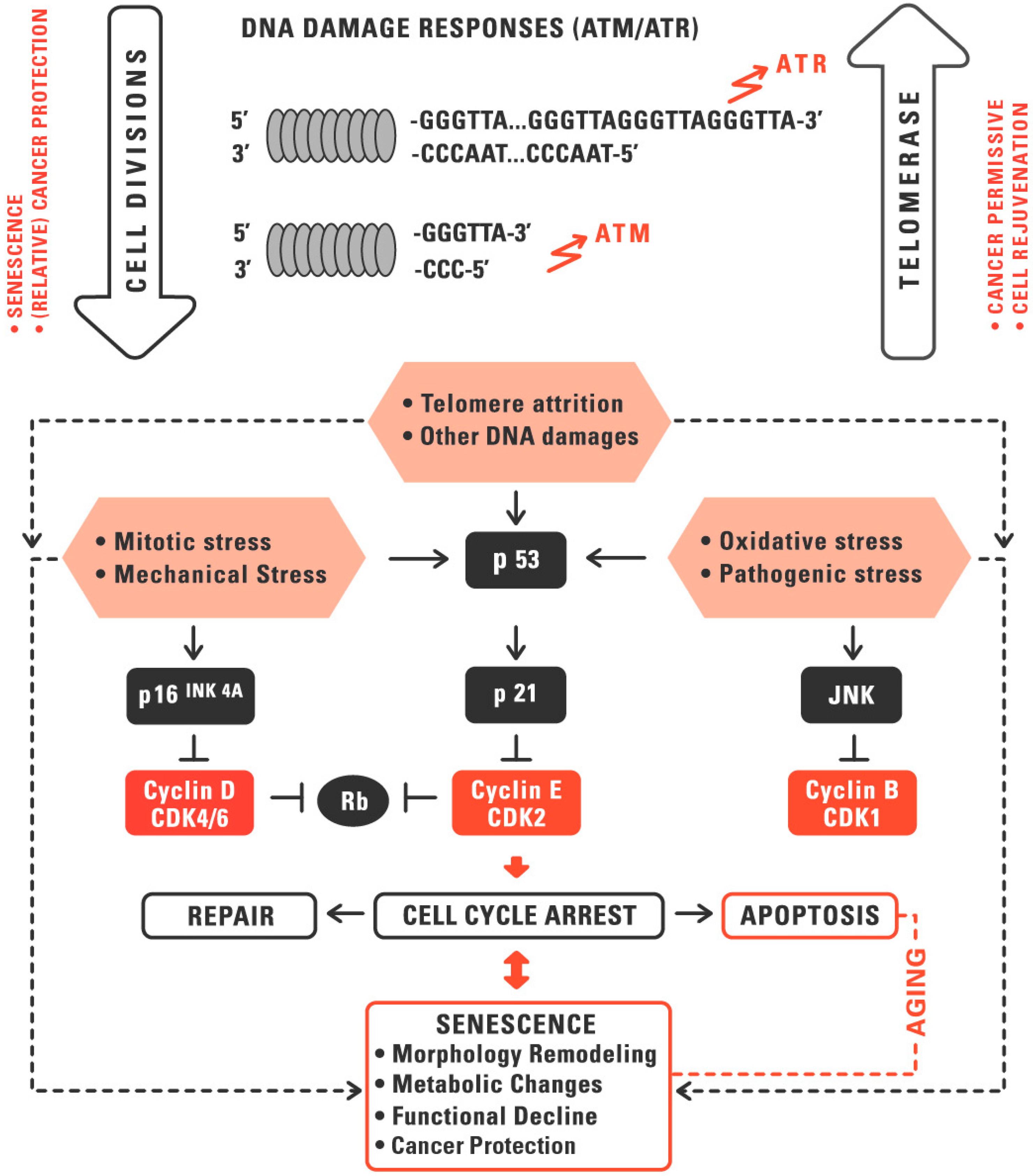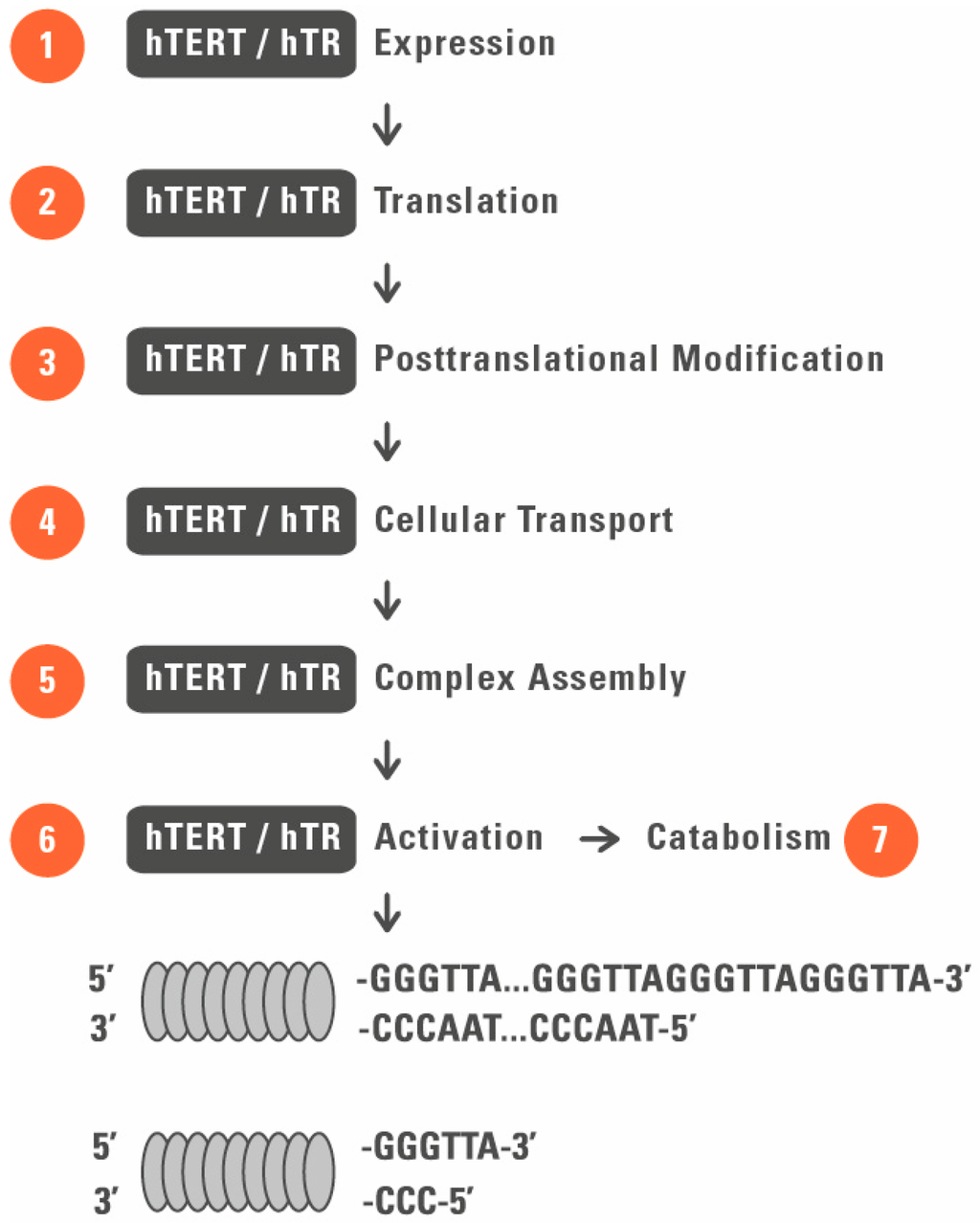 Figure 2. Therapeutic targeting of telomerase. Potential targets of telomerase for antitumor (telomerase suppressing) and rejuvenation (telomerase activation) drugs are shown by numbers 1–7. 1, inhibition/activation of gene transcription; 2, inhibition/activation of protein synthesis; 3, modulation of activity by posttranslational modifications; 4, modulation of telomerase activity by cellular sequestration; 5, interference with telomerase complex assembly; 6, modulation of signaling pathways and molecules involved in enzyme activation, such as Wnt/β-catenin, PI3K/Akt, and mTOR signaling; and 7, modulation of telomerase complex catabolism including vaccine therapy.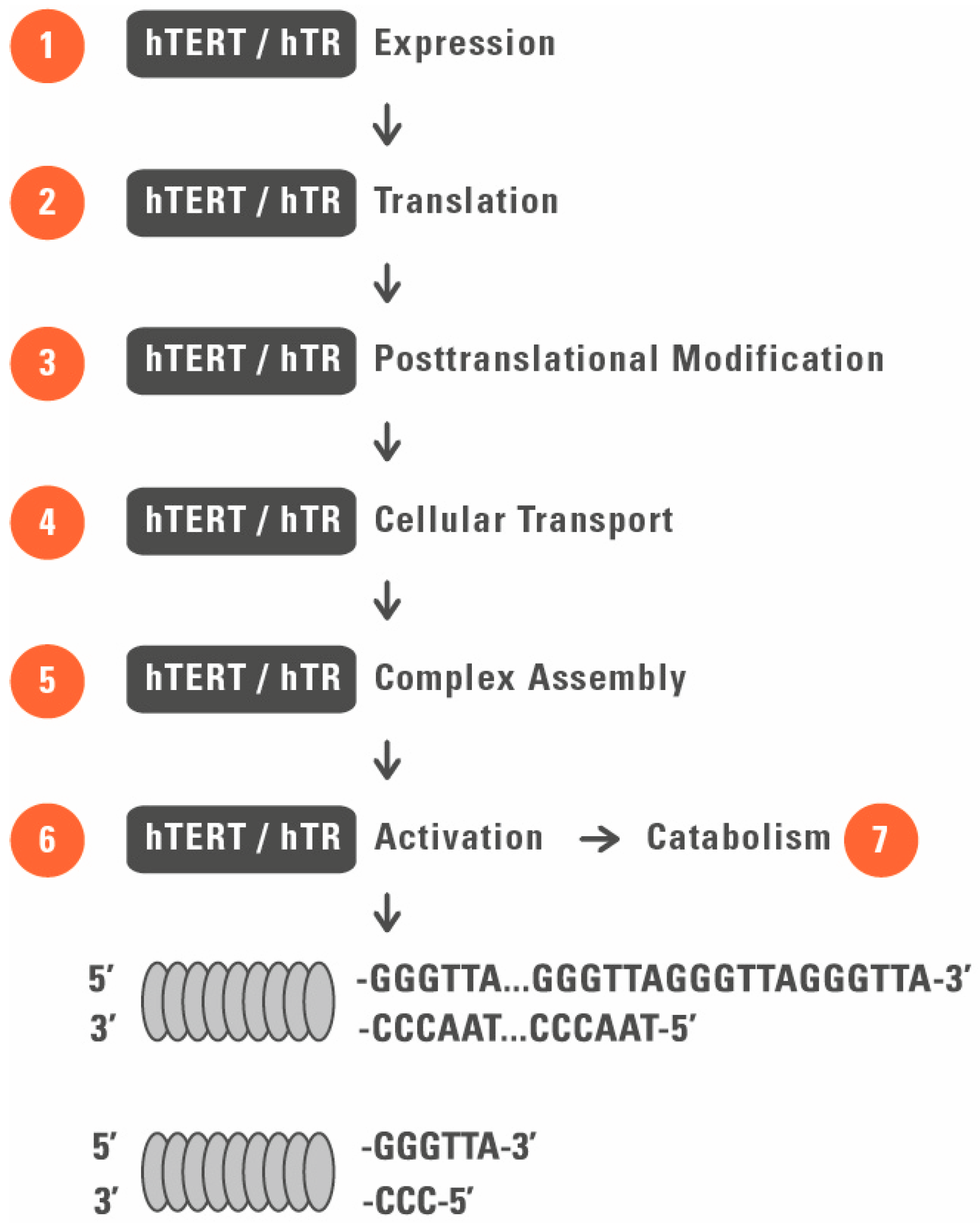 © 2016 by the authors; licensee MDPI, Basel, Switzerland. This article is an open access article distributed under the terms and conditions of the Creative Commons Attribution (CC-BY) license (http://creativecommons.org/licenses/by/4.0/).