Open Access This article is
freely available
re-usable
Review
Gene Therapy: A Paradigm Shift in Dentistry
1
Department of Oral Biology, Bahria University Medical and Dental College, Karachi 75260, Pakistan
2
Department of Biomedical Engineering, College of Engineering, King Faisal University, Al-Hofuf 31982, Saudia Arabia
3
Department of Restorative Dentistry, College of Dentistry, Taibah University, Madina Munawwarrah 41311, Saudi Arabia
*
Author to whom correspondence should be addressed.
Academic Editor: Michael Barry
Received: 28 July 2016 / Accepted: 3 November 2016 / Published: 10 November 2016
Abstract
:
Gene therapy holds a promising future for bridging the gap between the disciplines of medicine and clinical dentistry. The dynamic treatment approaches of gene therapy have been advancing by leaps and bounds. They are transforming the conventional approaches into more precise and preventive ones that may limit the need of using drugs and surgery. The oral cavity is one of the most accessible areas for the clinical applications of gene therapy for various oral tissues. The idea of genetic engineering has become more exciting due to its advantages over other treatment modalities. For instance, the body is neither subjected to an invasive surgery nor deep wounds, nor is it susceptible to systemic effects of drugs. The aim of this article is to review the gene therapy applications in the field of dentistry. In addition, therapeutic benefits in terms of treatment of diseases, minimal invasion and maximum outcomes have been discussed.
Keywords:
gene therapy; pain; cancer; DNA vaccination; bone repair; tooth repair; orthodontic tooth movement
2. Historical Background
The concept of genetic therapy has been known for many decades. The key developments in the field of genetic therapy have been shown in
Table 1
. The idea of transforming principles was introduced by Griffith in 1928 during his experimentation on pneumococcal bacteria. The role of deoxyribonucleic acid (DNA) to purify the transformed genetic products was described in 1944 followed by the idea of transduction through transformation of genetics in bacteria in 1952. During the 1950s and 1960s, researchers focused on understanding the double helix structure and role of DNA for genetic therapy. Further research led to conduction of the first ever human gene therapy trial in 1973. In 1990, the Food and Drug Administration (FDA) approved gene therapy for therapeutic applications in the United States. In the last decade (2001–2010), a number of genetic products such as Gendicine™ (SiBiono GeneTech, Shenzhen, China ) and Cerepro
TM
(Ark Therapeutics Ltd, London, UK) have been developed and approved for therapeutic applications and have become commercially available (
Table 1
). Further research is in progress to develop more products for therapeutic applications focusing particularly on malignant lesions and autoimmune diseases.
3. Applications in Dentistry
Since the introduction of gene therapy for dental applications [
29
], remarkable progress has been made in the field of genetic therapy for a range of applications in dentistry (
Figure 2
). In order to improve the quality of life, gene therapy has promising outcomes for potential treatment for multiple disorders and has been discussed in this review.
3.1. Orofacial Pain
Orofacial pain refers to the pain associated with hard and soft tissues of the face, head and neck region. The pain impulses are conducted through the 5th cranial (trigeminal) nerve to the central nervous system. Due to the diffuse and referral nature, the diagnosis and management of orofacial pain remains a major challenge. Patients commonly seek treatment for common causes of orofacial pain such as temporomandibular disorders (TMD) [
30
].
The orofacial pain may originate from dental hard tissues (pulpitis, hypersensitivity), oral soft tissues (Temporomandibular joint, glands, orthodontic), neurological tissues (neuralgia) and vascular or psychogenic tissues (
Figure 3
). Conventionally, the pain management involves using analgesics [
30
,
31
,
32
] and sedatives [
33
]. Gene therapy is being investigated for improving management of chronic pain by sparing the use of drugs with the associated risk of systemic toxicity, opioid addiction and other side effects [
34
]. The continuous production and secretion of anti-nociceptive proteins in or near spinal dorsal horns may be achieved in two ways. Firstly, the modified adenovirus, adeno associated virus (AAV) or lipid encapsulated plasmids coding for Interleukin-10, a therapeutic protein, may be injected into the sub arachnoid space to transduce the pia mater cells [
35
]. Secondly, a modified herpes virus may be introduced into the nerves of Dorsal Root Ganglia (DRG) via an intradermal injection to the skin. The rationale for using the herpes virus is that it infects nerves, and it therefore has the ability to travel to the DRG via nerve endings in the skin. In the DRG, it codes for an inhibitory neurotransmitter, an anti-inflammatory peptide or decreases the synthesis of an endogenous nociceptive molecule that results in alleviation of pain [
35
,
36
]. At present, the use of gene therapy for alleviation of pain is mainly limited to animal models. Recently, a reduction in trigeminal pain has been reported encoding the human preproenkephalin gene through a herpes simplex vector in a mouse model [
37
]. Gene therapy may offer a dose of hope to the pain therapist in treatment of pain syndromes such as trigeminal neuralgia and temporomandibular joint disorders with improved vector systems in the future [
38
,
39
].
3.2. Carcinomas
Squamous cell carcinoma of the head and neck (SCCHN) region includes cancer of the oral cavity, paranasal sinuses, larynx, pharynx and skin of the head and neck. It is regarded as the 6th most common cancer in the world [
41
]. Genetic disorders are commonly associated with odontogenic tumors [
42
]. The conventional treatment approaches and ongoing advances in surgical, radiotherapy and chemotherapeutic measures for SCCHN did not show any remarkable improvement in the five-year survival rate [
7
].
Gene therapy holds the potential to give exciting treatment results and improved prognosis.
Figure 4
shows various strategies and types of gene therapy approaches used for cancer treatment. It has been seen that the response rate is higher in patients receiving a combination of gene therapy with other conventional treatment modalities. Carcinogenesis occurs by either an overexpression of oncogenes such as Ras, Myc, Bcl-2, ErbB2 or an underexpression or mutation of tumor suppressor genes such as p53, p16, p21, Rb genes [
41
,
43
]. It is also a convenient procedure to carry out due to the ease of access. Injection into the localized tumor mass precludes unwanted side effects on the body and premature degradation of the gene before it reaches the target cells [
3
,
44
]. Currently, there are more than 1000 clinical trials of gene therapy in progress worldwide, out of which more than 700 are related to cancers including 54 for SCCHN [
45
]. The most common viral vectors being used in this regard are adenoviruses and retroviruses [
46
].
In terms of cancer gene therapy, it is vital to consider the following points:
Currently, gene therapy for SCCHN is evolving through clinical trials. Its progression to clinical applications in combination with conventional modalities will make a mark in improving the survival rate of patients, especially those with refractory or recurrent diseases. The treatment of metastatic diseases is, however, challenging due to the risks involved with systemic administration of gene therapy agents.
3.5. Orthodontic Tooth Movements
Orthodontic tooth movement is possible due to remodeling of periodontal ligament and alveolar bone that is controlled by osteoclasts and osteoblasts. Precursors of osteoclasts are hemopoietic cells, whereas osteoblasts originate from stromal cells. Maturation and activation of osteoclasts require interaction with cells from the osteoblastic lineage. The molecules mediating such interactions are the receptor activator of the nuclear factor kappa B (RANK) or receptor activator of nuclear factor kappa-B ligand (RANKL) Osteoclastic precursors express on their surface RANK, the receptor for RANKL that binds and converts them into multinucleated giant cells. Osteoprotegerin (OPG), a soluble receptor produced by osteoblasts, is in competition with the RANK receptor binding to RANKL. Upon binding with RANKL, it inhibits osteoclastogenesis, thus jamming the process of bone resorption. Two significant studies were made by using gene therapy with OPG and RANKL to speed up and impede orthodontic tooth movement in a rat model. Local RANKL gene was transferred to the periodontal tissue, which resulted in accelerated orthodontic tooth movement by approximately 150% after 21 days, without evoking any systemic effects, thereby reducing the time of treatment. It was suggested that Local RANKL gene transfer might be a useful tool not only for shortening orthodontic treatment, but also for moving ankylosed teeth. In contrast to RANKL, local OPG gene transfer inhibited tooth movement by about 50% after 21 days of application of force. This will cause a paradigm shift in orthodontic treatment by reducing treatment time with improved results [
58
]. In addition, gene therapy has shown promising results for controlling the pain of orthodontic tooth movement [
32
]. Further research may result in the development of gene therapy therapeutic products that can be prescribed in the future to control the pain of orthodontic tooth movement.
3.6. Tooth Repair and Regeneration
Tissue engineering has been developed for the regeneration and repair of tissues Research has reported promising outcomes for the tissue engineering of various oral and dental tissues [
53
,
75
]. Gene therapy presents an attractive concept of restoring the oral tissues lost due to caries, periodontal diseases and trauma. This could widen the scope for development of new teeth—the biological implants for missing teeth. This makes use of the two basic approaches including in vivo and ex vivo gene therapy. In vivo gene therapy, the healing potential of tissues such as dentine pulp complex, is enhanced by genes stimulating dentine formation after being applied directly on the exposed dental pulp [
76
]. Many people have supernumerary teeth that arise from the third set of dentition. This third dentition can also be induced to form teeth in a natural way by turning on or activating genes which code for proteins and signaling molecules making up the basic structure of teeth [
77
].
The ex vivo gene therapy is based on multipotent dental stem cells that have the potential to differentiate into any tissues including dental tissues. Their sources include dental pulp, apical papilla, dental follicles, deciduous teeth, and periodontal ligaments. Stem cell based genetically engineered cells are cultured, modified or transfected, and then re-implanted back into the recipient. Successful regeneration of the periodontal attachment apparatus including alveolar bone and cementum has been accomplished using a combination of stem cells engineered by the adenovirus to express the BMP-2 gene [
78
]. Transfected pulp stem/progenitor cells can also differentiate into odontoblasts, which are then transplanted on the exposed pulp [
76
]. Similarly, a tooth germ can be created in vitro or ex vivo with a culture of epithelial and mesenchymal stem cells. The tooth germ is implanted into the alveolar bone to develop into a fully functional, non-metal tooth implant [
79
]. Scientists are discovering the 20 basic proteins that are essential in tooth development. The gene therapy has shown to control the differentiation of stem cells [
80
]. For instance, the repetitive administration of gene therapy decreases as stem cells have the ability to self-renew. Recently, promising results have been reported for cartilage tissue engineering using a gene expression system [
81
]. A combination of various vectors of osteogenic genes has been added to bone tissue engineering scaffolds. In addition, osteogenic genes are reported to promote the cellular differentiation and bone formation using tissue engineering approaches [
82
].
4. Conclusions
Gene therapy has emerged as an active area of research for a range of biomedical and dental applications. Considering the exponential rise in reported cases of oral squamous cell carcinoma and periodontal diseases, gene therapy is expected to be a very useful tool for the management of oral diseases and improving the prognosis and quality of life. The successful outcomes of human clinical trials in recent years have ignited hopes for clinicians for the progression of gene therapy to practical applications very soon. Although previous research has reported very favorable results, additional in vivo studies and clinical trials are essential before translating the gene therapy to clinical applications for oral and dental conditions.
Irrespective of plenty of active research and ongoing clinical trials, there are a number of limiting factors such as technique sensitivity, identification of related genes and vectors, delivery of genes at the site of action and duration of action. Additionally, the transfer of a large amount of genes into many cells is crucial to achieve the desired therapeutic effect and may not be cost-effective. In addition, there are ethical and safety issues for using gene therapies in humans; only somatic cell gene therapy is allowed at present. Many disorders, especially cancers, emanate from mutations of more than one gene. Researchers have yet to unravel the genetic basis of such diseases in order to tailor a more precise cellular therapy. Improved and efficient vector systems with reduced toxicity and a higher transfection rate are instrumental in successful treatment and good prognosis. Research should be channelized into discovering ways to overcome these challenges that limit gene therapy from becoming a mainstream treatment modality. This can be expected to overcome the obstacles associated with the clinical applications of gene therapy in the near future. Further research and developments will direct a new dimension with dentists emerging as "gene therapists" and excelling in repairing alveolar bone defects and treating oral cancer in the clinical setups.
Author Contributions
Nida Siddique and Hira Raza conducted the primary literature search and drafted the majority of this manuscript. Sehrish Ahmed helped in writing the manuscript and drafting figures. Zohaib Khurshid and Muhammad Sohail Zafar prepared tables, constructed the illustrations and critically reviewed the manuscript.
Conflicts of Interest
The authors declare no conflict of interest.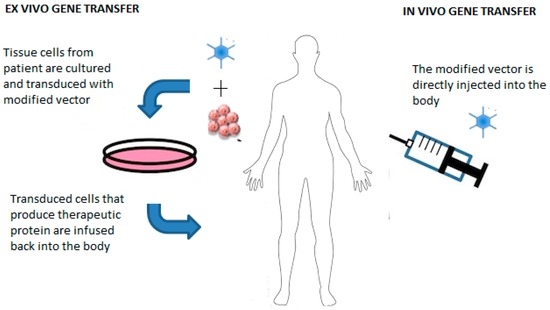 Figure 1. Schematic presentation of various approaches used for the delivery of vectors and genes for genetic therapy.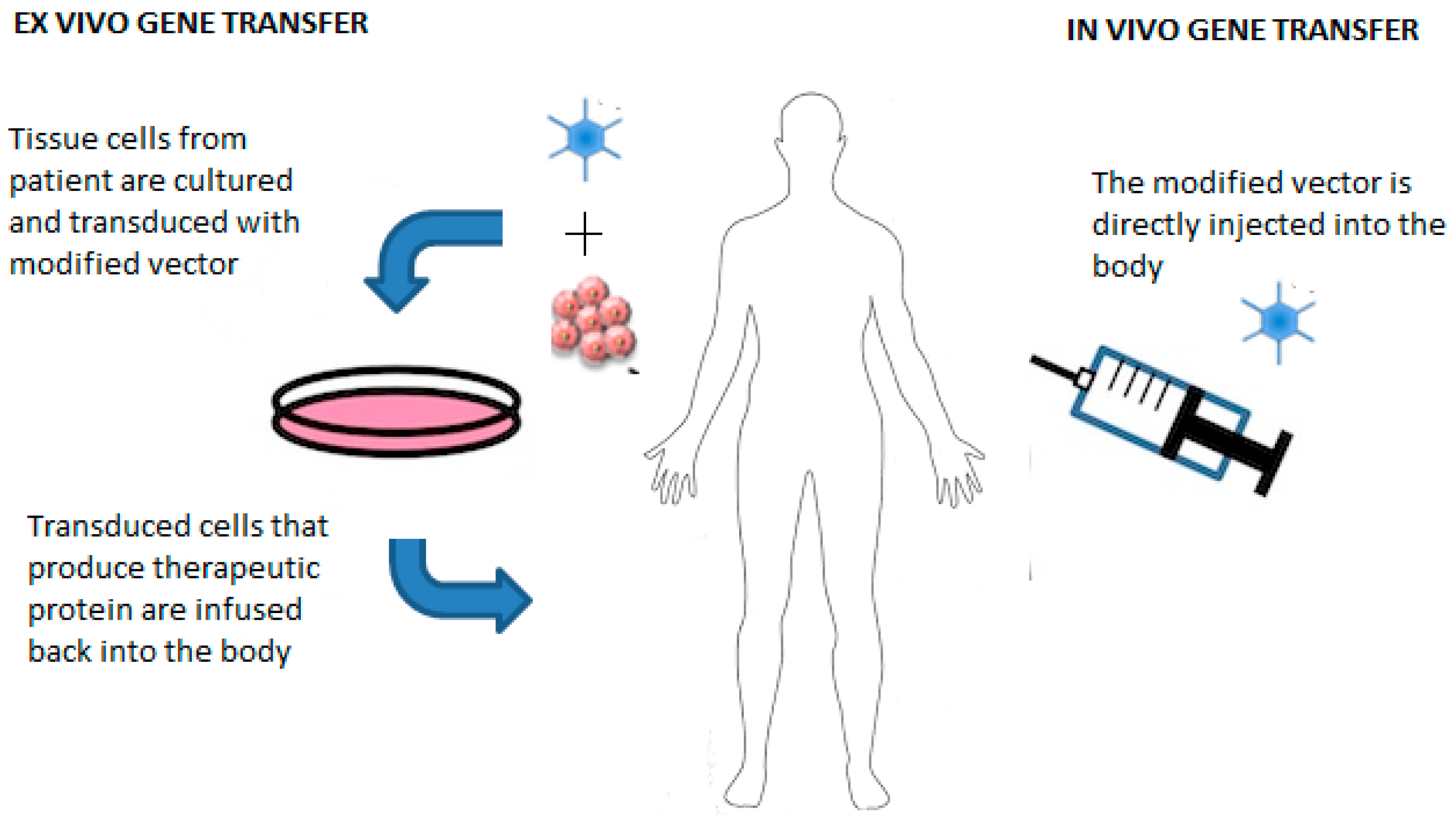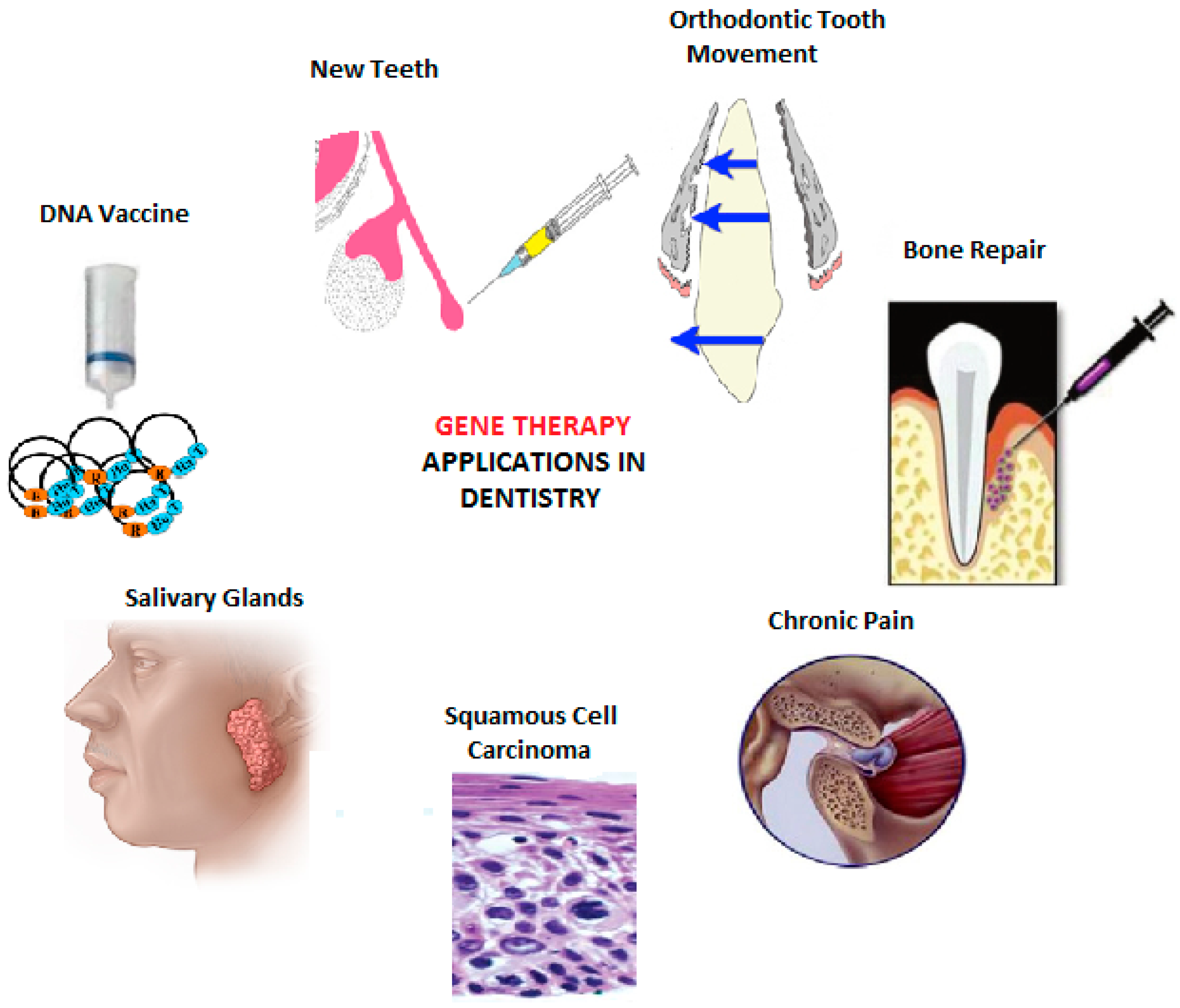 Figure 3.
Common causes of pain in the oral, dental and facial tissues [
40
].

Table 1. Chronological advancements in gene therapy approaches.

| Year | Key Advancements | Ref. |
| --- | --- | --- |
| 1928 | Griffith′s experiments with pneumococcal bacteria and introducing transforming principles | [17] |
| 1944 | Purification of transforming substance; first reported deoxyribonucleic acid (DNA) causes the transformation | [18] |
| 1952 | Transduction (transfer of genetic through bacteria) was introduced for the first time | [19] |
| 1953 | Double helix structure of DNA was described | [20] |
| 1961 | It was reported that viral infections can inherit genetic mutations | [21] |
| 1962 | First ever DNA-mediated heritable transformation of a biochemical trait | [22] |
| 1973 | First gene therapy trial conducted in humans | [23] |
| 1989 | Reported gene transfer in humans | [24] |
| 1990 | FDA approved gene therapy trial in humans for therapeutic applications. | [2] |
| 1995 | Gene therapy introduced for dental applications | [4] |
| 1999 | Jesse Gelsinger died during a clinical trial of gene therapy | [25] |
| 2003 | China approved gene therapy for clinical applications | [2] |
| 2005 | Gendicine™ (an adenoviral vector) approved for the treatment of squamous cell carcinoma | [26,27] |
| 2009 | Cerepro® (an adenoviral vector) gene therapy for the treatment of malignant brain tumors | [28] |
| 2012 | A gene therapy product (Glybera) that is an adeno-associated viral vector was recommended for the European Union | [2] |
© 2016 by the authors; licensee MDPI, Basel, Switzerland. This article is an open access article distributed under the terms and conditions of the Creative Commons Attribution (CC-BY) license (http://creativecommons.org/licenses/by/4.0/).