Open Access This article is
freely available
re-usable
Review
The SaeRS Two-Component System of
Staphylococcus aureus
1
Department of Laboratory Medicine, Ren Ji Hospital, School of Medicine, Shanghai Jiao Tong University, Shanghai 200127, China
2
Department of Microbiology and Immunology, Indiana University School of Medicine‐Northwest, Gary, IN 46408, USA
*
Author to whom correspondence should be addressed.
Academic Editor: Helen J. Wing
Received: 18 August 2016 / Accepted: 23 September 2016 / Published: 3 October 2016
Abstract
:
In the Gram-positive pathogenic bacterium
Staphylococcus aureus
, the SaeRS two-component system (TCS) plays a major role in controlling the production of over 20 virulence factors including hemolysins, leukocidins, superantigens, surface proteins, and proteases. The SaeRS TCS is composed of the sensor histidine kinase SaeS, response regulator SaeR, and two auxiliary proteins SaeP and SaeQ. Since its discovery in 1994, the
sae
locus has been studied extensively, and its contributions to staphylococcal virulence and pathogenesis have been well documented and understood; however, the molecular mechanism by which the SaeRS TCS receives and processes cognate signals is not. In this article, therefore, we review the literature focusing on the signaling mechanism and its interaction with other global regulators.
Keywords:
Staphylococcus aureus
; Two-component system; Virulence factors; Bacterial histidine kinase
Acknowledgments
This study was, in part, supported by NIH (AI121664) to TB and the National Natural Science Foundation of China (grant 81501803) and the Shanghai Committee of Science and Technology, China (grant 14ZR1424600) to QL.
Author Contributions
Q.L., W.Y., and T.B. equally contributed to the conception, design, and writing of this manuscript.
Conflicts of Interest
The authors declare no conflict of interest. The funding sponsors had no role in the design of the study, in the collection, analyses, or interpretation of data, in the writing of the manuscript, and in the decision to publish the results.
Abbreviations
The following abbreviations are used in this manuscript:
| | |
| --- | --- |
| TCS | Two-component system |
| SBS | SaeR binding sequence |
| HK | Histidine kinase |
| SaeRDB | The DNA binding domain of SaeR |
| LTA | Lipoteichoic acid |
Appendix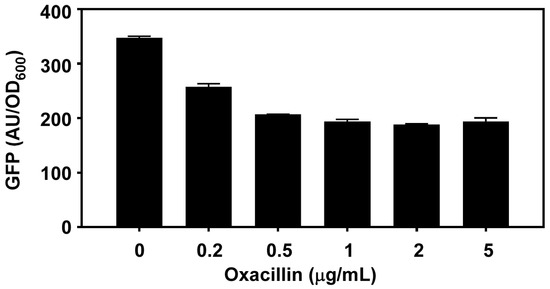 Figure A1.
Effect of oxacillin on P1 promoter activity.
Staphylococcus aureus
USA300 carrying P1-GFP reporter plasmid [
42
] was grown in 150 µL TSB at 37 °C until mid-exponential growth phase. After addition of oxacillin to the concentration indicated, the culture was further incubated for 2 h at 37 °C, and OD
600
and GFP expression were measured (Enspire, Perkin Elmer, Waltham, MA, USA). AU, arbitrary unit.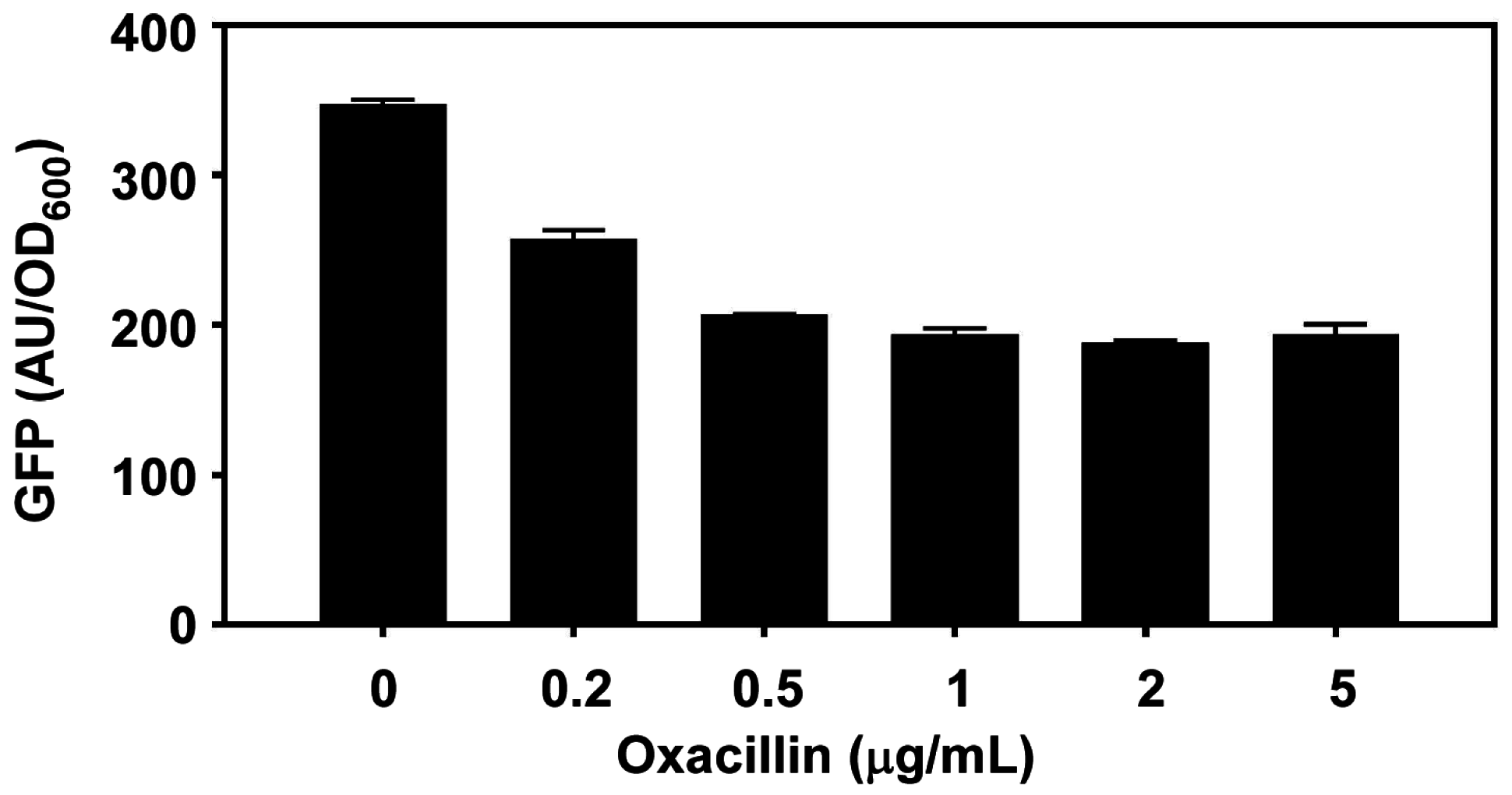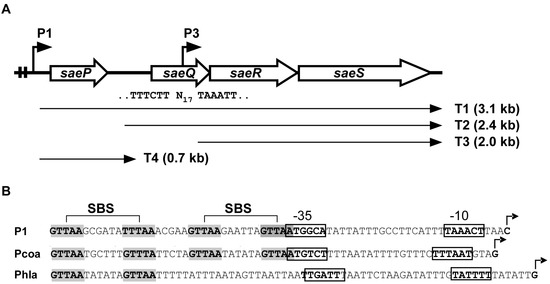 Figure 1.
The
sae
operon. (
A
) Organization of the
sae
operon. Two angled arrows represent the P1 and P3 promoters, respectively. Two vertical lines in the P1 promoter region indicate the SaeR binding sequences (SBSs). The nucleotide sequence of the P3 promoter is shown under
saeQ,
where N
17
= 17 nucleotides. Four transcripts (T1–T4) are indicated by arrows; (
B
) DNA sequences of select
sae
target promoters. The SBSs are shown in gray. Transcription start sites are indicated by angled arrows. The promoter sequences are shown in boxes. Pcoa, the promoter of coagulase (
coa
); Phla, the promoter of α-hemolysin (
hla
).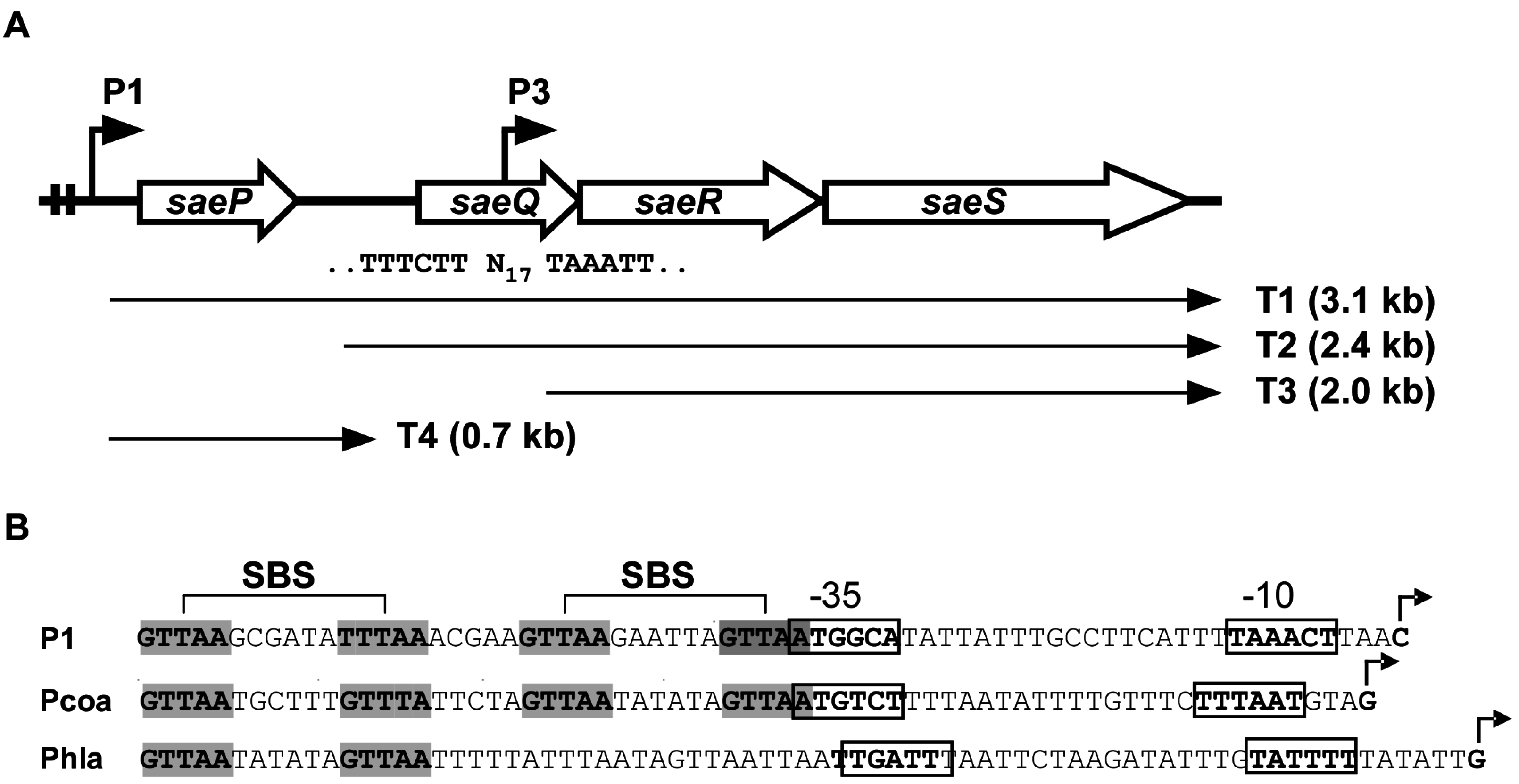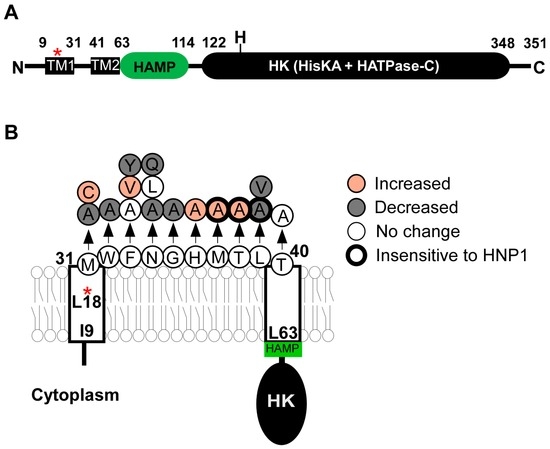 Figure 2. The SaeS protein. (A) The domain structure of SaeS. The numbers represent the boundary amino acids. The red star indicates the L18P mutation of SaeS in the strain Newman. N,N-terminus; H, His 131; C,C-terminus; TM, transmembrane helix; HK, histidine kinase; (B) A summary of mutations in the transmembrane domain of SaeS. Increased, Increased basal kinase activity; Decreased, Decreased basal kinase activity; No change, No effect on the basal kinase activity; Insensitive to HNP1, Kinase activity does not respond to HNP1. The positions of amino acids are all predictions.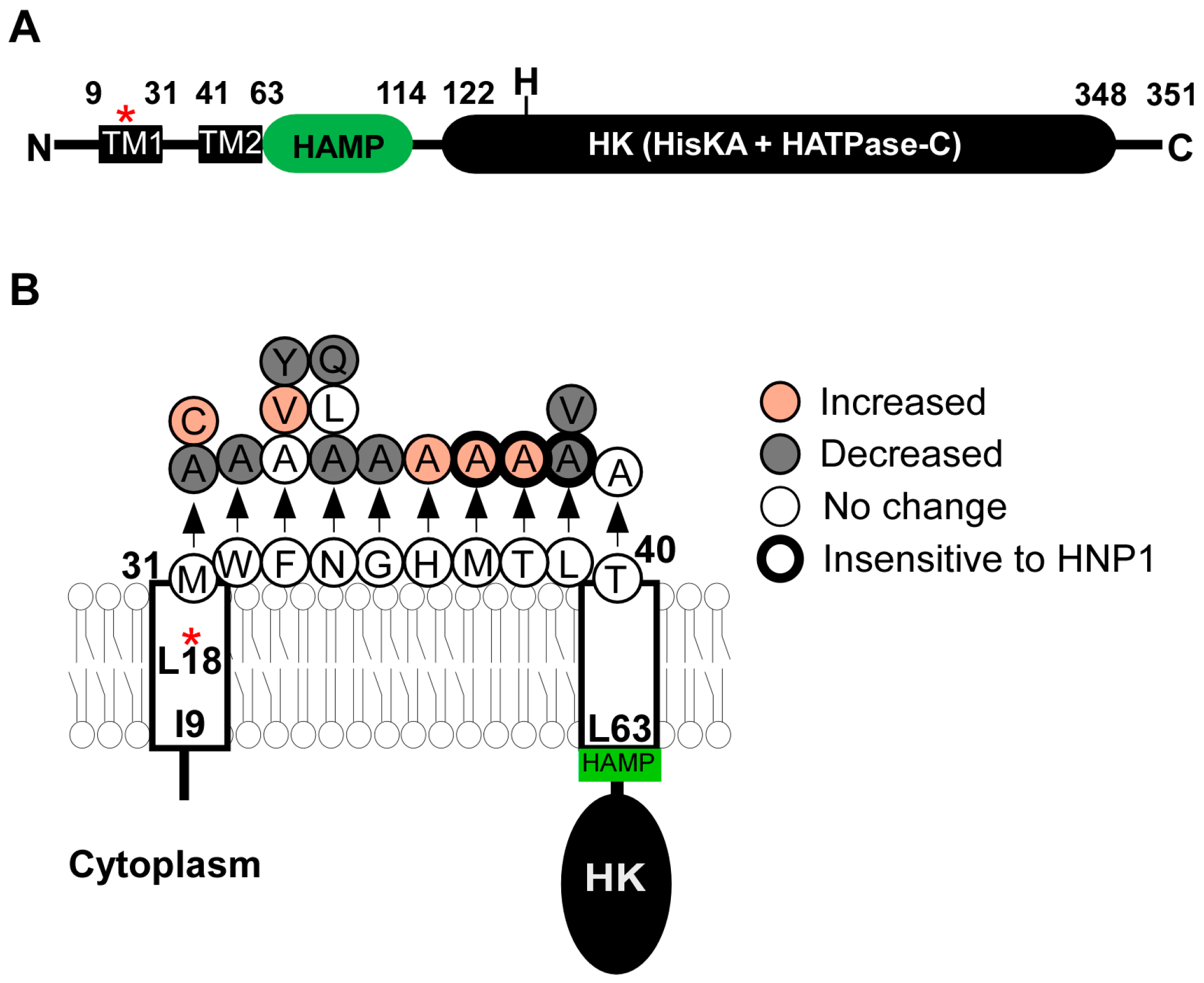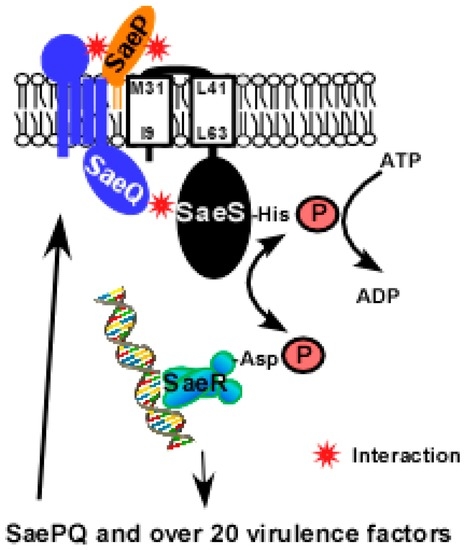 Figure 4.
A model for SaePQS interaction. Upon exposure to the inducing signal(s), SaeS autophosphorylates the conserved His residue with ATP; then the phosphoryl group is transferred to the conserved Asp residue of SaeR. The phosphorylated SaeR binds to its binding sequence and activates transcription from target promoters including the
sae
P1 promoter. From
sae
P1, SaeP and SaeQ are produced and bind to SaeS in the membrane. As a lipoprotein, SaeP is expected to interact with the extracellular linker peptide of SaeS. On the other hand, SaeQ is thought to interact with the cytoplasmic domain of SaeS [
22
]. The interacting parts of SaePQS are based on predictions.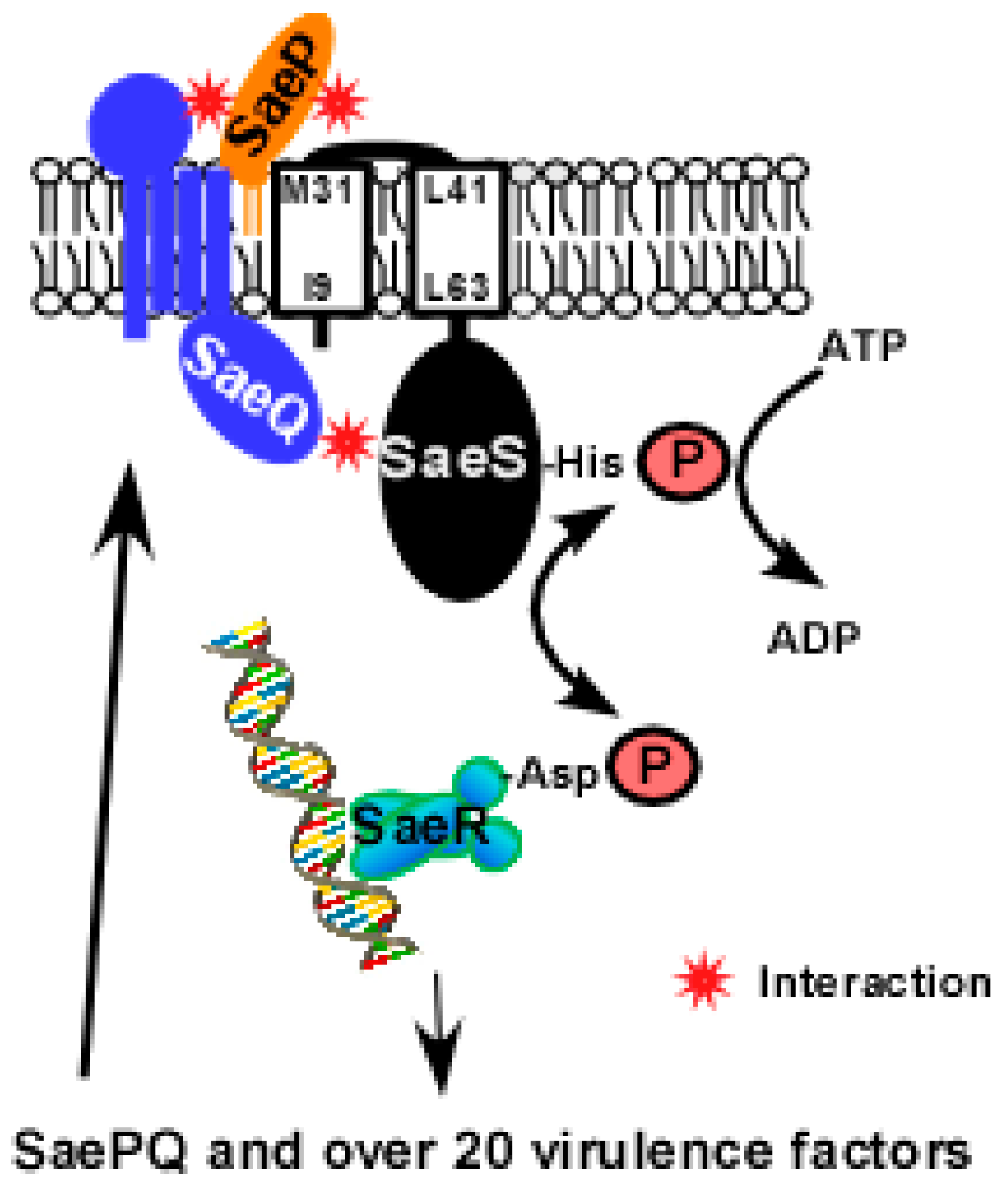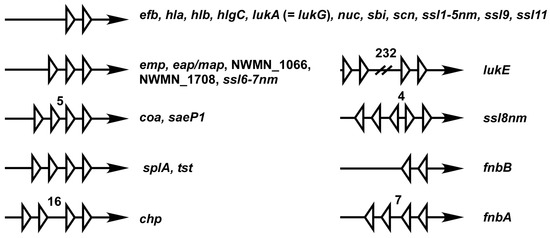 Figure 5.
Organization of SBSs in the
sae
target gene promoters. Each white triangle represents a half of the SaeR binding sequence. Arrows represent promoter region pointing the direction of transcription. Unless stated otherwise, the distance between each half binding sequence is 6 bp. Numbers are base pairs of the gap between the half-binding sites.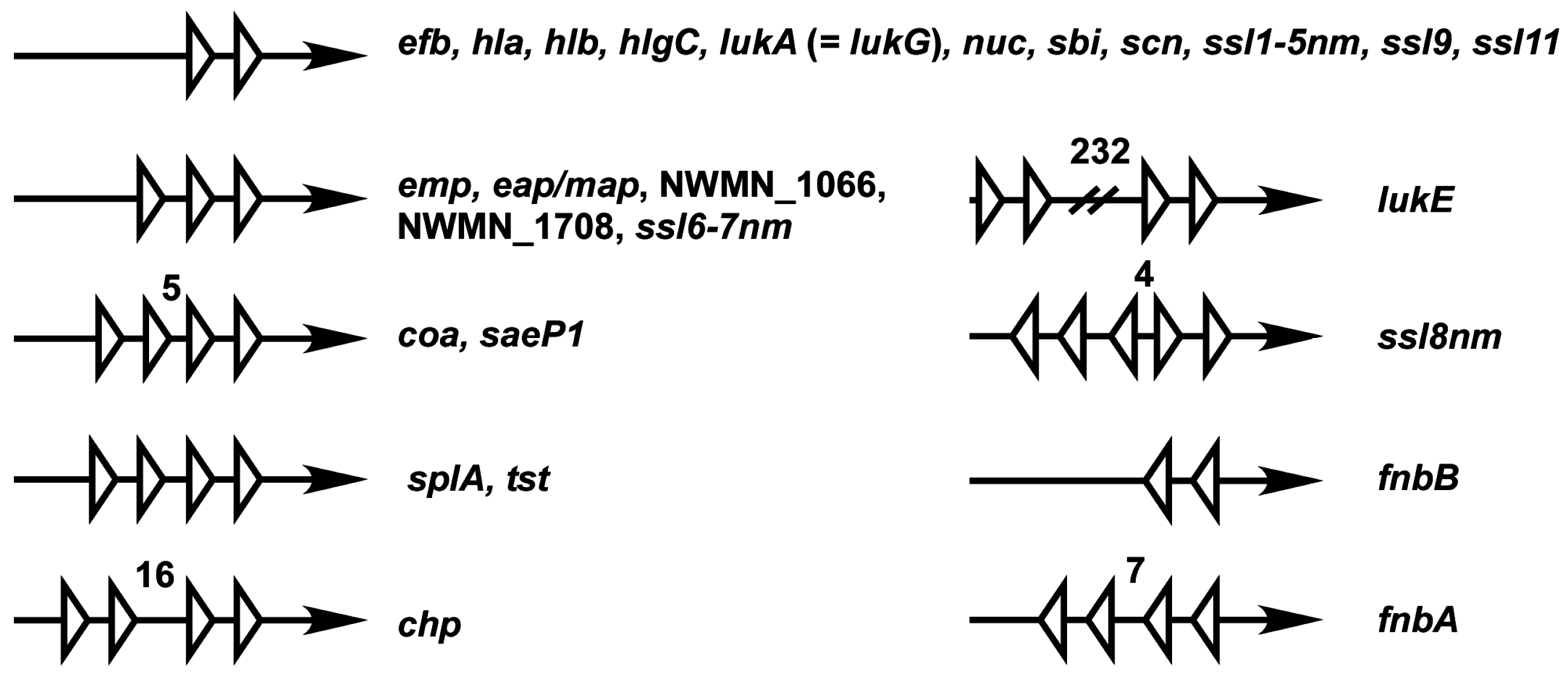 Table 1. Direct targets of the SaeRS TCS.
Locus ID 1
Name
Product
SaeR Binding Sequence
Evidence 2
References 3
NWMN_0166

coa

coagulase
GTTAATGCTTTGTTTA
GTTAATATATAGTTAA
EMSA, MA, NB, RA
[21,48,63,64,65]
NWMN_0388

ssl1nm

enterotoxin-like toxin
GTTAAATGAGGTTTAA
2D
[66]
NWMN_0389

ssl2nm

enterotoxin-like toxin
GTTAAAAACAGGTTAA
2D
[66]
NWMN_0390

ssl3nm

enterotoxin-like toxin
GTTAAAAGGGGTTTAA
NWMN_0391

ssl4nm

enterotoxin-like toxin
GTTAAACAAGGTTTAA
NWMN_0392

ssl5nm

enterotoxin-like toxin
ATTAAACATGGTTTAA
MA, RT
[65,67]
NWMN_0393

ssl6nm

enterotoxin-like toxin
GTTCAAAAATAGTTAA
GTTAAAAAGAGGTTAA
NWMN_0394

ssl7nm

enterotoxin-like toxin
GTTCAAAAATAGTTAA
GTTAAAAAGAGGTTAA
EMSA, 2D, WB
[39,66]
NWMN_0395

ssl8nm

enterotoxin-like toxin
GTTAATGAAGAGCTAA
CTTAAATCATTGTTAA
ATTAAACGAGTGTTAA
RT
[67]
NWMN_0396

ssl9nm

enterotoxin-like toxin
ATTAAAAATCAGTTAA
EMSA, WB
[39]
NWMN_0400

ss11nm

enterotoxin-like toxin
ATTAATTTTTAGTTAA
EMSA, 2D, WB
[39,66]
NWMN_0677

saeP

SaeP protein
GTTAAGCGATATTTAA
GTTAAGAATTAGTTAA
EMSA, MA, NB, RA
[15,19,48]
NWMN_0758

ssr/emp

extracellular matrix binding protein
GTTAAGACAACGTTTA
GTTTACTTCAAGTTAA
1D, MA, RA
[48,68,69]
NWMN_0760

nuc

nuclease
ATTAAATTTTTATTAA
EMSA, 2D, MA, RA,WB
[33,48,66]
NWMN_1066
fibrinogen-binding related protein
ATTAATGTTTAGTTAA
GTTAATAAATAGTTAA
MA
[48,65]
NWMN_1069

efb

similar to fibrinogen binding protein
ATTAATAATTAGTTAA
MA
[48,65]
NWMN_1073

hla

α-hemolysin
GTTAATATATAGTTAA
EMSA, MA,RA
[21,48,64,65]
NWMN_1706

splA

serine protease
TTTAATAAAACGTTAA
GTTAATTAATATTTAA
2D
[66]
NWMN_1708
homologous to ear
GTTAATAGATAGTTAA
GTTAATACATTTTTGA
NWMN_1719

lukE

leukocidin LukE
TTTAATGAACAGTTAA
GTTAATAATCAGTTAA
[27]
NWMN_1872

map/eap

MHC class II analog protein
ATTAATATTCAGTTAA
1D, NB, RA
[27,32,68,69]
NWMN_1873

hlb

β-hemolysin (truncated)
ATTAACTGAATATTAA
MA,NB
[12,21,65]
NWMN_1876

scn

staphylococcal complement inhibitor
GTTAATGAATAATTAA
RA
[70]
NWMN_1877

chp

chemotaxis-inhibiting protein
TTTAATTTTTAGTTAA
ATTAATTTCAAGTTAA
1D, MA,RA
[27,48,70]
NWMN_1928

lukA

(

lukG

)4
leukocidin LukA (LukG)
TTTAATAAATAGTTAA
1D, MA
[27,65,71,72]
NWMN_2317

sbi

IgG binding protein
GTTAATAATTAGTTAA
1D, MA
[21,48]
NWMN_2319

hlgC

γ-hemolysin component C
GTTAATGAACAGTTAA
1D, MA
[27,48,65]
NWMN_2397

fnbB

fibronectin binding protein B
GTTAATAAAAAGTTAA
MA
[48,65]
NWMN_2399

fnbA

fibronectin binding protein A
GTTAATGAAAAGTTAA
ATTAATTTTATGTTAA
NB,WB
[19,21]
SA1819

tst

toxic shock syndrome toxin
ATTAATATATATTTAA
ATTTAGAGATGGTTAA
EMSA,1D,RA,RT
[73]
Possible targets
NMTN_0095

capA

capsular polysaccharide synthesis enzyme
GTTTAAAAGTAATTAA
NWMN_0157
conserved hypothetical protein
ATTAATAAATAGTTAA
-
NWMN_0362
hypothetical protein
GTTAATCAAGAGTTAA
GTTAAGATGAATTTAA
-
NWMN_0403

lpl1nm

lipoprotein
TTTAATAAATAGTTAA
-
NWMN_1533

his

histidyl-t-RNA synthetase
GTTAAACGTACGTTAA
-
NWMN_1880

sak

5
staphylokinase
GTTAAATATTTGTTAA
GTTAATTATTTTTTAA
[12,70]
NWMN_2536

aur

zinc metalloproteinase aureolysin
TTTAAAATATAATTAA
[24,66,74].
NWMN_2592
2-oxoglutarate/malate translocator
GTTAACAACACGTTAA
-
1 Based on the genome of the strain Newman except for

tst

, which is from the strain N315; 2 1D, SDS-PAGE; 2D, 2D gel electrophoresis; EMSA, Electrophoretic mobility shift assay; MA, Microarray analysis; NB, Northern blot; RA, Reporter assay; RT, RT-PCR; WB, Western blot; 3 Only select references are shown; 4 Although NWMN_1928 is annotated as

lukS

in Newman genome sequence, it was renamed to

lukA

(

lukG

) [71,72]; 5 Although

sak

contains a perfect SBS, according to the references, the transcription of

sak

is not significantly affected by

sae

mutation.
© 2016 by the authors; licensee MDPI, Basel, Switzerland. This article is an open access article distributed under the terms and conditions of the Creative Commons Attribution (CC-BY) license (http://creativecommons.org/licenses/by/4.0/).