Open Access This article is
freely available
re-usable
Review
Modeling Fragile X Syndrome Using Human Pluripotent Stem Cells
Stem Cell Research Laboratory, Medical Genetics Institute, Shaare Zedek Medical Center Affiliated with the Hebrew University School of Medicine, Jerusalem 91031, Israel
*
Author to whom correspondence should be addressed.
Academic Editor: Mark Hirst
Received: 26 July 2016 / Accepted: 12 September 2016 / Published: 28 September 2016
Abstract
:
Fragile X syndrome (FXS) is the most common heritable form of cognitive impairment. It results from a loss-of-function mutation by a CGG repeat expansion at the 5′ untranslated region of the X-linked
fragile X mental retardation 1 (FMR1)
gene. Expansion of the CGG repeats beyond 200 copies results in protein deficiency by leading to aberrant methylation of the
FMR1
promoter and the switch from active to repressive histone modifications. Additionally, the CGGs become increasingly unstable, resulting in high degree of variation in expansion size between and within tissues of affected individuals. It is still unclear how the FMR1 protein (FMRP) deficiency leads to disease pathology in neurons. Nor do we know the mechanisms by which the CGG expansion results in aberrant DNA methylation, or becomes unstable in somatic cells of patients, at least in part due to the lack of appropriate animal or cellular models. This review summarizes the current contribution of pluripotent stem cells, mutant human embryonic stem cells, and patient-derived induced pluripotent stem cells to disease modeling of FXS for basic and applied research, including the development of new therapeutic approaches.
Keywords:
fragile X syndrome;
FMR1
gene; FMRP; human embryonic stem cells; disease modeling; patient-derived iPS cells; epigenetics; repeat somatic instability; neurodevelopment
1. Introduction
This review summarizes the current contribution of mutant PSCs, hESCs and patient-derived iPSCs to research of FXS. For each we summarize the currently available stem cell based models, highlight how they have contributed to better understanding of the related mechanism, their limitations and the ways in which they can be utilized in future investigations.
2. Exploring the Epigenetics of FXS
3. CGG Repeat Instability
4. Neurological Pathology in FXS Neurons Derived from hPSC
FMRP is ubiquitously expressed in the body, but is most abundant in the brain and testes. It interacts with approximately 4% of all mRNA species in the brain and is responsible for transporting them out of the cell nucleus to the synapses of neurons [
97
]. Most of these mRNA targets have been found to be located in the dendrites of neurons, thus providing a good explanation as to why abnormal dendritic spines are typically observed in FXS patients. FMRP has been implicated in several signaling pathways including the metabotropic glutamate receptor (mGluR) [
98
,
99
], dopamine and the gamma-Aminobutyric acid (GABA) associated pathways [
100
,
101
], important mechanisms in learning (mGluR and GABA), memory (mGluR) attention deficit and hyperactivity (dopamine).
Based on numerous studies on FXS aborted fetuses [
50
,
102
], FMRP is known to be still expressed, at least in part, in FXS fetuses during the first trimester, when most brain development takes place. Close to the start of the second trimester,
FMR1
epigenetic gene silencing occurs and FMRP is turned off. The absence of FMRP from that point on during development eventually leads to intellectual impairment, the clinical phenotype of FXS [
103
,
104
,
105
]. A long-standing unanswered question in the fragile X field relates to how the loss-of-function of FMRP causes FXS. In addition, there are questions as to precisely when FMRP expression becomes totally lost. In an attempt to address both of these issues, researchers have used brain samples obtained from aborted FXS fetuses [
106
,
107
]. These studies led to conflicting results, encouraging scientists to generate disease animal models to monitor the developmental regulated processes in FXS embryos. Both knockout and transgenic knockin mouse models for FXS have been created [
15
,
16
,
18
,
20
,
22
], but although
FMR1
knockout mice have been extremely informative for studying the clinical pathology of FMRP deficiency, they fail to recapitulate the course of the disease in a developmentally regulated context because they are FMRP protein deficient from day 1 [
108
]. On the other hand, when a human transgene of CGGs (PM range) was targeted into the 5′-UTR of
FMR1
by homologous recombination, the PM rarely expanded into the full mutation range in the offspring, and when it did, it often contracted and manifested almost no aberrant methylation, leaving the
FMR1
gene active [
23
]. These crucial issues underscore the need for complementary model systems that can reproducibly copy the underlying mechanisms of FXS. One approach would be to establish mutant PSCs, hESCs or patient-derived iPSCs, that are induced to differentiate into neural precursors (NPCs) and mature neurons in culture. In this respect, mutant PSCs may provide a great opportunity to track the timing and consequences of FMRP suppression by affording the exploration of disease relevant tissues and/or developmental stages that are otherwise inaccessible to research. Thus far, only a limited amount of work has been carried out on the neurological facets of the disease using mutant PSCs as a model system. The first attempt to use such cell types to generate post mitotic neurons and glia cells was by Sheridan et al. [
38
], who established iPSCs from a mosaic patient with PM and FM alleles. They created
FMR1
expressing (PM) and un-expressing (FM) isogenic iPSC clones, and compared their neural differentiation properties. Whereas FM iPSCs (methylated and inactive
FMR1
) exhibited fewer
Tuj1
-positive cells and shorter branch processes, in glial cells no clear difference could be detected between PM and affected clones. However, since
FMR1
is already inactive from the start in the FXS iPSCs, it may not properly reflect the molecular cascade that leads to the pathology as it occurs in vivo. On the other hand, using three different male FXS hESC lines as a substitute for patient-derived iPSCs, Telias et al. were able to generate electrophysiologically active cells using a differentiation protocol that enhanced the formation of fully developed neurons [
44
]. Although FXS neurons were able to create neuronal networks and showed no difference in voltage clamp recordings, significant differences in action potential properties such as spike rise time, duration, and spike number for a single depolarization event were detected. Importantly, these functional defects were detected only at the end stage of differentiation, and were coupled with the formation of fewer synaptic vesicles, a lack of spontaneous synaptic activity and reduced amplitudes of the action potentials [
44
,
109
]. By contrast, when FXS iPSCs were differentiated into forebrain neurons, researchers were able to show a clear reduction in the number and length of extensions as early as the neurite stage. Using time-lapse imaging of individual growth cones from control and FXS forebrain neurospheres, it was suggested that unlike in FXS hESCs, neurite initiation and extension are defective [
35
]. This may imply that the difference between FXS hESCs and iPSCs in the timing of epigenetic silencing of
FMR1
may be crucial for investigating the neural phenotype of the disease, since FXS iPSCs neurons are likely to present a more drastic phenotype than their FXS hESCs counterparts. On the other hand, as disease severity is fairly heterogeneous among patients, the expected phenotype may be highly variable between the different cell lines. This should be taken into account when trying to assess pathogenesis, and could be addressed by defining standard criteria for differentiation, and by verifying loss-of-function of the FMRP protein at equivalent differentiation stages.
Regarding the molecular mechanisms that are involved with impaired neurogenesis of FXS, it is hard to point to major downstream targets/specific pathways that play a central role in disease pathology since FMRP, as mentioned earlier, has many (hundreds to thousands [
110
]) downstream gene targets. This is why we still have almost no information on the key players that contribute to the major defects in FXS. In fact, only a handful of studies have been able to define potential gene candidates, and so far, none have been mechanistically confirmed. One such example is
RE1 Silencing Transcription Factor
(
REST
), which functions to repress neural genes in non-neuronal tissues. It is thought to be a master regulator in neurogenesis. By comparing gene expression in WT and affected FXS iPSCs, Halevy et al. provided a list the downregulated genes responsible for axon guidance that are typically controlled by
REST
[
111
]. Interestingly,
REST
itself is upregulated in FXS iPSC-derived neurons, most likely by the increase in
mir-382
mRNA levels. Rescue experiments by overexpression of
mir-382
in FXS iPSCs-derived neurons reduced elevated levels of
REST
and restored axon guidance related gene expression. A full characterization of the in vitro derived neurons in terms of subtype and degree of maturation were not reported. Another candidate is the SOX family of transcription factors, and in particular
SOX9
and
SOX2
, which are known for their key role in neurogenesis and are both highly expressed in NPCs [
112
,
113
]. By comparing expressions of mature in vitro differentiated neurons and FXS and WT hESCs, Telias et al. typically found a drop in FXS NPCs in
SOX9
expression levels concurrent with a rise in
SOX2
mRNA levels [
114
]. These results may suggest that FMRP regularly controls neural development by governing the delicate equilibrium between SOX2 and SOX9, and that in its absence, the imbalance between both of these transcription factors may lead to delayed or reduced neurogenesis. More research is required to establish whether FMRP controls
SOX2
and
SOX9
expression directly or indirectly, and to better understand the overall involvement of the SOX superfamily in the neuron defects associated with FXS. Finally, in a subsequent study the researchers used expression analysis for the GABA-A receptor subunits and reported increased levels of α2 subunit mRNA levels, which could possibly explain the lack of mature response to GABA signaling [
115
]. This latter finding is in line with previous results on the disruption of the GABA signaling pathway in mouse models and patients [
100
,
116
,
117
,
118
,
119
,
120
], hence confirming the authenticity of this model system.
Neuronal differentiation protocols are improving and thus becoming more available to research labs worldwide. Apart from shortening the protocols considerably, it facilitates our ability to manipulate the cells to differentiate into specific lineages and particular subtypes of neurons in a more controlled and efficient fashion which will enable better evaluation. In addition, large scale gene expression profiles at various time points during nerve cell differentiation are expected to provide new insights and perhaps the identification of new key players in FXS pathogenesis. Hopefully, this will eventually lead to the development of new therapeutic approaches to cure, or more likely to relieve disease symptoms.
5. Therapeutic Strategies in FXS
6. Concluding Remarks
Despite the identification of the CGG expansion as the cause of FXS over two decades ago, little is known about the mechanisms underlying FXS. For example, it is still unclear how CGG expansion leads to epigenetic gene silencing of the
FMR1
gene, how the loss-of-function of FMRP leads to neural deficits in FXS fetuses, or how the CGGs become extensively unstable in patients. This is, in part, because currently available animal models do not accurately reproduce the molecular and cellular phenotypes of FXS in humans, and since the diseased organ—the developing brain—is rarely available for research. Hence, there is a need to complement human-based model systems in a way that can overcome the difficulties associated with obtaining a sufficient supply of disease relevant cells for basic and applied research. These systems should also bypass the need for gene targeting since lengthy repeat expansions are particularly difficult to artificially induce and maintain. For all of these reasons researchers are currently relying on mutant pluripotent stem cells, hESCs and iPSCs, as a way to address some of the gaps in our knowledge on the molecular mechanisms that go wrong in FXS developing fetuses. Thus far, over a dozen FXS hESC lines and many patient-derived iPSC clones have been established. These exclusive cell lines are expected to be particularly useful because they may provide an exceptional opportunity to look at affected neurons while they differentiate and become functionally mature. In addition, they provide a valuable way to genetically intervene and carry out functional assays and rescue experiments while they propagate and differentiate in vitro. Finally, they are expected to be a powerful tool in the development of new therapeutic approaches to correct, or more likely reduce, disease symptoms by searching for drug targets or by genetic engineering. However, we still need to better define how well these cell lines mimic the molecular and cellular pathways that are disturbed in vivo, and better evaluate the differences between FXS hESCs and patient-derived iPSCs, to be able to best exploit them to respond to the remaining unanswered questions regarding FXS.
Author Contributions
H.M.S. and E.R. equally contributed to the conception, design and writing of this manuscript.
Conflicts of Interest
The authors declare no conflicts of interest.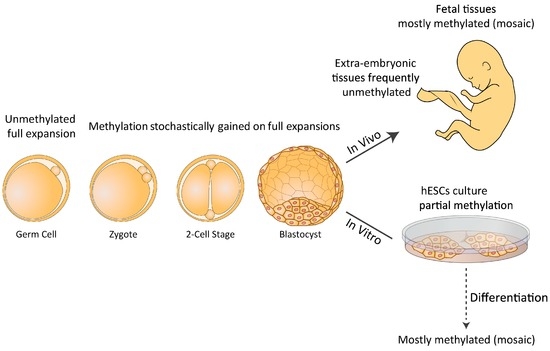 Figure 1.
Model for timing and nature of
fragile X mental retardation 1 (FMR1)
hypermethylation in Fragile X syndrome (FXS) human embryonic stem cells (hESCs). Abnormal methylation is first achieved on full expansions in FXS at a restricted time point before/during embryo implantation. Once established, it is irreversible and is clonally maintained. CGG expansions that escape abnormal methylation during this limited time frame remain unmethylated or become further inactivated by a second wave of de novo methylation later during differentiation. Mostly methylated (mosiacism) means that some of the cells are methylated and that some are not.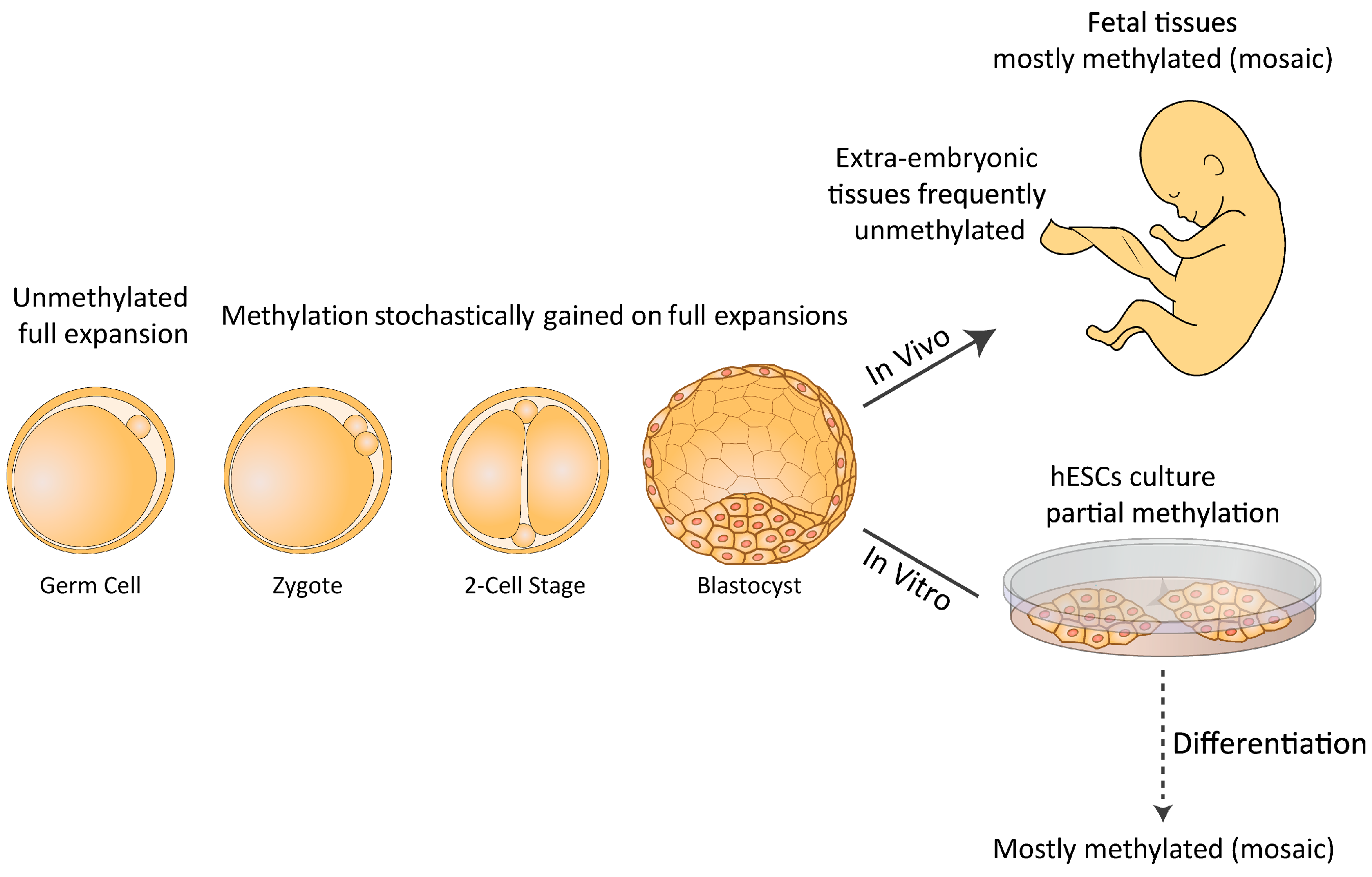 Table 1. Fragile X syndrome (FXS) Human embryonic stem cell lines.

| Cell Line | Karyotype | Number of CGG Repeat | Methylation State | Derivation Center |
| --- | --- | --- | --- | --- |
| SI-214 | 46, XY | 138, 450 | mostly methylated | RGI [40] |
| Lis01_HEFX1 | 46, XY | 200–650 | unmethylated | TASMC [27] |
| HAD5 | 46, XX | 300 | NA | HHUMC [41] |
| VUB11_FXS | 46, XX | 2000, 2010 | fully methylated | VUB [42] |
| VUB13_FXS | 46, XX | 2000 | fully methylated | VUB [42] |
| STR-189-FRAXA | 46, XX | NA | NA | IGBMC [43] |
| STR-233-FRAXA | 46, XY | NA | NA | IGBMC [43] |
| Lis26_FXS_6 | 46, XY | 50–600 | partially methyalted | TASMC [44] |
| WCMC37 | 46, XY | 142, 167, 179, 450 | mostly methylated | WCMC, [45] |
| SZ-FX1 | 46, XX | 300–600 | mostly methyalted | SZMC [32] |
| SZ-FX3 | 46, XX | 300–600 | partially methyalted | SZMC [32] |
| SZ-FX6 | 46, XY | 200–600 | partially methyalted | SZMC [32] |
| SZ-FX7 | 46, XX | 200–300 | unmethylated | SZMC [32] |
| SZ-FX8 | 46, XY | 200–600 | mostly methyalted | SZMC [32] |
| SZ-FX12 | 46, XX | 150–300 | partially methyalted | SZMC [32] |
| SZ-FX14 | 46, XY | 290–600 | mostly methyalted | SZMC [32] |
Sixteen different embryonic stem cell lines were established from human embryos with a full mutation (>200 repeats) in the

fragile X mental retardation 1 (FMR1)

gene. The embryos were obtained from premutation female carriers through a preimplantation genetic diagnosis (PGD) procedure. The number of CGG repeats and the methylation status of the

FMR1

gene were determined at the time of derivation by various methodologies, and may have changed during in vitro culturing. NA, not available; RGI, Reproductive Genetics Institute; TASMC, Tel Aviv Sourasky Medical Center; HHUMC, Hadassah Hebrew University Medical Center; VUB, Vrije Universiteit Brussel; IGBMC, Institut Génétique Biologie Moléculaire Cellulaire; WCMC, Weill Cornell Medical College; SZMC, Shaare Zedek Medical Center.
© 2016 by the authors; licensee MDPI, Basel, Switzerland. This article is an open access article distributed under the terms and conditions of the Creative Commons Attribution (CC-BY) license (http://creativecommons.org/licenses/by/4.0/).