Open Access This article is
freely available
re-usable
Review
DNA Methylation Biomarkers: Cancer and Beyond
1
Genetic Technologies Ltd., Fitzroy, Victoria 3065, Australia
2
Murdoch Childrens Research Institute, Royal Children's Hospital, Parkville, Victoria 3052, Australia
3
Department of Paediatrics, The University of Melbourne, Parkville, Victoria 3052, Australia
*
Author to whom correspondence should be addressed.
Received: 22 June 2014; in revised form: 17 August 2014 / Accepted: 1 September 2014 / Published: 16 September 2014
Abstract
:
Biomarkers are naturally-occurring characteristics by which a particular pathological process or disease can be identified or monitored. They can reflect past environmental exposures, predict disease onset or course, or determine a patient's response to therapy. Epigenetic changes are such characteristics, with most epigenetic biomarkers discovered to date based on the epigenetic mark of DNA methylation. Many tissue types are suitable for the discovery of DNA methylation biomarkers including cell-based samples such as blood and tumor material and cell-free DNA samples such as plasma. DNA methylation biomarkers with diagnostic, prognostic and predictive power are already in clinical trials or in a clinical setting for cancer. Outside cancer, strong evidence that complex disease originates in early life is opening up exciting new avenues for the detection of DNA methylation biomarkers for adverse early life environment and for estimation of future disease risk. However, there are a number of limitations to overcome before such biomarkers reach the clinic. Nevertheless, DNA methylation biomarkers have great potential to contribute to personalized medicine throughout life. We review the current state of play for DNA methylation biomarkers, discuss the barriers that must be crossed on the way to implementation in a clinical setting, and predict their future use for human disease.
Keywords:
cancer; diabetes; obesity; smoking; stress; autism; schizophrenia; bipolar disorder; depression; environmental factors
1. Introduction
A biomarker is any biological characteristic that can be objectively measured and evaluated as an indicator of normal biological process, pathogenic process, or pharmacological response to a therapeutic intervention [
1
]. Biomarkers can be used at any stage of a disease and can be associated with its cause or latency (risk biomarkers), onset (diagnostic biomarkers), clinical course (prognostic biomarkers), or response to treatment (predictive biomarkers) ([
2
,
3
,
4
] and references therein). Biomarkers can also be associated with specific environments (exposure biomarkers). As almost all complex human diseases are caused by a mixture of genetic and environmental variation, biomarkers, especially those antecedent to disease, can be influenced by either of these factors. Biomarkers can also reflect the mechanisms by which exposure and disease are related. They can stratify individuals according to risk or prognosis and they can be used as targets or surrogate endpoints in clinical trials. An ideal biomarker must be able to provide clinically-relevant information, be accurately measurable in multiple individuals, ideally across multiple populations [
2
,
4
]. In this review we focus on DNA methylation biomarkers, review the current state of the field, and discuss limitations and our expectations for the future.
2. Epigenetics and Disease Latency
3. Tissues and Bodily Fluids Suitable for Analysis of DNA Methylation Biomarkers
Almost any biological tissue sample or bodily fluid can be used for DNA methylation analysis. DNA methylation is the most robust epigenetic mark and will survive most sample storage conditions including, in the case of Guthrie neonatal blood spots, long-term drying [
32
]. DNA methylation can also be studied in histological specimens such as formalin-fixed paraffin-embedded (FFPE) samples [
33
] and microscopic preparations [
34
]. The robustness of DNA methylation marks makes DNA methylation analysis very attractive in a clinical environment as the analysis of gene expression pattern and histone modifications require more careful storage conditions, either with an RNA-preserving agent, by snap-freezing, or by cryopreservation of viable cells. In most cancers, (primary) tumor biopsies can be sampled but for the early detection of cancer and most other non-communicable diseases, only peripheral, easy-to-access tissues or bodily fluids can be collected. Such samples include venous peripheral blood, buccal epithelium or saliva, urine, stools, bronchial aspirates, and, even in some cases, muscle or adipose tissue [
35
,
36
,
37
,
38
,
39
] (
Figure 1
). At birth, placenta, umbilical cords and fetal membranes are also suitable tissues for analysis of DNA methylation [
40
,
41
,
42
].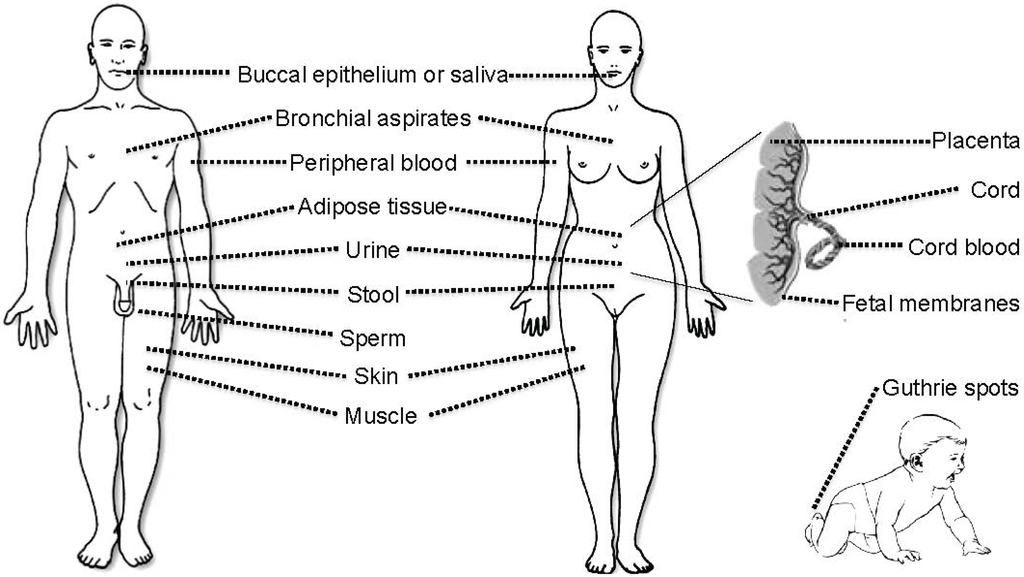 Figure 1. Illustration of the variety of tissues that can be used to investigate DNA methylation biomarkers. Note that tumor tissue is not listed individually as a cancer can affect any part of the body.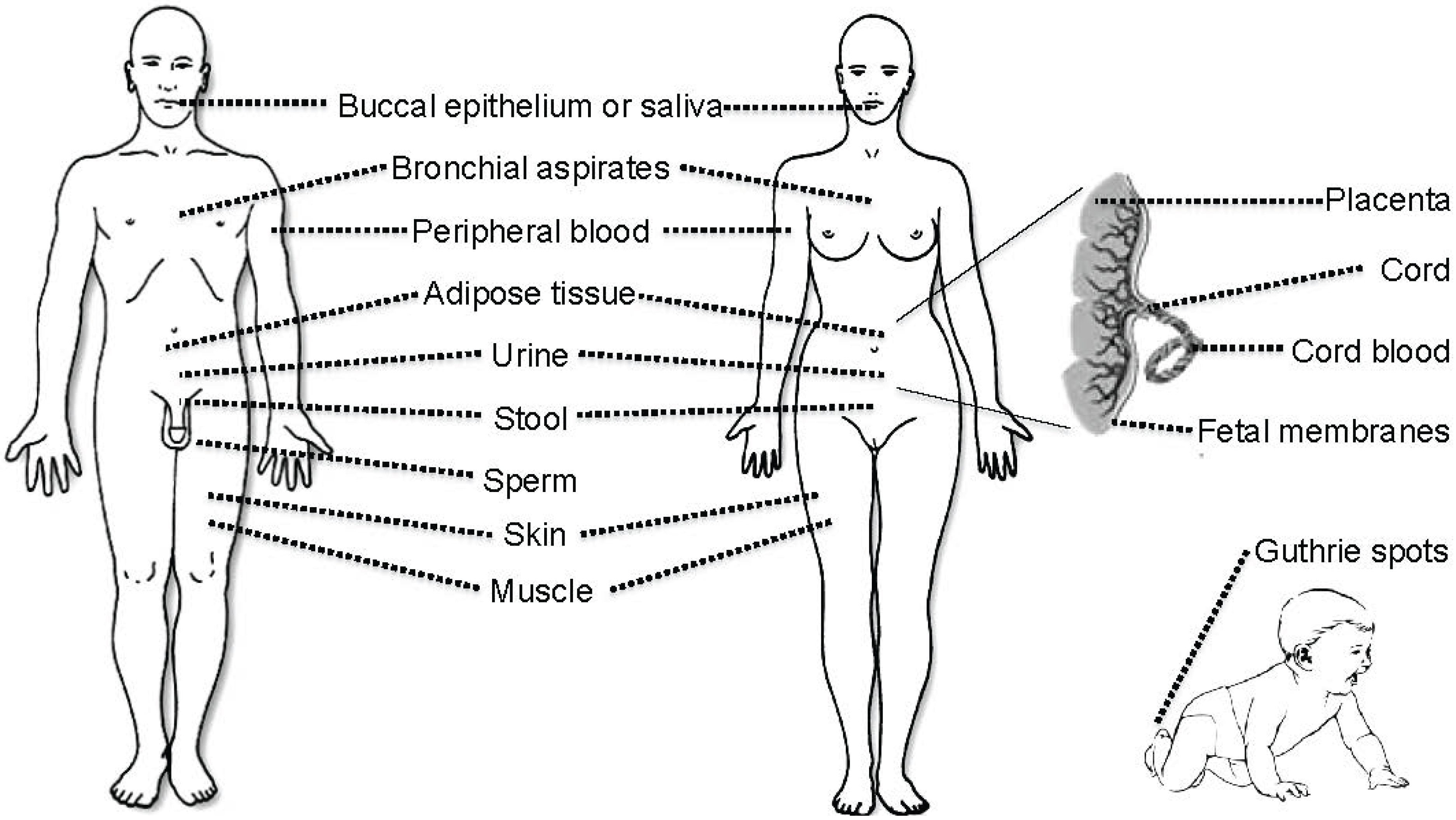 It is important to note that even though it is desirable to measure disease-associated methylation biomarkers in a disease-relevant tissue, this condition does not always need to be met if a methylation biomarker is tightly associated with disease state. This is especially the case for tissues such as the brain and heart that can only be sampled
post mortem
.
Cellular homogeneity within a tissue is also a desirable characteristic for a DNA methylation biomarker [
43
]. Tissues such as blood or even blood fractions such as mononuclear cells, exhibit cellular heterogeneity [
44
,
45
,
46
]. However, methods have been developed to control for such heterogeneity, using either differential cell counts [
47
] or
post hoc
in regression models [
48
,
49
,
50
].
4. Parameters for Developing DNA Methylation Biomarkers
Before we go into more detail about specific DNA methylation biomarkers, we will review the measures of particular importance for assay performance and the barriers that must be breached in developing DNA methylation biomarkers. The nomenclature we use in this review is generally already in use, although it has not been previously summarized in such a way. It is as follows: single studies provide
potential biomarkers
, which could be
validated
using an independent technique and
replicated
in an independent cohort, also known as external validation. Following the systematic review and/or meta-analysis of a large number of independent studies, they become
candidate clinical biomarkers
that can enter clinical trials. Once approved, they become
proven clinical biomarkers
(
Table 1
).
Table 1. Nomenclature used in this review for the stages of DNA methylation biomarker development.

| Nomenclature | Description |
| --- | --- |
| Potential biomarker | Results of a single study |
| Validated biomarker | Same finding using an independent method |
| Replicated biomarker | Same finding in independent cohort(s) |
| Candidate clinical biomarker | Replicated in multiple cohorts and subjected to systematic review and meta-analysis; most likely undergoing clinical trials |
| Proven clinical biomarker | Used in clinical practice |
4.1. Methods for DNA Methylation Biomarker Discovery
Genome-wide profiling of DNA methylation patterns of healthy and diseased individuals has enabled the identification of potential methylation biomarkers for many diseases, most prominently in cancer but also other diseases such as metabolic or neurodevelopmental disorders. Following initial studies using pre-selected candidate gene approaches [
51
,
52
,
53
], many different genome-wide methods have been developed and used in the scientific community for DNA methylation biomarker discovery and good overviews are provided elsewhere [
54
,
55
,
56
,
57
,
58
]. Other scientific publications review such methods in the context of methylome-wide association studies (MWAS), which utilize a variety of platforms [
59
,
60
]. Typically, MWAS, as a subset of epigenome-wide association studies (EWAS), involves regression of DNA methylation at thousands to millions of CpG dinucleotides or CpG-rich regions on disease phenotype, outcomes or interventions. Such analyses usually adjust for multiple testing to produce potential methylation biomarkers in the form of differentially-methylated probes (DMPs) or regions (DMRs). Often, DMPs or DMRs are validated using locus-specific methods. The next stages of discovery following replication involve longitudinal analysis to resolve the issue of cause
vs.
effect in MWAS, and importantly to show whether replicated biomarkers can be used to predict a disease before its clinical onset or predict clinical outcomes after onset or after therapeutic intervention. Following discovery of such replicated biomarkers, further replication followed by meta-analysis and/or systematic review are required, at which stage these candidate clinical methylation biomarkers are ready for clinical trials leading to clinical proven methylation biomarkers. In this review we will focus on single locus DNA methylation biomarkers at all stages of discovery.
4.2. DNA Methylation Assay Sensitivity and Specificity
Assay sensitivity describes the proportion of patients with disease who have a positive test result (true positive rate), whereas the assay specificity describes the proportion of patients without disease who have a negative test result (true negative result) [
61
]. The ideal assay would show 100% sensitivity and 100% specificity. In other words, the test is never positive for a disease-free patient and never negative for a patient with disease. However, this ideal scenario is rarely achieved. It is also important to note that an assay with a sensitivity of 50% and a specificity of 50% is no better than tossing a coin to decide if the patient is harboring the disease or is disease-free [
61
].
The receiver operating characteristic (ROC) curve is a fundamental tool for diagnostic test or biomarker evaluation and visually displays the interdependency of specificity and sensitivity [
62
,
63
]. In a ROC curve the true positive rate (sensitivity; y-axis) is plotted in function of the false positive rate (1-specificity; x-axis). The area under the curve is equal to the probability that a classifier will rank a randomly chosen positive instance higher than a randomly chosen negative one. In other words, for a well performing diagnostic test or biomarker the curve is located towards the upper left corner. On the other hand a less well-performing diagnostic test or biomarker is characterized by a curve close to a diagonal line, representing a state in which sensitivity and specificity are similar.
It is desirable to achieve values for sensitivity and specificity as high as possible. However, for some tests it might be acceptable to achieve a higher sensitivity by sacrificing assay specificity or
vice versa
. This could be the case in particular for diseases for which a misclassification would result in severe consequences for the patient [
61
]. Acceptable values for sensitivity and specificity of a testing procedure can be determined by comparing to existing values of a test currently considered as gold standard. It is also important to consider that a diagnostic test is providing information independent of the experience of a clinician, which sometimes varies dramatically among hospitals and countries. However, it remains to be determined how easily the new testing procedure can be implemented in a clinical environment.
4.3. Barriers to Developing, Testing and Using DNA Methylation Biomarkers
Despite the promise of epigenetic biomarkers, so far only a few DNA methylation-based candidate biomarkers have reached the potential for use in a clinical setting, and all these are mainly related to the field of cancer. As with disease phenotypes, each clinical DNA methylation biomarker would need to be measured accurately and reproducibly. Differences in DNA methylation between cases and controls may be large (e.g., more than 50%) in cancer but in other non-communicable diseases may often be less than 5%. Methods used to measure methylation must be accurate to well below this level of resolution. The analytical sensitivity of specific methods is discussed below. Next, variability within the population needs to be small to maximize assay sensitivity and specificity. Predictive power also needs to be high. Positive predictive power is the percentage of people with a positive test who actually get the disease. These hurdles are all similar to those for any clinical trial.
5. Methods Suitable for the Analysis of Locus-Specific DNA Methylation Biomarkers
Lessons Learned from the DNA Methylation Biomarker MGMT
6. DNA Methylation Biomarkers
To date, the vast majority of replicated and candidate clinical DNA methylation biomarkers come from cancer research. Clinically-relevant DNA methylation biomarkers outside cancer exist for diseases originating from genomic imprinting disorders, such as Prader-Willi and Angelman syndrome (see below), and are currently being developed for a wide range of environmental agents and the chronic diseases to which they predispose. The following sections will give an overview of promising DNA methylation biomarkers for potential clinical use.
6.1. Candidate Clinical DNA Methylation Biomarkers for Cancer
A selection of candidate clinical DNA methylation biomarkers for cancer will be discussed below; many others have been described in greater detail elsewhere (e.g., [
127
,
147
,
148
,
149
,
150
,
151
,
152
,
153
,
154
,
155
,
156
,
157
,
158
,
159
,
160
,
161
]) or have been subject of systematic reviews and meta-analysis (e.g., [
129
,
136
,
137
,
138
,
139
,
140
,
162
]). Not surprisingly, much effort has been spent in identifying diagnostic DNA methylation biomarkers suitable for early detection and diagnosis of cancer. Early detection allows treatment of the cancer at a stage that is generally considered beneficial for disease outcome. Such tests could be blood-based or use other bodily fluids collected less invasively, which makes it very convenient to the patient. Prognostic biomarkers would provide information on a patient's overall survival if the disease is left untreated, whereas predictive biomarkers would be suitable for determining a patient's response to a certain drug regimen. The latter are of particular importance as they may help to minimize the health burden of patients, as well as to minimize costs for healthcare providers for unnecessary drug treatment.
DNA methylation-based candidate clinical biomarker genes for the early detection include vimentin (
VIM
) [
128
,
163
], septin 9 (
SEPT9
) [
129
,
164
], and syndecan 2 (
SDC2
) [
165
,
166
] for colorectal cancer, glutathione S-transferase pi 1 (
GSTP1
) for prostate cancer [
136
,
167
,
168
], and cyclin-dependent kinase inhibitor 2A (
CDKN2A
) [
169
,
170
] and short stature homeobox 2 (
SHOX2
) (see below) for lung cancer. These have already reached clinical potential and for some diagnostic test kits are commercially-available (
Table 2
). In the next sections we will provide an overview of
SHOX2
,
PITX2
and
MGMT
as good examples of diagnostic, prognostic and predictive biomarkers in cancer.
6.1.1.
SHOX2
DNA methylation of the short stature homeobox 2 (
SHOX2
) gene was found to be a diagnostic clinical biomarker candidate for the detection of malignant lung disease even in patients where histology and cytology results are equivocal [
135
].
SHOX2
methylation allowed the specific detection of malignant lung disease with a sensitivity of 60% and a specificity of 90% in blood plasma using HeavyMethyl, a quantitative methylation-specific PCR-based approach [
134
]. The highest assay sensitivity was achieved for small cell lung cancer (SCLC) cases with 80% and squamous cell carcinoma (SCC) with 63%, respectively, when compared to adenocarcinomas (AC) cases with a sensitivity of only 39%. However, the poor sensitivity for detecting adenocarcinomas could be improved by the addition of a second (or more) adenocarcinoma-specific biomarker. Not surprisingly, the sensitivity values obtained of the blood-plasma-based assay were lower compared to sensitivities seen from bronchial aspirates (SCLC: 97% (80%), SCC: 82% (63%), and AC: 47% (39%)); overall sensitivity and specificity were 68% (60%) and 95% (90%), respectively) as the tumor-derived amount of DNA is expected to be lower in blood than a lung-specific analyte [
134
,
135
]. However, a blood-based assay has the advantage of using specimens which have been collected with a far less invasive procedure compared to those obtained from bronchoscopy. Furthermore, a blood-based assay enables screening of asymptomatic patients whereas availability of bronchoscopy is limited to patients with suspected lung cancer. Noteworthy, elevated
SHOX2
methylation levels in pleural effusions do not only allow the detection of lung cancer but also the detection of other malignancies, such as breast cancer and gastrointestinal cancers [
132
,
133
]. However, assay sensitivity and specificity for these was not as good as for bronchial aspirates or blood.
SHOX2
methylation level in lymph node tissue obtained by endobrochial ultrasound with transbronchial needle aspiration (EBUS-TBNA) improved endoscopic lung cancer staging with an assay sensitivity and specificity of 94% and 99%, respectively [
130
].
DNA methylation of
SHOX2
not only provides diagnostic but also provides prognostic information for cancer patients [
131
,
132
]. Pleural effusion samples obtained from patients with different malignancies (including lung cancer) showed a shorter overall survival if elevated levels of
SHOX2
methylation were detected [
132
]. Contrarily, gain of
SHOX2
methylation in tumor tissues has been shown to be associated with good prognosis in lung cancer patients. The prognostic power of
SHOX2
methylation was further improved when combined with DNA methylation analysis of
PITX2
[
131
].
6.1.2.
PITX2
The paired-like homeodomain 2 (
PITX2
) gene encodes the PITX2 transcription factor. DNA methylation status of the
PITX2
promoter has been identified as a candidate clinical biomarker in tumor tissues. This has provided prognostic information for breast cancer, prostate cancer, and lung cancer.
PITX2
methylation in estrogen receptor alpha positive breast cancer patients without lymph node metastasis has been associated with poor prognosis when treated without any systemic adjuvant therapy [
171
] as well as a higher risk of disease recurrence after surgery when treated with the antiestrogen Tamoxifen only [
172
,
173
]. Furthermore, methylation of the
PITX2
promoter was also associated with poor patient outcome in estrogen receptor alpha positive, HER-2/
neu
-negative breast cancer patients positive for lymph node metastasis when treated with an anthracycline-based adjuvant chemotherapy [
174
]. Methylation of
PITX2
in prostate cancer patients has also been shown to be a prognostic biomarker for an increased risk of biochemical recurrence after radical prostatectomy [
175
,
176
,
177
]. Importantly, the prognostic value of
PITX2
methylation was particularly high in tumor-enriched samples of patients at intermediate risk for whom further risk stratification is quite often challenging [
176
]. Interestingly, and different to breast and prostate cancer, increased DNA methylation levels of
PITX2
were associated with prolonged survival in lung cancer patients and requires further investigation [
131
].
6.1.3.
MGMT
O
6
-methylguanine DNA methyltransferase is a DNA repair protein that is encoded by the
MGMT
gene and is capable of removing alkyl residues directly from the
O
6
-position of guanines. However, if the DNA repair capacity of
MGMT
is impaired or inactivated, for example by DNA methylation, affected cells are less protected against mutagenic DNA adducts [
178
,
179
]. Therefore, tumor
MGMT
promoter methylation renders cancer cells susceptible to the cell damaging effects of drug regimens utilizing alkylating agents [
116
,
180
] (see also
Lessons learned from the DNA methylation biomarker MGMT
).
MGMT
was one of the first predictive DNA methylation biomarkers to determine a patient's response to alkylating chemotherapeutics and it was shown that glioblastoma patients with tumor
MGMT
promoter methylation have a survival benefit from Temozolomide chemotherapy [
120
,
121
].
The more frequent use of quantitative approaches such as bisulfite pyrosequencing to detect and measure
MGMT
methylation have revealed that the DNA methylation biomarker
MGMT
does not only have a predictive but also a prognostic clinical component (reviewed in [
121
,
126
]). Glioblastoma patients with more than 29%
MGMT
promoter methylation showed a longer progression-free and overall survival when treated with radiotherapy and Temozolomide [
143
]. A methylation cut-off value of 25% separated elderly glioblastoma patients into two groups with those having more than 25% of methylation had a better survival rate when treated with alkylating agents alone [
144
]. Tumor
MGMT
methylation status was also shown to have a prognostic value for progression-free survival of anaplastic glioma patients treated with radiotherapy alone [
181
,
182
].
7. DNA Methylation Biomarkers for Genomic Imprinting Disorders
8. DNA Methylation Biomarkers of Outcome in Chronic Diseases Other than Cancer
Given the likely early life origins for non-communicable disease, there are plenty of opportunities in which DNA methylation biomarkers could be used. Biomarkers for intrauterine environmental exposures such as maternal alcohol consumption or smoking could provide a way to measure exposures without the need for time-consuming, hard-to-administer questionnaires and where access to mothers is not possible. DNA methylation risk biomarkers could be used to stratify risk for latent non-communicable disease before the onset of disease. They could also be used to monitor progression from first symptoms to full disease. After disease onset, they could be used for predicting survival and response to therapy as they are beginning to do with cancer. Below, we review data from the most promising studies of environmental, risk, diagnostic, prognostic, and predictive DNA methylation biomarkers.
8.1. DNA Methylation Biomarkers for Adverse Environments
There have been a large number of environmental agents linked to epigenetic change, including toxins, stress and nutrition, and these have been reviewed elsewhere [
201
,
202
,
203
]. Below, we focus on two that have yielded replicated DNA methylation biomarkers: smoking and stress.
8.1.1.
AHRR

Methylation and Smoking

Exposure to adverse environments at all stages of life have been shown to influence the epigenome (reviewed in [

39

,

42

,

204

,

205

]). However, a replicated association has been found for only one: the effect of DNA methylation on the aryl hydrocarbon receptor repressor (

AHRR

) gene involved in the detoxification of chemicals found in tobacco smoke. As of June 2014, ten independent methylome-wide studies using Illumina Infinium HM450 arrays (containing probes for about 480,000 CpG dinucleotides located in functionally-relevant regions of the genome [

206

]) had all identified the same smoking-associated probe, cg05575921, located in a region of intermediate CpG density (CpG-island shore) 450 bp upstream of a CpG island in the third intron of the

AHRR

gene [

207

,

208

,

209

,

210

,

211

,

212

,

213

,

214

,

215

,

216

] (

Table 3

). Two studies focused on the effect of maternal smoking in umbilical cord blood [

209

,

215

], which they and others [

217

] replicated in independent sample cohorts. Others found an association of adult smoking with

AHRR

methylation in blood [

207

,

208

,

210

,

211

,

212

,

214

], lung tissue [

211

] or blood lymphoblastoid cell lines [

213

]. No effects were seen at birth in placenta or buccal epithelium [

217

] and effects were seen elsewhere in the

AHRR

gene in lung alveolar macrophage DNA but not at the cg05575921 probe [

213

]. Three studies performed within-cohort validation using locus-specific DNA methylation analysis [

207

,

211

,

212

] and six studies replicated their findings in adults in independent cohorts [

208

,

209

,

211

,

212

,

214

,

215

]. Two studies showed evidence of a role for the region surrounding probe cg05575921 in regulation of

AHRR

expression [

211

,

213

]. All found an inverse relationship between smoking and DNA methylation with an effect size ranging from −4% in neonates of mothers who smoked throughout pregnancy [

215

] to −24.4% in adult current smokers [

212

].

Similar effects were seen in Europeans, African Americans [

207

], and South Asians [

208

]. The latter study found that current smokers were identified with 100% sensitivity and 97% specificity in Europeans and with 80% sensitivity and 95% specificity in South Asians. Timing-specific effects were also found; prenatal smoking only exerted an effect when mothers smoked during a significant part of gestation [

217

,

218

]. Furthermore, associations found at birth were also present at 18 months of age [

217

] but in adulthood, DNA methylation levels were similar in never smokers and in former smokers [

212

]. Clearly, loss of methylation at and around the

AHRR

cg05575921 probe is strongly associated with first or second hand exposure to smoking. Importantly, one study found an association in adults with smoking, but not tobacco snuff consumption, implicating that a product(s) of tobacco combustion is responsible for the loss of DNA methylation rather than tobacco itself. Further work is needed to link this loss to the timing of prenatal smoking, and postnatal passive and active smoking, and its relationship with downstream health outcomes previously associated with

AHRR

polymorphisms such as cancers [

219

,

220

,

221

] and endometriosis [

222

].

In addition to probe cg05575921, a number of CpG dinucleotides have been significantly associated with prior smoking.

Table 4

lists these probes, using a cut-off of those that have been identified by four or more studies. These include two further CpG dinucleotides from

AHRR

[

207

,

209

,

210

,

211

,

212

,

213

], one from the thrombin receptor-like 3 (

F2RL3

) gene [

208

,

211

,

214

,

216

], one from the growth factor independent 1 transcription repressor (

GFI1

) gene and two from the myosin 1G (

MYO1G

) gene. In addition, two intergenic smoking-associated CpG sites have been replicated across multiple studies [

207

,

208

,

209

,

211

,

212

,

213

,

214

], all coinciding with regions of DNAse hypersensitivity, suggesting functional significance. Potentially, one or more of these CpG dinucleotides could be used in combination with probe cg05575921 as DNA methylation biomarkers for smoking.

Table 3.
Summary of findings for the relationship between smoking and DNA methylation within the
AHRR
gene. Data refer to
AHRR
HM450 probe cg05575921 unless otherwise stated. Summary includes details of assay platform, age of subjects, details of exposure, tissues examined, number of subjects, whether
AHRR
expression was also measured, whether findings were validated or replicated and effect size (methylation levels in smokers compared to non-smokers).
Table 3. Summary of findings for the relationship between smoking and DNA methylation within the

AHRR

gene. Data refer to

AHRR

HM450 probe cg05575921 unless otherwise stated. Summary includes details of assay platform, age of subjects, details of exposure, tissues examined, number of subjects, whether

AHRR

expression was also measured, whether findings were validated or replicated and effect size (methylation levels in smokers compared to non-smokers).
Reference
Platform
Age, Median
Exposure
Tissue
N
Effects Elsewhere in AHRR

AHRR

Expression
Vali-dation
Repli-cation
Effect Size
Notes
[213]
HM450
Adults, 45
Current smoking
LCLs & alveolar MP
119/19 1
yes
Yes 2
No
No
−15%/NS
[209]
HM450
Birth
Maternal smoking 3
Whole CB
1062/36 4
Yes
No
No
Yes 4
−7.5%/−7.7% 4
Multiple hits in the aryl hydrocarbon signaling pathway. Authors have since shown that effects are specific for maternal smoking through at least gestational week 18 [218]
[207]
HM450
Adults, 49
Current smoking
PBMC
111
Yes
No
Yes
No
−15%
African Americans
[208]
HM450
Adults, 48
Current smoking
Whole PB
81/84 5
No
No
No
Yes 6
−22%
Former smokers same as never smokers; changed only slightly after adjusting for cell composition
[210]
HM450
Adults, 22
Current serum cotinine
PBMC
107
yes
No
No
No
−20% 7
[211]
HM450
Adults, 51/55/49/? 8
Current smoking
Whole PB, lung tissue
184/190/180/27
yes
Yes 9
Yes
Yes
−17%/−14%/NS/NS 10
Replicated in a mouse model of smoking exposure
[212]
HM450
Adults, 60/53 11
Current smoking
Whole PB
749/232 11
yes
No
Yes
Yes 11
−24/−23% 11
methylation-specific protein binding patterns were observed for cg05575921; levels in former smokers revert to levels similar to never smokers over time
[215]
HM450
Birth
Maternal smoking
Whole CB
889
yes
No
No
Yes
−4%
Replicated a previous study [209]
[214]
HM450
Adults, 43
Current smoking
Whole PB
432
yes
No 13
No
Yes
−7.4%
Replicated a previous study [212]; no effect with tobacco snuff
[216]
HM450
Female adults, 57
Current smoking
Whole PB
200
No
No
No
Yes
−8%
Former and never smokers had similar methylation levels
[217]
Sequenom EpiTyper
Birth & 18 months
Maternal smoking
CBMC, buccal epithelium, placenta
46/15/24 12
yes
Yes 14
n/a
Y
−10%/NS/NS 12
No effect if mother smoked early pregnancy only; effects of smoking stable to 18 months of age
1 refers to the two different cell types tested; 2

AHRR

expression in alveolar macrophages was inversely correlated with methylation of probe cg05575921; 3 measured using plasma cotinine at gestational week 18; 4 replicated using data from maternal smoking in pregnancy in an independent cohort; 5 data on Europeans replicated in South East Asians; 6 replicated across two ethnic groups; 7 effect size calculated from the regression line, highest to lowest plasma cotinine; 8 discovery, replication and validation groups are subsets of the same cohort and were analyzed along with lung tissue samples from a separate cohort; 9

AHRR

expression in lung tissue was inversely correlated with methylation of probe cg05575921; 10 no difference with probe cg05575921, differences found for

AHRR

probes cg21161138 and cg23576855 (magnitudes similar to those seen in blood); 11 discovery and replication subsets of the same cohort; 12 significant associations between methylation and expression seen at six genes other than

AHRR

; 13 CBMC/buccal epithelium/placenta; 14

AHRR

expression non-significantly higher in CBMCs in newborns exposed to smoking in pregnancy than those not exposed. Abbreviations: LCL, lymphoblastoid cell lines; MP, macrophages; PB, peripheral blood; CB, cord blood; MC, mononuclear cells; NS, not significant.

Table 4. Other HM450 probes with significant correlations with smoking in at least four studies. Probes are included if found to be significantly associated with smoking in at least four independent studies. DHS, DNAse hypersensitive site, indicative of regulatory potential.
Table 4. Other HM450 probes with significant correlations with smoking in at least four studies. Probes are included if found to be significantly associated with smoking in at least four independent studies. DHS, DNAse hypersensitive site, indicative of regulatory potential.

| Probe | Gene | References |
| --- | --- | --- |
| cg03991871 | AHRR | [209,212,213,215] |
| cg21161138 | AHRR | [207,209,210,211,212,215] |
| cg03636183 | F2RL3 | [208,211,214,216] |
| cg09935388 | GFI1 | [208,209,212,214,215] |
| cg22132788 | MYO1G | [208,209,210,214] |
| cg12803068 | MYO1G | [210,212,215,218] |
| cg21566642 | Intergenic (CpG island, DHS) | [207,208,211,212] |
| cg06126421 | Intergenic (enhancer, DHS) | [207,208,211,212,214] |
8.1.2.
NR3C1

Methylation and Stress

Stress triggers the activation of the hypothalamus-pituitary-adrenal axis, resulting in the production of glucocorticoids by the adrenal glands. By binding to receptors in the brain, glucocorticoids induce changes in gene expression and in turn, health and behavior [

223

]. Landmark studies with rats have shown that lack of maternal licking and grooming at birth resulted in an increased level of DNA methylation within the exon 1

7

promoter of the glucocorticoid receptor gene

Nr3c1

in rat hippocampus, in particular at a region that binds nerve growth factor-inducible protein-A (NGFI-A) [

224

,

225

]. Since then, studies of the equivalent region in humans (exon 1F of the

NR3C1

gene) have found decreased DNA methylation in cord blood [

226

,

227

] and placenta [

228

] associated with maternal anxiety during pregnancy. Others have shown that violence towards women during pregnancy can have a similar effect [

229

,

230

]. Even extremes of stress experienced prior to conception, in the form of the holocaust, were also found to correlate with

NR3C1

exon 1F methylation, albeit in opposite directions depending on the sex of the parent [

231

]. Methylation analysis of various tissues from adults, either alive or

post mortem

, have found long-lasting effects of abuse [

232

,

233

,

234

,

235

] or death of a parent [

235

,

236

] during childhood on

NR3C1

exon 1F. In addition, adults with post-traumatic stress disorder had decreased DNA methylation at the same [

237

] or alternate [

238

]

NR3C1

promoters. Of further interest, three studies have shown that methylation of

NR3C1

exon 1F can predict health outcomes, whether predicting quality of movement and attention at birth [

239

], response to psychotherapy in adults with posttraumatic stress disorder [

240

] or response to threat-associated stress in adult females [

241

]. In the latter study, DNA methylation levels at

NR3C1

, the estrogen receptor alpha gene

ESR1

and the serotonin transporter gene

SL6A4

each had independent predictive power. Furthermore, a model containing data from all those genes accounted for half of the variance in total cortisol output. Rat studies showing that the adverse effects and DNA methylation changes associated with early neglect could be reversed in adulthood by methyl-donor rich diet [

242

] or the histone deacetylase inhibitor Trichostatin A [

243

], suggesting that

NR3C1

methylation could be use to monitor response to future interventions in humans.

Clearly, methylation at

NR3C1

promoters has the potential to be developed into a variety of candidate biomarkers. In addition, despite yielding no replicated stress biomarkers to date, the small (typically 1%–2%) effect sizes for

NR3C1

methylation would suggest that there may be better DNA methylation-based stress biomarkers out there, discoverable using epigenome-wide approaches [

244

,

245

,

246

,

247

,

248

].
8.2. DNA Methylation Risk Biomarkers at Birth
Measuring DNA methylation in five candidate genes in DNA from umbilical cords, Godfrey and colleagues found that methylation of two genes correlated with childhood adiposity as measured by fat mass and trunk/limb fat ratio in 78 nine-year-olds [
42
]. Methylation of the retinoic acid X receptor alpha (
RXRA
) gene and the endothelial nitric oxide synthase (
ENOS
) gene, together with sex, explained 25% of the variance in adiposity at age nine. Data for
RXRA
were replicated in a second cohort of 239 six-year-olds [
42
]. Other studies have identified associations between
RXRA
methylation in cord blood at birth and bone mineral density at age four [
249
] and between methylation of the alkaline phosphatase
ALPL
and body mass index at nine years of age [
250
]. However, the first association could not be replicated in another sample cohort whereas for the second association no replication study was performed.
8.3. DNA Methylation Biomarkers during Childhood
Rakyan and colleagues identified 132 CpG dinucleotides whose methylation levels differed significantly in twin pairs discordant for type 1 diabetes and which were subsequently validated with an independent method and replicated in a further set of twin pairs [
251
]. Two-thirds of these CpG dinucleotides were also present in singletons prior to the onset of overt symptoms of type 1 diabetes but positive for diabetes-associated autoantibodies. If those findings can be further replicated, this could provide single or panels of DNA methylation candidate clinical biomarkers predicting the onset of type 1 diabetes. A potential biomarker study found that DNA methylation within the promoter of the peroxisomal proliferator activated receptor gamma (
PPARG
) gene in blood at age five to seven years predicted obesity risk from nine to 14 years [
252
]. However, these results have yet to be replicated.
Autism spectrum disorder (ASD) describes a related set of neurodevelopmental disorders of childhood characterized by social deficits and communication difficulties, stereotyped or repetitive behaviors and interests, and in some cases, cognitive delays. To date, a small number of ASD MWAS have been performed, using a variety of platforms, on lymphoblastoid cell lines [
253
], peripheral blood [
254
,
255
], buccal epithelium [
256
],
post mortem
occipital cortex and cerebellum [
257
], and dorsolateral prefrontal cortex, temporal cortex and cerebellum [
258
]. ASD-specific DNA methylation was found in all but one study [
257
] and in the rest, although ASD-specific methylation was often validated within the study, only one study attempted to replicate across cohorts and tissues [
258
]. In this study, three significant ASD-associated array probes discovered in temporal cortex were replicated in such a manner. ASD-specific DNA methylation found within the proline-rich transmembrane protein 1 (
PRRT1
) gene was replicated in prefrontal
post mortem
cortex and cerebellum, methylation of
c11orf21
was replicated in prefrontal cortex and methylation at an intergenic site near the zinc finger gene
ZFP37
was replicated in a sex-specific manner in cerebellum. The only differentially methylated gene replicated in two separate studies is the olfactory receptor gene
OR2L13
found in buccal epithelium [
256
] and peripheral blood [
254
]. Further replication will be required to develop this potential biomarker for ASD.
8.4. DNA Methylation Biomarkers in Adults
8.5. DNA Methylation Biomarkers of Aging
A number of individual MWAS have looked at the relationship of DNA methylation and aging, with the intention of developing age-specific biomarkers for forensic applications and for investigating premature cellular aging. Three independent meta-analyses have been performed on such datasets [
284
,
285
,
286
]. The first [
284
] reviewed six MWAS datasets from Infinium HM27 arrays containing probes for about 27,000 CpG sites [
287
] on a variety of cell types. None of the 1,093 age-associated probe CpG dinucleotides replicated across all six studies. However, probes at two genes, neuronal pentraxin II (
NPTX2
) and phosphodiesterase 4C (
PDE4C
), did overlap in five of the six studies. The second study [
285
] performed an analysis of DNA methylation from whole blood from 575 individuals ranging from newborns to age 78 from published HM27 datasets and replicated with a further group of four similar datasets. This yielded 99 significantly age-associated probes including the same
PDE4C
CpG probe cg17861230 as the first study. An even more extensive study of 39 "training" and 32 "test" HM27 and HM450 datasets of more than 7,000 samples from multiple tissues yielded 353 "age predictor" CpG dinucleotides, which included one (cg13899108) in
PDE4C
[
286
] just 420 bp from the CpG site identified in the first two studies. Although this locus is the most validated age-related CpG dinucleotide, these analyses show that sometimes, a combination of several CpG dinucleotides may be more accurate than a single CpG site. A recent large single analysis measured age-associated DNA methylation in whole blood DNA from 656 individuals using HM450 arrays [
288
]. In this tissue, investigators identified 70,387 significant age-associated CpG dinucleotides, of which, 53,670 were replicated in an independent dataset. Data was not available to identify whether the
PDE4C
locus mentioned above was among this dataset. The study went on to develop a predictive model of aging that included methylation data and clinical parameters such as gender and body mass index. We predict that this is how most DNA methylation biomarkers will be used in the future. The model selected a set of 71 age-associated methylation biomarkers that were highly predictive of age. Although
PDE4C
was not among this subset, another probe within the subset, cg09809672 associated with the EDAR-associated death domain (
EDARADD
) gene was also identified as age-associated in two of the other studies [
285
,
286
]. Importantly, this study also found evidence of an accelerated epigenetic aging in tumor tissue [
288
] and a further study has since identified epigenetic age acceleration as a risk factor for mortality [
289
]. Clearly, age-associated DNA methylation biomarkers have more applications than forensic medicine.
9. Integrating Epigenetic Data into Disease Risk Models
Although DNA methylation biomarkers can be used by themselves, the emerging field of molecular pathological epidemiology proposes that they can be integrated into models of disease risk together with other factors [
4
,
290
,
291
]. Such factors include transcriptomic, proteomic, metabolomic, microbiome, and neuroimaging data. The logic is that combinations of risk biomarkers will provide more accurate estimation of disease risk, particularly when dealing with individuals, due to inter- and intra-individual biological variation. Based on principles similar to systems and network biology and a variety of modeling methods, this field is in its infancy but is the next logical step for DNA methylation biomarkers and is already yielding promising results for genetic biomarkers [
292
].
10. Future Prospects
An increasing tendency to harmonize appropriate methods for DNA methylation detection and reference standards will accelerate the development of DNA methylation biomarkers for cancer and for other diseases. This tendency will be synergistically enhanced by next generation sequencing methodology, which has unlocked a new area of possibilities. This relatively new methodology opens the avenue for routine testing of DNA methylation biomarker panels rather than the selective choice of individual biomarkers. The use of appropriate DNA methylation biomarker panels will prove beneficial where the disease phenotype is quite heterogeneous. It is also expected that the genetic component of disease will be further revealed, which will subsequently allows the strengthening of biomarker panels by combining genetic and DNA methylation biomarker panels [
293
].
It is not only important to have appropriate epi(genetic) biomarker panels available for certain diseases or risk stratification but also to translate them into clinical actionable information. If no clinical action is available there is a risk of adverse psychological impacts among patients and a risk of those patients being disadvantaged by healthcare providers. However, there is also an enormous potential that affected patients can use the knowledge to their benefit allowing them to actively prevent or delay the early onset of certain diseases.
11. Conclusions
DNA methylation biomarkers are promising and valuable biomarkers which are heading for the molecular diagnostic laboratory. This is particular true for methylation biomarkers in cancer where the biomarkers are currently being used for early detection. However, the uptake of DNA methylation biomarkers is quite slow and will still require a considerable amount of time until the field reaches its full potential. The development of DNA methylation biomarkers for cancer and other diseases has also been slowed down by the lack of standardized methodologies and reference standards for use in DNA methylation detection. The still widespread use of inappropriate methods in combination with inappropriate controls still produces potential DNA methylation biomarkers, which may not be replicated. The need for methods of quantitative DNA methylation detection is becoming more and more obvious and is critical where only small differences in methylation values determine a diseased or disease-free state. Finally, the availability of DNA methylation biomarkers in diseases other than cancer is still in its very early steps but in time, their transition to a clinical setting will follow as it has for cancer.
Acknowledgments
Jeffrey M. Craig is supported by the Murdoch Childrens Research Institute (MCRI), the National Health and Medical Research Council, the National Institutes of Health, and the Australian Twin Registry. This work was supported by the Victorian Government's Operational Infrastructure Support Program.
Author Contributions
Jeffrey M. Craig conceived the idea; Jeffrey M. Craig and Thomas Mikeska were involved in planning, writing and editing the manuscript.
Conflicts of Interest
Thomas Mikeska is the co-inventor of intellectual property on approaches for the detection of
MGMT
promoter methylation in clinical samples. Views and opinions of, and endorsements by the authors do not reflect those of Genetic Technologies Ltd.
© 2014 by the authors; licensee MDPI, Basel, Switzerland. This article is an open access article distributed under the terms and conditions of the Creative Commons Attribution license (http://creativecommons.org/licenses/by/3.0/).