Draft Genome Sequences of
Xanthomonas sacchari

and Two Banana-Associated Xanthomonads Reveal Insights into the

Xanthomonas

Group 1 Clade

1

Department of Biosciences, University of Exeter, Geoffrey Pope Building, Stocker Road, Exeter, EX4 4QD, UK

2

National Crops Resources Research Institute (NaCRRI), P.O. Box 7084, Kampala, Uganda

3

The Food and Environment Research Agency, Sand Hutton, York, YO41 1LZ, UK

*

Author to whom correspondence should be addressed.

†

Present address: Department of Plant Pathology, Citrus Research and Education Center, University of Florida, 700 Experiment Station Road, Lake Alfred 33850, FL, USA.

Received: 23 October 2011 / Revised: 4 November 2011 / Accepted: 21 November 2011 / Published: 2 December 2011
Abstract
We present draft genome sequences for three strains of
Xanthomonas
species, each of which was associated with banana plants (
Musa
species) but is not closely related to the previously sequenced banana-pathogen
Xanthomonas campestris
pathovar
musacearum
. Strain NCPPB4393 had been deposited as
Xanthomonas campestris
pathovar
musacearum
but in fact falls within the species
Xanthomonas sacchari
. Strain NCPPB1132 is more distantly related to
Xanthomonas sacchari
whilst strain NCPPB 1131 grouped in a distinct species-level clade related to
X. sacchari
, along with strains from ginger, rice, cotton and sugarcane. These three newly sequenced strains share many genomic features with the previously sequenced
Xanthomonas albilineans
, for example possessing an unsual
metE
allele and lacking the Hrp type III secretion system. However, they are distinct from
Xanthomonas albilineans
in many respects, for example showing little evidence of genome reduction. They also lack the SPI-1 type III secretion system found in
Xanthomonas albilineans
. Unlike
X. albilineans
, all three strains possess a
gum
gene cluster. The data reported here provide the first genome-wide survey of non-Hrp
Xanthomonas
species other than
Xanthomonas albilineans
, which is an atypical member of this group. We hope that the availability of complete sequence data for this group of organisms is the first step towards understanding their interactions with plants and identifying potential virulence factors.
View Full-Text
►

▼

Figures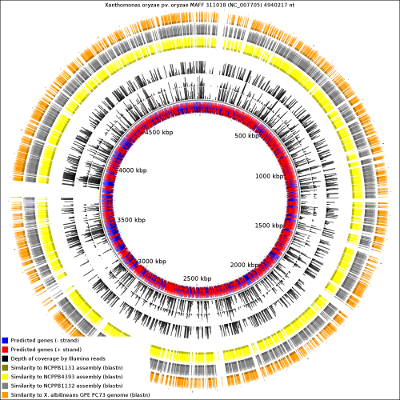 Graphical abstract

Share & Cite This Article
MDPI and ACS Style
Studholme, D.J.; Wasukira, A.; Paszkiewicz, K.; Aritua, V.; Thwaites, R.; Smith, J.; Grant, M. Draft Genome Sequences of Xanthomonas sacchari and Two Banana-Associated Xanthomonads Reveal Insights into the Xanthomonas Group 1 Clade. Genes 2011, 2, 1050-1065.
Related Articles
Comments
[Return to top]