Breed, Diet, and Interaction Effects on Adipose Tissue Transcriptome in Iberian and Duroc Pigs Fed Different Energy Sources
1
Departamento de Mejora Genética Animal, INIA, 28040 Madrid, Spain
2
Leibniz-Institute for Farm Animal Biology (FBN) Institute for Genome Biology, 18196 Dummerstorf, Germany
3
Departamento de Producción Animal, Facultad de Veterinaria, Universidad Complutense de Madrid, 28040 Madrid, Spain
4
Centro de pruebas de porcino ITACYL, Hontalbilla, 40353 Segovia, Spain
*
Author to whom correspondence should be addressed.
Received: 4 July 2019 / Revised: 1 August 2019 / Accepted: 2 August 2019 / Published: 4 August 2019
Abstract
In this study, we analyzed the effects of breed, diet energy source, and their interaction on adipose tissue transcriptome in growing Iberian and Duroc pigs. The study comprised 29 Iberian and 19 Duroc males, which were kept under identical management conditions except the nutritional treatment. Two isoenergetic diets were used with 6% high oleic sunflower oil (HO) or carbohydrates (CH) as energy sources. All animals were slaughtered after 47 days of treatment at an average live weight of 51.2 kg. Twelve animals from each breed (six fed each diet) were employed for ham subcutaneous adipose tissue RNA-Seq analysis. The data analysis was performed using two different bioinformatic pipelines. We detected 837 and 1456 differentially expressed genes (DEGs) according to breed, depending on the pipeline. Due to the strong effect of breed on transcriptome, the effect of the diet was separately evaluated in the two breeds. We identified 207 and 57 DEGs depending on diet in Iberian and Duroc pigs, respectively. A joint analysis of both effects allowed the detection of some breed–diet interactions on transcriptome, which were inferred from RNA-Seq and quantitative PCR data. The functional analysis showed the enrichment of functions related to growth and tissue development, inflammatory response, immune cell trafficking, and carbohydrate and lipid metabolism, and allowed the identification of potential regulators. The results indicate different effects of diet on adipose tissue gene expression between breeds, affecting relevant biological pathways.
View Full-Text
►

▼

Figures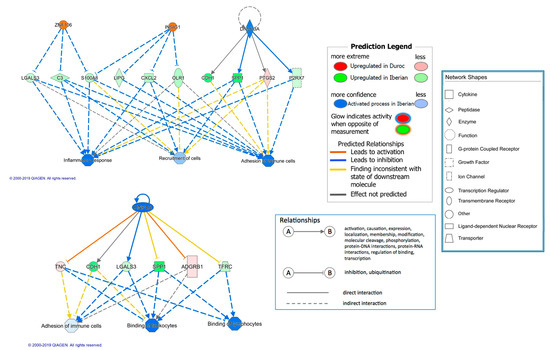 Figure 1
This is an open access article distributed under the
Creative Commons Attribution License
which permits unrestricted use, distribution, and reproduction in any medium, provided the original work is properly cited (CC BY 4.0).

Share & Cite This Article
MDPI and ACS Style
Benítez, R.; Trakooljul, N.; Núñez, Y.; Isabel, B.; Murani, E.; De Mercado, E.; Gómez-Izquierdo, E.; García-Casco, J.; López-Bote, C.; Wimmers, K.; Óvilo, C. Breed, Diet, and Interaction Effects on Adipose Tissue Transcriptome in Iberian and Duroc Pigs Fed Different Energy Sources. Genes 2019, 10, 589.
Note that from the first issue of 2016, MDPI journals use article numbers instead of page numbers. See further details here.
Related Articles
Comments
[Return to top]