AKNA

Frameshift Variant in Three Dogs with Recurrent Inflammatory Pulmonary Disease

1

Institute of Genetics, Vetsuisse Faculty, University of Bern, 3001 Bern, Switzerland

2

Laboklin, 97688 Bad Kissingen, Germany

*

Author to whom correspondence should be addressed.

†

These two authors contributed equally to this paper.

Received: 26 June 2019 / Revised: 16 July 2019 / Accepted: 25 July 2019 / Published: 26 July 2019
Abstract
We investigated three related Rough Collies with recurrent inflammatory pulmonary disease. The clinical symptoms were similar to primary ciliary dyskinesia (PCD). However, the affected dogs did not carry any known pathogenic PCD variants. Pedigree analysis suggested a recessive mode of inheritance. Combined linkage and homozygosity mapping in three cases and seven non-affected family members delineated 19 critical intervals on 10 chromosomes comprising a total of 99 Mb. The genome of one affected dog was sequenced and compared to 601 control genomes. We detected only a single private homozygous protein-changing variant in the critical intervals. The detected variant was a 4 bp deletion, c.2717_2720delACAG, in the
AKNA
gene encoding the AT-hook transcription factor. It causes a frame-shift introducing a premature stop codon and truncates 37% of the open reading frame, p.(Asp906Alafs*173). We genotyped 88 Rough Collies consisting of family members and unrelated individuals. All three available cases were homozygous for the mutant allele and all 85 non-affected dogs were either homozygous wildtype (
n
= 67) or heterozygous (
n
= 18). AKNA modulates inflammatory immune responses.
Akna−/−
knockout mice die shortly after birth due to systemic autoimmune inflammatory processes including lung inflammation that is accompanied by enhanced leukocyte infiltration and alveolar destruction. The perfect genotype-phenotype association and the comparative functional data strongly suggest that the detected
AKNA
:c.2717_2720delACAG variant caused the observed severe airway inflammation in the investigated dogs. Our findings enable genetic testing, which can be used to avoid the unintentional breeding of affected puppies.
View Full-Text
►

▼

Figures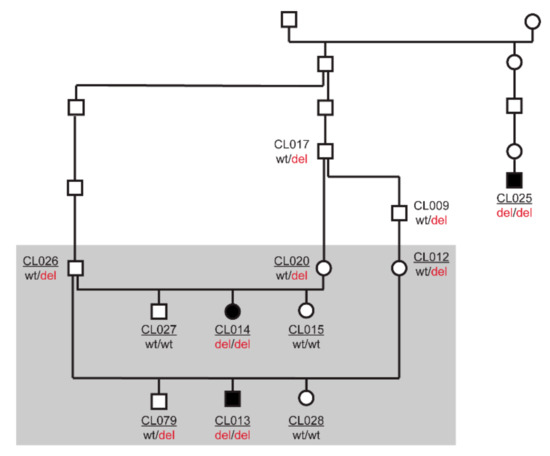 Figure 1
This is an open access article distributed under the
Creative Commons Attribution License
which permits unrestricted use, distribution, and reproduction in any medium, provided the original work is properly cited (CC BY 4.0).

Share & Cite This Article
MDPI and ACS Style
Hug, P.; Anderegg, L.; Kehl, A.; Jagannathan, V.; Leeb, T. AKNA Frameshift Variant in Three Dogs with Recurrent Inflammatory Pulmonary Disease. Genes 2019, 10, 567.
Note that from the first issue of 2016, MDPI journals use article numbers instead of page numbers. See further details here.
Related Articles
Comments
[Return to top]