Single-Nucleotide Polymorphisms Sequencing Identifies Candidate Functional Variants at Prostate Cancer Risk Loci
1
Department of Pathology, MCW Cancer Center, Medical College of Wisconsin, 8701 Watertown Plank Road, Milwaukee, WI 53226, USA
2
Department of Laboratory Medicine and Pathology, Mayo Clinic College of Medicine, 200 First Street SW, Rochester, MN 55905, USA
*
Author to whom correspondence should be addressed.
†
These authors contributed equally to this work.
‡
Current Address: Henan Key Laboratory for Esophageal Cancer Research, The First Affiliated Hospital of Zhengzhou University, 40 Daxue Road, Zhengzhou, Henan 450052, China.
Received: 21 May 2019 / Revised: 10 July 2019 / Accepted: 16 July 2019 / Published: 18 July 2019
Abstract
Genome-wide association studies have identified over 150 risk loci that increase prostate cancer risk. However, few causal variants and their regulatory mechanisms have been characterized. In this study, we utilized our previously developed single-nucleotide polymorphisms sequencing (SNPs-seq) technology to test allele-dependent protein binding at 903 SNP sites covering 28 genomic regions. All selected SNPs have shown significant cis-association with at least one nearby gene. After preparing nuclear extract using LNCaP cell line, we first mixed the extract with dsDNA oligo pool for protein–DNA binding incubation. We then performed sequencing analysis on protein-bound oligos. SNPs-seq analysis showed protein-binding differences (>1.5-fold) between reference and variant alleles in 380 (42%) of 903 SNPs with androgen treatment and 403 (45%) of 903 SNPs without treatment. From these significant SNPs, we performed a database search and further narrowed down to 74 promising SNPs. To validate this initial finding, we performed electrophoretic mobility shift assay in two SNPs (rs12246440 and rs7077275) at
CTBP2
locus and one SNP (rs113082846) at
NCOA4
locus. This analysis showed that all three SNPs demonstrated allele-dependent protein-binding differences that were consistent with the SNPs-seq. Finally, clinical association analysis of the two candidate genes showed that
CTBP2
was upregulated, while
NCOA4
was downregulated in prostate cancer (
p
< 0.02). Lower expression of
CTBP2
was associated with poor recurrence-free survival in prostate cancer. Utilizing our experimental data along with bioinformatic tools provides a strategy for identifying candidate functional elements at prostate cancer susceptibility loci to help guide subsequent laboratory studies.
View Full-Text
►

▼

Figures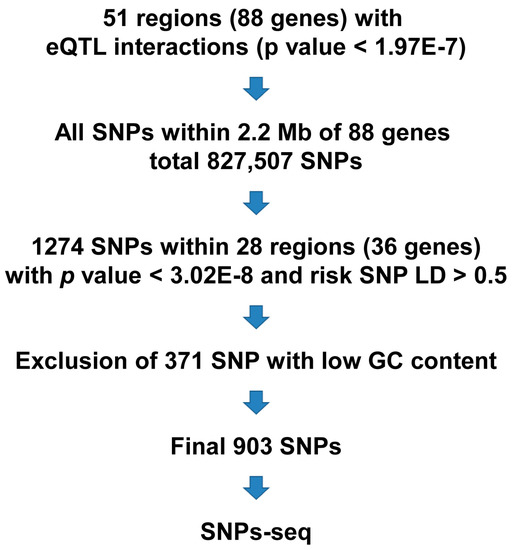 Figure 1
This is an open access article distributed under the
Creative Commons Attribution License
which permits unrestricted use, distribution, and reproduction in any medium, provided the original work is properly cited (CC BY 4.0).

Share & Cite This Article
MDPI and ACS Style
Zhang, P.; Tillmans, L.S.; Thibodeau, S.N.; Wang, L. Single-Nucleotide Polymorphisms Sequencing Identifies Candidate Functional Variants at Prostate Cancer Risk Loci. Genes 2019, 10, 547.
Note that from the first issue of 2016, MDPI journals use article numbers instead of page numbers. See further details here.
Related Articles
Comments
[Return to top]