Open Access This article is
freely available
re-usable
Review
The Role of Hypoxia in Glioblastoma Invasion
1
Centre for Biomedical Research (CBMR), University of Algarve, Campus of Gambelas, Building 8, Room 3.4, 8005-139 Faro, Portugal
2
Brain Tumour Research Centre of Excellence, Institute of Biomedical and Biomolecular Sciences, University of Portsmouth, Portsmouth PO1 2DT, UK
*
Author to whom correspondence should be addressed.
Received: 31 October 2017 / Accepted: 21 November 2017 / Published: 22 November 2017
Abstract
:
Glioblastoma multiforme (GBM), a grade IV astrocytoma, is the most common and deadly type of primary malignant brain tumor, with a patient's median survival rate ranging from 15 to 17 months. The current treatment for GBM involves tumor resection surgery based on MRI image analysis, followed by radiotherapy and treatment with temozolomide. However, the gradual development of tumor resistance to temozolomide is frequent in GBM patients leading to subsequent tumor regrowth/relapse. For this reason, the development of more effective therapeutic approaches for GBM is of critical importance. Low tumor oxygenation, also known as hypoxia, constitutes a major concern for GBM patients, since it promotes cancer cell spreading (invasion) into the healthy brain tissue in order to evade this adverse microenvironment. Tumor invasion not only constitutes a major obstacle to surgery, radiotherapy, and chemotherapy, but it is also the main cause of death in GBM patients. Understanding how hypoxia triggers the GBM cells to become invasive is paramount to developing novel and more effective therapies against this devastating disease. In this review, we will present a comprehensive examination of the available literature focused on investigating how GBM hypoxia triggers an invasive cancer cell phenotype and the role of these invasive proteins in GBM progression.
Keywords:
GBM; hypoxia; HIF; invasion; chemotherapy
2. Hypoxia in GBM
Hypoxia is a condition in which an organism or a cell is deprived of adequate oxygenation (e.g., when oxygen demand exceeds oxygen supply, O
2
partial pressure (pO
2
) less than 10 mmHg). Hypoxia is frequent in solid tumors, being the natural consequence of the increased oxygen diffusion distance due to tumor expansion. The clinical-pathological effects of hypoxia in GBM can be observed by magnetic resonance imaging (MRI) where significant oxygen diffusion restriction is detected, consistent with absent or defective blood flow [
20
,
24
,
25
]. Molecular markers of hypoxia, such as hypoxia inducible factor 1 (HIF-1) and VEGF staining, as well as tumor vascularity, can be detected on dynamic contrast enhanced MRI and correlate with worse progression-free and overall patient survival [
24
,
26
]. Microscopy analyses of GBMs reveal multiple hypoxic regions and a widespread invasion in the growing periphery of these tumors [
23
]. Hypoxia occurs in GBM due to increased cell proliferation/tumor growth linked to an erratic tumor neovascularization that leads to poor oxygen diffusion [
27
]. GBM vessels are tortuous, disorganized, highly permeable, and characterized by abnormalities in their endothelial walls due to the lack of pericyte coverage [
28
,
29
,
30
]. These vessels also have significantly larger diameters and thicker basement membranes compared to those of the normal brain [
31
]. At the tumor tissue level, the occurrence of microvascular thromboses that lead to vessel occlusion is commonly observed, further promoting intratumoral hypoxia [
25
]. Intratumoral blood flow is thus impeded, creating a heterogeneous tumor environment with respect to oxygenation and interstitial fluid pressure [
32
]. Inconsistent intratumoral oxygenation leads to hypoxia, acidosis, and necrosis, whereas the increased hydrostatic pressure outside of the GBM vasculature promotes intratumoral edema, a major cause of morbidity for GBM patients [
33
].
3. HIF Transcription Factors
4. Hypoxia Driven Up-Regulation of Invasion Proteins in GBM
In this review, we will perform a thorough examination of the literature focused in identifying hypoxia responsive invasion genes and proteins and characterizing the molecular mechanisms by which these proteins contribute to GBM progression.
4.1. Extracellular Matrix Degradation and Remodeling
4.2. Epithelial to Mesenchymal Transition (EMT)
4.4. Cytoskeleton Dynamics
Microarray-based gene expression studies using glioma or neuroblastoma cells have shown that knockdown of HIF-1α inhibits the expression of the cyclin G2 encoding gene,
ccng2
[
76
,
158
,
159
]. Furthermore, immunohistochemistry studies showed the expression of cyclin G2 in hypoxic regions of GBM, principally in pseudopalisades [
160
]. In addition, in vitro studies using U87MG, U251MG, and LNZ308 GBM cell lines showed a significant up-regulation of cyclin G2 expression in response to hypoxia [
160
]. This study also showed that HIF-1α binds to the
ccng2
promoter and that knockdown of
HIF-1α
by shRNA inhibited the hypoxia-induced expression of cyclin G2. These results indicate that hypoxia is a main regulator of cyclin G2 expression in GBM. Cyclin G2 was first identified as a negative regulator of the cell cycle [
161
] and later it was shown to induce cell cycle arrest in a p53-dependent manner [
162
]. Moreover, cyclin G2 was also shown to bind to and stabilize microtubules [
162
]. A more recent study demonstrated that cyclin G2 plays an important role in the regulation of hypoxia induced migration and invasion in GBM cells (e.g., U87MG and U251MG) [
160
]. This study revealed that mechanistically cyclin G2 is able to recruit cortactin to the leading edge of migrating GBM cells, promoting the subsequent tyrosine phosphorylation of cortactin, which is essential for ruffle formation and tumor cell invasion [
160
].
4.5. Hemostasis
Tissue factor (TF) has been shown to be upregulated in GBM cells in response to hypoxia [
25
,
163
,
164
]. TF is a main regulator of hemostasis, initiating the blood coagulation cascade upon binding to its ligand, factor VII (FVII) [
165
]. Expression of TF has been shown to positively correlate with the histological grade of gliomas, as well as with the extent of necrosis [
166
]. A more recent analysis of a large patient cohort of the TCGA data platform (
N
= 424) revealed that
TF
mRNA levels are significantly upregulated in GBM compared to normal brain tissue samples [
167
]. Kaplan–Meier survival analysis of the REMBRANDT database (
N
= 213) further determined a significant reduction in overall survival in GBM patients with high levels of
TF
expression [
167
]. Moreover, immunohistochemistry studies revealed that TF is predominantly expressed in perinecrotic and perivascular areas of human GBM [
167
]. Given the key role of TF in the regulation of blood clotting, increased expression of this protein in tumor cells has been shown to correlate with hyper-coagulation in malignant gliomas, further promoting a hypoxic environment [
25
,
165
]. In addition to its pro-thrombotic function, TF has also been shown to constitute a transmembrane receptor that regulates intracellular signaling pathways [
165
,
168
,
169
]. TF/Factor VII (FVII) signaling has been shown to play an important role in glioma cell growth, migration, and invasion [
170
]. This study suggested that the effects of TF/FVII were mediated through the downstream activation of PAR-2 and the ERK1/2 MAPK signaling pathways.
There has been some limited research focusing on targeting TF directly (as opposed to ERK 1/2 MAPK inhibitors). A murine xenograft model where human GBM cells of MZ-18 were transplanted into nude mice brains showed that treatment of these mice with a monoclonal antibody against TF (mAb TF9-10H10), using an intracranial osmotic pump system for delivery, significantly inhibited MZ-18 cell invasion compared to mock-treated control animals [
167
]. The extent of activated blood vessels was also reduced upon anti-TF treatment. These results suggest that targeting TF might be a promising treatment strategy for GBM therapy, by inhibiting both tumor invasion and tumor vasculature. However, clinical trials still need to be performed to test these encouraging results in GBM patients.
4.6. Others
Over-expression of the pro-motility receptor protein tyrosine kinase, ephrin type-A receptor 2 (EphA2), has been observed in GBM and associated with poor prognosis/lower overall survival [
171
,
172
,
173
]. In vitro studies have further shown that EphA2 induces GBM cell motility and invasion [
174
,
175
,
176
]. EphA2 activity is antagonized by the EphA2 ligand, ephrin A1 [
151
,
154
,
155
], which is frequently suppressed in GBM, further promoting EphA2 signaling [
172
,
177
]. EphA2 coordinates signaling from a variety of receptor tyrosine kinases (RTKs) via growth factor mediated activation of AKT, which initiates AKT-dependent EphA2 phosphorylation at residue S897 [
175
]. The resulting P-S897-EphA2 is required for lamellipodia formation and subsequent GBM cell motility and invasion [
175
]. The eHsp90/LRP1 complex was identified as a key regulator of EphA2-dependent GBM cell motility and invasion through its ability to sustain AKT-dependent phosphorylation of EphA2 at residue S897 [
178
]. Interestingly, hypoxia elicited increased expression and cell surface levels of both eHsp90 and LRP1 in G48a, U87MG, and U251 GBM cells. Moreover, hypoxia-mediated up-regulation of eHsp90 and LRP1 led to amplification of the eHsp90-LRP1 signaling axis, as assessed by robust activation of AKT and EphA2, and concomitantly induced cell motility and invasion [
178
].
Efforts have been made in the development of HSP90-directed therapies. Several pharmacological inhibitors that target the N-terminal ATP-binding domain of HSP90 have been developed, including ansamycins, purine analogs, and resorcinol derivatives [
179
,
180
]. Preclinical and clinical trials have demonstrated the antitumor efficacy of these drugs in different cancer types [
180
,
181
]. However, to date, no clinical trials with HSP90 inhibitors have been performed in GBM patients.
Transient receptor potential 6 (TRPC6) mRNA and protein levels have been shown to be up-regulated in GBM samples compared to normal brain tissue [
182
,
183
]. TRPC6 is a member of the Transient Receptor Potential (TRP) superfamily of cation channels [
184
]. In vitro studies using a combination of inhibitory drugs and shRNAs for Notch1 or TRPC6, showed that hypoxia induces the expression of TRPC6 in a Notch1 dependent manner in U373MG GBM cells [
182
]. Mechanistically, hypoxia induced TRPC6 expression caused a sustained elevation of intracellular calcium levels leading to the activation of the calcineurin-nuclear factor of the activated T-cell (NFAT) signaling pathway and subsequent promotion of GBM cell growth, invasion, and angiogenesis [
182
].
5. Conclusions
GBM, the most common and deadly type of brain tumor, is characterized by extensive hypoxic foci that trigger an invasive cancer cell phenotype. Tumor invasion is a major contributor to GBM chemoresistance and patients' mortality. For this reason, the identification and characterization of proteins involved in hypoxia induced invasion in GBM is critical for the development of novel and more effective therapies against this deadly disease. The treatment protocol for GBM patients has not changed since 2005, and temozolomide treatment in particular has been shown to be primarily limited to tumors with
MGMT
promoter methylation [
5
]. In this review, we have compiled, to the best of our knowledge, the progress made in identifying hypoxia responsive invasive proteins in GBM, the molecular mechanisms by which these proteins contribute to GBM migration and invasion, and the advancements made regarding the development of pharmacological drugs against these proteins. Proteins involved in ECM degradation and remodeling (e.g., CAIX, integrins β3, αvβ3 and αvβ5, PLOD2, MMP-2, MMP-9); EMT (e.g., CBF1, ZEB1, TWIST1); chemokine receptors (e.g., CXCR4, CCR5); cytoskeleton dynamics (e.g., cyclin G2); hemostasis (e.g., TF, factor VII); the pro-motility receptor, EphA2; and the cation channel protein, TRPC6, have been shown to contribute to GBM migration and invasion in response to hypoxia. Of these, CAIX, integrins, PLOD2, CXCR4, EGFRvIII (that induces up-regulation of MMP-2, MMP-9, and integrin β3 in a HIF-1α/hypoxia dependent manner), HSP90 (which induces hypoxic activation of EphA2) and to a limited extent TF have been shown to be potentially promising targets for GBM treatment. Phase I and II trials are currently being pursued for CAIX, EGFRvIII, PLOD2, and EphA2 targeting chemotherapeutics in different types of cancer. However, clinical trials in GBM patients have not yet been reported for these drugs. Even though a phase III study for the integrins targeting drug, cilengitide (CENTRIC), in newly diagnosed GBM patients showed disappointing results, another independent phase II study with this drug (CORE) showed that bi-weekly treatment with cilengitide alongside conventional therapy significantly improved overall patient survival. While the CENTRIC study was performed in patients with GBM tumors containing a methylated
MGMT
promoter, the CORE study was done in patients with an un-methylated
MGMT
promoter. These results suggest that cilengitide might be beneficial in the treatment of tumors with an un-methylated
MGMT
promoter.
A major obstacle for brain tumor treatment is the BBB. Many of the chemotherapeutics that have shown promising in vitro results against GBM cells do not have the capacity to cross the BBB. For this reason, the development of drug delivery systems that can transport these drugs through the BBB is equally imperative.
Acknowledgments
Patrícia A. Madureira (P.A.M.) is the recipient of an FCT Investigator contract from the Foundation for Science and Technology (Fundação para a Ciência e a Tecnologia, FCT) of Portugal, ref: IF/00614/2014, and an FCT exploratory grant, ref: IF/00614/2014/CP12340006. A.R.M. is the recipient of an ERASMUS+ fellowship. The Centre for Biomedical Research (CBMR) is financed by an FCT Research Center Grant, ref: UID/BIM/04773/2013 CBMR 1334. Research in the Portsmouth Brain Tumour Research Centre is core funded by the charity, Brain Tumor Research.
Author Contributions
P.A.M., A.R.M., and R.H. wrote the manuscript. P.A.M. and A.R.M. designed the figures. P.A.M. conceptualized the structure and edited the manuscript. P.A.M. and G.J.P. reviewed the manuscript.
Conflicts of Interest
The authors declare no conflict of interest.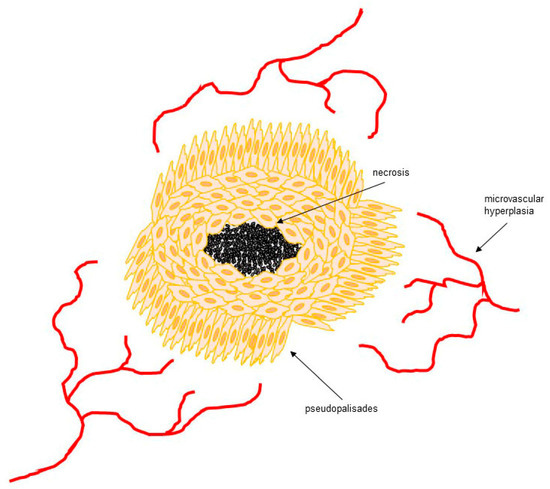 Figure 1. GBM distinctive pathological features. GBM is characterized by necrotic foci with surrounding cellular pseudopalisades and microvascular hyperplasia. Pseudopalisades are created by tumor cells migrating away from a central hypoxic (low oxygenated) region and forming an invasive front. Microvascular hyperplasia is an exacerbated form of angiogenesis that occurs in response to the secretion of proangiogenic factors (e.g., vascular endothelial growth factors (VEGFs), interleukin-8 (IL-8)) by the cells that form the pseudopalisades.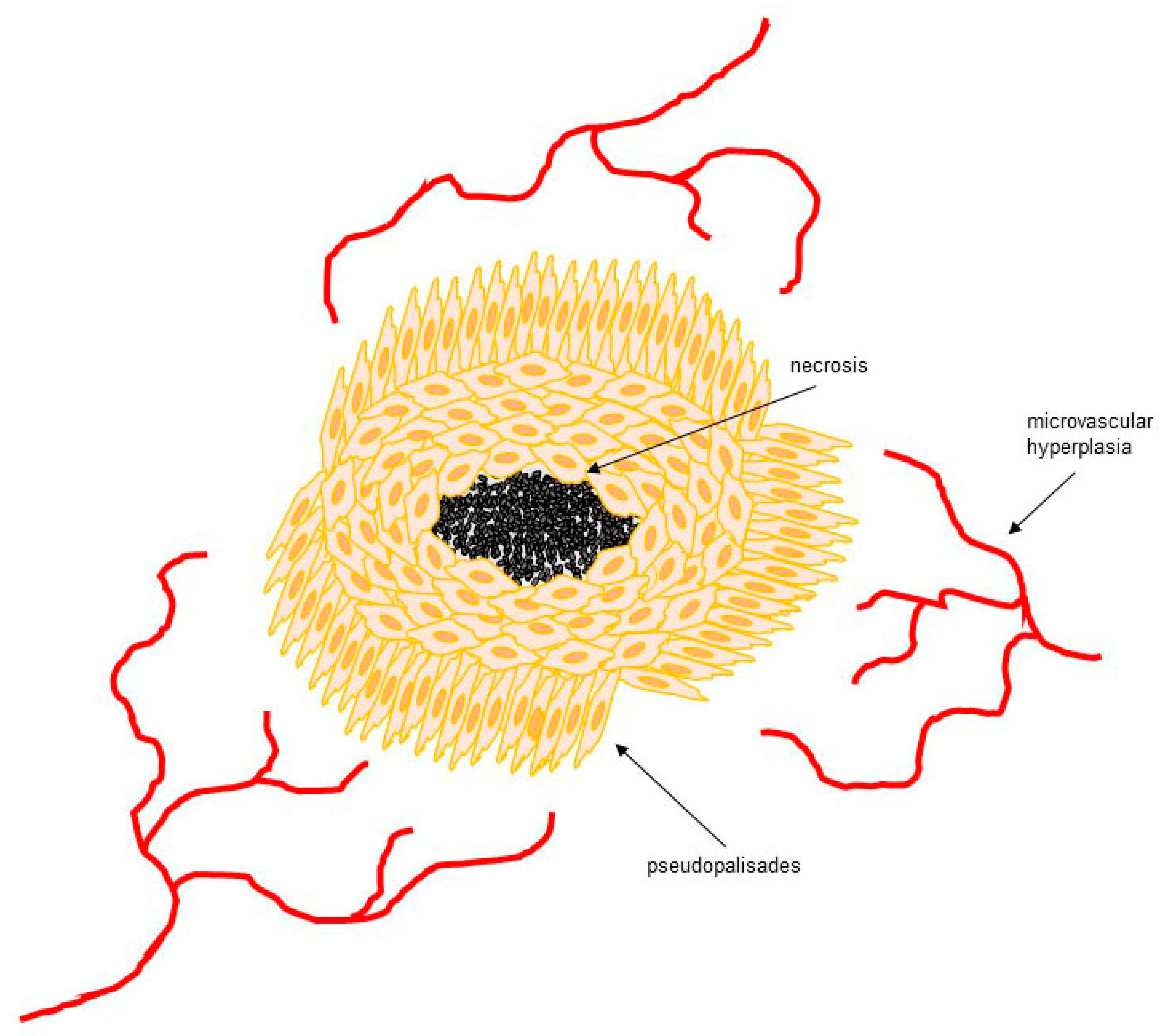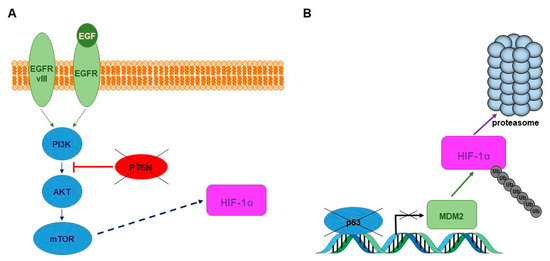 Figure 2.
Genetic alterations that lead to HIF activation in GBM. (
A
)
EGFR
gene amplification and/or overexpression is frequent in GBM. The most common
EGFR
gene mutation (EGFRvIII) consists in the deletion of exons 2–7, resulting in a constitutively active and ligand independent receptor. Initiation of EGFR/EGFRvIII signaling by ligand binding, gene amplification, or mutation results in activation of the PI3K/AKT/mTOR pathway with the subsequent up-regulation of HIF-1α.
PTEN
gene deletion is common in GBM. PTEN protein is the main inhibitor of the PI3K/AKT signaling pathway, as such loss of PTEN function leads to increased HIF-1α via the PI3K/AKT/mTOR pathway; (
B
) It has been proposed that p53 may lead to inhibition of HIF activity in hypoxia by promoting MDM2-mediated ubiquitination and degradation of HIF-1α. Therefore, the loss of the
p53
gene, which is common in GBM, will lead to HIF-1α stabilization.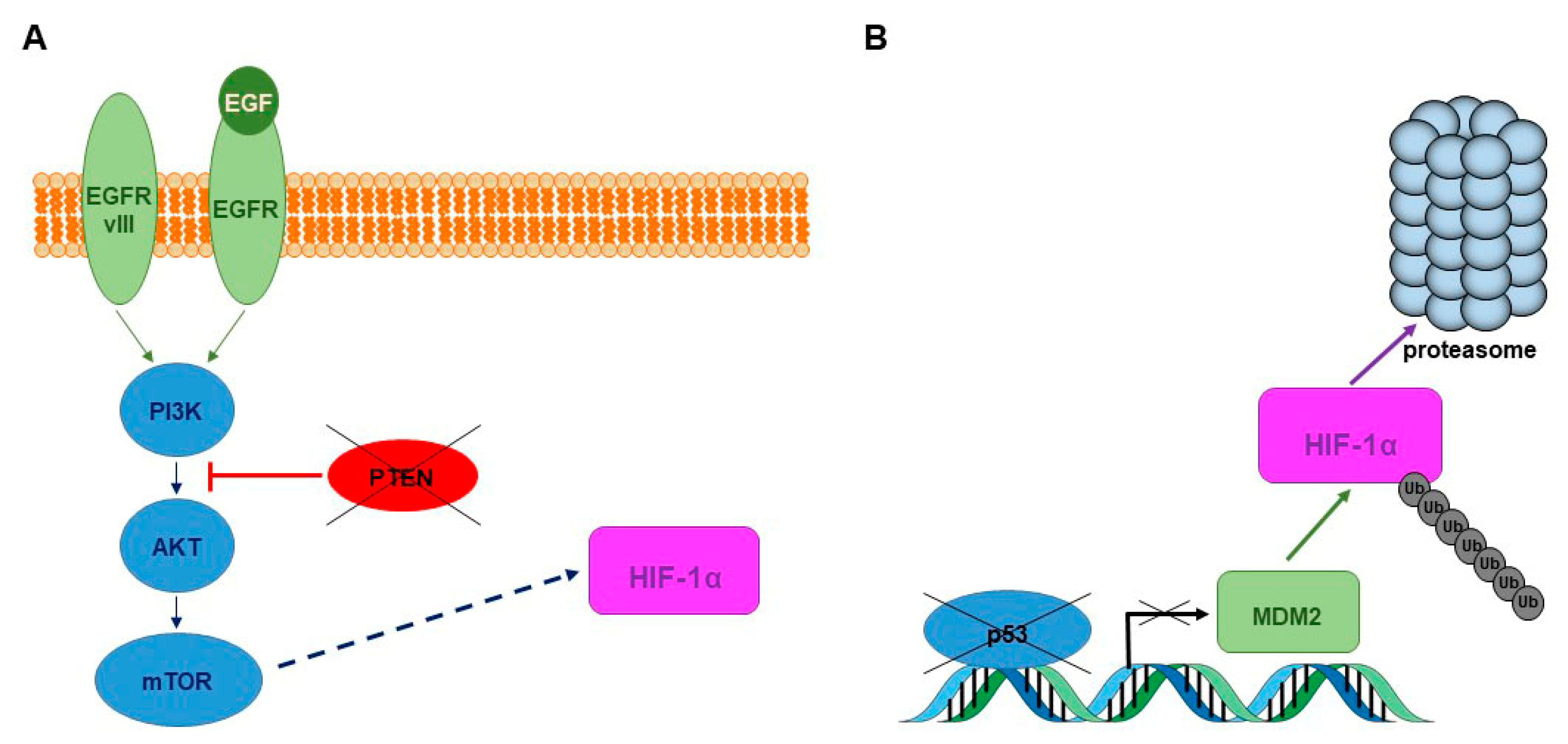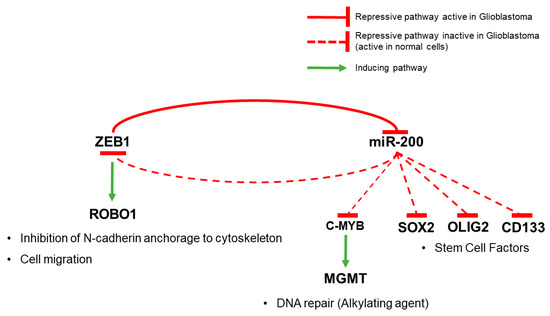 Figure 3. Glioblastoma ZEB1-miRNA-200 feedback loop interactions. In GBM, the ZEB1-miRNA-200 feedback loop targets specific stem cell regulators, namely SOX2, OLIG2, and CD133. ZEB1 up-regulation of c-MYB by the ZEB1-miRNA-200 feedback loop leads to increased expression of the MGMT protein that repairs DNA damage caused by alkylating agents such as temozolomide. ZEB1 positively regulates the ROBO1 protein that has been shown to sever the anchorage of N-cadherin to the cytoskeleton leading to increased GBM cell motility.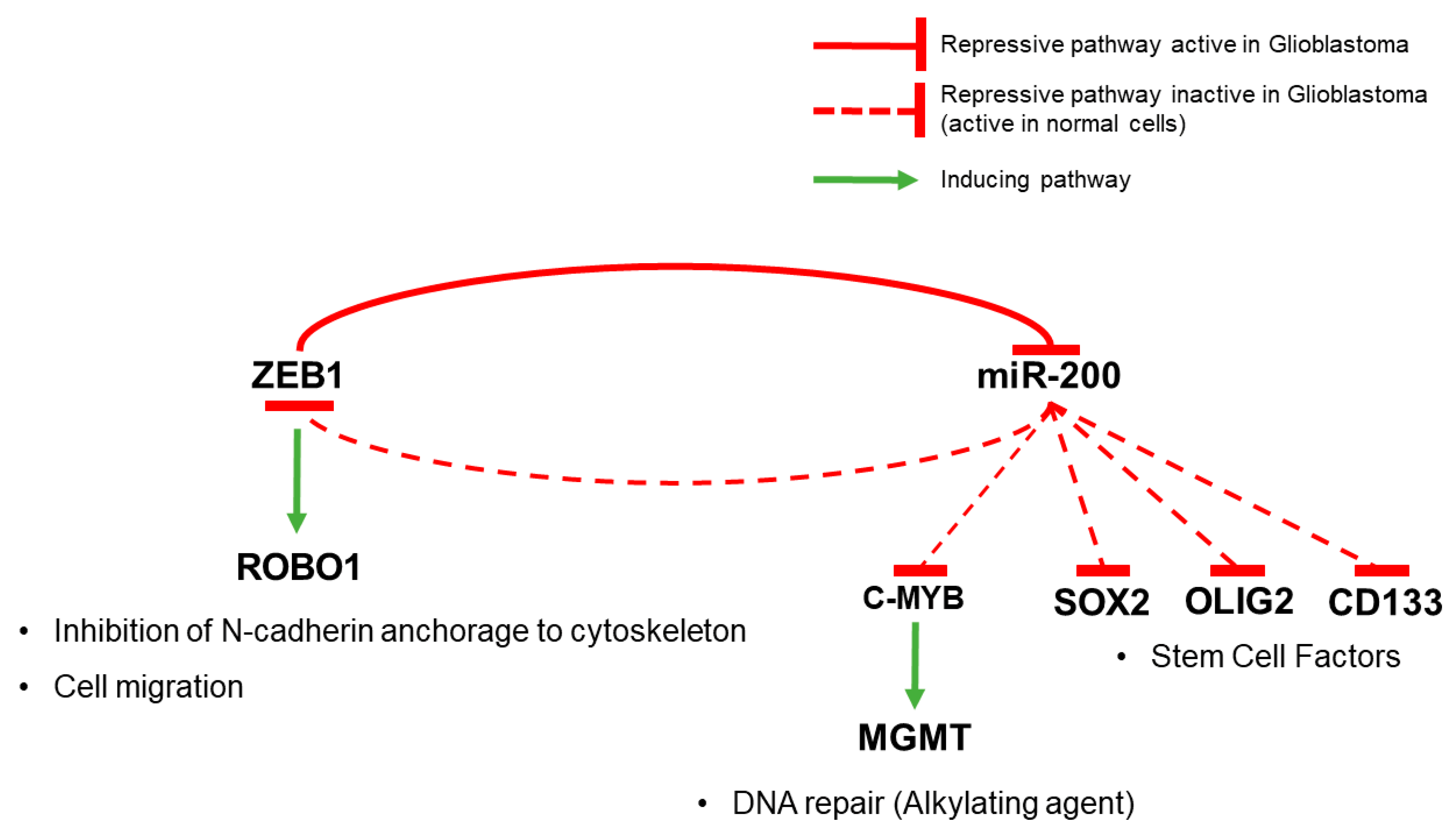 Table 1. TWIST1 induced pathways and proteins in GBM.
Protein/Pathway
Role
Periostin
Recruitment of M2 tumor-associated macrophages which are tumor-supportive and immunosuppressive [130].
Fibronectin 1
Promotes cell cohesion and invasion of basement membrane [131].
SPARC
Upholds ECM degradation through the uPA-uPAR pathway and stimulates survival, proliferation and invasion via the PI3K pathway [132].
SNAI2
Inhibits miR-34 activity, a regulatory microRNA for differentiation, promoting stemness [133,134].
ID1
Activates tumor progression pathways, such as Snail, ERK1/2 and AKT, and promotes stem cell self-renewal transcription factors Sox2, Oct3/4 and Nanog [135].
HGF
Promotes survival, proliferation, transformation and invasion through activation of the PI3K/AKT, STAT3/JNK, SOS/RAS/ERK/MAPK pathways [136].
LOX
Activates HIF-1α (via AKT pathway in a positive feed-back loop),

FAK

and

VEGF

gene expression [137].
Cadherin 11
Regulates cell-cell interactions and survival, and promotes cell migration [138].
BMI1/EZH2
Part of the Polycomb repressive complex 1 and 2, in that order, promotes gene silencing of the P16 and P14 tumor suppressors, and inhibits cancer stem cells differentiation [139].

© 2017 by the authors. Licensee MDPI, Basel, Switzerland. This article is an open access article distributed under the terms and conditions of the Creative Commons Attribution (CC BY) license (http://creativecommons.org/licenses/by/4.0/).