Expression Profiling of Differentiating Emerin-Null Myogenic Progenitor Identifies Molecular Pathways Implicated in Their Impaired Differentiation
1
Department of Biomedical Sciences, Rm 534, Cooper Medical School of Rowan University, 401 South Broadway St., Camden, NJ 08028, USA
2
Department of Pharmaceutical Sciences, University of the Sciences, Philadelphia, PA 19104, USA
3
Committee on Genetics, Genomics and Systems Biology, University of Chicago, Chicago, IL 60637, USA
*
Author to whom correspondence should be addressed.
Received: 1 September 2017 / Revised: 18 October 2017 / Accepted: 18 October 2017 / Published: 22 October 2017
Abstract
Mutations in the gene encoding emerin cause Emery-Dreifuss muscular dystrophy (EDMD), a disorder causing progressive skeletal muscle wasting, irregular heart rhythms and contractures of major tendons. RNA sequencing was performed on differentiating wildtype and emerin-null myogenic progenitors to identify molecular pathways implicated in EDMD, 340 genes were uniquely differentially expressed during the transition from day 0 to day 1 in wildtype cells. 1605 genes were uniquely expressed in emerin-null cells; 1706 genes were shared among both wildtype and emerin-null cells. One thousand and forty-seven transcripts showed differential expression during the transition from day 1 to day 2. Four hundred and thirty-one transcripts showed altered expression in both wildtype and emerin-null cells. Two hundred and ninety-five transcripts were differentially expressed only in emerin-null cells and 321 transcripts were differentially expressed only in wildtype cells. DAVID, STRING and Ingenuity Pathway Analysis identified pathways implicated in impaired emerin-null differentiation, including cell signaling, cell cycle checkpoints, integrin signaling, YAP/TAZ signaling, stem cell differentiation, and multiple muscle development and myogenic differentiation pathways. Functional enrichment analysis showed biological functions associated with the growth of muscle tissue and myogenesis of skeletal muscle were inhibited. The large number of differentially expressed transcripts upon differentiation induction suggests emerin functions during transcriptional reprograming of progenitors to committed myoblasts.
View Full-Text
►

▼

Figures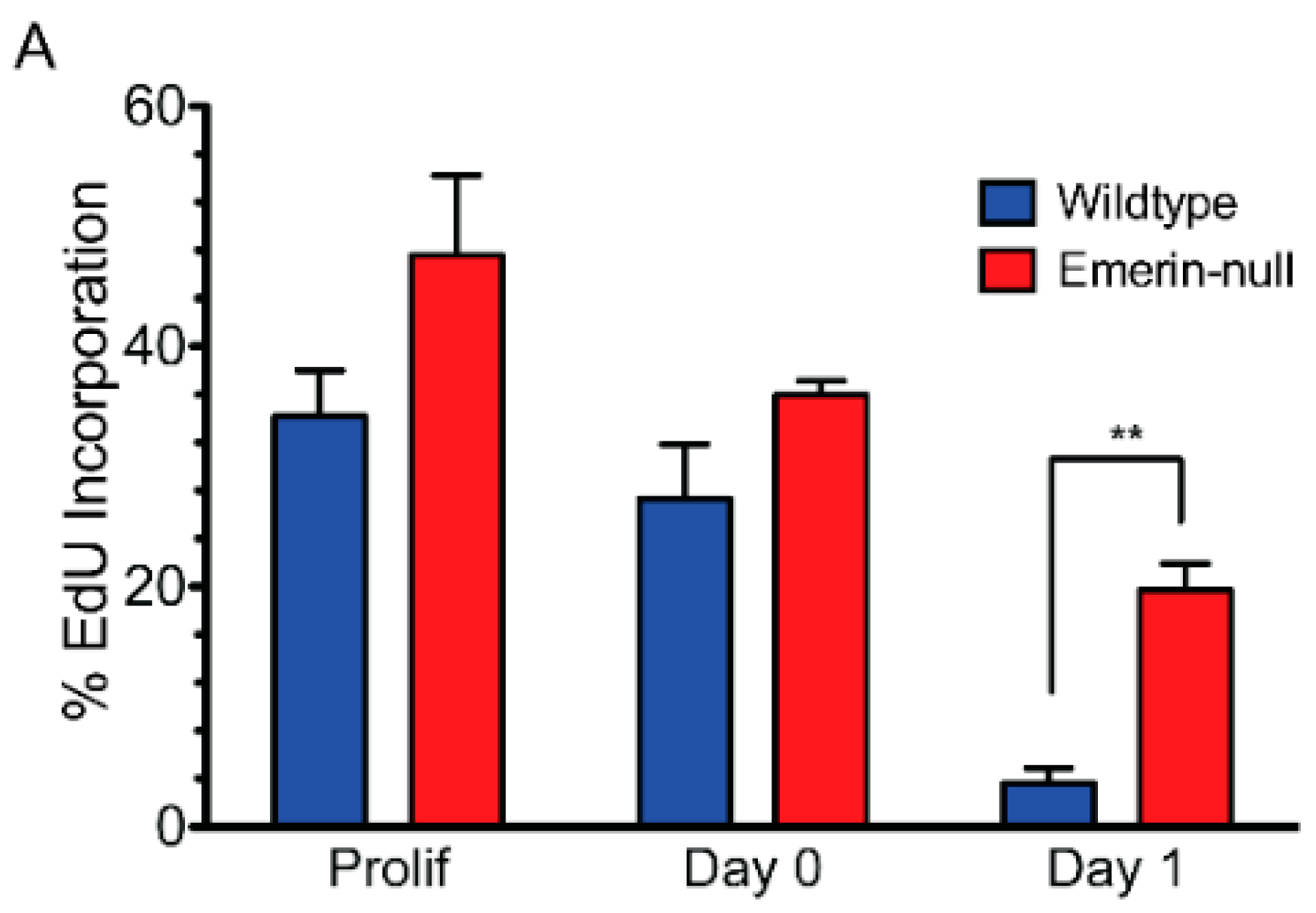 Figure 1
This is an open access article distributed under the
Creative Commons Attribution License
which permits unrestricted use, distribution, and reproduction in any medium, provided the original work is properly cited (CC BY 4.0).

Share & Cite This Article
MDPI and ACS Style
Iyer, A.; Koch, A.J.; Holaska, J.M. Expression Profiling of Differentiating Emerin-Null Myogenic Progenitor Identifies Molecular Pathways Implicated in Their Impaired Differentiation. Cells 2017, 6, 38.
Note that from the first issue of 2016, MDPI journals use article numbers instead of page numbers. See further details here.
Related Articles
Comments
[Return to top]