Open Access This article is
freely available
re-usable
Review
Mesenchymal Stem or Stromal Cells from Amnion and Umbilical Cord Tissue and Their Potential for Clinical Applications
1
Ludwig Boltzmann Institute for Experimental and Clinical Traumatology, AUVA Research Center, Vienna/Linz 1200, Austria
2
Austrian Cluster for Tissue Regeneration, Austria
3
Department of Biotechnology, University of Natural Resources and Life Sciences, Vienna 1190, Austria
4
Red Cross Blood Transfusion Service of Upper Austria, Linz 4020, Austria
*
Author to whom correspondence should be addressed.
†
These authors contributed equally to this work.
Received: 4 September 2012; in revised form: 29 October 2012 / Accepted: 5 November 2012 / Published: 12 November 2012
Abstract
:
Mesenchymal stem or stromal cells (MSC) have proven to offer great promise for cell-based therapies and tissue engineering applications, as these cells are capable of extensive self-renewal and display a multilineage differentiation potential. Furthermore, MSC were shown to exhibit immunomodulatory properties and display supportive functions through parakrine effects. Besides bone marrow (BM), still today the most common source of MSC, these cells were found to be present in a variety of postnatal and extraembryonic tissues and organs as well as in a large variety of fetal tissues. Over the last decade, the human umbilical cord and human amnion have been found to be a rich and valuable source of MSC that is bio-equivalent to BM-MSC. Since these tissues are discarded after birth, the cells are easily accessible without ethical concerns.
Keywords:
MSC; mesenchymal stem cell; mesenchymal stromal cell; amnion; umbilical cord; clinical applications
1. Introduction
Mesenchymal cells derived from amniotic membrane have been referred to in various ways by different research groups, including human amnion/amniotic mesenchymal stromal cells (hAMSC[s]), amniotic membrane mesenchymal stem cells (AM-MSC), amniotic membrane-human mesenchymal stromal cells (AM-hMSC), amnion-derived MSC, amniotic mesenchymal fibroblasts, human amnion stromal cells (hASC), human amniotic mesenchymal tissue cells (AMTC), human amniotic mesenchymal cells (HAMc), mesenchymal cells derived from human amniotic membrane (MC-HAM), human amniotic mesenchymal stem cells (hAMs), human amniotic membrane-derived mesenchymal cells (hAMCs or hAM-MSC) and human amnion-derived fibroblast-like cells (HADFIL) [
1
,
2
,
3
,
4
,
5
,
6
,
7
,
8
,
9
,
10
,
11
,
12
,
13
,
14
,
15
,
16
,
17
,
18
,
19
,
20
,
21
,
22
,
23
,
24
,
25
]. During the first meeting of the "International Placenta Stem Cell Society" (IPLASS) in 2007, it was agreed that the nomenclature of these cells should be unified as "human amniotic mesenchymal stromal cells" (hAMSC) [
19
].
hAMSC are derived from the extraembryonic mesoderm [
19
] and are found dispersed in the collagenous stroma underlying the epithelial monolayer of the amniotic membrane [
2
,
16
].
The nomenclature of umbilical cord (UC)-derived MSC has not been unified yet and the cells have been referred to in many ways, mainly depending on from which compartment of the cord the cells have been isolated. The UC usually comprises two arteries and a vein, which are immersed within a mucoid connective tissue, the so-called Wharton's jelly (WJ), and are enclosed by a simple amniotic epithelium. At least four separate regions were found to contain mesenchymal cells. Thus, MSC could be isolated from the subendothelium [
26
,
27
,
28
], the WJ [
29
,
30
,
31
,
32
,
33
,
34
,
35
,
36
,
37
,
38
,
39
], the perivascular region [
40
,
41
], and the umbilical cord blood [
42
,
43
,
44
,
45
,
46
]. Parts of this review will focus on UC tissue-derived MSC which will be referred to as UC-MSC.
2. Isolation, Expansion and Characterization of hAMSC
3. Isolation, Expansion and Characterization of UC-MSC
Besides the umbilical cord blood the umbilical cord tissue was also found to be a rich and valuable source of MSC. For the isolation of the cells many protocols have been proposed mainly depending on from which compartment the cells should be isolated. An overview of different techniques applied during isolation is given in
Figure 1
. Basically the isolation procedure starts with a mechanical treatment of the tissue. This may contain a segmentation of the cord, chopping into small tissue pieces or scraping of the Wharton's Jelly. Often the umbilical arteries and vein are removed and discarded before further processing [
31
,
33
,
39
,
62
] but the perivascular regions, the vessels and the sub endothelium of the vein can also serve as a source of MSC [
26
,
27
,
28
,
40
,
41
,
63
]. Most of the protocols contain steps of enzymatic digestion of the tissue with several enzymes (e.g., Collagenase I or II, Hyaluronidase and Trypsin) followed by filtration and or centrifugation steps [
31
,
33
,
39
,
62
,
64
,
65
,
66
,
67
] but explant culture approaches are also described [
68
,
69
,
70
,
71
]. By cutting down the tissue into approximately 0.5 cm
3
large pieces and incubating them in appropriate culture media at 37 °C and a humidified atmosphere with 5% CO
2
, adherent cells will start to grow out of the tissue after approximately 10 days resulting in a confluent culture after two weeks [
70
].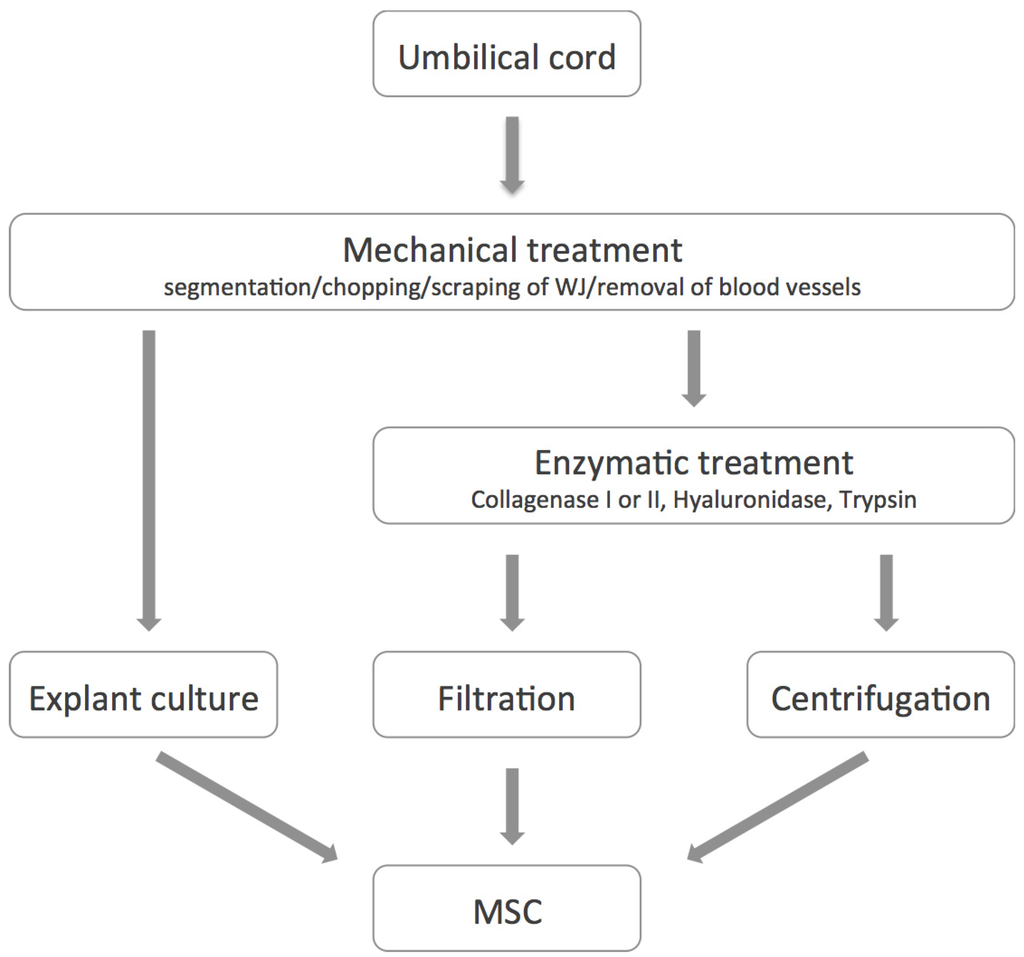 Figure 1. Different techniques used during isolation of mesenchymal stem or stromal cells (MSC) from umbilical cord (UC) tissue. Basically enzymatic digestion or explant culture approaches are used.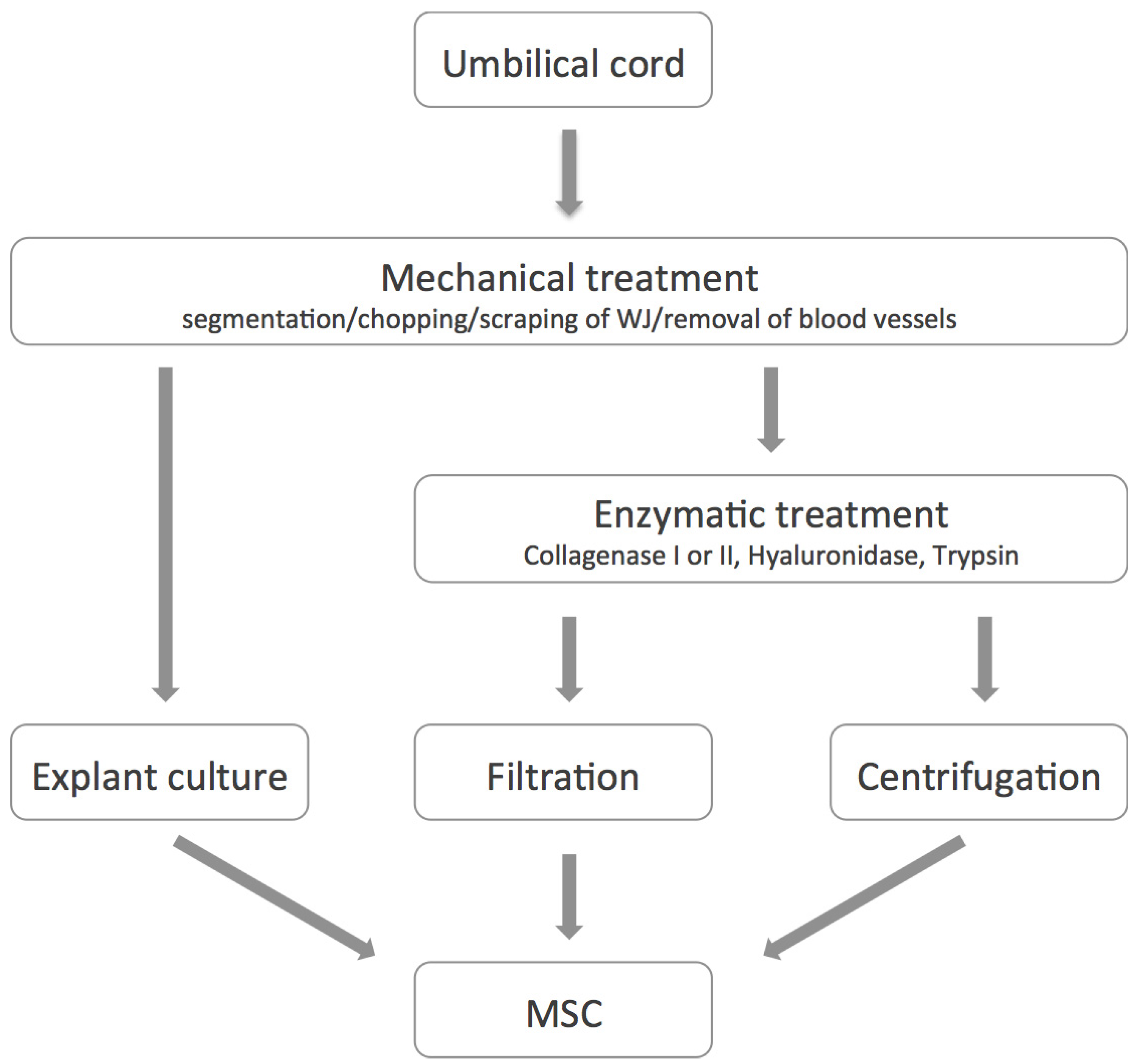 Freshly isolated UC-derived MSC are mainly fibroblast-like spindle-shaped cells. Although isolated from different compartments of the cord by several isolation techniques, all UC-derived cells are found to meet the minimal criteria for defining multipotent mesenchymal stromal cells as proposed by the ISCT. Thus, besides growing adherent to plastic and exhibiting a multi-lineage differentiation potential, the cells express CD105, CD73 and CD90, and lack the expression of CD45, CD34, CD14 or CD11b, CD79 alpha or CD19 and HLA-DR. An overview of further reported intra- and extra-cellular markers expressed by UC-derived MSC is given in [
72
].
However, some groups observed varying phenotypes among UC-derived primary cells (see
Figure 2
). The cultures displayed a broad cell size distribution and when using counterflow centrifugal elutriation (CCE) the cells could be separated according to their size leading to MSC subpopulations that, although sharing the same immunophenotype, displayed significant differences in cell growth and biochemical marker expression [
73
].
Additionally, when cells isolated from the Wharton's Jelly were compared to UC arterial- and venous-derived cells significant differences could be observed with regard to proliferative and osteogenic differentiation potential [
63
]. These results demonstrate the demand for further investigations concerning UC-MSC from different UC-compartments and MSC sub-populations but also raise the question whether the proposed minimal criteria are still sufficiently defined to identify MSC not only from UC but other tissues. In this context, several groups have proposed new surface antigens as universal markers for the identification of MSC from bone marrow and other tissues (reviewed in [
74
]) such as CD271 [
75
,
76
], MSCA-1 [
75
], SSEA-4 [
77
,
78
], and the neural ganglioside GD2 [
79
]. To our knowledge MSCA-1 expression in UC-MSC cultures have not been investigated yet. Additionally UC-derived cell populations were found to be negative for CD271 surface antigen expression but express SSEA-4 [
63
,
68
]. Furthermore, UC-tissue was shown to harbor a subset of GD2
+
cells that exhibit a high clonogenicity as well as proliferation capacity but also a significantly stronger multi-differentiation potential than GD2
−
cells, indicating GD2 to be a potential marker useful for the isolation of multipotent MSC from UC-tissue [
80
].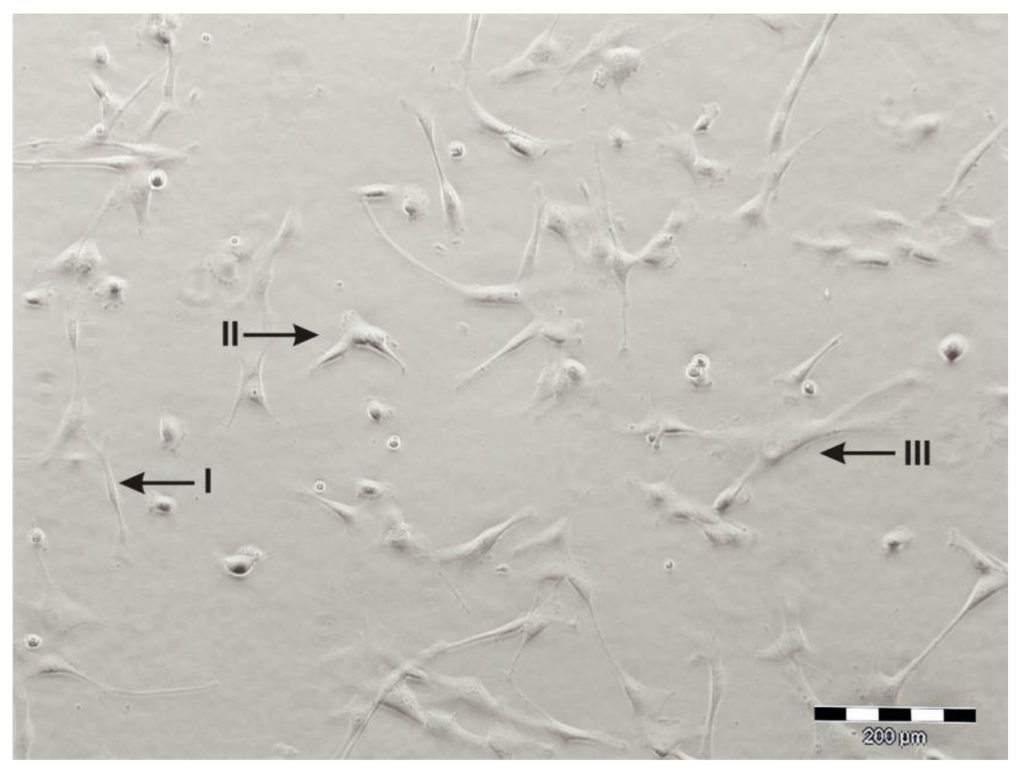 Figure 2. Primary UC-derived cell cultures can contain broad cell size distributions (I < II < III).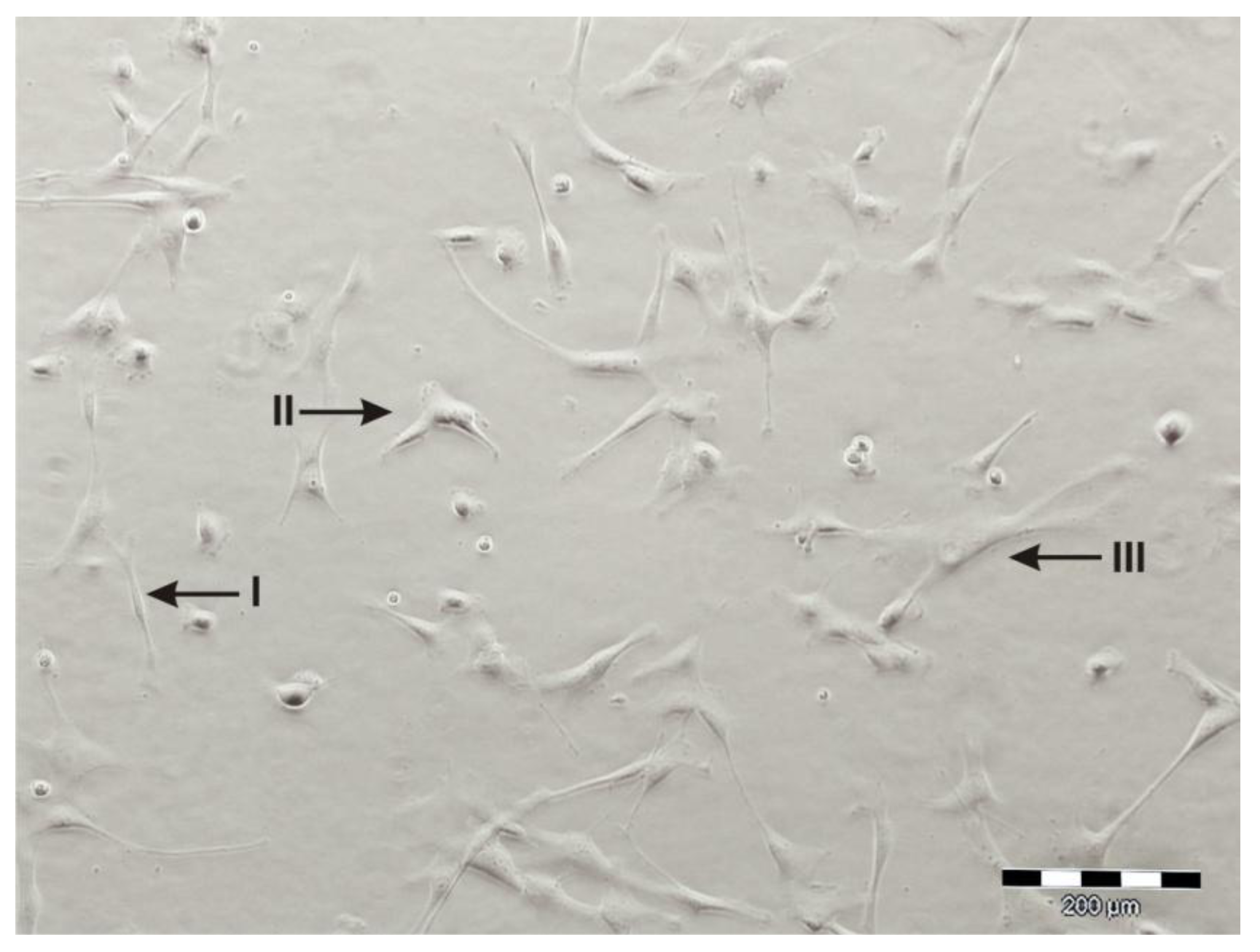 4. Differentiation Potential of hAMSC
Besides differentiating into the typical mesenchymal lineages—osteogenic, chondrogenic, adipogenic—hAMSC are also capable to differentiate into cells of all three germ layers: ectoderm (neural, glial), mesoderm (skeletal muscle, endothelial, cardiomyocytic) and endoderm (pancreatic, hepatic).
5. Differentiation potential of UC-MSC
6. Immunological properties of hAMSC and UC-MSC
7. Immortalization of hAMSC and UC-MSC
Applying MSC for cell therapy, higher cell numbers are required. Furthermore, well characterized cell lines, constantly growing while maintaining their typical properties, are highly valuable for research. Immortalization is one opportunity to fulfill this requirement. Wolbank
et al.
[
24
] could successfully establish two cell lines derived from hAMSC using a retroviral transfection system for introduction of hTERT. hTERT overexpression in hAMSC maintained fibroblastic morphology, surface expression of most hematopoietic and mesenchymal stem cell marker as well as adipogenic and osteogenic differentiation potential. Furthermore, immunological properties were similar to parental cells and no chromosomal abnormalities or tumorigenic conversion was observed.
As recently reported, also immortalized MSC from UC vein and Wharton's jelly have been established [
148
,
149
]. First analysis of these UC-MSC expressing ectopic hTERT revealed that the findings regarding immortalized hMSC from common tissues like bone marrow and amnion are comparable to preliminary data collected from immortalized UC-MSC. The modified cells increased their population doubling capacity up to more than 100 PD with no morphological or karyotypic alterations [
149
]. Flow cytometric analysis of the surface molecules revealed expression of MSC specific markers (CD13, CD29, CD105) and lack the expression of CD 34, CD45, HLA-DR. Furthermore, these cells were proven to express a set of genes like Oct-4, Nanog, ZFX, Bmi-1 and Nucleostemin which are known to be associated with their self-renewal capacity [
148
]. Immunologic analysis show maintenance of the MSC immunotolerance as well as the absence of any tumorigenic conversion
in vitro
or in nude mice during a period of 2 weeks [
149
]. Furthermore, the differentiation of immortalized UC-MSC in hepatocyte-like cells and subsequent analysis of liver specific markers showed that these MSC also maintain their multipotent differentiation potential similar to the isolated parental cells in early passages.
However, less is known about the influence of such modifications to the entire expression patterns and the impact on hMSC behavior. Such suggestions based on the fact that immortalization via common transfection methods based on randomized insertion of the hTERT gene into the genome of hMSC. Although immortalized hMSC exhibit near limitless potential, considering the application of such cells in clinical trials require either the localization of the exact positions of the transgenes or transfection methods which allow exact gene targeting.
8. Prospective Clinical Applications: Current State and Outlook
Isolated from biologic waste, ethically non-problematic, stem cells from full-term umbilical cord tissue and amniotic membrane are easily available and may present an attractive completion to other classically established stem cells (e.g., from bone marrow) in different clinical approaches. Since it has been shown in numerous papers that MSC have the ability to down-regulate immune response and support tissue repair mechanisms their use has been widespread for the treatment of many different diseases. Currently performed studies often apply MSC from bone marrow (39 studies in different stages, several involving a combination therapy with drugs). Over the last decade's 125 clinical trials has been documented using MSC from bone marrow, 43 studies for UC-MSC (3 for MSC from Wharton's jelly respectively) and only one is documented for MSC isolated from amniotic membrane [
150
].
The application of UC-MSC in the documented studies include treatment of Graft
vs.
Host Disease (GvHD), hepatic cirrhosis, colitis ulcerosa, type 1 diabetes and treatment of diabetic foot wounds, cardiomyopathy, Alzheimer disease, different autoimmune diseases e.g., multiple sclerosis and muscular dystrophy, neuromyelitis optica and rheumatoid arthritis.
UC-MSC have for instance been applied in the treatment of 160 patients after myocardial infarction in a double-blind, placebo-controlled, multicenter phase 2 trial (by Navy General Hospital, Beijing, completed July 2012) [
151
]. Several papers report on differentiation of UC-MSC into cardiomyocyte-like cells [
38
,
152
,
153
], but functionality of these derived cells is also controversially discussed [
96
,
154
].
Twenty-two clinical trials use MSC for the treatment of Graft
vs.
Host Disease (GvHD) whereas the most recent studies started recruiting patients in 2012. UC-MSC have also been applied for the treatment of Alzheimer disease (NCT01547689) and in HIV patients (NCT01213186). Successful and promising preclinical studies on UC-MSC and hAMSC performed to date and their diverse properties offer these cells the possibility for future clinical use in the treatment of various diseases. Till then some major obstacles, such as translation from research to GMP-scale, market authorization and clinical application will need to be resolved.
9. Conclusion
Taken together, the results of published data and clinical trials on MSC have proven to provide great potential for different therapeutic applications. Due to their young age, UC-MSC and hAMSC possess high proliferative capacity and expansion potential; thus, the
in vitro
expansion process can be reduced with regard to time and passage number. In addition, a reduction of labor intensive work risks of contamination and damages (e.g., inadvertant epigentic modifications) during
in vitro
expansion can be achieved. The combination of retaining multilineage differentiation potential with their immunmodulatory properties make MSC from umbilical cord tissue and amnion promising cell therapeutics.
Conflict of Interest
The authors declare no conflict of interest.
© 2012 by the authors; licensee MDPI, Basel, Switzerland. This article is an open access article distributed under the terms and conditions of the Creative Commons Attribution license (http://creativecommons.org/licenses/by/3.0/).