Prohexadione-Calcium Application during Vegetative Growth Affects Growth of Mother Plants, Runners, and Runner Plants of Maehyang Strawberry
1
Division of Applied Life Science, Graduate School of Gyeongsang National University, Jinju 52828, Korea
2
Division of Crop Science, Graduate School of Gyeongsang National University, Jinju 52828, Korea
3
Department of Agricultural Plant Science, College of Agriculture & Life Science, Gyeongsang National University, Jinju 52828, Korea
4
Institute of Agriculture & Life Science, Gyeongsang National University, Jinju 52828, Korea
5
Research Institute of Life Science, Gyeongsang National University, Jinju 52828, Korea
*
Author to whom correspondence should be addressed.
Received: 30 January 2019 / Revised: 16 March 2019 / Accepted: 21 March 2019 / Published: 25 March 2019
Abstract
Strawberry (
Fragaria
×
ananassa
Duch.) is an important horticultural crop that is vegetatively propagated using runner plants. To achieve massive production of runner plants, it is important to transfer the assimilation products of the mother plant to the runner plants, and not to the runner itself. Application of prohexadione–calcium (Pro–Ca), a plant growth retardant with few side effects, to strawberry is effective in inhibiting transport of assimilates to runners. This study aimed to determine the optimum application method and concentration of Pro–Ca on the growth characteristics of mother plants, runners, and runner plants for the propagation of strawberry in nurseries. Pro–Ca was applied at the rate of 0, 50, 100, 150, or 200 mg·L
−1
(35 mL per plant) to plants via foliar spray or drenching under greenhouse conditions at 30 days after transplantation. Petiole lengths of mother plants were measured 15 weeks after treatment; growth was suppressed at the higher concentrations of Pro–Ca regardless of the application method. However, the crown diameter was not significantly affected by the application method or Pro–Ca concentration. The number of runners was 7.0 to 8.2, with no significant difference across treatments. Runner length was shorter at higher concentrations of Pro–Ca, especially in the 200 mg·L
−1
drench treatment. However, fresh weight (FW) and dry weights (DW) of runners in the 50 mg·L
−1
Pro–Ca drench treatments were higher than controls. Foliar spray and drench treatments were more effective for runner plant production than the control; a greater number of runner plants were produced with the 100 and 150 mg·L
−1
Pro–Ca foliar spray treatment and the 50 and 100 mg·L
−1
drench treatment. The FW and DW of the first runner plant was not significantly different in all treatments, but DW of the second runner plant, and FW and DW of the third runner plant were greatest in the 50 mg·L
−1
Pro–Ca drench treatment. These results suggested that growth and production of runner plants of Maehyang strawberry were greatest under the 50 mg·L
−1
Pro–Ca drench treatment.
View Full-Text
►

▼

Figures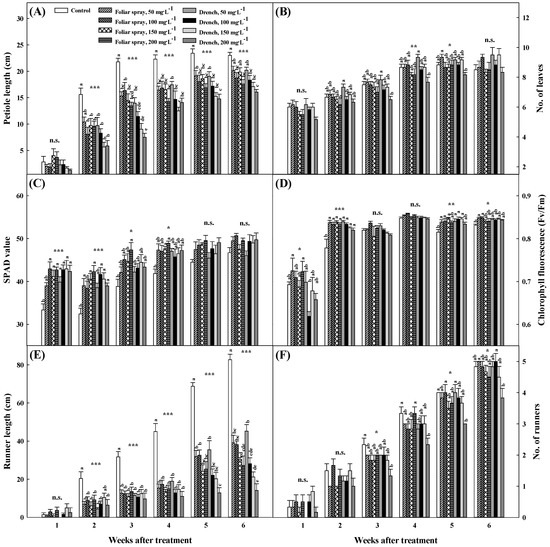 Figure 1
This is an open access article distributed under the
Creative Commons Attribution License
which permits unrestricted use, distribution, and reproduction in any medium, provided the original work is properly cited (CC BY 4.0).

Share & Cite This Article
MDPI and ACS Style
Kim, H.M.; Lee, H.R.; Kang, J.H.; Hwang, S.J. Prohexadione-Calcium Application during Vegetative Growth Affects Growth of Mother Plants, Runners, and Runner Plants of Maehyang Strawberry. Agronomy 2019, 9, 155.
Note that from the first issue of 2016, MDPI journals use article numbers instead of page numbers. See further details here.
Related Articles
Comments
[Return to top]