Synergistic Effects of Agronet Covers and Companion Cropping on Reducing Whitefly Infestation and Improving Yield of Open Field-Grown Tomatoes
1
Department of Crops, Egerton University, Horticulture and Soils, P.O. Box 536, Egerton 20115, Kenya
2
Department of Horticulture, Michigan State University, 1066 Bogue Street, Plant and Soil Science Building, East Lansing, MI 48824, USA
3
Centre de coopération International en Recherche Agronomique pour le Développement (CIRAD), UR Hortsys, Montpellier 34000, France
4
International Centre of Insect Physiology and Ecology (ICIPE), Nairobi 00100, Kenya
*
Author to whom correspondence should be addressed.
Academic Editor: Rakesh S. Chandran
Received: 25 June 2016 / Revised: 2 September 2016 / Accepted: 7 September 2016 / Published: 19 September 2016
Abstract
Tomatoes (
Lycopersicon esculentum
Mill) are one of the biggest vegetable crops in the world, supplying a wide range of vitamins, minerals and fibre in human diets. In the tropics, tomatoes are predominantly grown under sub-optimal conditions by subsistence farmers, with exposure to biotic and abiotic stresses in the open field. Whitefly (
Bemisia tabaci
Gennadius) is one of the major pests of the tomato, potentially causing up to 100% yield loss. To control whitefly, most growers indiscriminately use synthetic insecticides which negatively impact the environment, humans, and other natural pest management systems, while also increasing cost of production. This study sought to investigate the effectiveness of agronet covers and companion planting with aromatic basil (
Ocimum basilicum
L
.
) as an alternative management strategy for whitefly in tomatoes and to evaluate the use of these treatments ontomato growth and yield. Two trials were conducted at the Horticulture Research and Training Field, Egerton University, Njoro, Kenya. Treatments comprised a combination of two factors, (1) growing environment (agronet and no agronet) and (2) companion planting with a row of basil surrounding tomato plants, a row of basil in between adjacent rows of tomato, no companion planting. Agronet covers and companion cropping with a row of basil planted between adjacent tomato rows significantly lowered
B. tabaci
infestation in tomatoes by 68.7%. Better tomato yields were also recorded in treatments where the two treatments were used in combination. Higher yield (13.75 t/ha) was obtained from tomatoes grown under agronet cover with a basil row planted in between adjacent rows of the tomato crop compared to 5.9 t/ha in the control. Non-marketable yield was also lowered to5.9 t/ha compared to 9.8 t/ha in the control following the use of the two treatments in combination. The results of this study demonstrate the potential viability of using companion cropping and agronet covers in integrated management of
B. tabaci
and improvement of tomato yield.
View Full-Text
►

▼

Figures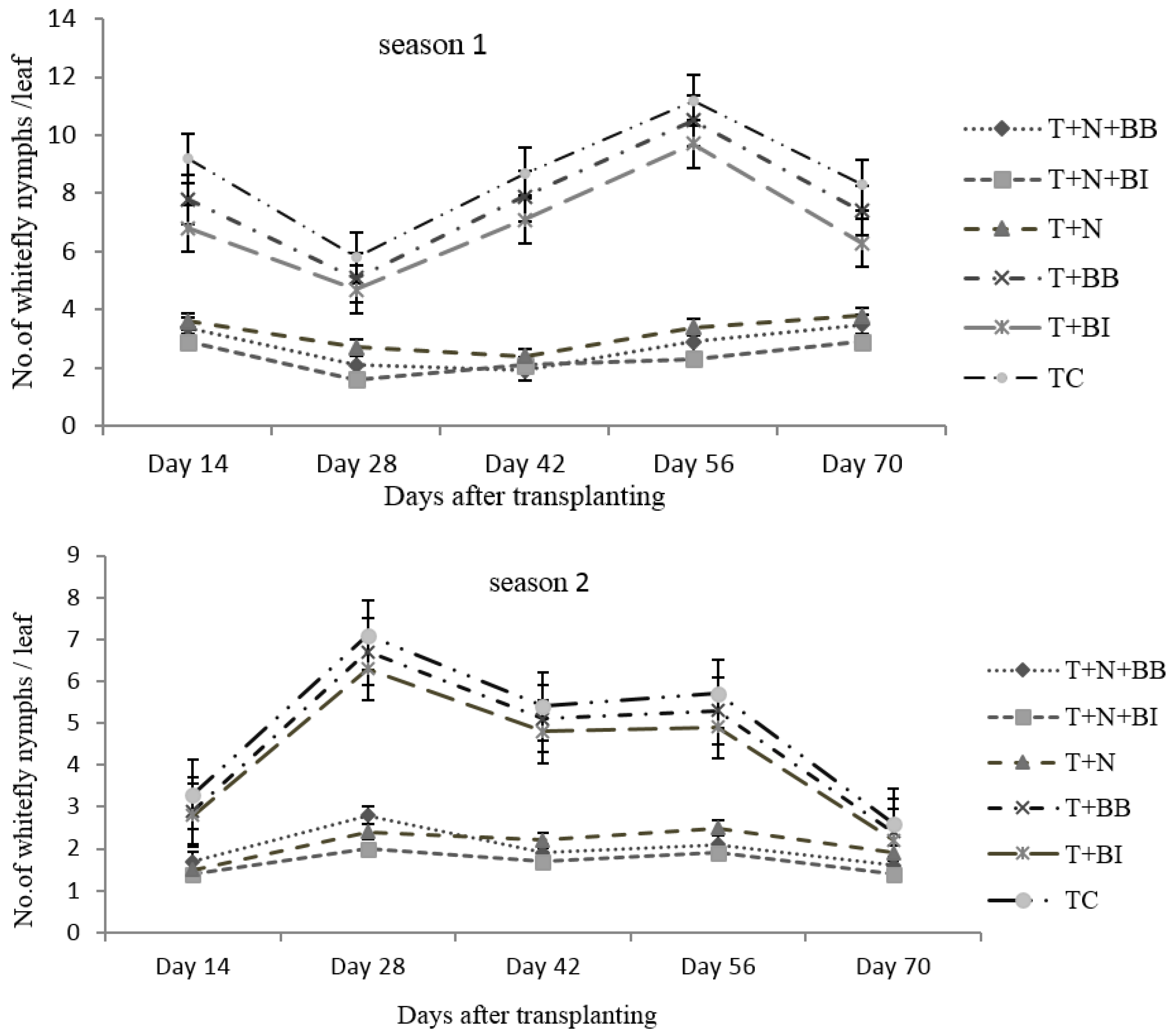 Figure 1
This is an open access article distributed under the
Creative Commons Attribution License
which permits unrestricted use, distribution, and reproduction in any medium, provided the original work is properly cited (CC BY 4.0).

Share & Cite This Article
MDPI and ACS Style
Mutisya, S.; Saidi, M.; Opiyo, A.; Ngouajio, M.; Martin, T. Synergistic Effects of Agronet Covers and Companion Cropping on Reducing Whitefly Infestation and Improving Yield of Open Field-Grown Tomatoes. Agronomy 2016, 6, 42.
Note that from the first issue of 2016, MDPI journals use article numbers instead of page numbers. See further details here.
Related Articles
Comments
[Return to top]