Water Vapor Permeability through Porous Polymeric Membranes with Various Hydrophilicity as Synthetic and Natural Barriers
1
Frumkin Institute of Physical Chemistry and Electrochemistry of Russian Academy of Sciences, Leninsky Prospect, 31, bldg. 4, Moscow 119071, Russia
2
Department of Commodity Science and Expertise, Plekhanov Russian University of Economics, Stremyanny per. 36, Moscow 117997, Russia
*
Author to whom correspondence should be addressed.
Received: 26 December 2019 / Revised: 17 January 2020 / Accepted: 18 January 2020 / Published: 1 February 2020
The article is devoted to the analysis of sorption kinetics, permeability, and diffusion of water vapor in porous polymeric membranes of different hydrophilicities and through-porosities. The water transport measurement with a constant gradient of partial pressure allows the authors to obtain reliable characteristics for porous membranes, films, artificial leathers, and fabrics of various chemical natures (synthetic and bio-based) and phase structures. All the kinetic permeability curves were determined and effective diffusion coefficients, as well as their apparent activation energies, were calculated at the stationary and non-stationary stages of the mass transfer. The relationship between the sorption–diffusion characteristics of the polymer barriers and their vapor permeability is traced. Within the framework of a Zolotarev–Dubinin dual dispersive model, an analytical equation is obtained that relates permeability to diffusion coefficients of water vapor in the pore volume, polymer skeleton material using such characteristics as porosity and the solubility coefficient. It is proposed to use this equation to predict the sorption properties for barrier and porous materials of complex architecture specifically in food packaging.
Author Contributions
Conceptualization, C.A. and Z.P.; methodology, R.A. and C.T.; validation, R.A.; formal analysis, Z.S.; investigation, C.A., R.A., Z.S.; resources, Z.S.; writing—original draft preparation, C.A. and C.T.; writing—review and editing, Z.P.; visualization, R.A.; supervision, C.A.; All authors have read and agreed to the published version of the manuscript
Funding
Presidium of Russian Academy of Sciences P22 (2019).
Conflicts of Interest
The authors declare no conflict of interest.
Figure 1. Experimental setup (a) and diffusion cell (b) for the study of the vapor permeability kinetics of polymeric membranes. Sitallic sensor is designed to measure the local humidity near the inner surface of the membrane. More detailed description of the setup is provided in the text.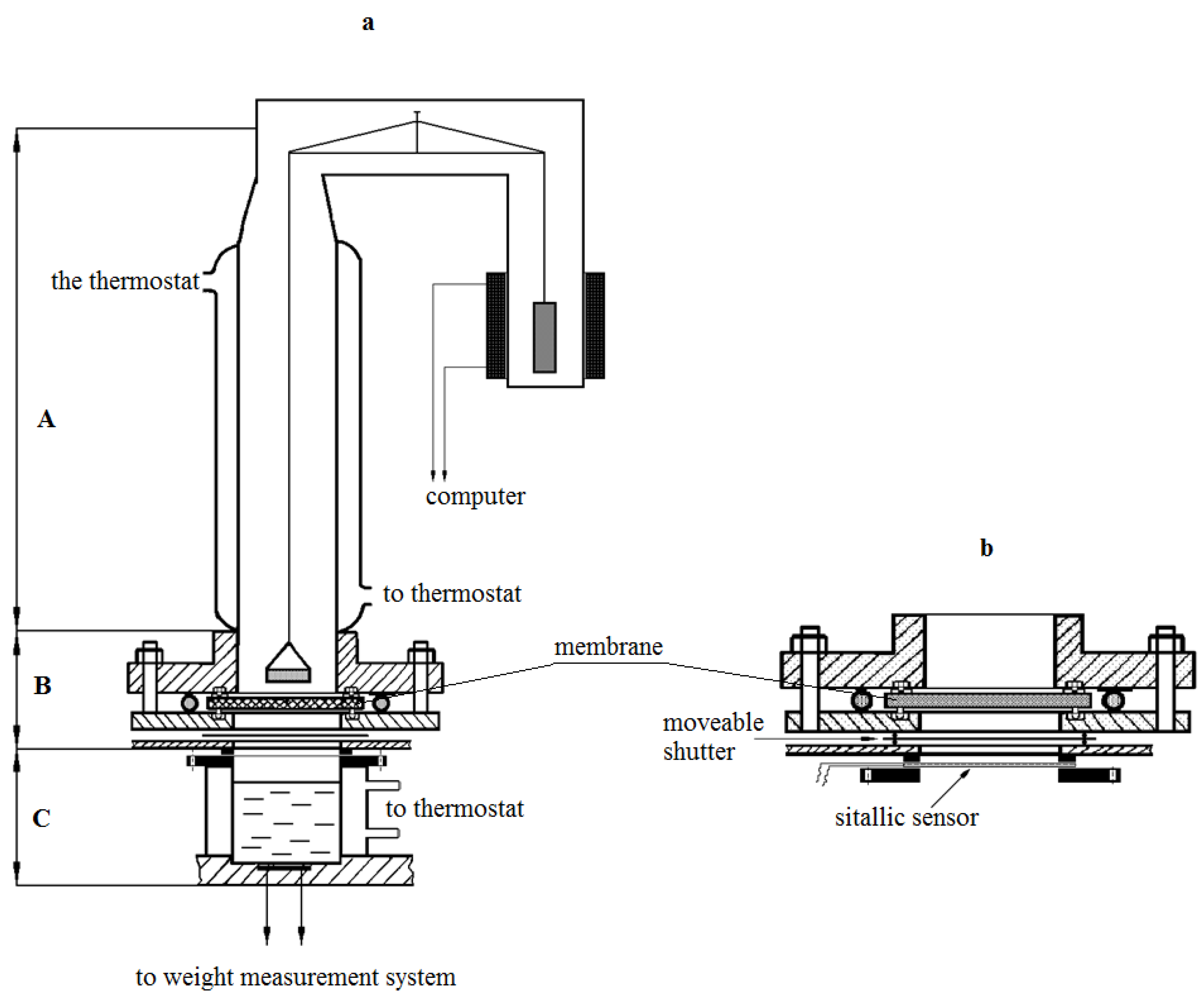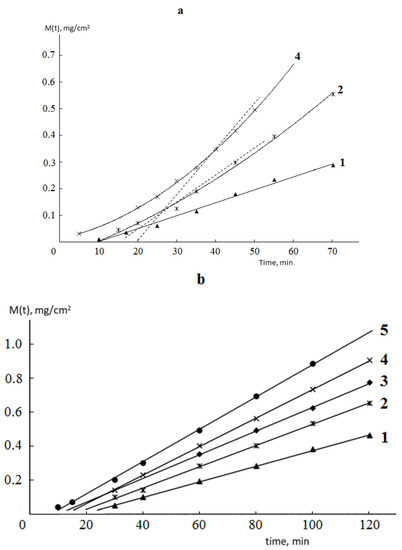 Figure 2. Kinetic curves of vapor permeability of monolithic (a) and porous (b) polymeric membranes obtained from polyvinyl chloride (PVC) (1), polyesterurethane urea (PEU)-1 (2), PEU-2 (3), PEU-3 (4), and collagen (5) at 298 K.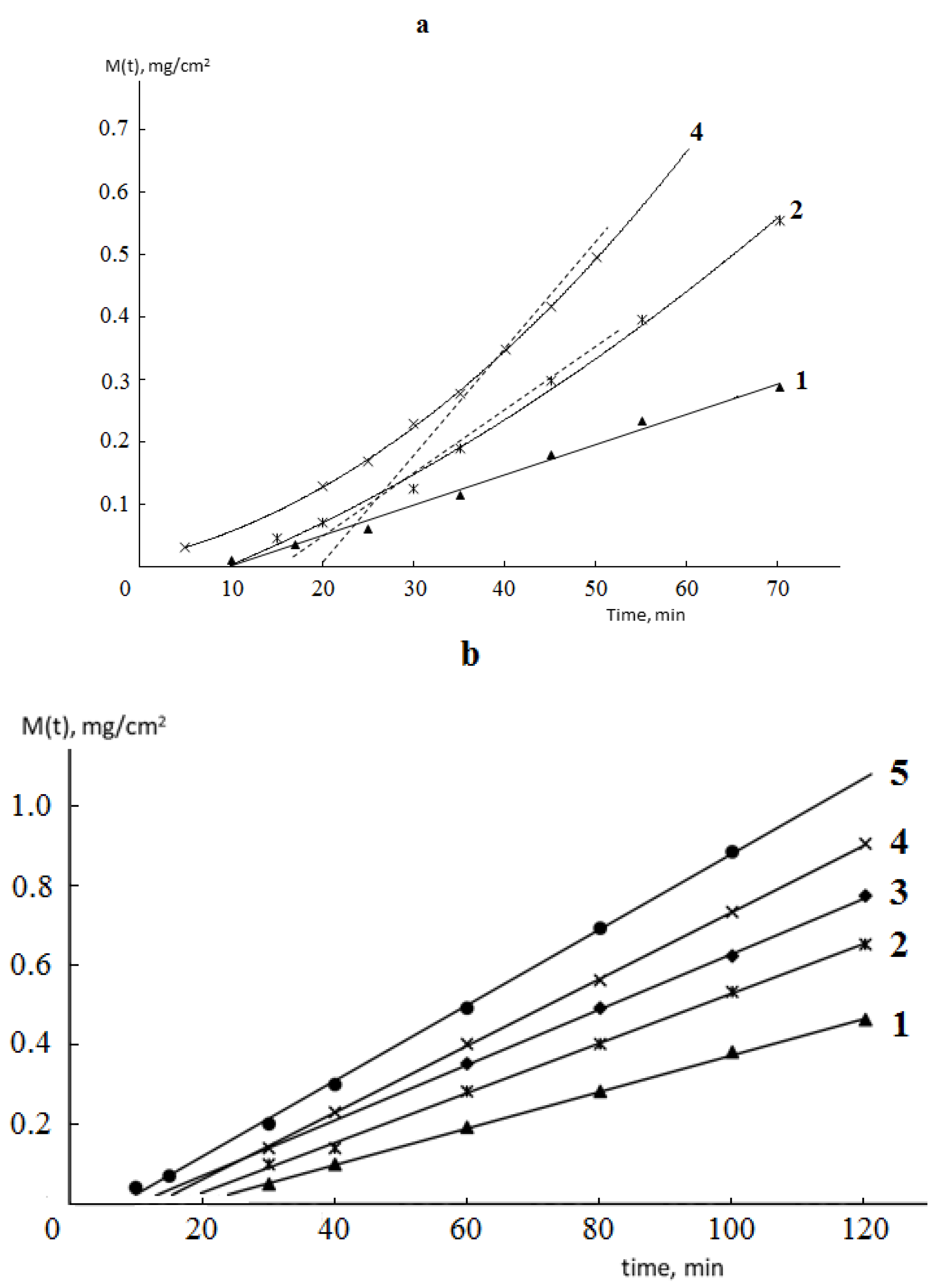 Figure 3. Kinetic curves of water vapor sorption by monolithic (solid lines) and porous (dotted lines) membranes made of collagen (1), PEU-3 (2), PEU-1 (3) at 298 K. Interval of relative water vapor pressure difference is 0.44–0.90.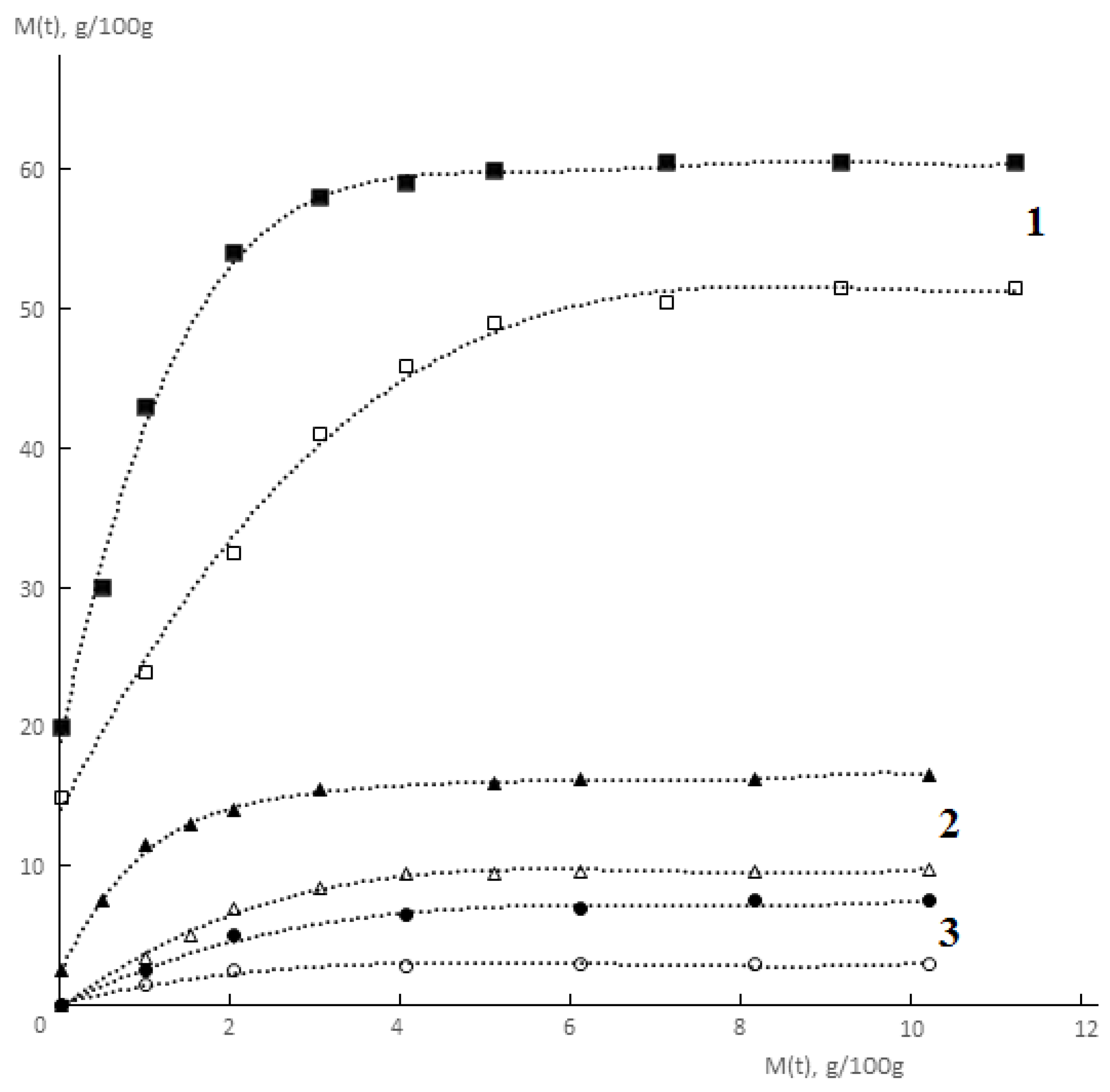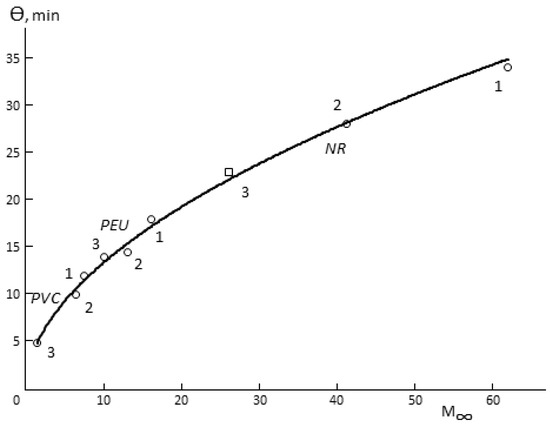 Figure 4. Dependence of the delay time (Θ) on the sorption capacity of the porous polymeric membranes (M∞) at 298 K, relative humidity of 30% at various values of relative humidity differences: (1) 44–90 p/p0; (2) 44–80 p/p0; (3) 44–60 p/p0. Polymer materials are denoted on the graph.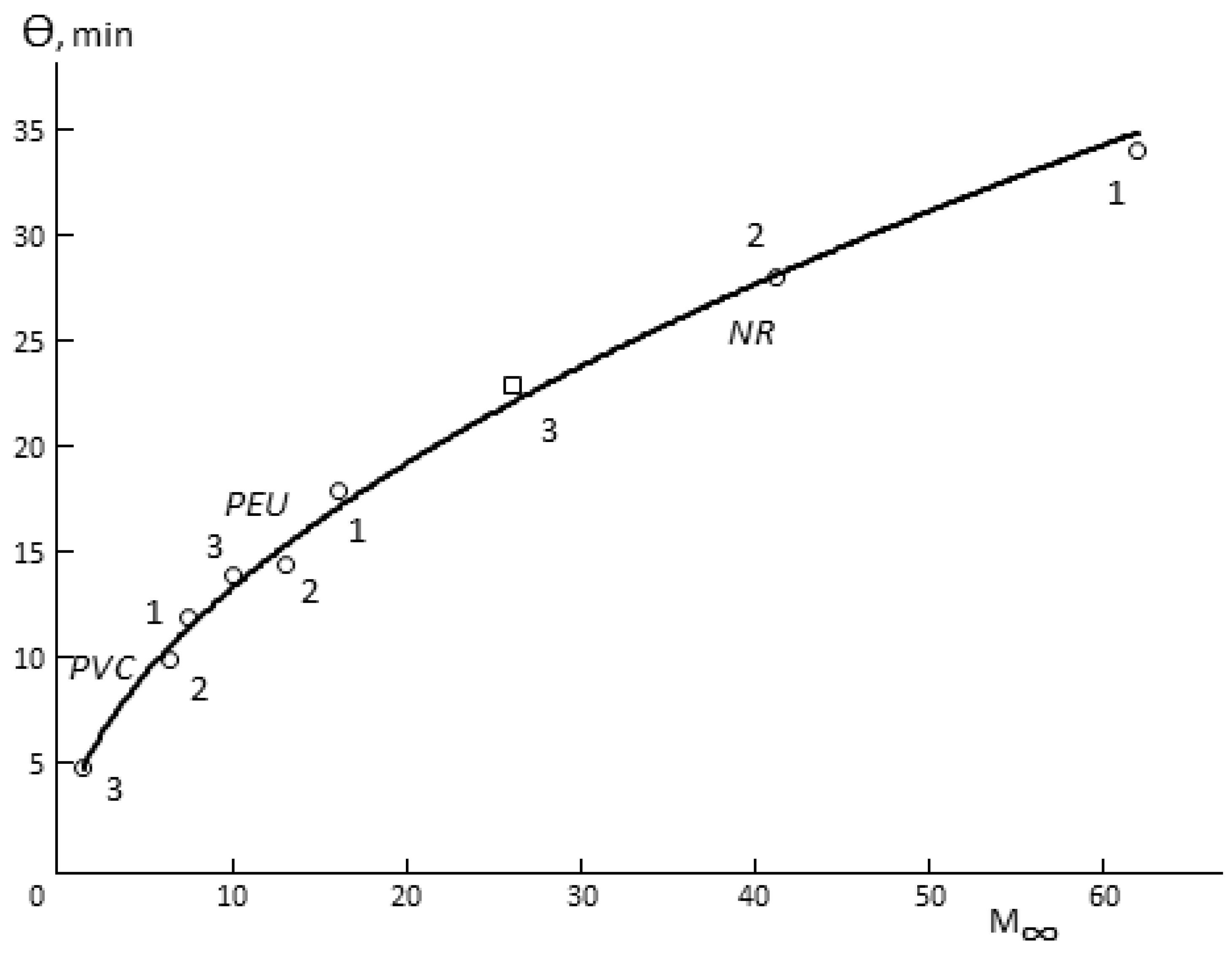 Table 1. Characteristics and kinetic constants of diffusion and permeability of porous polymeric membranes of different hydrophilicity at 298 K.
Material
PVC
PEU-1
PEU-2
PEU-3
Collagen and Natural Leather
Parameter
Porosity, %
38
55
58
65
44
Pore diameter, µm
8/12 ***
5/8
7/11
6/10
4/6
Water sorption, g/100 g
0.52
7.5
9.2
16.3
60
DΘ, *10−7 cm2/s
2
0.8
0.6
4
0.1
Ds, *10−7 cm2/s
3.1
0.66
0.5
2.4
0.08
Dp, *10−2 cm2/s *
~1
~1
~1
~1
~1
EΘ, kJ/mol
51/52 **
48/46
54/49
56/54
61/63
ES, kJ/mol
50/54
49/48
53/50
52/50
64/62
EP, kJ/mol
54/29
51/25
57/18
58/21
63/26
* Calculated by ratio DP = P/σ. σ is obtained from a real isotherm. ** In the numerator, the activation energy at a partial pressure difference of 44–60%, and in the denominator at a partial pressure difference of 44–90%. *** The range of pore size changes.

© 2020 by the authors. Licensee MDPI, Basel, Switzerland. This article is an open access article distributed under the terms and conditions of the Creative Commons Attribution (CC BY) license (http://creativecommons.org/licenses/by/4.0/).