Open Access This article is
freely available
re-usable
Article
A Novel Class of Cost Effective and High Performance Composites Based on Terephthalate Salts Reinforced Polyether Ether Ketone
1
Civil and Environmental Engineering Department, University of Perugia, Strada di Pentima 4, 05100 Terni, Italy
2
Department of Chemical Engineering Materials Environment, Sapienza-Università di Roma and UdR INSTM, Via Eudossiana 18, 00184 Roma, Italy
*
Author to whom correspondence should be addressed.
Received: 27 November 2019 / Accepted: 12 December 2019 / Published: 14 December 2019
Abstract
:
Poly(ether ether ketone) (PEEK)-based nanocomposites have been realized with incorporation (0–30 wt %) of anhydrous calcium terephthalate salts (CATAS), synthetized by reaction of terephtalic acid with the metal (Ca) oxide, by means of a melt processing. Their structure, morphology, thermal, and mechanical properties have been investigated. Scanning electron microscopy observations confirmed homogeneous dispersion of nanometer-sized fillers and a toughened fracture morphology even at the higher content, while thermal characterization confirmed an unvaried thermal stability and unmodified crystalline structure of the reference PEEK matrix. A negligible nucleating effect was evidenced, while a blocking effect of the amorphous phase fraction provide composites with increased stiffness, confirmed by enhanced values of G' and shifts of glass transition peak to higher temperatures, for restriction in chain mobility imposed by CATAS. The proposed solutions aimed to enlarge the application range of high performance costly PEEK-based composites, by using thermally stable nanofillers with limited costs and easily controllable synthesis phase.
Keywords:
poly(ether ether ketone), PEEK; calcium terephthalate salts; high performance nanocomposites
1. Introduction
In the present work, we intend to investigate the possibility of using calcium terephthalates to make composites based on polyether ether ketone (PEEK) with improved characteristics. Main aims of the study are improvements in thermomechanical properties and cost reduction. The pursued improvements consist in enhancing the thermo-mechanical properties that could widen the range of applications of high performance composites (HPC); likewise, it is also important to reduce the cost through the addition of cheap fillers that would make the market for HPC, such as these PEEK-based materials, affordable for a wider range of industrial sectors.
2. Materials and Methods
A commercial grade of polyether ether ketone (trade name, Vestakeep 2000P, Evonik Degussa GmbH, Essen, Germany) was supplied by Evonik. This PEEK is characterized by a density of 1.30 g/cm3 at 23 °C (ISO 1183) and a melt volume-flow rate (MVR) of 70 cm³/10 min at 380 °C/5 kg (ISO 1133). A nanometric metal-organic framework consisting of calcium ions as metal clusters coordinated to terephthalic acid as organic ligand was synthesized in our laboratories to be used as filler in the composites. Chemical reagents calcium oxide, terephthalic acid, ammonia and water, were supplied by Sigma Aldrich (Milan, Italy). The synthesis method is briefly described in the next section.
2.1. Preparation of Terephthalate Salts
Powdered terephthalic acid (TPA) was solubilized in an alkaline solution of water and ammonia with stirring at 80 °C for 1 h. Then the calcium oxide was added in a stoichiometric proportion to the acid, according to the reaction (1):
C8H6O4 + CaO + 2 H2O → C8H4O4Ca • 3 H2O
The solution was kept under stirring at 80 °C for 30 min, where the insoluble calcium terephthalate precipitated forming a whitish deposit on the bottom. The solution was filtered, and the solid residue subjected to appropriate washings to eliminate unwanted reaction residues. At the end of the synthesis, calcium terephthalate trihydrate is obtained. In order to eliminate both moisture and water-bound molecules, the product was kept in a vacuum oven for 2 h at 190 °C. Finally, the anhydrous calcium terephthalate (CATAS) was pulverized and sieved to eliminate any conglomerates of salts.
2.2. Production of Composite Materials
Composite materials were manufactured using the melt mixing method by blending the PEEK polymer matrix with the CATAS organic metal fillers as shown in
Table 1
. A co-rotating twin-screw extruder, Microcompounder (DSM explorer 5&15 CC MicroCompounder, Xplore Instruments BV, Sittard, The Netherlands) 5 and 15cc by DSM, coupled to a press, Micro Injection Molding Machine 10cc (DSM explorer 5&15 CC MicroCompounder, Xplore Instruments BV, Sittard, The Netherlands), were used for the production of the samples. The good thermal stability of the materials allowed to mix for 5 min at 100 rpm by setting a temperature profile of 355–375–390 °C in the three heating zones from feeding to die; an adequate pressure profile was used for the injection while barrel and mold temperatures were set at 395 and 190 °C, respectively. The samples produced were subjected to subsequent characterizations.
2.3. Characterization of Terephthalate Salts and PEEK/CATAS Composites
Morphological characterization of salts and PEEK_CATAS composites was carried out using a field emission scanning electron microscope (FESEM) Supra 25 by Zeiss (Oberkochen, Germany) taking micrographs with an accelerating voltage of 5 kV at different magnifications. Previously, the samples were gold sputtered to provide electric conductivity.
X-ray diffraction (XRD) analysis was performed with a diffractometer X'Pert PRO by Philips (Malvern Panalytical Ltd, Malvern, UK)(CuKα radiation = 1.54060 Å) at room temperature. XRD patterns were collected in the range of 2θ = 10°–80° with a step size of 0.02° scan and a time per step of 34 s.
Fourier transform infrared (FT-IR) spectra were recorded using a Jasco FT-IR 615 spectrometer (JASCO, Easton, MD, USA) in the 400–4.000 cm−1 range, in transmission mode. The CATAS materials were analyzed using KBr discs made by mixing terephthalate salts and KBr powder.
Thermogravimetric analysis (TGA) was performed for salts and PEEK_CATAS composites with a thermobalance Exstar 6300 (Seiko, Tokyo, Japan) setting a dynamic scan with temperature ramp at a speed of 10 °C min−1 in the range 30–800 °C under a nitrogen atmosphere (200 mL min−1). Derivative of mass loss (DTG) was calculated to measure the rate of the thermodegradative phenomena.
Thermal characteristics of PEEK composites were investigated with a temperature-modulated differential scanning calorimeter (MDSC) Q200 by TA Instruments (DSC, TA Instrument, Q200, New Castle, DE, USA). A heating, cooling, and heating cycle between 25 and 400 °C was performed at a rate of 10 °C min−1 in nitrogen flow at 60 mL min−1.
Dynamic mechanical behavior of the produced materials was studied using an Ares N2 rheometer (Rheometric Scientific, Epsom, Surrey, UK), samples of about 4mm × 10mm × 40 mm, gripped with a gap of about 20 mm were tested in rectangular torsion at a frequency of 2π rad/s with a strain of 0.05%, and a temperature ramp of 3 °C/min applied in the range from 30 to 250 °C.
Rheological characterization of polymer composite melts was performed by using parallel plates geometry of Ares N2 rheometer (Rheometric Scientific), with dynamic strain frequency sweep tests isothermally performed at 400 °C with frequencies ranging from 0.1 to 100 rad/s at 10 points/decade and with a strain of 0.3%.
3. Results and Discussion
3.1. Characterization of Calcium Terephthalate Salts
3.2. Characteristics of Composites PEEK/Calcium Terephthalate Salts
In order to better investigate this phenomenon, a thermal characterization with DSC instrument (first heating, cooling, and second heating scan cycle from 25 to 400 °C at 10 °C/min) was performed.
4. Conclusions
Synthesized calcium terephthalate anhydrous nanosized salts were considered for the realization of nanocomposites at 10, 20, and 30 wt % in a PEEK matrix. Processability by melt compounding was empirically tested and confirmed with rheological tests. The DMTA characterization performed on the samples showed significant improvements up to 59% and to 116% of the storage module at 100 °C and 200 °C, respectively, for PEEK_30CATAS composite. The thermal study suggests that this type of nanofillers affects the PEEK phases with a negligible nucleating effect, slightly increasing the crystalline fraction. But above all, the CATAS have the effect of blocking a significant fraction of amorphous phase converting it into a more stable and performing rigid amorphous phase. The cost reduction is evident by estimating the filler price a few hundredths of the matrix price, thus obtaining a 20–25% decrease in the starting cost. Because of these positive results, it could be interesting to evaluate the effect of CATAS also together with the use of reinforcing fibers. We hypothesized that CATAS could have a synergistic effect if used together with other reinforcements, such as carbon or glass fibers. In fact, they could form a rigid amorphous phase around the reinforcing fibers as well as near the crystalline areas. This conformation would be able to distribute the tensions at the interface of the reinforced zone in a more progressive way up to the predominantly amorphous one, improving the thermomechanical performances of these hybrid composites. Upcoming activities are planned in this area of research.
Author Contributions
Conceptualization, F.D. and L.T.; investigation, F.D., F.L., F.S., and M.R.; writing—original draft, F.D., D.P., and F.L.; writing—review and editing, D.P. and L.T.
Funding
This research received no external funding.
Conflicts of Interest
The authors declare no conflict of interest.
Figure 1.
Chemical structure of calcium terephthalate salts before (
left
) and after (
right
) thermal treatment (evidence of structural rearrangement with indication of bond length) reprinted from [
16
].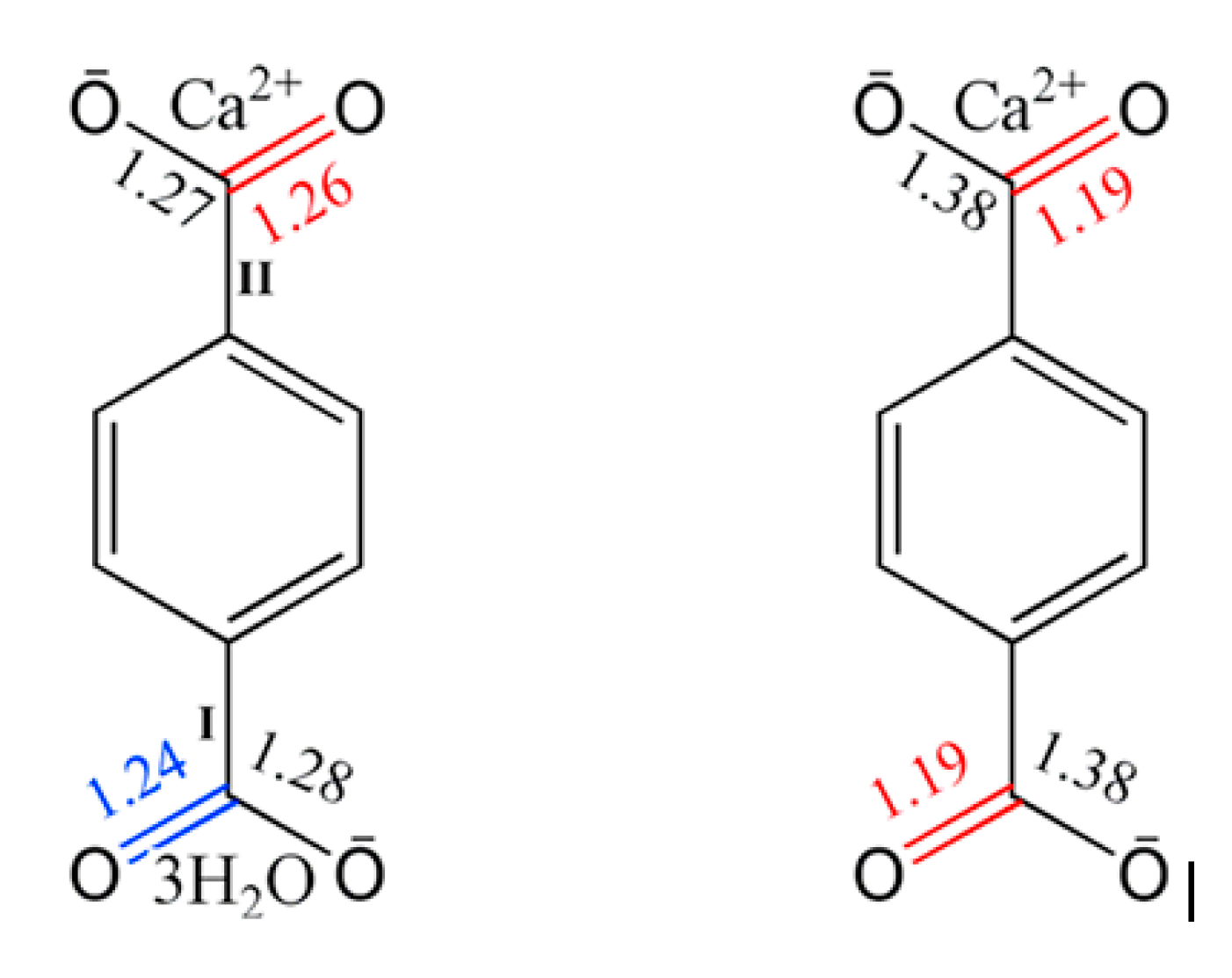 Figure 2. Field emission scanning electron microscope (FESEM) micrograph of calcium terephthalate trihydrate salts (CATS) (a) and thermogravimetric/derivative of mass loss (TG/DTG) curves for CATS (b); FESEM micrograph of CATAS (calcium terephthalate anhydrous salts)(c) and TG/DTG curves for CATAS (d).
Figure 3. Fourier transform infrared (FT-IR) (a) and X-ray diffraction (XRD) (b) spectra of CATS and CATAS.

Figure 4. FESEM micrographs of neat PEEK and PEEK nanocomposites with 10, 20, and 30 wt % of CATAS at different magnification.
Figure 5. (a) XRD patterns; (b) TG/DTG curves; (c) G' and (d) G" curves; (e) complex viscosity; and (f) storage (open symbol) and loss moduli (closed symbol) at 400 °C for PEEK and PEEK_CATAS nanocomposites at different CATAS content.
Figure 6.
Differential scanning calorimetry (DSC) scans: (
a
) first heating; (
b
) cooling; (
c
) and (
d
) second heating scan (arrow for double melting peaks in (
c
) and zoom for
T
g
in (
d
)) of PEEK and PEEK composites at different CATAS content (symbols every 1000th points).

Table 1. Developed formulations based on poly (ether ether ketone) (PEEK) and calcium terephthalate anhydrous salts (CATAS).
| Sample Name | PEEK wt % | CATAS wt % |
| --- | --- | --- |
| PEEK | 100 | --- |
| PEEK_10CATAS | 90 | 10 |
| PEEK_20CATAS | 80 | 20 |
| PEEK_30CATAS | 70 | 30 |
| Sample Name | G' [MPa] @100 °C | G' [MPa] @200 °C | % ΔG' 100 vs PEEK | % ΔG' 200 vs PEEK |
| --- | --- | --- | --- | --- |
| PEEK | 1.03 × 109 | 1.15 × 108 | | |
| PEEK_10CATAS | 1.29 × 109 | 1.59 × 108 | +25.24 | +38.26 |
| PEEK_20CATAS | 1.53 × 109 | 2.29 × 109 | +48.54 | +99.13 |
| PEEK_30CATAS | 1.64 × 109 | 2.48 × 109 | +59.22 | +115.65 |

Table 3. Evaluation of the phase fractions obtained from the DSC analysis of the PEEK matrix and composite with 30% of CATAS.
Phase Fractions
PEEK
PEEK_30CATAS
First heating
Δ

H

m (J/g)
47.5 ± 1.6
30.5 ± 2.3

X

c
36.6 ± 1.2
33.5 ± 2.6

X

a
47.9 ± 0.9
40.2 ± 0.8

X

raf
15.6 ± 0.3
26.4 ± 3.4
cooling
Δ

H

c (J/g)
43.5 ± 2.1
32.2 ± 1.6

X

c
33.5 ± 1.6
35.4 ± 1.7

X

a
45.9 ± 0.6
12.9 ± 0.9

X

raf
20.6 ± 1.0
51.8 ± 2.6
Second heating
Δ

H

m (J/g)
45.4 ± 1.3
32.4 ± 1.7

X

c
34.9 ± 1.0
35.6 ± 1.9

X

a
52.8 ± 1.1
16.9 ± 0.4

X

raf
12.3 ± 2.1
47.6 ± 1.5

© 2019 by the authors. Licensee MDPI, Basel, Switzerland. This article is an open access article distributed under the terms and conditions of the Creative Commons Attribution (CC BY) license (http://creativecommons.org/licenses/by/4.0/).