Open Access This article is
freely available
re-usable
Article
Improving the Performances of Perovskite Solar Cells via Modification of Electron Transport Layer
1
Key Laboratory for Organic Electronics and Information Displays & Institute of Advanced Materials, National Jiangsu Synergistic Innovation Center for Advanced Materials, Nanjing University of Posts and Telecommunications, 9 Wenyuan Road, Nanjing 210046, China
2
Microqanta Semiconductor Company, 998, West Wenyi Road, Hangzhou 311121, China
†
These authors contributed equally to this work.

Received: 9 January 2019 / Accepted: 14 January 2019 / Published: 16 January 2019
Abstract
:
The commonly used electron transport material (6,6)-phenyl-C61 butyric acid methyl ester (PCBM) for perovskite solar cells (PSC) with inverted planar structures suffers from properties such as poor film-forming. In this manuscript, we demonstrate a simple method to improve the film-forming properties of PCBM by doping PCBM with poly(9,9-dioctylfluorene-co-benzothiadiazole) (F8BT) as the electron transport layer (ETL), which effectively enhances the performance of CH3NH3PbI3 based solar cells. With 5 wt % F8BT in PCBM, the short circuit current (JSC) and fill factor (FF) of PSC both significantly increased from 17.21 ± 0.15 mA·cm−2 and 71.1 ± 0.07% to 19.28 ± 0.22 mA·cm−2 and 74.7 ± 0.21%, respectively, which led to a power conversion efficiency (PCE) improvement from 12.6 ± 0.24% to 15 ± 0.26%. The morphology investigation suggested that doping with F8BT facilitated the formation of a smooth and uniform ETL, which was favorable for the separation of electron-hole pairs, and therefore, an improved performance of PSC.
Keywords:
perovskite solar cells; surface morphology; PCBM; doping
2. Materials and Methods
2.1. Materials
PFO and F8BT were synthesized in South China University of Technology according to Reference [
33
]. CH
3
NH
3
PbI
3
(MAI), PbI
2
, PCBM and 2,9-dimethyl-4,7-diphenyl-1,10-phenanthroline (BCP) were purchased from Xi'an Polymer Light Technology Corp. (Xi'an, China). Dimethyl sulfoxide (DMSO), chlorobenzene and Dimethyl Formamide (DMF) were all purchased from Shanghai Aladdin Bio-Chem Technology Co., Ltd. (Shanghai, China) and used as received. NiO
x
nanoparticles were synthesized in our lab according to Reference [
34
].
MAPbI
3
precursor solution was prepared by dissolving 1.4 mmol MAI and 1.4 mmol PbI
2
in 1 mL GBL and DMSO (7:3/
v
:
v
). Before spin-coating, the MAPbI
3
precursor solution was stirred at 65 °C for 12 h in a N
2
atmosphere glove box.
2.2. Device Fabrication
The indium tin oxide (ITO)-coated glass substrates were cleaned sequentially in detergent, deionized water, acetone and ethanol under sonication for 20 min, respectively. After being dried by N2 flow, 4 min of ozone plasma at a power of 70 W was applied to remove any organic residues. Immediately after, NiOx nanoparticle solution was spin-coated onto the ITO glass at 4000 rpm for 30 s and then baked at 130 °C for 20 min. The substrate was then transferred into a N2 protected glovebox with the contents of water and oxygen less than 1 ppm. Following this, the MAPbI3 precursor solution was spin-coated. Specifically, the spin-coating process was composed of two stages: 900 rpm for 15 s and then 4000 rpm for 25 s. To perform toluene washing during the spin-coating of MAPbI3 precursor solution at a delay time of 15 s from the beginning of the second stage, 400 μL of toluene was dripped. After thermally annealing at 100 °C for 10 min, the mixed PCBM solution with F8BT or PFO in chlorobenzene (20 mg/mL) was spin-coated at a speed of 1000 rpm for 20 s. A control device was also fabricated with PCBM as the ETL. Then, the substrates were annealed at 70 °C for 40 min. Finally, BCP and Ag were thermally evaporated in sequence at a basic pressure of 4 × 10−4 Pa. The active area was 0.077 cm2 defined by a shadow mask.
To check the reproducibility of PSCs, multiple batches of the devices were made. The average values in performances were obtained accordingly, which were then used to evaluate the experimental error.
2.3. Device Characterization
The current density–voltage (J–V) characterization of PSC was carried out using a Keithley 2400 source meter under a simulated AM 1.5 illumination (100 mW·cm−2, NewPort, 94043A SOLAR SIM, Irvine, CA, USA) at a scan rate of 200 mV·s−1. The incident-photon-to-current efficiency (IPCE) measurement was performed through an Enlitech QE-R Quantum Efficiency Measurement System (QE-R3018, Taiwan, China). The crystal structures of the MAPbI3 films were characterized by using a Bruker D8 ADVANCE X-ray diffraction (XRD) device (Karlsruhe, Germany). The morphology of the MAPbI3 layer was obtained using a Hitachi S-4800 field emission scanning electron microscope (SEM, Tokyo, Japan) and a Bruker atomic force microscope (AFM). The thicknesses of the NiOx, MAPbI3 and PC61BM films were determined using a Bruker DektakXT Stylus Profiler. The photoluminescence (PL) spectra were measured using an Edinburgh FLS980 fluorescence spectrophotometer (Livingston, UK) with an excitation at 550 nm. The impedance characteristics of the devices were measured via a Wayne Kerr 6500B analyzer (London, UK).
4. Conclusions
Highly efficient PSCs were fabricated by doping PCBM with F8BT as the ETL, which led to significant improvements of JSC and FF, thus a great enhancement of PCE. With 5 wt % F8BT in PCBM as the ETL, a 19% enhancement of the PCE of PSC was achieved. The morphology study shows that doping with F8BT improved the uniformity of the ETL, which is favorable for the separation of electron-hole pairs. Therefore, the collection of electrons was improved. Our method has shown to be an effective and simple way to realize highly efficient PSCs.
Author Contributions
Data curation, Q.N.; formal analysis, H.X.; funding acquisition, R.X.; investigation, M.J. and X.T.; methodology, H.Z. and W.H.; project administration, R.X.; resources, J.Y. and B.Y.; writing—original draft, Q.N.; writing—review and editing, R.X.
Funding
This research was funded by the National Key Basic Research Program of China (973 Program, 2015CB932203), the National Natural Science Foundation of China (Grants 61874058, 51861145301, 61376023), and the Priority Academic Program Development Fund of Jiangsu Higher Education Institutions (PAPD), Jiangsu Shuanchuang Team award.
Acknowledgments
We sincerely thank Professor Xuhui Zhu and Dr. Li Zhao (South China University of Science and Technology) for providing F8BT used in this study.
Conflicts of Interest
The authors declare no conflict of interest.
Figure 1. (a) The schematic diagram of the device architecture and energy levels of the device layers, (b) the chemical structure of poly(9,9-dioctyfluorene) (PFO) and poly(9,9-dioctylfluorene-co-benzothiadiazole) (F8BT), (c) the top SEM image of perovskite film and (d) the sectional SEM image of perovskite solar cells (PSC).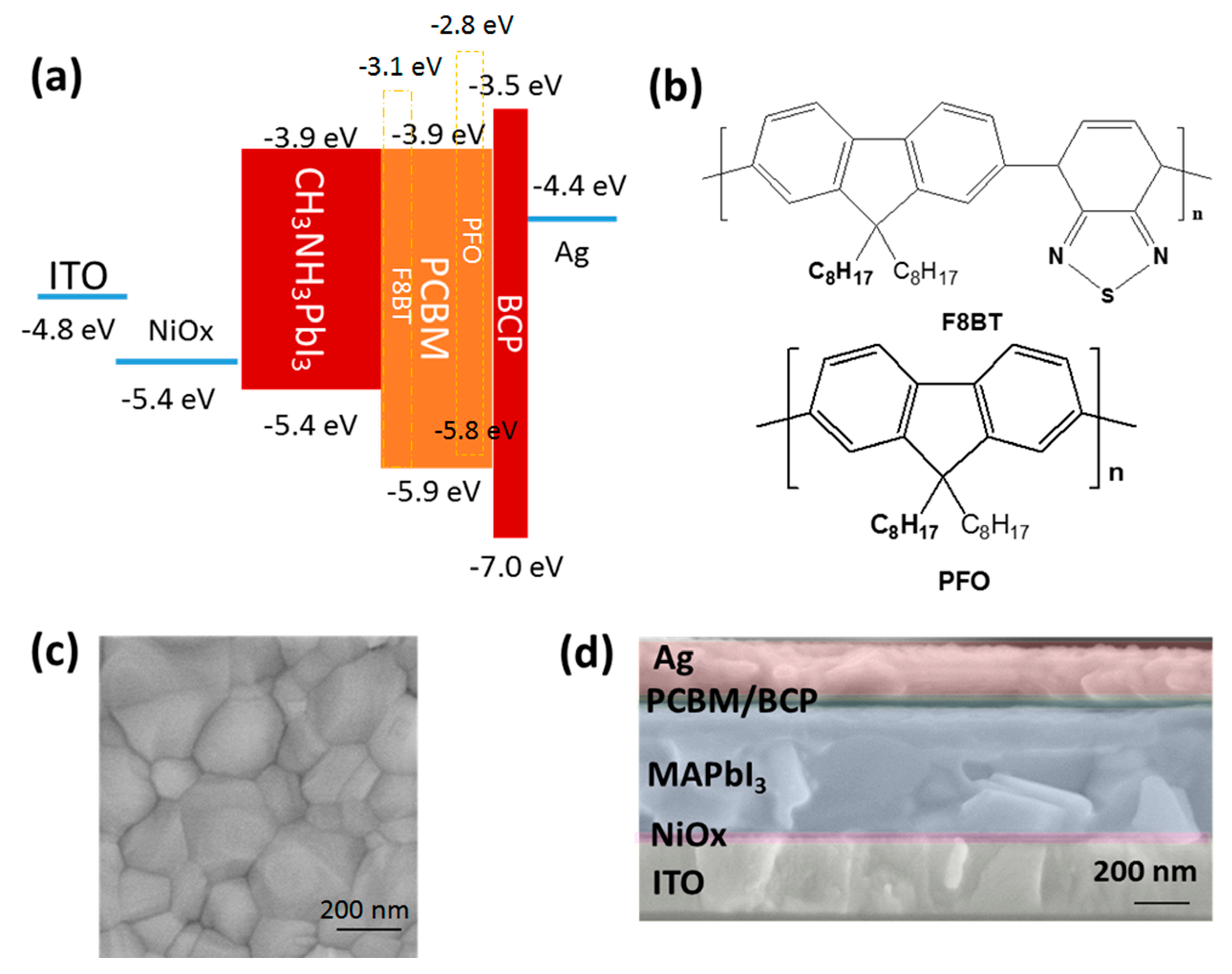 Figure 2. (a) Photocurrent density (J)–voltage (V) curves of the devices (under 100 mW·cm−2 AM 1.5 illumination) with different electron transport layers (ETL), (b) EQE data and integrated JSC curves (c) and the PCE statistics of PSCs.
Figure 3. Atomic force microscopy (AFM) images of (a) PCBM, (b) PCBM: 5 wt % F8BT, (c) PCBM: 10 wt % F8BT and (d) PCBM: 5 wt % PFO, and (e) J–V characteristics of the device under dark with 0 wt % and 5 wt % F8BT.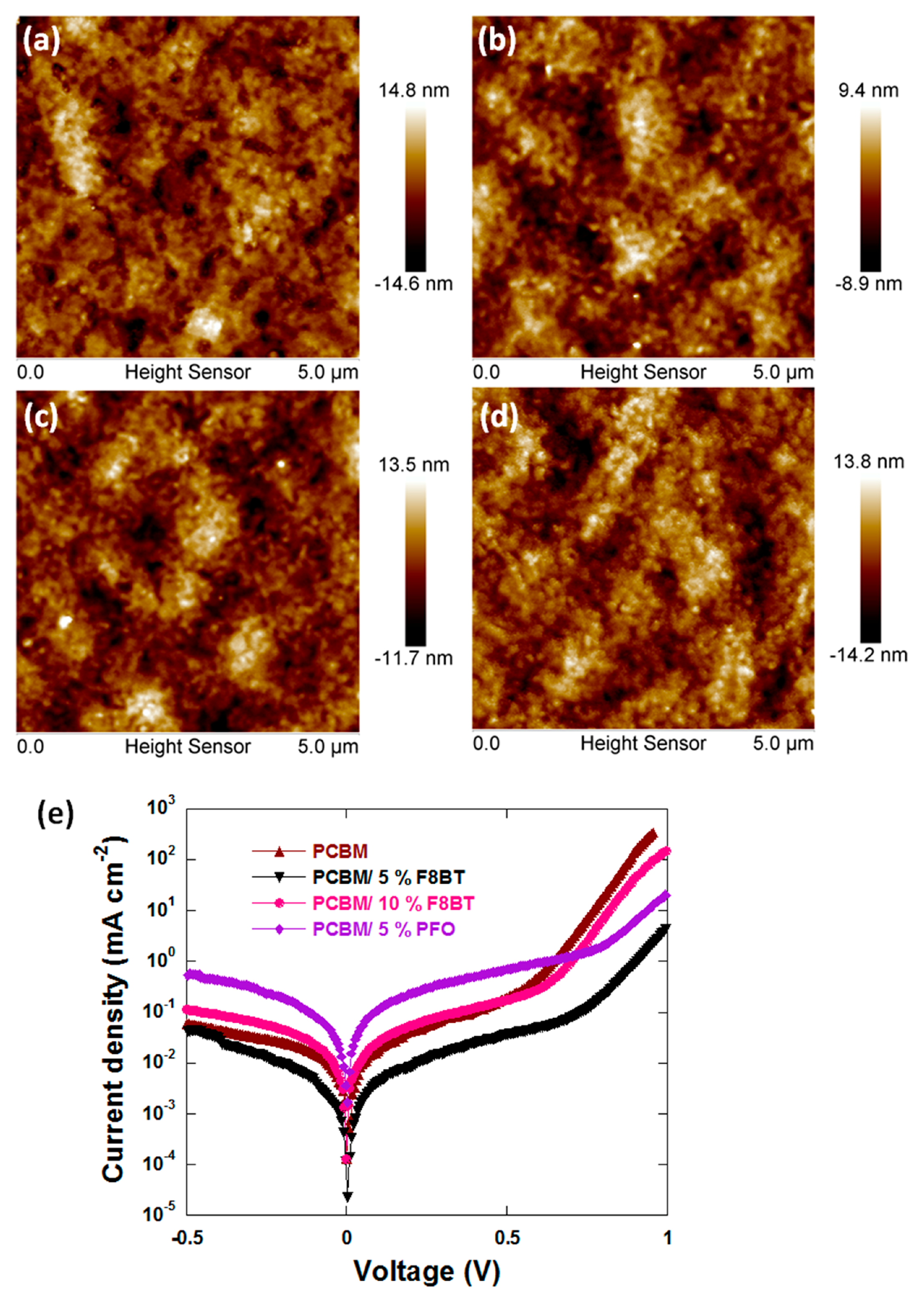 Figure 4. Ultraviolet–visible absorption spectra of perovskite, perovskite/PCBM, perovskite/PCBM: x wt % F8BT (x = 5, 10) and perovskite/PCBM: 5 wt % PFO.
Figure 5. (a) The PL spectra of perovskite and perovskite/ETL double layered films and (b) Nyquist plots of PSCs with different ETLs.
| ETLs Used | VOC (V) | JSC (mA·cm−2) | FF a (%) | PCE b (%) |
| --- | --- | --- | --- | --- |
| PCBM c | 1.03 ± 0.01 | 17.21 ± 0.15 | 71.1 ± 0.07 | 12.6 ± 0.24 |
| PCBM: 5 wt % F8BT | 1.04 ± 0.01 | 19.28 ± 0.22 | 74.7 ± 0.21 | 15 ± 0.26 |
| PCBM: 10 wt % F8BT | 1.02 ± 0.01 | 17.13 ± 0.28 | 71.5 ± 0.63 | 12.48 ± 0.37 |
| PCBM: 5 wt % PFO | 1.03 ± 0.02 | 16.3 ± 0.24 | 64 ± 0.98 | 10.8 ± 0.27 |
a Fill factor; b Power conversion efficiency; c (6,6)-phenyl-C61 butyric acid methyl ester.

© 2019 by the authors. Licensee MDPI, Basel, Switzerland. This article is an open access article distributed under the terms and conditions of the Creative Commons Attribution (CC BY) license (http://creativecommons.org/licenses/by/4.0/).