Argentophilic Interactions in Two AgI Complexes of 3-(2-(Pyridin-4-yl)ethyl)pentane-2,4-dione, a Promising Ditopic Ligand
Institute of Inorganic Chemistry, RWTH Aachen University, Landoltweg 1, 52074 Aachen, Germany
*
Author to whom correspondence should be addressed.
Received: 27 June 2019 / Revised: 2 August 2019 / Accepted: 5 August 2019 / Published: 9 August 2019
Abstract
Reactions of 3-(2-(pyridin-4-yl)ethyl)pentane-2,4-dione (HacacPyen) with AgPF6 and AgBF4 afforded cationic silver complexes [Ag(HacacPyen)2]+ with essentially linear coordination of the Ag
cation by two pyridine N atoms. Rather unexpectedly, the HacacPyen ligands in the PF6- salt
1
adopt the diketo form, in contrast to the uncoordinated HacacPyen molecule, whereas the corresponding BF4- salt
2
and the majority of 3-substituted acetylacetones crystallizes as the enol tautomer. In both compounds
1
and
2
, complex cations aggregate
via
short Ag...Ag interactions to pairs. These contacts amount to
Å
in
1
and
Å
or
Å
in
2
. As they are unsupported by any additional bridging ligands and correspond to the closest interionic interactions between neighbouring complex cations, they may be addressed as argentophilic interactions. The PF6- anions in
1
and the BF4- counter ions in
2
are involved in long and presumably electrostatic Ag...F contacts of ca.
Å
. Additional coordination between Ag
and keto O atoms of symmetry-equivalent ligands occurs in
1
and leads to an extended two-periodic supramolecular structure.
►

▼

Figures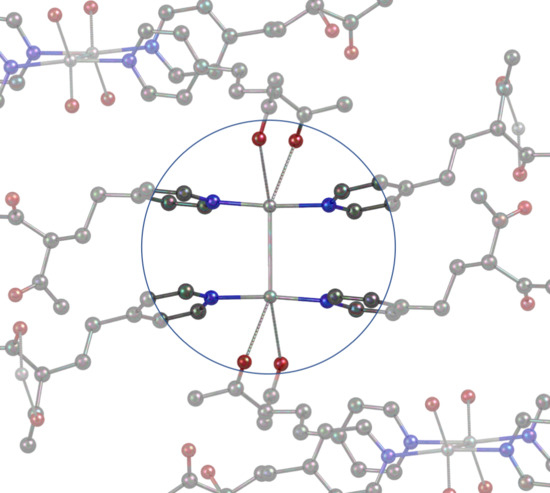 Graphical abstract
This is an open access article distributed under the
Creative Commons Attribution License
which permits unrestricted use, distribution, and reproduction in any medium, provided the original work is properly cited (CC BY 4.0).

Share & Cite This Article
MDPI and ACS Style
Terwingen, S.; Englert, U. Argentophilic Interactions in Two AgI Complexes of 3-(2-(Pyridin-4-yl)ethyl)pentane-2,4-dione, a Promising Ditopic Ligand. Crystals 2019, 9, 414.
Note that from the first issue of 2016, MDPI journals use article numbers instead of page numbers. See further details here.
Related Articles
Comments
[Return to top]