Synthesis, Structural Features, and Catalytic Activity of an Iron(II) 3D Coordination Polymer Driven by an Ether-Bridged Pyridine-Dicarboxylate
1
Guangdong Research Center for Special Building Materials and Its Green Preparation Technology, Foshan Research Center for Special Functional Building Materials and their Green Preparation Technology, Guangdong Industry Polytechnic, Guangzhou 510300, China
2
College of Chemistry and Chemical Engineering, Lanzhou University, Lanzhou 730000, China
3
Centro de Química Estrutural, Instituto Superior Técnico, Universidade de Lisboa, Av. Rovisco Pais, 1049-001 Lisbon, Portugal
4
Research Institute of Chemistry, Peoples' Friendship University of Russia (RUDN University), 6 Miklukho-Maklaya st., 117198 Moscow, Russia
*
Authors to whom correspondence should be addressed.
Received: 9 June 2019 / Revised: 16 July 2019 / Accepted: 18 July 2019 / Published: 20 July 2019
Abstract
New iron(II) three-dimensional coordination polymer (3D CP), [Fe(
µ
3
-Hcpna)
2
]
n
(
1
), was assembled under hydrothermal conditions from 5-(4'-carboxyphenoxy)nicotinic acid (H
2
cpna) as a trifunctional organic N,O-building block. This stable microcrystalline CP was characterized by standard methods for coordination compounds in the solid state (infrared spectroscopy, elemental analysis, thermogravimetric analysis, powder and single-crystal X-ray diffraction). Structure and topology of
1
were examined and permitted an identification of a 3,6-connected framework of the
rtl
topological type. In addition, compound
1
acts as effective catalyst precursor for oxidative functionalization of alkanes (propane and cyclic C
5
−C
8
alkanes) under homogeneous catalysis conditions, namely for the oxidation of saturated hydrocarbons with H
2
O
2
/H
+
system to produce ketones and alcohols, and for alkane carboxylation with CO/H
2
O/S
2
O
8
2−
system to obtain carboxylic acids. The influence of an acid promoter and substrate scope (propane and cyclic C
5
−C
8
alkanes) were investigated.
View Full-Text
►

▼

Figures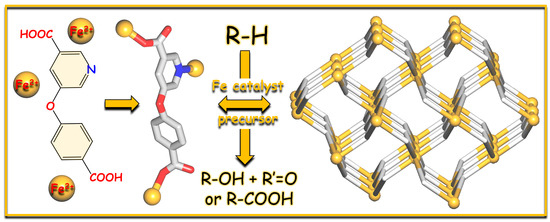 Graphical abstract
This is an open access article distributed under the
Creative Commons Attribution License
which permits unrestricted use, distribution, and reproduction in any medium, provided the original work is properly cited (CC BY 4.0).

Share & Cite This Article
MDPI and ACS Style
Zhao, N.; Li, Y.; Gu, J.; Kirillova, M.V.; Kirillov, A.M. Synthesis, Structural Features, and Catalytic Activity of an Iron(II) 3D Coordination Polymer Driven by an Ether-Bridged Pyridine-Dicarboxylate. Crystals 2019, 9, 369.
Note that from the first issue of 2016, MDPI journals use article numbers instead of page numbers. See further details here.
Related Articles
Comments
[Return to top]