Open Access This article is
freely available
re-usable
Communication
Design of Ionic Liquid Crystals Forming Normal-Type Bicontinuous Cubic Phases with a 3D Continuous Ion Conductive Pathway
1
Department of Biotechnology, Tokyo University of Agriculture and Technology, Nakacho, Koganei, Tokyo 184-8588, Japan
2
Precursory Research for Embryonic Science and Technology (PRESTO), Japan Science and Technology Agency (JST), Honcho, Kawaguchi 332-0012, Japan
*
Author to whom correspondence should be addressed.
Received: 17 May 2019 / Accepted: 12 June 2019 / Published: 14 June 2019
Abstract
:
We have prepared a series of pyridinium-based gemini amphiphiles. They exhibit thermotropic liquid–crystalline behavior depending on their alkyl chain lengths and anion species. By adjusting the alkyl chain lengths and selecting suitable anions, we have obtained an ionic amphiphile that exhibits a normal-type bicontinuous cubic phase from 38 °C to 12 °C on cooling from an isotropic phase. In the bicontinuous cubic liquid–crystalline assembly, the pyridinium-based ionic parts align along a gyroid minimal surface forming a 3D continuous ionic domain while their ionophobic alkyl chains form 3D branched nanochannel networks. This ionic compound can form homogeneous mixtures with a lithium salt and the resultant mixtures keep the ability to form normal-type bicontinuous cubic phases. Ion conduction measurements have been performed for the mixtures on cooling. It has been revealed that the formation of the 3D branched ionophobic nanochannels does not disturb the ion conduction behavior in the ionic domain while it results in the conversion of the state of the mixtures from fluidic liquids to quasi-solids, namely highly viscous liquid crystals. Although the ionic conductivity of the mixtures is in the order of 10–7 S cm–1 at 40 °C, which is far lower than the values for practical use, the present material design has a potential to pave the way for developing advanced solid electrolytes consisting of two task-specific nanosegregated domains: One is an ionic liquid nano-domain with a 3D continuity for high ionic conductivity and the other is ionophobic nanochannel network domains for high mechanical strength.
Keywords:
ionic liquid crystal; bicontinuous cubic phase; gyroid; gemini; ion conduction
1. Introduction
Ionic liquids are a class of organic salts forming liquid states at ambient temperature [
1
,
2
]. Owing to the strong electrostatic interactions between the component ions, these ionic liquids have several unique properties, such as negligible volatility, flame retardancy, and high ionic conductivity, that are totally different from those of conventional organic solvents. These properties lead scientists to expect that ionic liquids should be new electrolytes for batteries [
3
,
4
], solar cells [
5
], and fuel cells [
6
], and therefore intensive efforts have been paid for the design of ion conductive materials based on ionic liquids [
7
]. One of a unique approach for enhancing their ionic conductivities is to align ionic liquids into ordered states [
8
]. For example, Kato and Ohno succeeded in aligning ionic liquids into 1D [
9
,
10
], 2D [
11
,
12
], and 3D [
13
,
14
] manners by endowing ionic liquids with liquid crystallinity. For the design of liquid-crystalline (LC) ionic liquids (namely ionic liquid crystals), it is important not only to design the shape of molecules and inter/intra-molecular interactions but also to control the volume balance between the ionic and non-ionic parts. The relationships between the molecular structure and molecular assembled structures of ionic liquid crystals are well-summarized in several reviews and papers [
8
,
15
,
16
,
17
,
18
].
In 2007, Kato and Ichikawa reported that a series of ammonium-based ionic liquid crystals self-organize into bicontinuous cubic (Cub
bi
) LC phases with three-dimensionally continuous ionic nanochannel networks (
Figure 1
a) [
13
]. This phase can be categorized into an "inverted-type" Cub
bi
phase. This is a situation where ionic nanochannels (
Figure 1
a, red) expand three-dimensionally in an ionophobic alkyl chain domain (
Figure 1
a, blue). In addition, it was revealed that the ionic nanochannels function as ion transporting pathways because the 3D branched nanochannel structure enables ions to transport over LC domain boundaries.
In the course of studies on nanosegregated liquid crystals, it has been well-known that there are "normal-type" nanosegregated LC phases whose nanostructures are the reverse of those of inverted-type LC phases [
19
,
20
]. This is applicable in the case of Cub
bi
phases [
21
,
22
,
23
,
24
,
25
]. This well-known fact stimulates us to have an interest in the potential utility of normal-type Cub
bi
phases (
Figure 1
c) as ion conductive materials. Here, we have designed an ionic liquid crystal forming a normal-type Cub
bi
phase and have then evaluated its potential utility as an ion conductive material.
2. Results and Discussion
3. Materials and Methods
Thermotropic Liquid–Crystalline Properties
Thermotropic liquid–crystalline behaviors of compounds 1–5 and the 1/LiBF
4
mixtures were examined by polarizing optical microscope (POM, Olympus BX51) and X-ray diffraction (XRD, Rigaku SmartLab X-Ray Diffractometer) measurements. Some obtained results are shown in the
Supplementary Materials
. Differential scanning calorimetry (DSC, Hitachi DSC7000X) measurements were also performed for the mixtures.
4. Conclusions
In conclusion, we have succeeded in designing gemini-type ionic liquid crystals that form normal-type bicontinuous cubic and smectic A phases. For the induction of normal-type bicontinuous cubic phases, the selection of anion species and the employment of long alkyl chains with suitable lengths are found to be important. The normal-type bicontinuous cubic phase consists of two continuous nanosegregated domains: one is a continuous ionic domain and the other is 3D branched ionophobic nanochannel domains that spread around the ionic domain. These liquid-crystalline materials can dissolve lithium salts as well as conventional ionic liquids. The dissolution of lithium salts influences their mesophase behavior. The ionic conductivities of these liquid–crystalline materials are in the order of 10–7 S cm–1 at 36 °C. Although these values are lower than those of conventional ionic liquids, we believe the present material design will be one of the potential approaches for creating a quasi-solid electrolyte consisting of two task-specific domains: One is a 3D continuous ionic domain for high ionic conductivity and the other is 3D continuous ionophobic nanochannels that contribute to endowing the matrix with high mechanical strength without disturbing the ion conduction in the neighbouring ionic domain.
Author Contributions
T.I., Y.S., T.K., H.O. (Hikaru Oshiro), A.O., and H.O. (Hiroyuki Ohno) conceived and designed the experiments; Y.S., T.K., H.O. (Hikaru Oshiro), and A.O performed the experiments and analyzed the data; Y.S, T.K, H.O. (Hikaru Oshiro), A.O., and T.I. wrote the paper.
Acknowledgments
TI is grateful for financial support from the Precursory Research for Embryonic Science and Technology (PRESTO) from the Japan Science and Technology Corporation (JST) (No. JPMJPR1413). TK is grateful for financial support from the JSPS Research Fellowships for Young Scientists (No. JP 18J21088).
Conflicts of Interest
The authors declare no conflicts of interest.
Figure 1.
(
a
) A series of wedge-shaped ammonium salts forming inverted-type bicontinuous cubic (Cub
bi
) phases [
13
]. (
b
) Molecular structure of gemini-type amphiphile 1–4. (
c
) A schematic illustration of a normal-type Cub
bi
phase.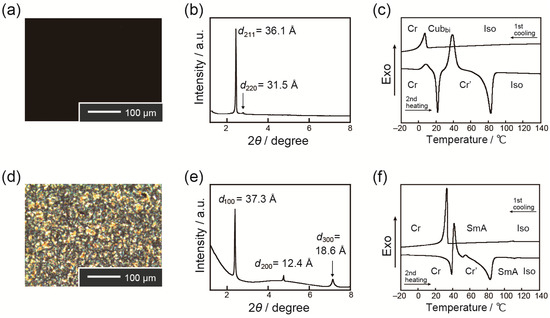 Figure 2. (a) Polarizing optical microphotograph of 1 in the bicontinuous cubic (Cubbi) phase at 30 °C. (b) X-ray diffraction (XRD) pattern of 1 in the Cubbi phase at 30 °C. (c) Differential scanning calorimetry (DSC) thermograms of 1. (d) Polarizing optical microphotograph of 3 in the smectic A (SmA) phase at 50 °C. (e) XRD pattern of 3 in the Sm phase at 50 °C. (f) DSC thermograms of 3.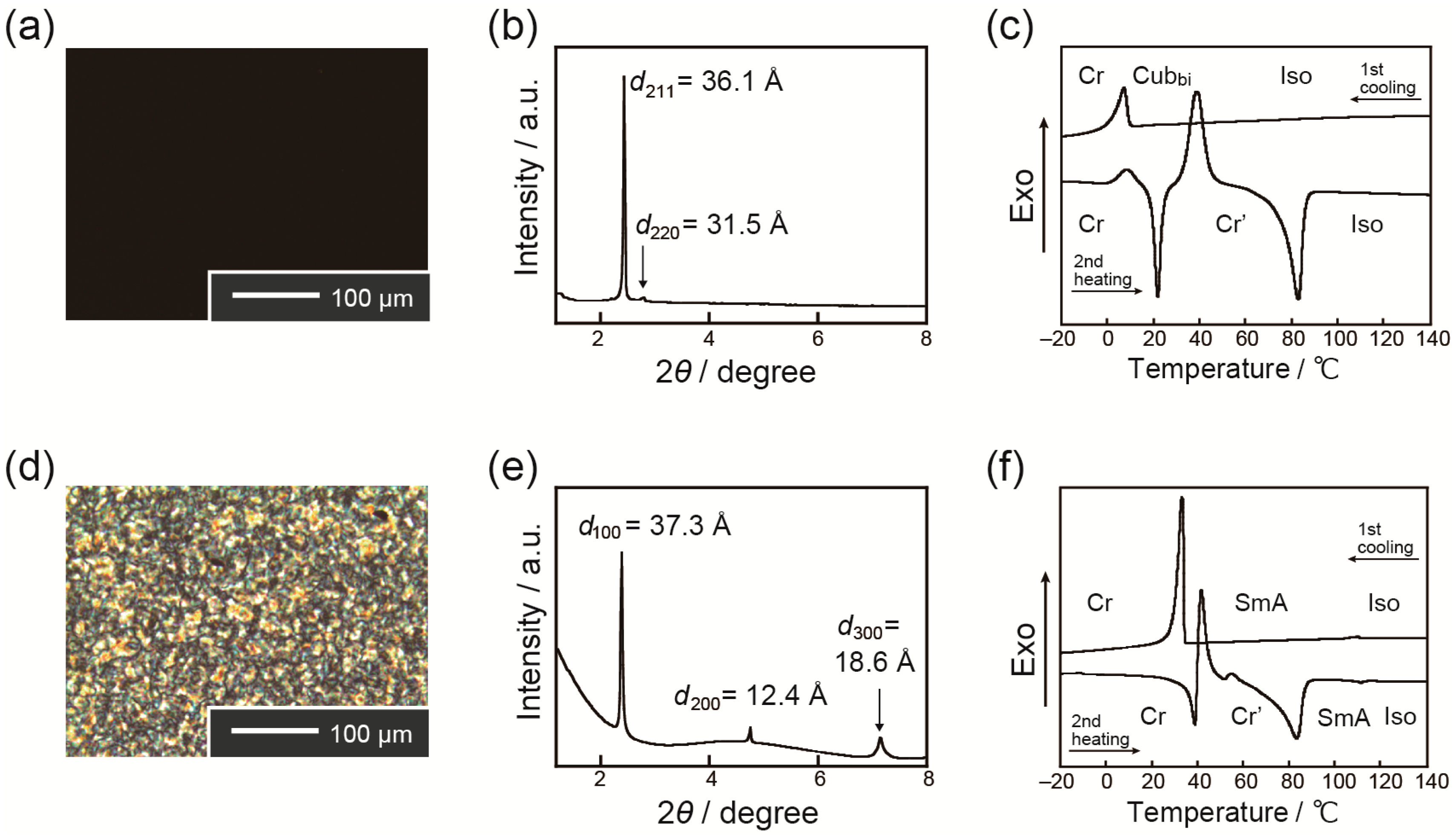 Figure 4. Polarizing optical microscopic images of the 1/LiBF4 (X = 0.09) mixture on the phase transition from the Col to the Cubbi phase.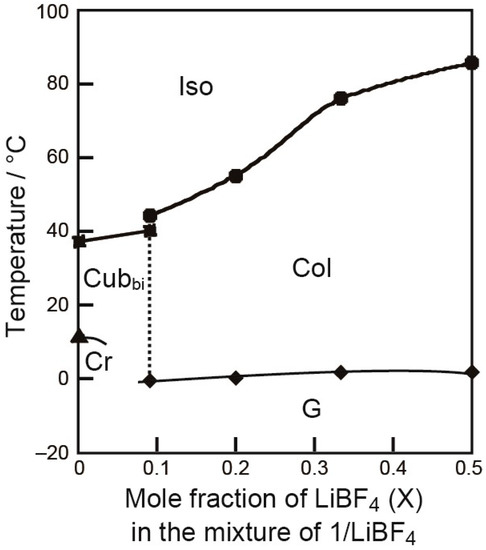 Figure 5. Phase diagram of the 1/LiBF4 mixtures as a function of the mole fraction of LiBF4 (X) in the mixtures. Cr, crystalline; Col, columnar; Cubbi, bicontinuous cubic; Iso, isotropic.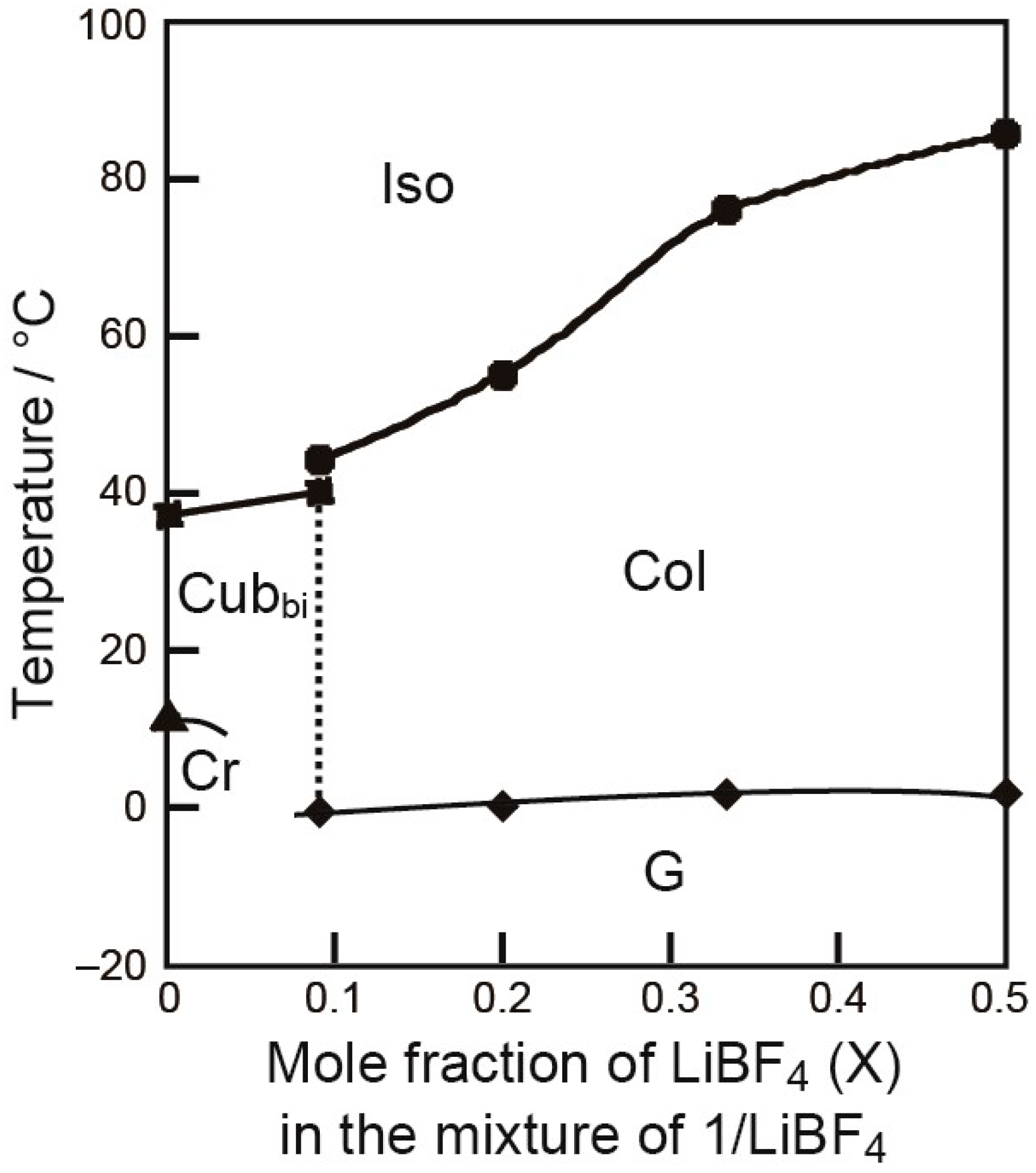 Figure 6. (a) A Cole–Cole plot for compound 1 at 36 °C in the Cubbi phase. (b) Arrhenius plots of ionic conductivities of compound 1 and the 1/LiBF4 mixtures (X = 0.09 and 0.33).

Compound
Phase Transition Behavior a)
1
Iso
38
(-)
Cubbi
12
(–14)
Cr
2
Iso
–8
(–20)
Cr
3
Iso
109
(–0.4)
SmA
33
(–39)
Cr'
4
Iso
–3
(–27)
Cr
5
Iso
10
(–38)
Cr
a) Transition temperatures (°C) and enthalpies of transition (mJ/mg, in parentheses) determined by DSC thermograms on the cooling rates of 10 °C min–1. Cr, Cr': Crystalline; Cubbi: Normal-type bicontinuous cubic; SmA: Smectic A; Iso: Isotropic.

© 2019 by the authors. Licensee MDPI, Basel, Switzerland. This article is an open access article distributed under the terms and conditions of the Creative Commons Attribution (CC BY) license (http://creativecommons.org/licenses/by/4.0/).