Open Access This article is
freely available
re-usable
Article
Comparative Study of Different Crystallization Methods in the Case of Cilostazol Crystal Habit Optimization
Institute of Pharmaceutical Technology and Regulatory Affairs, Faculty of Pharmacy, University of Szeged, Eötvös Str. 6, H-6720 Szeged, Hungary
*
Author to whom correspondence should be addressed.
Received: 10 May 2019 / Accepted: 4 June 2019 / Published: 5 June 2019
Abstract
:
The therapeutic usage of cilostazol is limited owing to its poor aqueous solubility and oral bioavailability. Our aim was to produce cilostazol crystals with small average particle size; besides suitable roundness, narrow particle size distribution and stable polymorphic form to increase its dissolution rate and improve processability. Different conventional crystallization methods with or without sonication were compared with impinging jet crystallization combined with cooling, and the optimization of the various parameters was also implemented. The effects of post-mixing time and temperature difference were studied by means of a full factorial design. The physical properties of powder particles were characterized by, i.a., XRPD, DSC and SEM. The dissolution rate and the contact angle of solid surfaces were also determined to elucidate the relationship between wettability and dissolution. It was observed that impinging jet crystallization combined with cooling is a very effective and reproducible method for reducing the particle size of cilostazol. This method resulted in significantly smaller particle size (d(0.5) = 3–5 μm) and more uniform crystals compared to the original ground material (d(0.5) = 24 μm) or the conventional methods (d(0.5) = 8–14 μm), and it also resulted in a stable polymorphic form and enhanced the dissolution rate.
Keywords:
crystal habit; particle size reduction; cilostazol; impinging jet crystallization; dissolution rate; polymorphism
1. Introduction
In the present work our aim was to produce cilostazol crystals with small average particle size, and narrow PSD, besides suitable roundness and stable polymorphic form to improve their processability. The impinging jet (IJ) method was compared with antisolvent (AS), equipped with ultrasound (AS + US) and reverse antisolvent (REV), equipped with ultrasound (REV + US) crystallization methods. The effects of various post-mixing times and temperature differences were studied by means of a full factorial design in order to optimize the crystallization conditions to achieve a high quality product.
2. Materials and Methods
2.1. Materials
Cilostazol (CIL) was supplied by Egis Pharmaceuticals Plc.;
Figure 1
shows its chemical formula. N,N-dimethylformamide (DMF, Scharlau, Barcelona, Spain) was used as solvent and purified water (Ph. Eur. quality) was the antisolvent. Simulated gastric fluid (SGF) without enzymes (10.0 g NaCl, ~59.4 g 37% HCl ad 5000 mL purified water, pH = 1.2 ± 0.1) was used during dissolution investigations.
2.2. Crystallization Methods
2.2.1. Conventional Crystallization Methods
Conventional crystallization methods were implemented in a 250 mL flat-bottomed, double-walled Schmizo crystallization reactor with constant room temperature provided by the Julabo F32 (Julabo GmbH, Seelbach, Germany) cryothermostat controlled by the Julabo EasyTemp 2.3e software. On-going mixing was carried out with a magnetic stirrer by using an egg-shaped magnetic stir bar. The concentration of the saturated cilostazol solution was 0.0947 g ml−1 according to its solubility at 25 °C, and 2 mL of DMF was added to the saturated solution directly before crystallization in order to avoid crystallization in the nozzles. Solubility of cilostazol was practically zero in pure water, furthermore lower temperature resulted in even lower solubility in the same water-DMF mixture. A 1:2 solvent–antisolvent ratio was applied with the volumes of 50 mL near-saturated solution and 100 mL antisolvent. After the precipitation of the product, the filtration was accomplished by a porcelain filter, and the sample was flushed with 40 mL of purified water to minimize the quantity of residual solvent. The products were vacuum dried at 40 °C for 24 hours, then they were stored in closed containers under normal conditions. In the case of the antisolvent system, supersaturation was achieved by exposing the saturated API solution to the antisolvent at 25 °C with fast addition (24 mL min−1) by means of a peristaltic pump. Reverse addition of the solutions was applied in the case of reverse antisolvent crystallization, thus the saturated product solution was added to the antisolvent with 24 mL min−1 constant velocity at 25 °C. In both cases the experiments were accomplished with and without the use of high power ultrasound device (Hielscher UP 200S Ultrasonic Processor, Germany). The ultrasound parameters were optimized in previous examinations, ultrasound pulses were set to 0.30 s separated by a gap of 0.70 s, and the amplitude was 70% for both methods.
2.2.2. Impinging Jet Crystallization
Two calibrated peristaltic pumps (Rollpump Type 5198, MTA Kutesz, Budapest, Hungary) fed the near-saturated solution of CIL and the antisolvent to the self-equipped impinging jet unit, which included 0.6-mm-diameter nozzles with the distance of 10 mm, and was arranged in a non-submerged mode. Crystallization experiments were carried out in a 250 mL round-bottomed, double-walled Schmizo crystallization reactor (Schmizo AG, Oftringen, Switzerland). Stirring was accomplished with an IKA Eurostar digital overhead stirrer (IKA-Werke GmbH & Co., Staufen, Germany) and an Anker-type mixer. Constant temperature was provided by a Thermo Haake P5/C10 (Thermo Haake, Karlsruhe, Germany) thermostat and a Julabo F32 (Julabo GmbH, Seelbach, Germany) cryothermostat controlled by the Julabo EasyTemp 2.3e software. After the preparation of saturated CIL solution, further 2 mL of DMF was added consequently to avoid clogging in the nozzles. The feeding was accomplished with constant linear velocity (4.06 m s
−1
), which corresponds to the flow rate of 69 mL min
−1
and with 1:2 solvent–antisolvent ratio, where 50 mL API solution was impinged with 50 mL antisolvent, and further 50 mL antisolvent was in the crystallization reactor, thus the whole crystallization volume was 150 mL. Various temperature differences were adjusted between the solutions: The API solution was kept at 25 °C and the temperature of the antisolvent was modified to 25, 15, or 5 °C. The stirring speed was 250 rpm. The filtration, washing parameters and the storage conditions were the same as at the conventional methods. The schematic drawing of the experimental apparatus is outlined in
Figure 2
.
2.3. Characterization of the Cilostazol Particles
2.3.1. Determination of Crystal Morphology
Scanning electron microscopy (SEM) (Hitachi S-4700, Hitachi Scientific Ltd., Tokyo, Japan) was applied to examine the morphology of the crystallized products. The working distance was 15 mm with an accelerating voltage of 10 kV and an emission current of 10 mA. A sputter coating apparatus (Bio-Rad SC 502, VG Microtech, Uckfield, UK) was applied to induce electric conductivity on the surface of the samples applying a gold-palladium coating. The argon gas pressure was between 1.3 and 13.0 mPa for 90 s.
The crystal shape of the particles was analyzed by Leica Image Processing and Analysis System (Leica Q 500 MC, Leica Cambridge Ltd., Cambridge, UK) in terms of crystal length, perimeter and roundness for approximately 1000 particles per sample. Roundness is a shape factor, which affords a minimum value of unity for the circle shape, and it is calculated as the ratio of the perimeter squared and the surface area. The adjustment factor of 1.064 corrects the perimeter for the effect of the corners produced by the digitization of the image, which value is a given parameter by the maintenance of the equipment. The roundness value for the perfect sphere shape equals 1.00. The Leica Image Processing and Analysis System applies the following equation for the determination of roundness:
Roundness = Perimeter2/(4π Area 1.064)
2.3.2. Particle Size Distribution Analysis
Malvern Mastersizer laser diffraction analyser (Malvern Instruments Ltd., Malvern, UK) with wet analysis using the Hydro S dispersion unit was applied for PSD analysis, where the defined measuring range was between 0.02 and 2000 µm. The samples were dispersed in purified water with a brief period (3 min) of sonication, and 0.02 mL Polysorbate 80 (VWR International Ltd., Debrecen, Hungary) was added to the solution in order to avoid the aggregation of the particles. The tables with the results contain the mean values and standard deviations of two repeated measurements on each sample, d(0.5) is with a diameter where half of the population lies below, and D[4,3], the mean diameter over the volume.
2.3.3. Identification of Polymorphism
Crystal structure of the samples was analyzed by X-ray powder diffractometry (XRPD) with a Bruker D8 Advance diffractometer (Bruker AXS GmbH, Karlsruhe, Germany). Scattered intensities were measured with a Våntec-1 line detector, symmetrical reflection mode with Cu Ka radiation (λ = 1.5406 Å), and Göbel Mirror bent gradient multilayer optics were used. Relevant measurement conditions were as follows: angular range, from 3° to 40° in steps of 0.01°; target, Cu; filter, Ni; voltage, 40 kV; current, 40 mA; measuring time, 0.1 s/steps. The diffraction patterns of the crystallized samples were compared with those of the structures available in the Cambridge Structural Database (Cambridge Crystallographic Data Centre, CCDC, Cambridge, UK).
A Mettler Toledo differential scanning calorimetry (DSC) 821e thermal analysis system was applied for the determination of the polymorphism of the samples. 2–5 mg sample was weighed into a 40-μL aluminium crucible, sealed by a lid with three leaks. The linear heating rate was 10 °C min−1, with a temperature interval between 25 and 300 °C, and argon was used as carrier gas with the rate of 100 mL min−1.
2.4. Determination of Wettability by Contact Angle Measurement
Contact angle measurements were conducted under ambient conditions with a DataPhysics Contact Angle System OCA 20 (DataPhysics Instruments, Filderstadt, Germany). CIL compacted pastilles were produced with a manual hydraulic press (Specac Ltd., Orpington, UK). 150 mg CIL powder without any excipient was filled into the 13-mm die and compressed to tablets at a compression force of 0.5 tonnes with a dwell time of 30 s. The sessile drop method was used to determine the contact angle: 5.2 μl of purified water was placed on a compact. The contact angle was measured immediately after the drop reached a quasiequilibrium shape. Triplicate determinations were carried out for each compact.
2.5. Investigation of Dissolution Rate
The dissolution rate of the samples was examined by a European Pharmacopoeia (Ph. Eur. 9th Edition) dissolution apparatus with a modified paddle method (PharmaTest Type PTW II, PharmaTest Apparatebau AG, Hainburg, Germany), using 11.11 mg of pure CIL powder, which corresponds to the dose on the market proportioned in the 100 mL of SGF at a pH value of 1.2 ± 0.1. The suspension was agitated at 100 rpm and sampling was performed up to 120 min (sample volume 5.0 mL). Aliquots were withdrawn at 5, 10, 15, 30, 60, 90, and 120 min, and immediately filtered through 0.2-μm cellulose filters (Phenomenex Syringe filters). At each sampling time, an equal volume of fresh medium was added, and the correction for the cumulative dilution was calculated. Each experiment was run in triplicate. After filtration and dilution, the CIL contents of the samples were determined UV-spectrophotometrically (λSGF = 260 nm).
2.6. Statistical Analysis
The impinging jet experiments were laid out by a 3
2
full factorial design to identify the relevant factors which affect the solid state properties of the crystallized product. Calculations were implemented by Statistica for Windows 12 AGA software (StatSoft Inc., Tulsa, OK, USA) with the confidence interval of 95%, i.e. the differences were regarded as significant at
p
< 0.05.
The influence of temperature difference between solutions and post-mixing time on five independent variables, namely on roundness, d(0.5), D[4,3], percentage yield and dissolution rate was investigated. The experiments were performed in a randomized sequence. The following equation describes the interactions of the factors, which was applied to determine the response surface and the relative effects of each factor investigated (b):
y = b0 + b1x1 + b2x2 + b3x12 + b4x22 + b5x1x2
GraphPad Prism 5 Portable statistical software (GraphPad Software Inc., La Jolla, CA, USA) was applied for the determination of significant differences between the conventional and the impinging jet methods in terms of the mean particle size (d(0.5)) by means of an unpaired t-test.
3. Results and Discussions
4. Conclusions
It was observed that the self-equipped impinging jet apparatus is a very effective and reproducible method for reducing the particle size of cilostazol. Post-mixing time and temperature difference are the significant factors in the case of particle size modification. The particle size distribution was monodisperse, and the average particle size was significantly smaller (d(0.5) = 3.62–4.80 µm) and more uniform compared to the original ground material (d(0.5) = 23.57 µm), as well as compared to the traditional crystallization methods, even with the application of ultrasound (d(0.5) = 8.03–14.41 µm). This method resulted in stable orthorhombic polymorphic form (Form A); thus, it can be stated that the morphology of the crystals was modified in consequence of the crystallization conditions, and it was not the characteristic of another polymorphic form. Impinging jet product with optimal adjusted crystallization parameters enhanced the dissolution rate in contrast to the products of conventional crystallization methods and the original ground material. Therefore, the combined cooling and impinging jet method is a promising approach to optimizing the crystal habit and to practical application in the manufacture of cilostazol. The observations about the crucial process parameters can serve as a basis for the crystal habit optimization of other poorly water-soluble substances as well. If a certain crystal habit is preferred, changing the crystallization method itself might be sufficient to achieve morphology modification without polymorphic transition, and further alterations, such as solvent exchange, using additives, or other excipients would not be necessary any more. The comparison of the different conventional crystallization methods revealed their particle size reduction capacity, and the results can ease the decision on which method is suitable for attaining the desired particle size range.
Author Contributions
T.T. and Z.A. conceived the research and designed the experiments. Formal analysis, investigation, data curation, T.T.; writing—original draft preparation, T.T., Z.A.; writing—review and editing, T.T., Z.A., P.S.-R.; supervision Z.A., P.S.-R.
Funding
This research received no external funding.
Acknowledgments
The authors are grateful to Béla Farkas for his contribution and excellent assistance to this project. The authors also would like to thank Rita Ambrus for implementing SEM analysis. API was provided by Egis Pharmaceuticals Plc., Budapest, Hungary.
Conflicts of Interest
The authors declare no conflict of interest.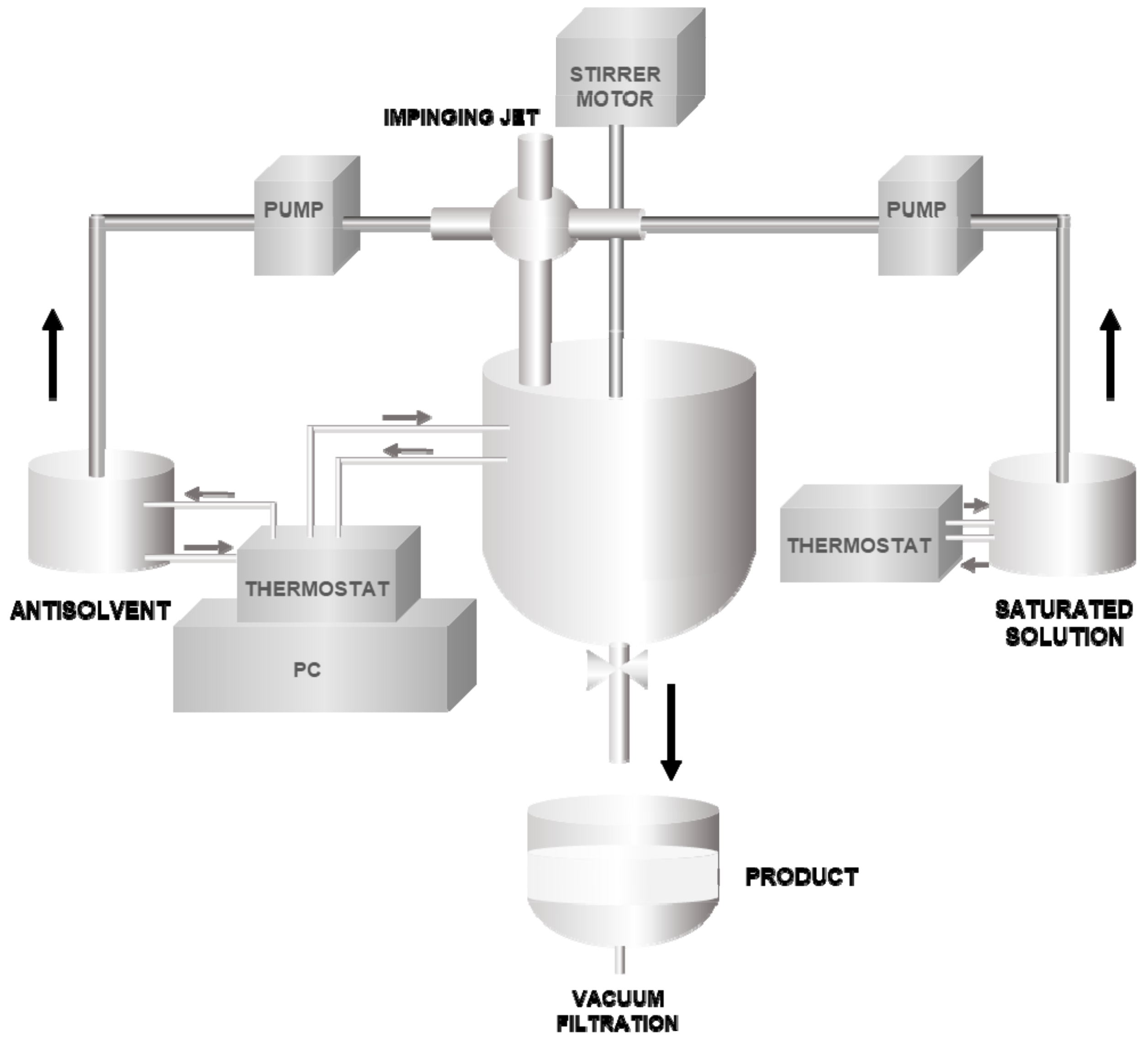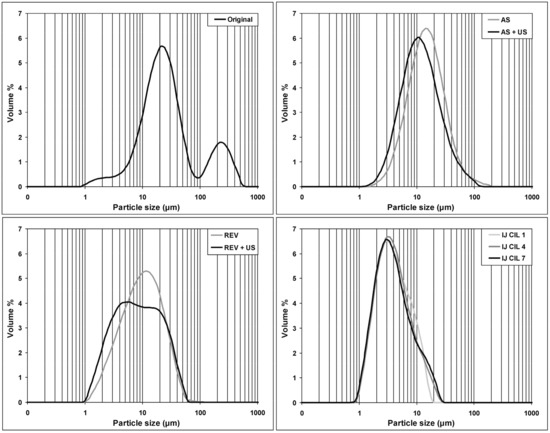 Figure 3. Comparison of particle size distributions of samples made with different crystallization methods.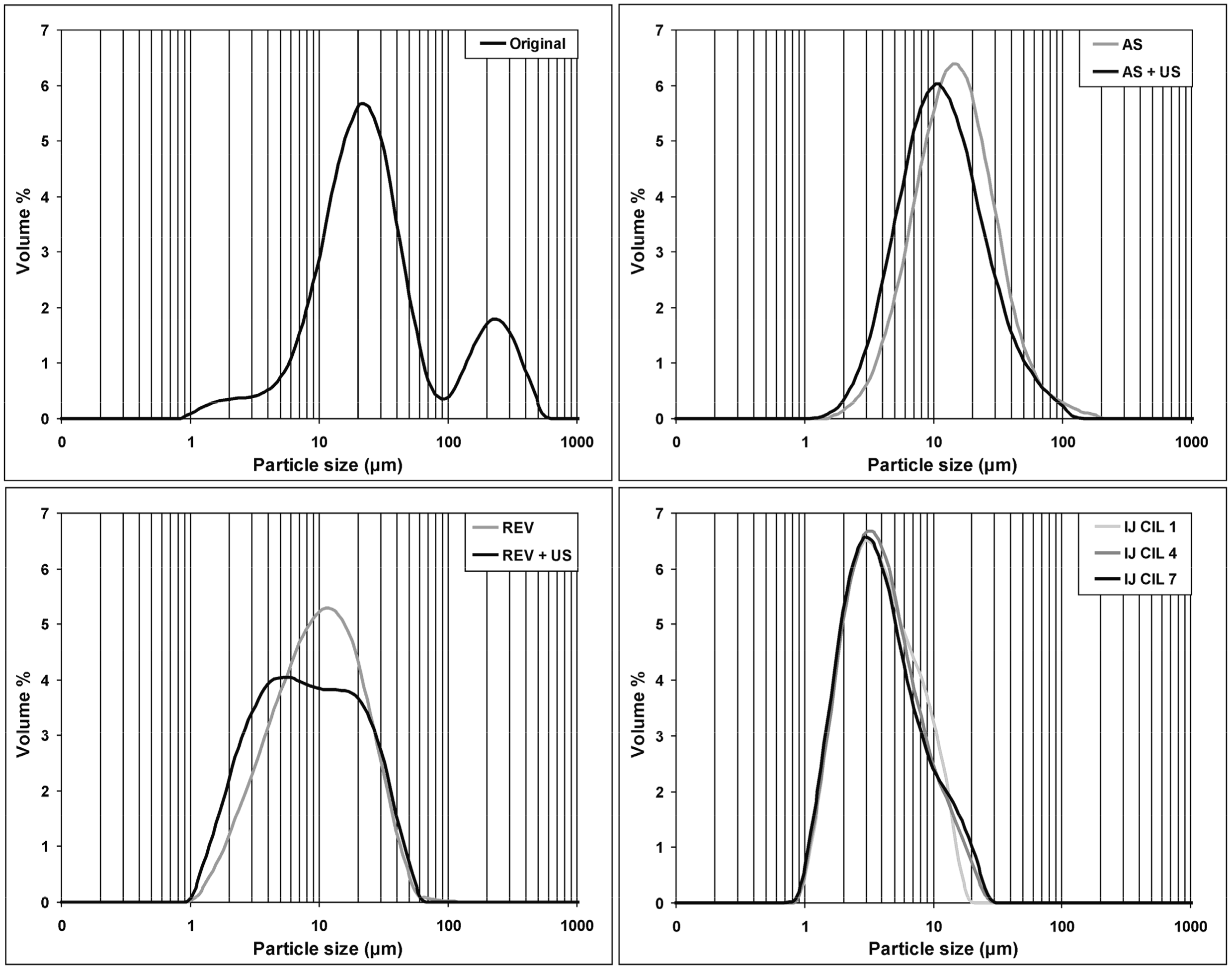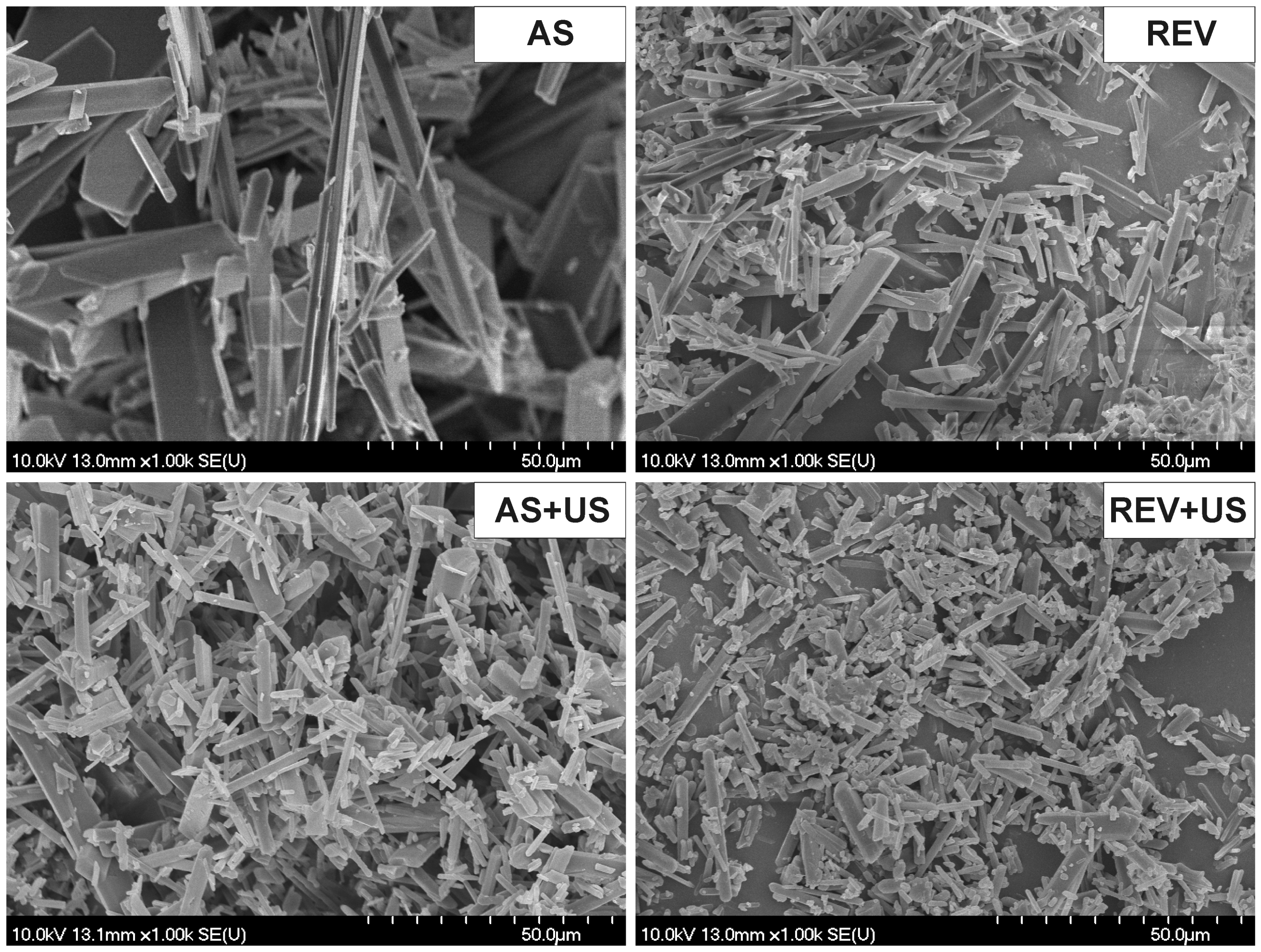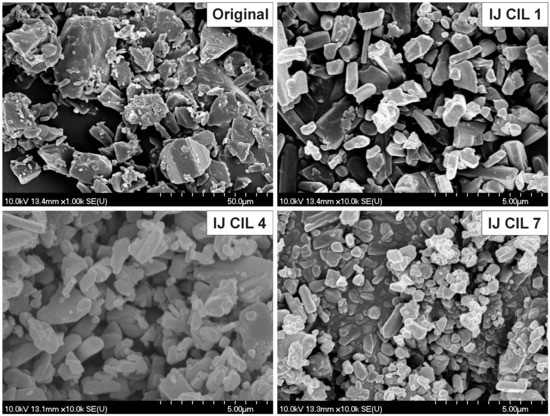 Figure 5. SEM images of original cilostazol crystals and the products made with impinging jet crystallization.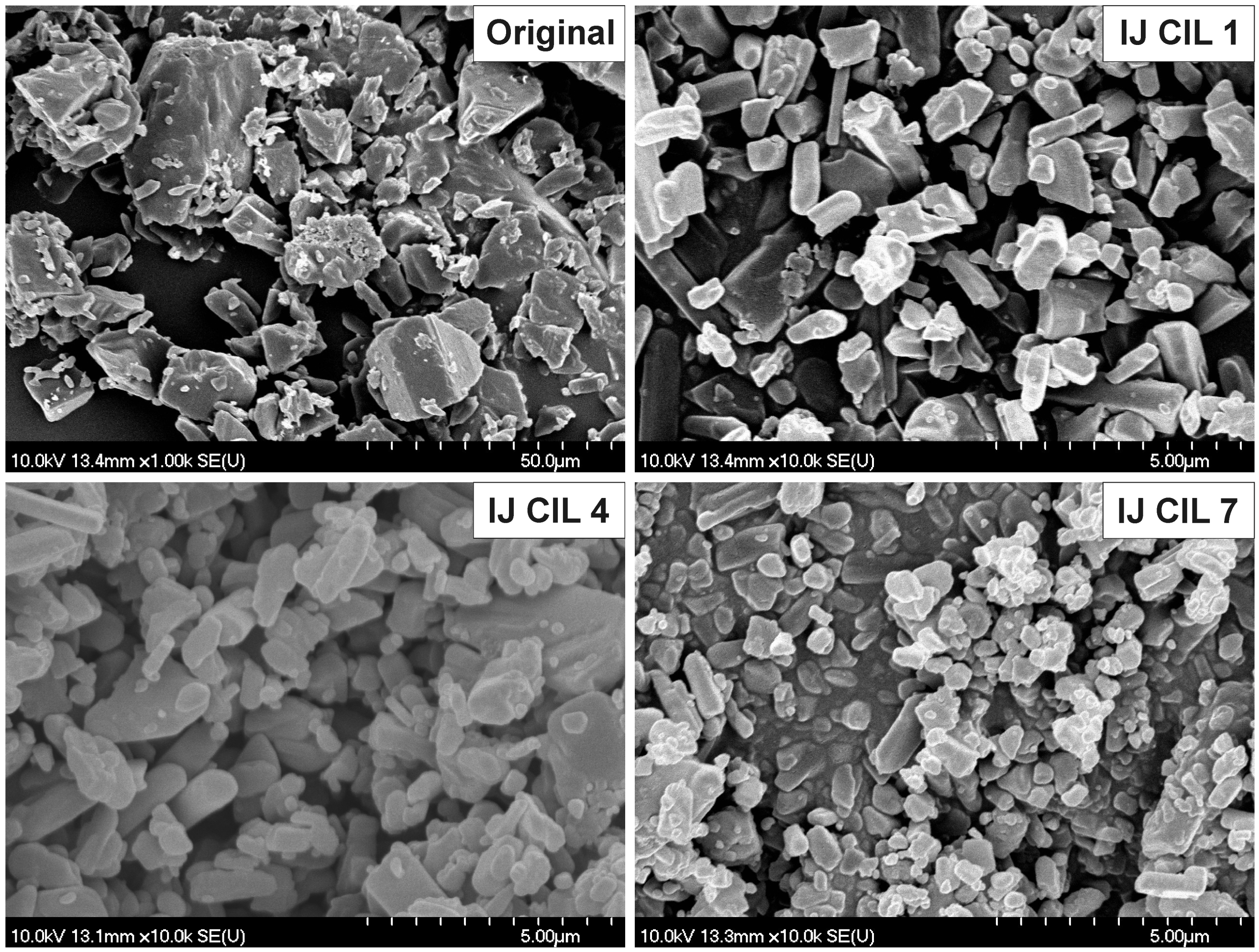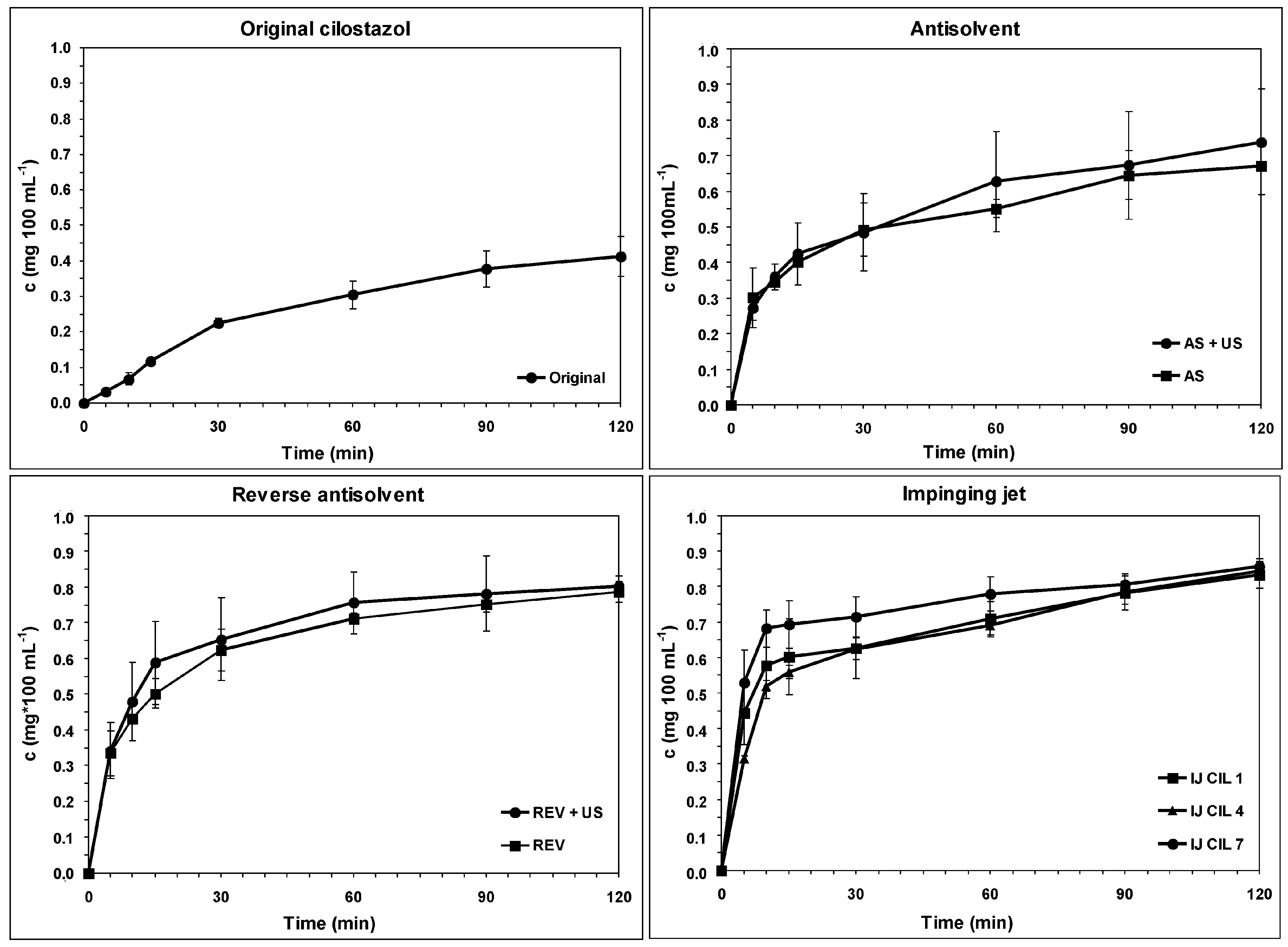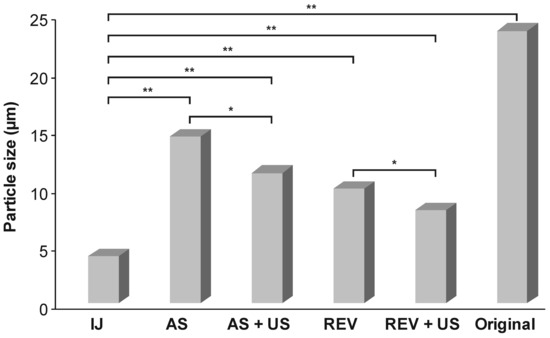 Figure 9.
Statistical comparison of the particle size (d(0.5)) of the crystallized products. Significance level: *
p
< 0.05; **
p
< 0.01.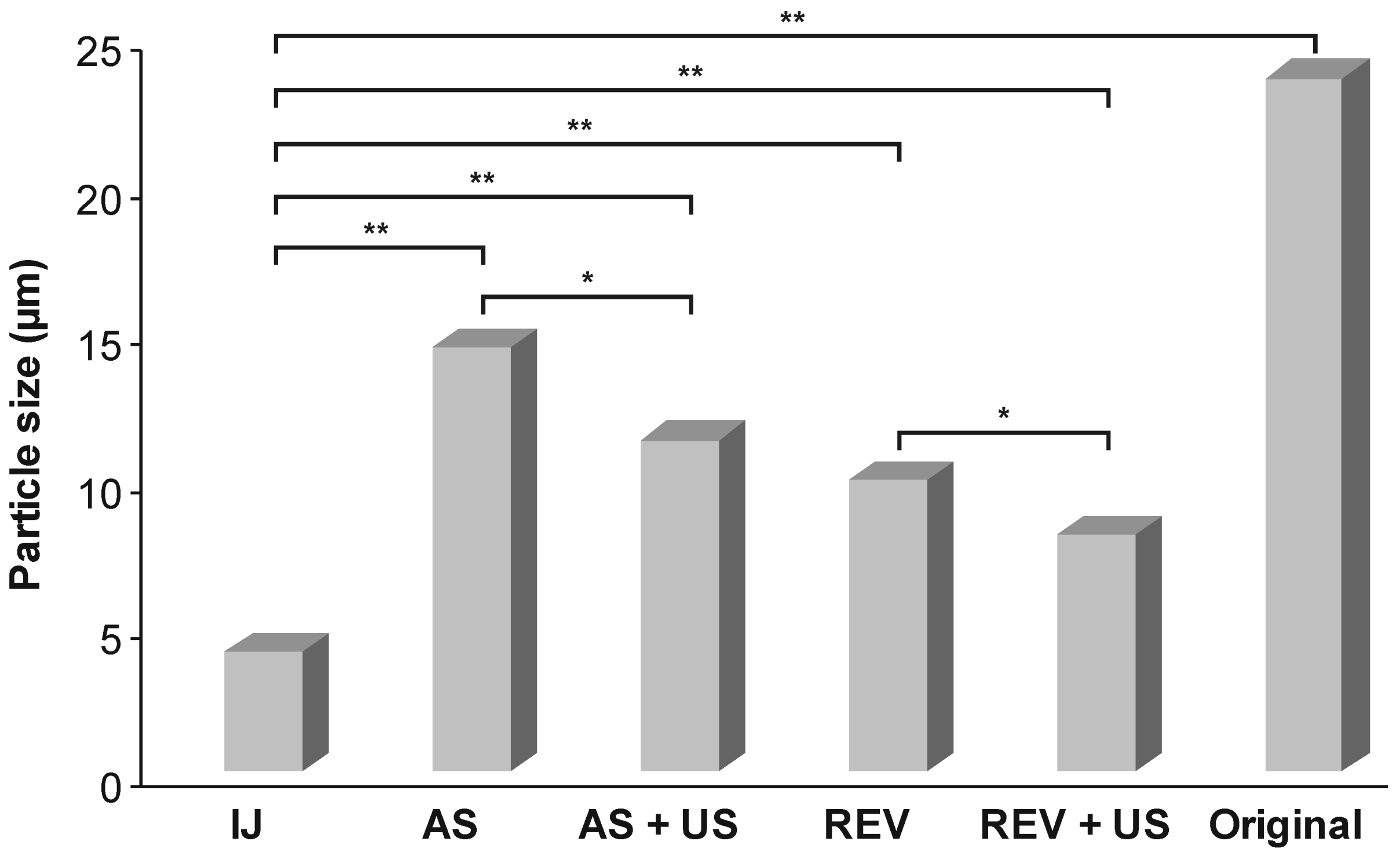 Sample Code
US Amplitude
US Cycle Time
Percentage Yield
Roundness
Particle Size
(%)
(s)
Mean (m%)
SD
Mean
SD
d(0.5) (µm)
SD
D[4,3] (µm)
SD
AS
0
0.0
88.70
5.35
4.39
0.37
14.411
1.761
19.218
1.268
AS+US
70
0.3
90.39
3.22
2.95
0.19
11.246
1.025
15.738
1.149
REV
0
0.0
55.97
6.70
2.36
0.23
9.906
0.309
12.802
0.521
REV+US
70
0.3
92.93
1.03
2.27
0.27
8.028
0.567
12.006
3.115
Original
-
-
-
-
2.08
0.86
23.563
4.158
60.639
10.294
Sample Code
ΔT
Post Mixing Time
Percentage Yield
Roundness
Particle Size
(°C)
(min)
Mean
(m%)
SD
Mean
SD
d(0.5)
(µm)
SD
D[4,3]
(µm)
SD
IJ CIL 1
0
0
79.62
1.21
1.56
0.11
3.887
0.032
5.281
0.046
IJ CIL 2
0
5
81.94
0.95
1.57
0.08
4.259
0.095
5.653
0.084
IJ CIL 3
0
10
87.01
3.58
1.58
0.10
4.801
0.099
6.027
0.077
IJ CIL 4
10
0
79.41
2.70
1.63
0.03
3.810
0.027
5.171
0.029
IJ CIL 5
10
5
85.53
0.82
1.67
0.05
4.134
0.025
5.423
0.057
IJ CIL 6
10
10
86.80
0.29
1.71
0.02
4.557
0.106
6.578
0.091
IJ CIL 7
20
0
75.40
2.30
1.53
0.02
3.626
0.054
5.158
0.028
IJ CIL 8
20
5
84.05
0.23
1.66
0.05
3.714
0.019
5.200
0.011
IJ CIL 9
20
10
83.63
0.17
1.63
0.07
3.759
0.018
4.824
0.122

Table 3. Contact angle of the crystallized products measured at 5 s, when the values of SD was set to a constant minimum.
| | Original | AS | AS + US | REV | REV + US | IJ CIL 1 | IJ CIL 4 | IJ CIL 7 |
| --- | --- | --- | --- | --- | --- | --- | --- | --- |
| Mean (°) | 62.4 | 61.7 | 59.9 | 58.5 | 54.6 | 52.1 | 53.3 | 46.9 |
| SD | 1.3 | 1.1 | 0.6 | 1.1 | 0.9 | 0.4 | 0.2 | 0.2 |

Table 4. Statistical analysis results of the factorial design. (x1: Post-mixing time; x2: Temperature difference).
| Dependent Variable | Polynomial Function | r2 |
| --- | --- | --- |
| d(0.5) | y = 4.06 + 0.30x1 − 0.31x2 − 0.02x12 + 0.08x22 − 0.20x1x2 | 0.870 |
| D[4,3] | y = 5.48 + 0.30x1 − 0.30x2 − 0.04x12 + 0.18x22 − 0.27x1x2 | 0.596 |
| Roundness | y = 1.2 − 0.02x1 − 0.002x2 + 0.01x12 + 0.03x22 − 0.01x1x2 | 0.401 |
| Dissolution rate | y = 7.38 − 0.09x1 + 0.16x2 + 0.09x12 − 0.22x22 − 0.04x1x2 | 0.797 |
| Percentage yield | y = 82.60 + 3.84x1 − 0.92x2 + 0.93x12 − 0.99x22 + 0.21x1x2 | 0.899 |

© 2019 by the authors. Licensee MDPI, Basel, Switzerland. This article is an open access article distributed under the terms and conditions of the Creative Commons Attribution (CC BY) license (http://creativecommons.org/licenses/by/4.0/).