Substituent Effects in the Crystal Packing of Derivatives of 4′-Phenyl-2,2′:6′,2″-Terpyridine
Department of Chemistry, University Basel, BPR 1096, Mattenstrasse 24a, CH-4058 Basel, Switzerland
*
Author to whom correspondence should be addressed.
Received: 4 February 2019 / Revised: 12 February 2019 / Accepted: 17 February 2019 / Published: 20 February 2019
Abstract
We report the preparation of a series of new 4′-substituted 2,2′:6′,2″-terpyridines: 4′-(3,5-dimethylphenyl)-2,2′:6′,2″-terpyridine (
2
), 4′-(3-fluoro-5-methylphenyl)-2,2′:6′,2″-terpyridine (
3
), 4′-(3,5-difluorophenyl)-2,2′:6′,2″-terpyridine (
4
), and 4′-(3,5- bis(trifluoromethyl)phenyl)-2,2′:6′,2″-terpyridine (
5
). The compounds have been characterized by mass spectrometry, solid-state IR spectroscopy and solution NMR and absorption spectroscopies. The single-crystal X-ray diffraction structures of
3
,
5
and
6
·EtOH (
6
= 4′-(3,5-bis(
tert
-butyl)phenyl)-2,2′:6′,2″-terpyridine) have been elucidated. The molecular structures of the compounds are unexceptional. Since
3
and
5
crystallize without lattice solvent, we are able to understand the influence of introducing substituents in the 4′-phenyl ring and compare the packing in the structures with that of the previously reported 4′-phenyl-2,2′:6′,2″-terpyridine (
1
). On going from
1
to
3
, face-to-face π-stacking of pairs of 3-fluoro-5-methylphenyl rings contributes to a change in packing from a herringbone assembly in
1
with no ring π-stacking to a layer-like packing. The latter arises through a combination of π-stacking of aromatic rings and N…H–C hydrogen bonding. On going from
3
to
5
, N…H–C and F…H–C hydrogen-bonding is dominant, supplemented by π-stacking interactions between pairs of pyridine rings. A comparison of the packing of molecules of
6
with that in
1
,
3
and
5
is difficult because of the incorporation of solvent in
6
·EtOH.
View Full-Text
►

▼

Figures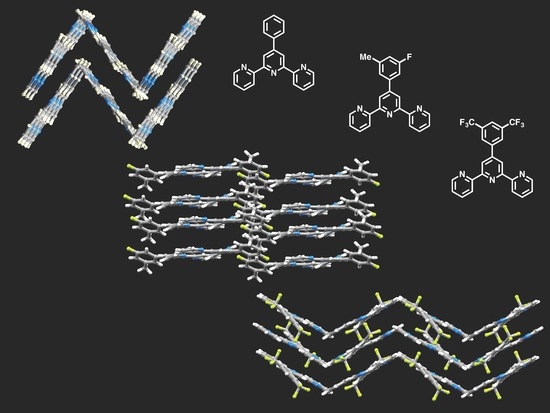 Graphical abstract
This is an open access article distributed under the
Creative Commons Attribution License
which permits unrestricted use, distribution, and reproduction in any medium, provided the original work is properly cited (CC BY 4.0).

Share & Cite This Article
MDPI and ACS Style
Klein, Y.M.; Prescimone, A.; Karpacheva, M.; Constable, E.C.; Housecroft, C.E. Substituent Effects in the Crystal Packing of Derivatives of 4′-Phenyl-2,2′:6′,2″-Terpyridine. Crystals 2019, 9, 110.
Note that from the first issue of 2016, MDPI journals use article numbers instead of page numbers. See further details here.
Related Articles
Comments
[Return to top]