Synthesis, Crystal Structure, DFT Studies, Docking Studies, and Fluorescent Properties of 2-(Adamantan-1-yl)-2
H

-isoindole-1-carbonitrile

Pharmaceutical Chemistry, School of Pharmacy, University of the Western Cape, Private Bag X17, Bellville 7535, South Africa

Received: 4 December 2018 / Revised: 13 December 2018 / Accepted: 15 December 2018 / Published: 31 December 2018
Abstract
2-(Adamantan-1-yl)-2
H
-isoindole-1-carbonitrile (
1
) has been identified as a neurobiological fluorescent ligand that may be used to develop receptor and enzyme binding affinity assays. Compound
1
was synthesized using an optimized microwave irradiation reaction, and crystallized from ethanol. Crystallization occurred in the orthorhombic space group P2
1
2
1
2
1
with unit cell parameters: a = 6.4487(12) Å, b = 13.648(3) Å, c = 16.571(3) Å, V = 1458(5) Å
3
, Z = 4. Density functional theory (DFT) (B3LYP/6-311++G (d,p)) calculations of
1
were carried out. Results indicated that the optimized geometry was similar to the experimental results, with a root-mean-squared deviation of 0.143 Å. In this paper, frontier molecular orbital energies and net atomic charges are discussed with a focus on potential biological interactions. Docking experiments within the active site of the neuronal nitric oxide synthase (nNOS) protein crystal structure were carried out and analyzed. Important binding interactions between the DFT-optimized structure and amino acids within the nNOS active site were identified that explained the strong NOS binding affinity reported. Fluorescent properties of
1
were studied using aprotic solvents of different polarities. Compound
1
showed the highest fluorescence intensity in polar solvents, with excitation and emission maximum values of 336 nm and 380 nm, respectively.
View Full-Text
►

▼

Figures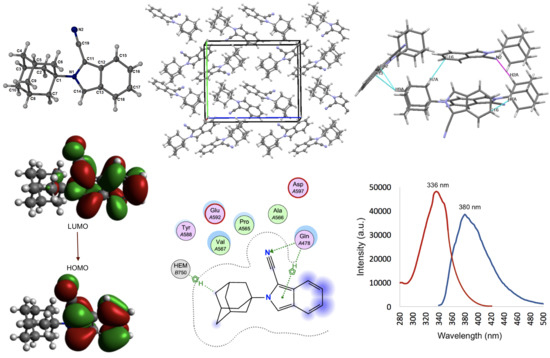 Graphical abstract
This is an open access article distributed under the
Creative Commons Attribution License
which permits unrestricted use, distribution, and reproduction in any medium, provided the original work is properly cited (CC BY 4.0).

Share & Cite This Article
MDPI and ACS Style
Joubert, J. Synthesis, Crystal Structure, DFT Studies, Docking Studies, and Fluorescent Properties of 2-(Adamantan-1-yl)-2H-isoindole-1-carbonitrile. Crystals 2019, 9, 24.
Note that from the first issue of 2016, MDPI journals use article numbers instead of page numbers. See further details here.
Related Articles
Comments
[Return to top]