Monoclinic Paracetamol vs. Paracetamol-4,4′-Bipyridine Co-Crystal; What Is the Difference? A Charge Density Study
1
Faculty of Pharmacy, The University of Sydney, Sydney, NSW 2006 Australia
2
School of Science and Health, Western Sydney University, Locked Bag 1797, Penrith, NSW 2751, Australia
3
School of Chemistry, Cardiff University, Cardiff CF10 3AT, UK
4
Department of Chemistry, Center for Materials Crystallography, Aarhus University, Langelandsgade 140, DK-8000 Aarhus C, Denmark
*
Authors to whom correspondence should be addressed.
Received: 22 December 2017 / Revised: 8 January 2018 / Accepted: 15 January 2018 / Published: 18 January 2018
Abstract
Paracetamol (PCM) has two well-documented polymorphic forms at room temperature; monoclinic Form I is more stable than the other orthorhombic Form II. Form II exhibits improved tabletting properties compared to Form I due to low shearing forces; however, difficulties in its manufacture have limited its use in industrial manufacture. Previous studies have found that the introduction of a co-former to form co-crystals would allow the PCM molecule to exist in a conformation similar to that of the orthorhombic form while being more stable at room temperature. Experimental charge density analysis of the paracetamol-4,4′-bipyridine (PCM-44BP) co-crystal system, and its constituent molecules, has been carried out to examine the forces that drive the formation and stabilisation of the co-crystal, while allowing PCM to maintain a packing motif similar to that found in Form II. It is hoped studies on this well-known compound will help apply the knowledge gained to other drug molecules that are less successful. The PCM molecules in the co-crystal were found to exhibit similar packing motifs to that found in Form I, however, intercalation of the 44BP molecule between the PCM layers resulted in a shallower angle between molecular planes, which could result in the required lateral shear. Topological analysis identified more weak interactions in the co-crystal compared to the individual molecules, thus allowing for greater stability as evidenced by the lattice energies. Weak interactions in the PCM-44BP co-crystal were found to range in strength from 4.08–84.33 kJ mol
−1
, and this variety allowed the PCM-44BP planes to be held together, while a weak π–π interaction (15.14 kJ mol
−1
) allowed lateral shear to occur, thus mimicking the planes found in Form II PCM and offering the possibility of improved tabletting properties. A comparison of integrated atomic charges between partitions of the PCM molecules in the single and co-crystal found that the hydroxyl and amide groups were involved in greater hydrogen bonding in the co-crystal, resulting in a charge redistribution across the molecule evidenced by a larger molecular dipole moment (µ = 12.34D). These findings, in addition to the co-crystal having the largest lattice energy, form a potential basis with which to predict that the co-crystal exhibits improved solubility and stability profiles. It is anticipated that these findings will contribute to improvements in the formulation and other physical properties of PCM and other pharmaceutical compounds.
View Full-Text
►

▼

Figures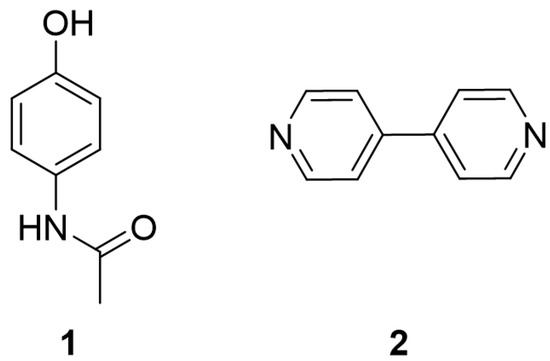 Figure 1
This is an open access article distributed under the
Creative Commons Attribution License
which permits unrestricted use, distribution, and reproduction in any medium, provided the original work is properly cited (CC BY 4.0).

Share & Cite This Article
MDPI and ACS Style
Du, J.J.; Lai, F.; Váradi, L.; Williams, P.A.; Groundwater, P.W.; Platts, J.A.; Hibbs, D.E.; Overgaard, J. Monoclinic Paracetamol vs. Paracetamol-4,4′-Bipyridine Co-Crystal; What Is the Difference? A Charge Density Study. Crystals 2018, 8, 46.
Note that from the first issue of 2016, MDPI journals use article numbers instead of page numbers. See further details here.
Related Articles
Comments
[Return to top]