Expression, Purification, Crystallization, and X-ray Structural Analysis of CRISPR-Associated Protein Cas6 from
Methanocaldococcus jannaschii
1
Department of Nephrology, Da Chien General Hospital, Miaoli 36052, Taiwan
2
Department of Endocrinology and Metabolism, Kuang Tien General Hospital, Taichung 43303, Taiwan
3
School of Pharmacy, College of Pharmacy, China Medical University, Taichung 40402, Taiwan
4
Chinese Medicine Research and Development Center, China Medical University Hospital, Taichung 40402, Taiwan
5
Department of Biotechnology, Hungkuang University, Taichung 43302, Taiwan
6
Department of Safety, Health and Environmental Engineering, Hungkuang University, Taichung 43302, Taiwan
7
Institute of Biological Chemistry, Academia Sinica, Taipei 11529, Taiwan
*
Authors to whom correspondence should be addressed.
†
These authors contributed equally to this work.
Academic Editor: Albert Guskov
Received: 20 September 2017 / Revised: 7 November 2017 / Accepted: 8 November 2017 / Published: 10 November 2017
Abstract
The CRISPR-associated protein 6, Cas6 protein, is an endoribonuclease that cleaves precursor CRISPR RNAs within the repeat sequence to release specific invader-targeting RNAs. Cas6 protein can recognize different sequences by their specific scaffold. To investigate its binding mode, we purified and crystallized a His-tagged Cas6 protein from
Methanocaldococcus jannaschii
(MjCas6) using the sitting-drop vapor-diffusion method. The crystals diffracted to a resolution of 1.85 Å and belonged to monoclinic space group
C
2, with unit-cell parameters
a
= 200.84 Å,
b
= 85.26 Å,
c
= 100.06 Å, β = 118.47°. The crystals of MjCas6 contain four molecules in the asymmetric unit. The protein fold is similar to the other Cas6 homologues, such as
Pyrococcus furiosus
Cas6, suggesting functional similarity. Moreover, in the C2 crystal the MjCas6 monomers formed a tandem array, which we hypothesize to possibly correlate with repetitive RNA precursors.
View Full-Text
►

▼

Figures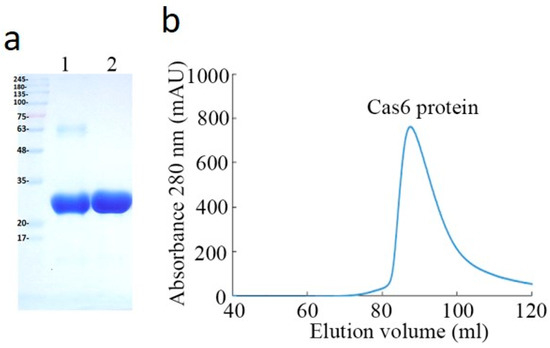 Figure 1
This is an open access article distributed under the
Creative Commons Attribution License
which permits unrestricted use, distribution, and reproduction in any medium, provided the original work is properly cited (CC BY 4.0).

Share & Cite This Article
MDPI and ACS Style
Lee, M.-C.; Tseng, S.-T.; Yang, J.-C.; Hsieh, T.-J.; Wu, S.-C.; Kuan, S.-M.; Chen, M.-J.; Chang, M.-C.; Wang, C.-C.; Chen, H.-L.; Fang, G.-C.; Huang, W.-J.; Ko, T.-P.; Chen, Y. Expression, Purification, Crystallization, and X-ray Structural Analysis of CRISPR-Associated Protein Cas6 from Methanocaldococcus jannaschii. Crystals 2017, 7, 344.
Note that from the first issue of 2016, MDPI journals use article numbers instead of page numbers. See further details here.
Related Articles
Comments
[Return to top]