Magnetism and Pressure-Induced Superconductivity of Checkerboard-Type Charge-Ordered Molecular Conductor
β

-(

meso

-DMBEDT-TTF)2X (X = PF6 and AsF6)

1

The Institute for Solid State Physics, The University of Tokyo, Kashiwa, Chiba 277–8581, Japan

2

Department of Chemistry, Graduate School of Science, Kobe University, Kobe, Hyogo 657–8501, Japan

3

Research Center for Neutron Science and Technology, CROSS, Tokai–mura 319–1106, Japan

4

Condensed Matter Research Center and Photon Factory, Institute of Materials Structure Science, KEK, Tsukuba 305–0801, Japan

5

Department of Physics, Toho University, Chiba 274-8510, Japan

*

Author to whom correspondence should be addressed.

Received: 12 September 2012 / Revised: 5 November 2012 / Accepted: 14 November 2012 / Published: 29 November 2012
Abstract
The metallic state of the molecular conductor
β
-(
meso-
DMBEDT-TTF)
2
X (DMBEDT-TTF = 2-(5,6-dihydro-1,3-dithiolo[4,5-
b
][1,4]dithiin-2-ylidene)-5,6-dihydro-5,6-dimethyl-1,3-dithiolo[4,5-b][1,4]dithiin, X = PF
6
, AsF
6
) is transformed into the checkerboard-type charge-ordered state at around 75–80 K with accompanying metal-insulator (MI) transition on the anisotropic triangular lattice. With lowering temperatures, the magnetic susceptibility decreases gradually and reveals a sudden drop at the MI transition. By applying pressure, the charge-ordered state is suppressed and superconductivity appears in
β
-(
meso-
DMBEDT-TTF)
2
AsF
6
as well as in the reported
β
-(
meso-
DMBEDT-TTF)
2
PF
6
. The charge-ordered spin-gapped state and the pressure-induced superconducting state are discussed through the paired-electron crystal (PEC) model, where the spin-bonded electron pairs stay and become mobile in the crystal, namely the valence-bond solid (VBS) and the resonant valence bonded (RVB) state in the quarter-filled band structure.
View Full-Text
►

▼

Figures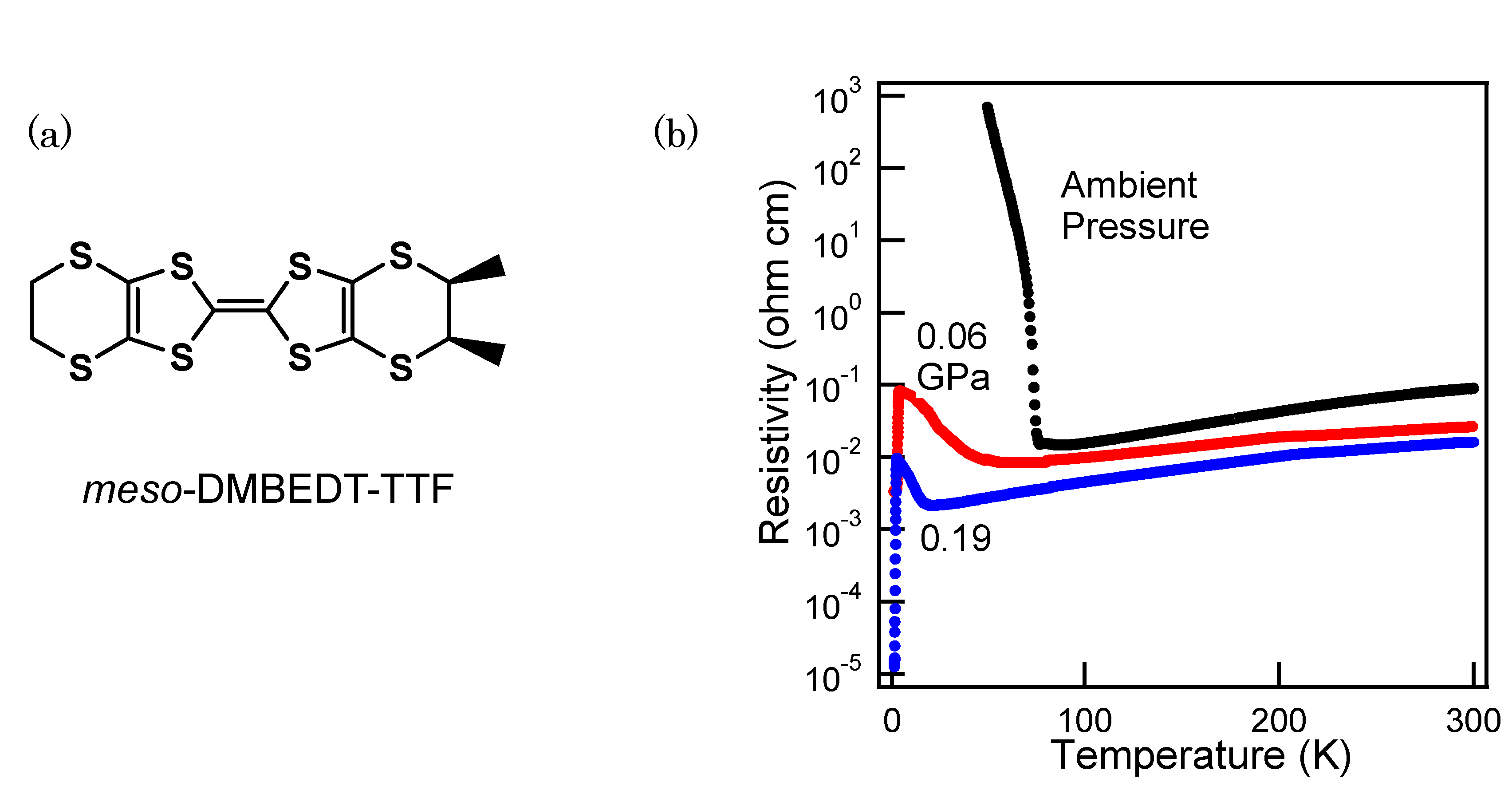 Figure 1

Share & Cite This Article
MDPI and ACS Style
Shikama, T.; Shimokawa, T.; Lee, S.; Isono, T.; Ueda, A.; Takahashi, K.; Nakao, A.; Kumai, R.; Nakao, H.; Kobayashi, K.; Murakami, Y.; Kimata, M.; Tajima, H.; Matsubayashi, K.; Uwatoko, Y.; Nishio, Y.; Kajita, K.; Mori, H. Magnetism and Pressure-Induced Superconductivity of Checkerboard-Type Charge-Ordered Molecular Conductor β-(meso-DMBEDT-TTF)2X (X = PF6 and AsF6). Crystals 2012, 2, 1502-1513.
Related Articles
Comments
[Return to top]