Open Access This article is
freely available
re-usable
Review
Biological vs. Crystallographic Protein Interfaces: An Overview of Computational Approaches for Their Classification
1
Bijvoet Center for Biomolecular Research, Faculty of Science – Chemistry, Utrecht University, Padualaan 8, 3584 CH Utrecht, The Netherlands
2
Pharma Research and Early Development, Large Molecule Research, Roche Innovation Center Munich, Nonnenwald 2, 82377 Penzberg, Germany
†
Present address: Department of Mathematics and Computer Science, Freie Universität Berlin, Arnimallee 6, 14195 Berlin, Germany.

Received: 8 January 2020 / Accepted: 5 February 2020 / Published: 13 February 2020
Abstract
:
Complexes between proteins are at the basis of almost every process in cells. Their study, from a structural perspective, has a pivotal role in understanding biological functions and, importantly, in drug development. X-ray crystallography represents the broadest source for the experimental structural characterization of protein-protein complexes. Correctly identifying the biologically relevant interface from the crystallographic ones is, however, not trivial and can be prone to errors. Over the past two decades, computational methodologies have been developed to study the differences of those interfaces and automatically classify them as biological or crystallographic. Overall, protein-protein interfaces show differences in terms of composition, energetics and evolutionary conservation between biological and crystallographic ones. Based on those observations, a number of computational methods have been developed for this classification problem, which can be grouped into three main categories: Energy-, empirical knowledge- and machine learning-based approaches. In this review, we give a comprehensive overview of the training datasets and methods so far implemented, providing useful links and a brief description of each method.
Keywords:
protein-protein interface; biological interface; crystallographic interface; classification; webserver; X-ray crystallography; protein structure; machine learning
Author Contributions
Review and editing, K.E., A.V. and A.M.J.J.B.; visualization, K.E. and A.V.; supervision, A.V. and A.M.J.J.B.; project administration, A.V.; funding acquisition, A.M.J.J.B. All authors have read and agreed to the published version of the manuscript.
Funding
This research received no external funding.
Conflicts of Interest
The authors declare no conflict of interest.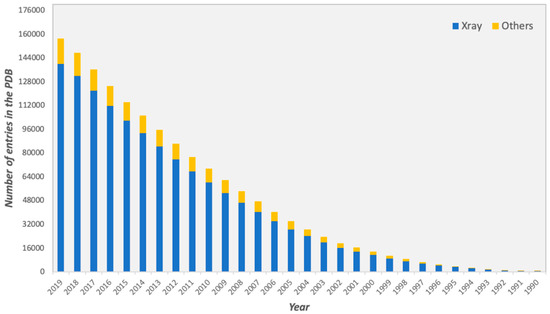 Figure 1. Total number of structures in the Protein Data Bank (PDB) from 1990 to October 2019. Structures determined by X-ray crystallography are depicted in blue, while structures determined by all other experimental techniques, such as Nuclear magnetic resonance (NMR) and Electron Microscopy or a combination of different methods, are shown in yellow.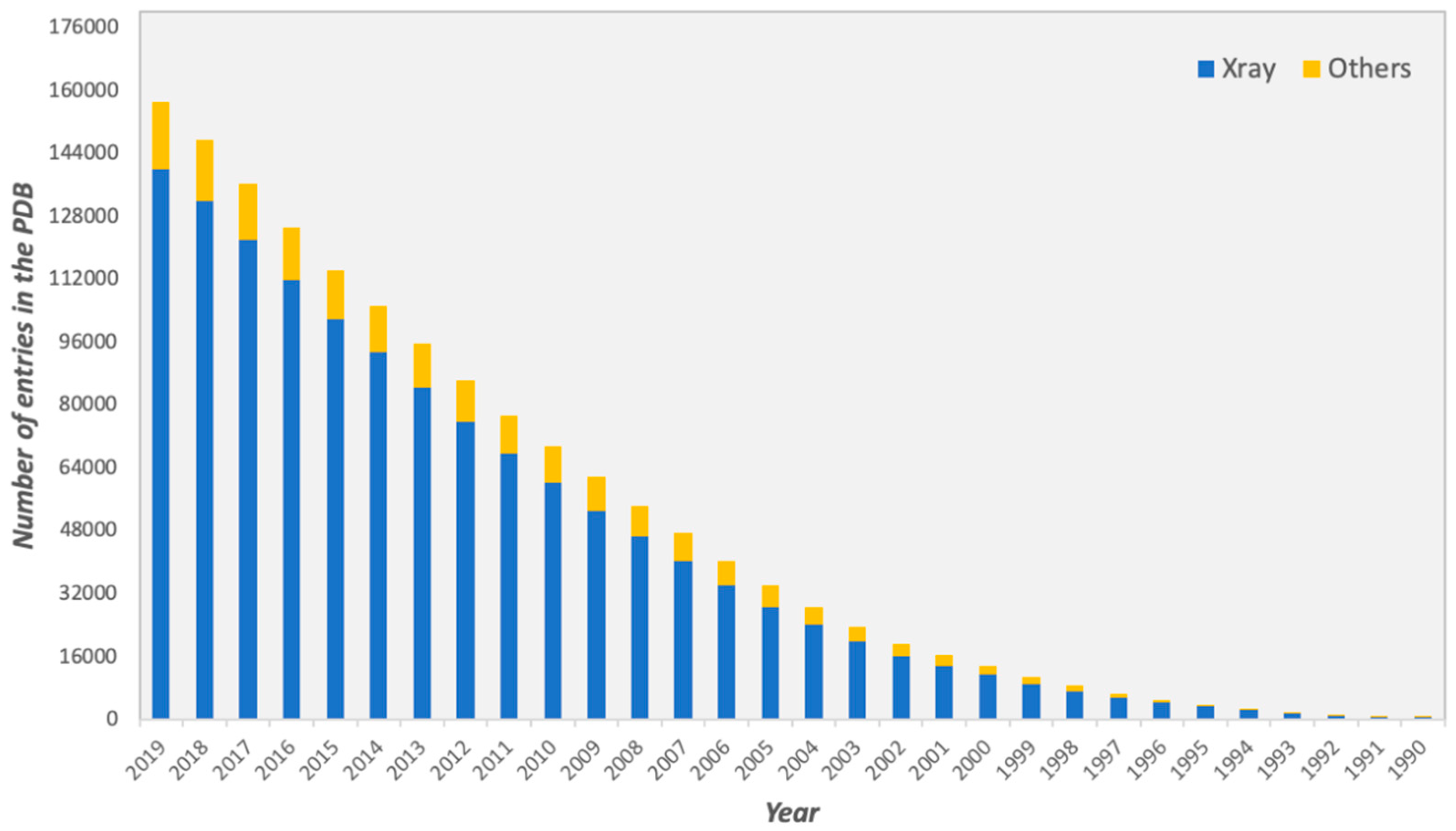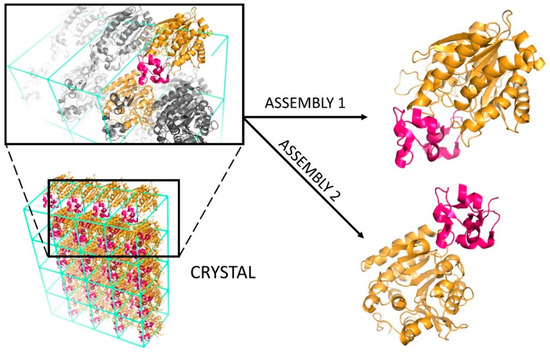 Figure 2.
Schematic representation of the biological interface classification. In the lower left part of the figure, the crystal of the heterodimer between HLA class I histocompatibility antigen (in yellow) and beta-2-microglobulin (in dark pink) is reported (PDB code: 1ZLH [
7
]). Each unit cell of the crystal lattice contains two heterodimers. According to the architecture of this crystal, HLA can share two different interfaces with the beta-2-microglobulin: One formed with beta-2-microglobulin belonging to the same unit cell (assembly 1) and another formed with beta-2-microglobulin belonging to the adjacent unit cell (assembly 2).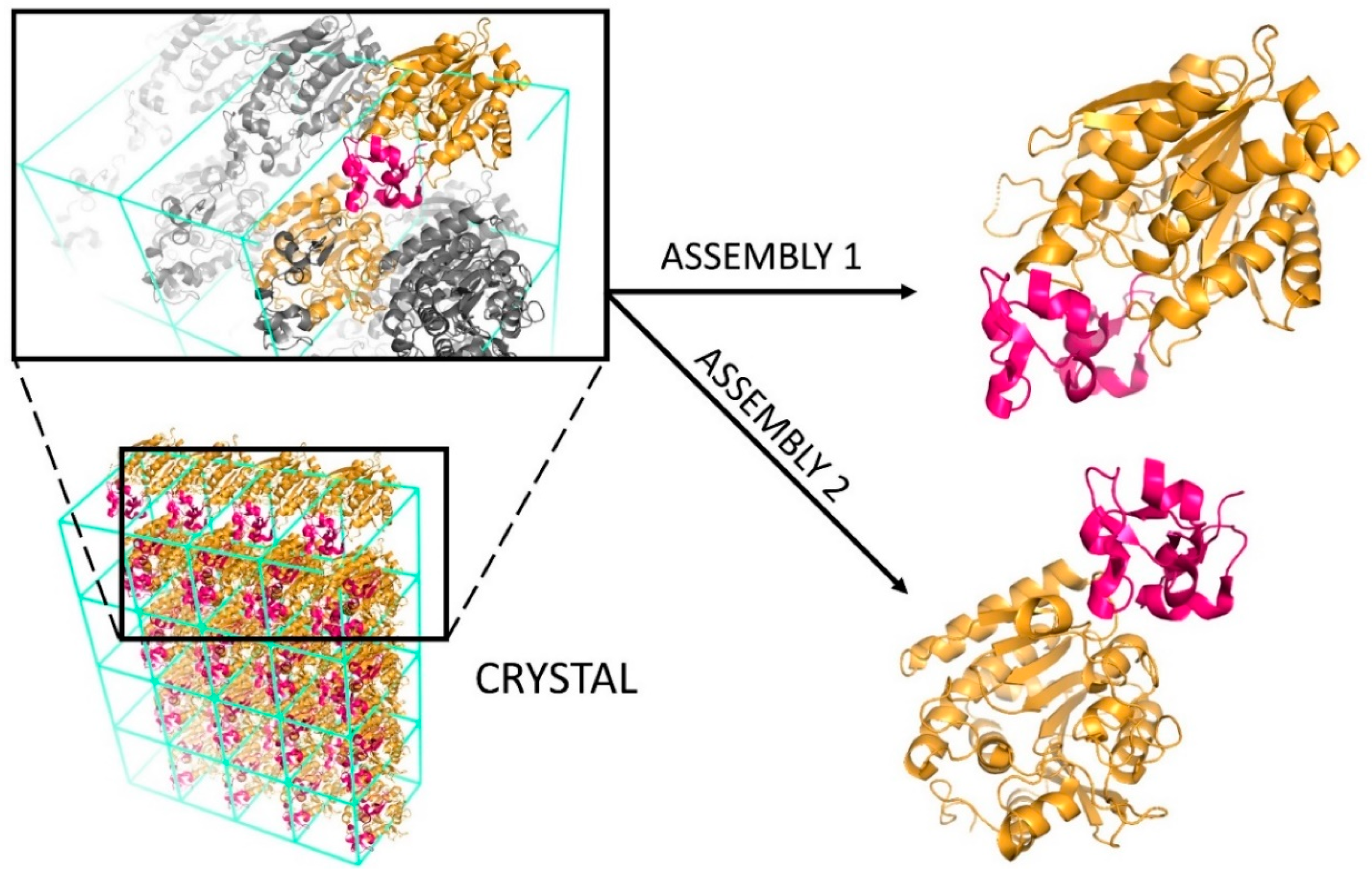 Method
Methodology
Training Dataset
Webserver or Source Code
Ref.
Methods with a functioning webserver or source code
ClusPro-DC
Number of near-native docking poses in the top 1000 lowest energy structures
Bahadur et al. [14,15]
https://cluspro.bu.edu/dimer_predict
[12]
EPPIC
Number of core residues, core-rim and core-surface entropy ratios
DC [16], Many [27] 1
http://www.eppic-web.org
[16,27,28]
IPAC
Interface area, normalized surface complementarity, accessible surface area variation, normalized interface packing, interface packing gradient, hydrophobicity of interface and surface, patch ratio and normalized solvation energy -> NB
Mitra and Pal [41]
http://pallab.serc.iisc.ernet.in/IPAC
[41]
PIACO
Covariation signal, number of core residues, amino acid compositions of the interface and of core residues, amino acid pair frequency, local density index, residue propensity score and gap volume index -> RF
DC [16]
https://github.com/yfukasawa/piaco
[33]
PISA
Binding energy and entropy of dissociation
Ponstingl et al. [19]
https://www.ebi.ac.uk/msd-srv/prot_int
http://www.ccp4.ac.uk/pisa
[17,18,20]
PITA
Interface area and atom-pair frequencies
Ponstingl et al. [19,23]
https://www.ebi.ac.uk/thornton-srv/databases/pita
[19,23]
PRODIGY-CRYSTAL
Number of residue contacts grouped by their character, number of residue contacts per amino acid and link density -> RF
Many [27]
https://haddock.science.uu.nl/services/PRODIGY-CRYSTAL
[36,37]
RPAIAnalyst
Co-evolutionary and conservation scores, residue pair frequency, Voronoi cell volume, secondary structure, core-rim, B-factor and hot spots -> RF
DC [16]
http://liulab.hzau.edu.cn/RPAIAnalyst
[38]
Methods without a functioning webserver or source code
Bahadur et al.
Non-polar interface area, fraction of buried atoms and residue propensity scores
Bahadur et al. [14,15]
[15]
CFPScore
Potential mean force and shape complementarity scores, interface size and packing density
Ponstingl et al. [23]
[31]
DiMoVo
Interface area, number, Voronoi volumes and frequencies of interface residues, frequency of pairs of residues in contact and distances between their geometric centers -> SVM
Bahadur et al. [14,15]
http://fifi.ibbmc.u-psud.fr
[42]
Elcock and McCammon
Ratio between mean interface and surface entropies
[32]
IChemPIC
Number of interaction pseudoatoms, percentage of interaction pseudoatoms for each of the four interaction types and their corresponding distributions of buriedness -> RF
Da Silva et al. [39]
http://bioinfo-pharma.u-strasbg.fr/IChemPIC
[39]
Liu et al.
Average B-factor score
DC [16]
[21]
Luo et al.
Core-surface and core-interface scores, residue propensity, core area, non-polar area and fully buried atoms fractions, gap volume and local density indices, number of hot spots, interface area ratio, amino acid and secondary structure compositions and propensities of interface residues, core residues and hot spots -> RF
DC [16]
http://cic.scu.edu.cn/bioinformatics/bio-cry.zip
[40]
NOXclass
Interface area, ratio of interface area to protein surface area and amino acid composition of the interface -> SVM
Zhu et al. [22]
http://noxclass.bioinf.mpiinf.mpg.de
[22]
PreBI and COMP
Interface area and shape, hydrophobicity andelectrostatic potential
Tsuchiya et al. [29]
http://pre-s.protein.osaka-u.ac.jp/prebi
[29,30]
Valdar and Thornton
Fraction of buried surface residues and contact conservation score -> MLP
Ponstingl et al. [23]
[43]
1 Linear regression classifier that outputs the probability for an interface to be biological in EPPIC 3 [28] was trained on this dataset.
| Dataset | Content | Ref. |
| --- | --- | --- |
| Bahadur et al. | 122 homodimers and 188 monomers | [14,15] |
| DC | 83 biological and 82 crystallographic interfaces | [16] |
| De Silva et al. | 200 biological and 200 crystallographic interfaces | [39] |
| Many | 2831 biological and 2913 crystallographic interfaces | [27] |
| Mitra and Pal | 268 dimers and 396 monomers | [41] |
| Ponstingl et al. (2000) | 76 homodimers and 96 monomers | [23] |
| Ponstingl et al. (2003) | 163 oligomers and 55 monomers | [19] |
| Zhu et al. | 137 biological (75 obligate + 62 non-obligate) and 106 crystallographic interfaces | [22] |

© 2020 by the authors. Licensee MDPI, Basel, Switzerland. This article is an open access article distributed under the terms and conditions of the Creative Commons Attribution (CC BY) license (http://creativecommons.org/licenses/by/4.0/).